We review a lot of rider gear, but fortunately don't get to crash test them. However, in this review, rider Chris Roberts puts the Rukka Argonaut pants to the ultimate test.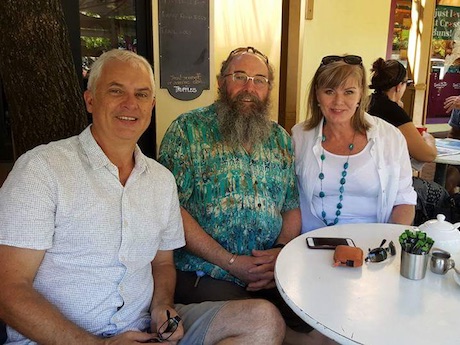 After 40-plus years of riding I finally got to test out my riding gear in a long slide along a bitumen road in the Snowy Mountains.

I wasn't particularly happy about crash testing my new Rukka Argonaut pants since I had only worn them for four hours, but funny the things that go through your mind in a situation like that: "Hey, this isn't so bad. These things are pretty good. Here I am sliding down the road and I feel protected. I reckon when I stop sliding I might be able to get back up before anyone sees me."

That was before I went backwards over an embankment with the Ducati Multistrada hot on my heels.

Sad Multistrada

This was my first proper accident – my body came into contact with bitumen twice before but I don't rate them. In 1979 I decided to give the BMW a rest and jumped on my Honda XL 250 in full leathers to go trail riding. At the first right-hand turn when my rear wheel tried catching my front I remembered forgetting to check tyre pressures!

I thought I had saved it, up until the handlebar started scraping, so I gave it up and went sliding along the road on my back feet first. I suffered heat burn on my shoulder blades and bum but was otherwise fine.

The second to last time was in 2012 coming home from work wearing my Draggin jeans and RMW boots. Add light rain, a roundabout and something slippery on the road and down I went but was up and back on the bike in a flash with two things damaged; I wore a hold in the toe of one of my boots and my back pocket wore a hole through it and my wallet. It's now my lucky wallet.

The last time was going around a double apex right hander in the mountains at about 100km/h and as the second stage tightened up I gave a little more input on the right bar and down the bike went into a low side. That's when I found myself sliding on my ankle, knee, hip, elbow and hand.

My thoughts quickly changed when I went over an embankment from "this isn't so bad" to "this is not good. I don't know if this is a cliff or what!"

I came to rest literary inches away from a solid tree after having taken a stump out as an air bag. Luckily it had dry rot but still left impressive bruising on my arms and chest.

As I came to rest I went through an inventory of working body parts and decided today was not a good day to die and jumped up, turned the bike off and climbed back to the road to flag down the next rider as it was a club ride.

My boots protected my ankles, my GP-Pro Alpine Star gloves protected my hands including not letting the little finger get out of alignment by some clever stitching to the ring finger, the Rukka pants looked very worse for wear but there was no broken skin and not even a bruise.

Alpinestars gloves crash tested

My jacket was a DriRider and the only broken skin I suffered was on the right forearm just below the elbow armour where I got a heat burn graze.

DriRider jacket

I am so impressed with the performance of the Rukka pants that took the brunt of the fall and slide I returned them to the Australian agent with a letter of appreciation. If you went to the Rukka/Innotesco stall at the World Superbikes, you would have seen my pants on display.

Rukka pants on display at the WSBKJ

The Argonaut model is discontinued so I bought a new pair of Armaxion trousers and matching jacket from Ann-Marie at Innotesco, the Australian agents.

I chose Rukka at the Sydney Motor Show because I wanted something that fitted me well, was comfortable to wear and provided the obvious rain and crash protection.

To be honest, I didn't give the armour much thought because my riding gear tends to shrink or wear out from age, not abrasion. Yet I always wear all the gear all the time: always have, always will.

The protectors they use are special and worth looking into as it absorbed the shock so I wasn't bruised anywhere on my legs and it protected my skin.

SONY DSC

I have worn the new suit from Canberra to Phillip Island for the Island Classics and did a 10-day Tassie tour where we experienced a heat wave, rain and even snow and I found the gear comfortable to wear every day.

It's completely waterproof and just so well designed and well-cut that I am 100% happy with my purchase. The trousers were worth about $900 and although I thought it a big hit in the wallet, I now realise that medical expenses and time off work with damaged skin is a much bigger hit and burns a bigger hole in the wallet that sliding around a roundabout on your back pocket.
Thanks to Chris Roberts for his crash test. If you have any gear tests you would like to share with Motorbike Writer readers, please contact us.