Riders are invited to take part in the annual Road Safety Ride on Sunday (7 October 2018) to publicly launch NSW Motorcycle Awareness Month.
The ride from Thornleigh to Kariong via the Old Pacific Highway will also raise money for MARI (Motorcycle Accident Rehabilitation Initiative) which supports fallen riders.
It starts with breakfast at 8am at Bunnings Thornleigh (corner Pennant Hills Rd and Phyliss Ave) before the ride at 9.30am, ending at The Waterfall Cafe in Kariong.
Two videos will be shown at the breakfast. The Centre for Road Safety will show their Roads We Ride video on the Old Pacific Highway at the Thornleigh Community Centre next door.
Motorcycle Council of NSW will also show videos on MotoCAP, the recently launched rating system for motorcycle protective clothing.
MCC NSW chairman Steve Pearce says the theme of the month is "Look Out For Motorcyclists".
He says a good show-up for the Road Safety Ride will attract public attention to the number of riders on the road.
"It's a very simple concept, but unfortunately and sadly, one that needs to be re-stated every year".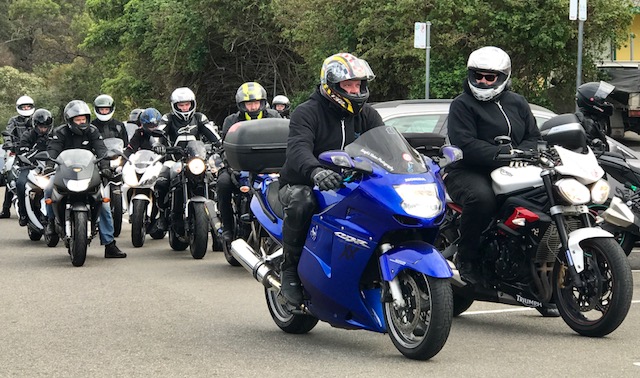 Awareness month campaign
The 2018 awareness campaign will be highlighted on radio 2GB with Chris Smith from Monday October 8-18 in peak hours.
The MCC of NSW will support a range of activities during the month. They include the Pink Ribbon Ride on Sunday October 14, Breakfast Torque motorcycle safety event at Heathcote on Sunday October 28 and various other charity rides.
"Most importantly, we want to encourage all riders to get out during October, enjoy the warmer weather during October and ride safely," Steve says.
The council's rider safety recommendations include:
A system to identify returned riders and a competency test to retain their licence;

Mandatory training to move from a small to large capacity motorcycle licence;

Licence suspension for drivers who use mobile phones while driving;

More accurate crash data and specially trained motorcycle investigators; and

Increased research on the danger of automated vehicles to riders.