Motorcycle TV Image Gallery
The Ride-N-Watch motorcycle TV system is claimed to be "The World's First Onboard TV System for Motorcycle Riders".
The system consists of two modules and includes a Netflix and YouTube subscription for live streaming.
First, there's a television monitor about the size of a deck of playing cards that clips to the rear view mirror.
Then a small high-gain hyperbolic antenna streams the programmed videos to the TV and the audio to the rider's Bluetooth intercom.
The included app allows you to program in many different choices of your favorites.
Then you simply press the button on top to switch from one video to the next.
An optional rear-view camera system is available for those who still feel the need to see behind.
The Ride-N-Watch clips to the right-side rear view mirror in the U.S. and the left mirror in the UK.
Many different clip-on brackets are available to fit a variety of different mirror shapes and sizes.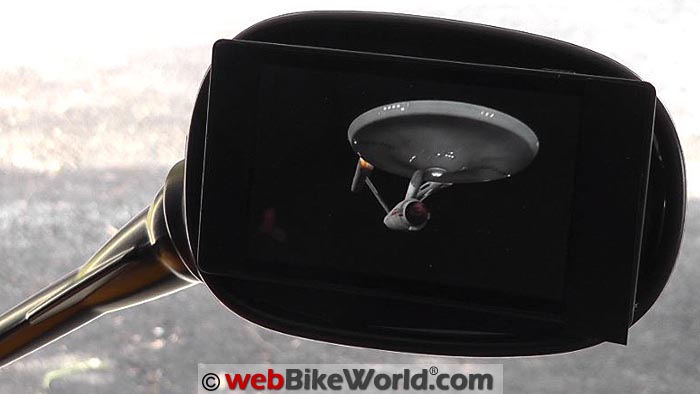 Background
Ride-N-Watch told us that the "next generation" of motorcycle electronic devices is an on-board TV set.
They claim to be the world's first developers of this technology and I'd have to say, I can't think of another television system for motorcycles, so they may be right, although I'm sure some Gold Wing rider somewhere has a TV fitted behind that big fairing.
The Ride-N-Watch system comes with a one-year subscription to Netflix and YouTube.
You can either stream live video on the TV or save it in the Ride-N-Watch "cloud" for time-shifted binge watching on your next boring Interstate highway tour across the Kansas plains or down I-95 from Paramus to Philly.
Since the handlebars of most cruising, touring and adventure-touring bikes are now crowded with devices like a GPS, action camera and cell phone mount, Ride-N-Watch decided to employ what may be the most under-utilized feature on a modern motorcycle: the rear-view mirror.
But since each side of the road is used, depending on left- or right-hand drive countries, Ride-N-Safe makes two "mirror image" (pun!) systems to fit either side (or both).
Every motorcycle's rear-view mirror is different, so Ride-N-Watch makes clips to fit specific makes and models. Although this is more expensive to manufacture, it makes installation a snap — literally.
A high-gain hyperbole antenna is included and it can be installed anywhere within 30 cm of the Ride-N-Watch TV module.
It has a double-sided tape stick-on base, so it's easy to install either on the back of the mirror stalk or on the motorcycle bodywork.
w

BW

 Video: Ride-N-Watch Motorcycle TV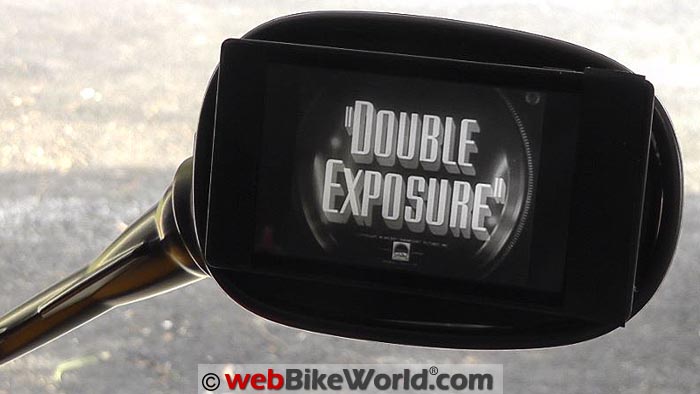 Optional Rear-View Camera
Ride-N-Watch makes an optional rear-view camera system for anyone who still feels the need to take a peek behind now and again.
Install the Bluetooth-enabled camera on the rear of the bike and aim it in the garage, then simply press the secondary button on the Ride-N-Watch TV module to see what's going on back there, as illustrated in our video.
Ride-N-Watch told us that many motorcycle owners fit the rear-view camera to the front of the bike because it's quicker to switch back and forth on the TV player than it is to lift the head occasionally while watching a movie.
So the company is working on a dual camera system that will stream both front and rear views on demand.
Conclusion
On the road, the Ride-N-Watch TV is a lifesaver. Instead of suffering through those boring rides stuck behind yet another soccer mom in a monster Escalade, switch on the TV and catch up on your favorite shows.
Or better yet, watch a couple of webBikeWorld product videos!
Any experienced motorcycle rider will tell you that a rear-view mirror is overrated, so why not use that space for something more fun — the Ride-N-Watch motorcycle TV!
More webBikeWorld:
▪ Video Action Camera Reviews
▪ Intercom and Radio Reviews
w

BW

 Review: Ride-N-Watch Motorcycle TV System
List Price (2016): $149.99 + $59.99 for rear-view camera.
Review Date: April 1, 2016
Note:
 For informational use only. All material and photographs are Copyright © webWorld International, LLC since 2000. All rights reserved. See the webBikeWorld® 
Site Info page
. Product specifications, features and details may change or differ from our descriptions. Always check before purchasing. Read the
Terms and Conditions
!
Owner Comments and Feedback
---
From "C.J." (April 2016): "I was very excited to see the review for the Ride-N-Watch system, as I have wanted something to keep me entertained while I take 101 into San Francisco every day.
Lane splitting becomes tedious, especially in the fog, so this seems like it would be just the thing to enliven my commute.
But the product has one glaring flaw that simply makes it unacceptable for heavy use: No remote control!
In fact, if the makers were serious about selling any of these, they would offer a remote control and some sort of remote pocket that could be Velcroed to the tank. Until they do, I'm keeping my money."
---
From "T.S." (April 2016): "As a long-time webBikeWorld reader and an actual user of the Ride-N-Watch system on my Gold Wing and R1, I figured I'd share my experience with this wonderful system.
Look and Feel
These guys really know how to design. The frame around the screen is sleek and design-wise matches perfectly the frame of the refrigerator on my Gold Wing.
It looks perfectly in place to the far starboard, right next to the refrigerator and right above the induction stove top.
While you say that it mounts on the right mirror, I am of firm belief that it will not look out of place on the port side either, right next to the binnacle and the lounging chair (it's a custom-made baby seal leather by Corbin).
Installation
You'd think with the amount of time they invested into visual design, they may have made some omissions in plug'n'play.
But you are in for a pleasant surprise: the headlights and blinkers (not sure about the names — a bunch of yellow ones and a red one in the back) connectors were very easy to plug in.
I never understood why my R1 needs headlights, so I was thrilled to reroute and put the connectors to good use.
Customer Service
I did have a chance to talk to their customer rep (my kit did not have the alternative fastener). Their rep was able to point me not only to the store, but the actual aisle and bin at the store where I was able to find the correct size concrete fastener to be used.
(I had to buy my own powder actuated tool, but according to the rep, they are waiting for inexpensive plastic versions to arrive so they can start including them in the kits).
BTW, while directing me down to Home Depot for fasteners (I don't have my driver's license anymore and have to steer clear of schools), the rep told me that they are about to release a Track Day kit which allows you to mount the rear view camera looking forward, similar to MotoGP cams.
Now, this is really exciting; I can now race and simultaneously watch my form from the same angle as MotoGP streaming of Rossi and Marquez. Since I don't wear racing suit, I'll get a tattoo with my name instead.
The only thing they are waiting on is training of hamsters to substitute for the gyroscope (hey, this company cares about our wallets as well!).
And since you don't have mirrors on your track bike, and attaching them to the beer bottle holder may introduce rattling, you attach the screen to your helmet visor, similar to those cardboard VR boxes they sell nowadays.
I'm telling you — that rep was really awesome — he's actually also their chief safety officer. His name is Shervin and his background is in motorcycle weight management.
Another cool feature that the article didn't mention (you saved it for Part 2, didn't you?) is the option to mount remote control next to the foot, so I can control the screen by simply moving my flip-flop protected toe and change the volume, for example.
Overall, this is a great product that I absolutely love!
The only two things I wish they address in the next version are: pivot mount for the mirrors, so I don't have to bend down and look up to continue watching the screen as I'm doing the wheelie down I-95.
And while on my Gold Wing, I can plug my front Yamaha S215V tweeters, I wish they also would let me plug in the main speakers in the back."
---
From "G.B." (April 2016): "I learned to ride watching Sons of Anarchy, and now I'll be able to practice my skills real time. Any chance next year it comes with a high-def big screen?"
---
From "L.N." (April 2016): "I am amazed that someone would pay so much for old technology.
I have a tank mount for my iPad that I have been using for years now. Not only can I watch streaming video but I can make phone calls, send and receive text messages and surf the web while riding.
Besides, the screen on my iPad is much bigger. Unfortunately as I age I find even my iPad screen is a bit small. Do you know where I can obtain a bifocal face shield for my helmet?"
---
From "H.H." (April 2016): "I tried this (in Sydney) but the picture was upside down."
---
From "G.S." (April 2016): "Seriously? I really hope this is humor aimed at April Fool's Day. It is beyond comprehension that someone would build and market such a device let alone use it.
Besides, if you were to watch movies to make your ride more exciting, a very strange concept indeed, why not a heads-up display in your helmet? It would enhance a ride such as the Dragon or the Going-to-the-Sun highway."
Editor's Reply: Click on the manufacturer's name in the summary table to learn more.
Follow-up from "G.S." (April 2016): "OK, Rick, you really got me! I cannot believe how much effort you went through to see who was really paying attention. Congratulations!
Now I'm going to have to just read a book on a long ride. How 'bout a device to keep the pages from flapping?"
Rick's Reply: Hmmmm, good idea, maybe next year!
---
From "A.P." (April 2016): "I hear next year Arai is teaming up with Oculus Rift to make a virtual reality helmet."
---
From "C.B." (April 2016): "This just what I've been looking for to mount on my 2000 BMW K1200LTC when the wife and I are "slabbing" it across the plains states during the Iron Butt Rally.
Too often she's almost fallen off after falling asleep from so many hours in the saddle."
---
From "K." (April 2016): "What better way to improve your riding than to watch bike crash videos on YouTube while you ride? This is the best thing in rider safety since the invisibility cloak with which all bikes seem to be fitted."
---
From "R.L." (April 2016): "Wow, and I thought there couldn't be any more (most) silliest product since the infamous (Italian) shoe-protector, but I guess I'm wrong.
I deem this product dangerously irresponsible and outrages stupid. What is next? A slide-up TV instead of a windscreen, perhaps?
A 1000 watt audio-system with separate subwoofer? An espresso-bar with separate milk-froth? A toaster and combination-grill perhaps?
Why not a recliner, perhaps with a built-in massage?
I ridicule this product because I perceive it to be down-right wrong, wrong, wrong. Good that you outline the product and do allow for comments, even the less positive ones.
Motorcycling is about 100% concentration on the road, other traffic-users, road-conditions and so on. Watching a movie, TV or such should not be on any motorcyclists mind who does take that seriously.
I vote to ban such a product from being allowed to use. Formally, by law.
On the other hand, more organ-donors are needed, so please go ahead watch a movie, read a newspaper online thru this product. And that is about as an inappropriate suggestion as the product itself. Some frakkles are beyond belief, really."
Follow-up From R.L. (April 2016): "You got me, you got me big! 🙂 Thanks for the big grin on my face, from ear to ear. (thumbs up)"
---
From "P.L." (April 2016): "I can't believe anyone would install this, it is a danger to you and anyone on the road. You should be ashamed of yourself for posting something like this stupid thing."
---
From "K.W." (April 2016): "I like this, I'll have to get one. Who uses a rear view mirror anyway? My motto is 'High gear, high speed and blow the horn at the corners'. Never look behind, that's for sissies and those losers who are…behind you."
---
From "E.A.B." (April 2016): "When I stream the Bluetooth audio from the Ride-N-Watch through my Garmin zumo 660 all I hear is static that sounds like a hoarse laughing, can anyone help?"
---
From "C" (April 2016): "This has to be the stupidest thing I ever heard of for a motorcycle, riders should be watching their mirrors at all times continuously instead. I can't believe this is legal either (although it probably is in Texas)."
---
From "B.N." (April 2016): "I live in the UK and I have the British version attached to the left side mirror instead.
But any time there is text that is displayed, it streams backwards. This is especially a problem when I'm watching foreign movies with subtitles whilst I'm riding.
Customer support is in Croatia and they only speak Esperanto. What should I do?"
---
From "H.T." (April 2016): "Why would anyone spend over $200 to replace a rear view mirror with an electronic version? Oh wait, I know, those guys on Gold Wings."
---
From "P.T." (April 2016): "This has to be the world's most dangerous accessory for motorbikes, only an idiot would watch movies while they're riding. I hope one of those texting soccer moms hits you head-on while you're using this stupid thing and keeps on going."
---
From "H.S." (April 2016): "Haha, one of the funniest reviews on your website 🙂
"Ride-N-Watch decided to employ what may be the most under-utilized feature on a modern motorcycle: the rear-view mirror"
and from this comment you can clearly see that they have thought of everything:
"the company is working on a dual camera system that will stream both front and rear views on demand." Thanks for the laugh, have a nice 1.April :)"