Red Cross needs our help: The hard truth is that motorcycle riding is dangerous and we are statistically more likely to be involved in an accident than most other road users.
You can do something to help those injured by joining the Merlo annual Red Ride for Life in Brisbane and supporting the Red Cross. There are other worthy rides for blood donations in other states and countries and you are urged for your own sake and those of friends, to support them.
The ninth annual Brisbane Red Ride for Life is on Saturday morning (August 9, 2014) starting at Merlo, Thompson St, Bowen Hills. About 100 riders are expected to attend from all walks of life and all ages. 
Merlo CEO James Wilkinson is calling for riders to attend. "Blood stocks around the country are currently dangerously low and we are determined to make 2014 a record year for Red Ride for Life," he says.
"Every week Australia needs over 27,000 blood donations, currently only one in 30 people give blood, but one in three people will need blood in their lifetime. These figures don't add up. The Red Cross needs our help," he says.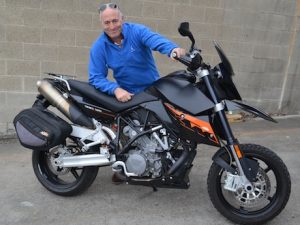 The ride begins with an early morning coffee and barbecue from 9am before setting out for the Springwood Red Cross Blood Donor Centre. 
Modern processing techniques mean that a single blood donation, when separated into its components, can help at least three different patients and contribute to making up to 22 different products (including potentially life-saving immunisations for chicken pox, hepatitis B and tetanus). 
Merlo Coffee's Red Ride for Life 2014
Date: Saturday 9 August 2014
Time: 9am – 2pm
Location: Merlo Coffee, 10 Thompson Street, Bowen Hills, QLD
Details: Enjoy a complimentary sausage and cup of fresh Merlo Coffee before embarking in convoy to Springwood Blood Donor Centre to give blood.
Register: Click here.