Rickman 250 Restoration Project:
RICKMAN 250 RESTORATION PROJECT – GERM OF AN IDEA
This one is a little different for me. I am a regular attendee of MidAmerica Auctions HUGE Classic Motorcycle Auction in Las Vegas every January. Whether I'm buying or selling, there are over 500 incredible classic bikes there for sale, and it's like the world's greatest Classic Motorcycle Show. Of course, I'm also there covering it for this website. But, for the last couple of years, I've been toying with the idea of buying a bike during the year that I could bring to the Vegas Auction, and make enough money on to pay for the trip. It remained just that, an idea, until right after returning from this last Vegas Auction. I walked into Raber's Parts Mart in San Jose & spied this sweet 1973 Rickman-Montessa 250 vintage dirtbike there in the shop. It was there for some repairs, but I went ahead & made an offer on it anyway & after a month or so of back-and-forth, I picked it up for a very nice price. Well-positioned to make a profit in Vegas.  And thus started my Rickman 250 Restoration Project.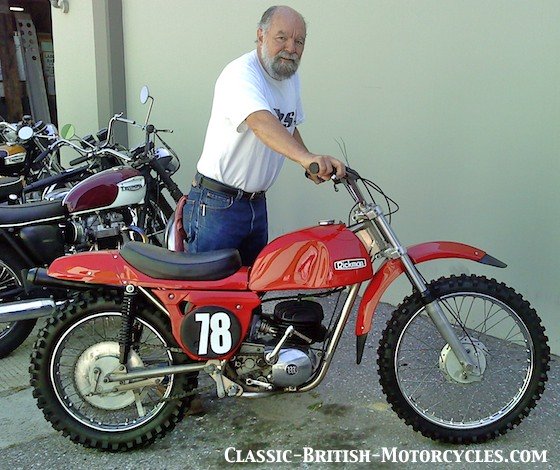 The man himself, Bob Raber, helping me load it in my van. I had a cast on my right foot, at this time.  Not a great time to take on this new Rickman 250 Restoration Project, but I did it anyway.
---
RICKMAN 250 RESTORATION PROJECT – MY MARKET RESEARCH
Before you can determine if there is any profit to be made, you need to figure out what you can realistically sell it for. So, before buying, or even making an offer on the bike, I did some research. I remembered seeing a '72 Rickman-Montessa 250 at the 2011 Vegas Auction, and it sold for $4,000. And it looked almost identical to my bike, same color & everything. But, it had the stock pipe, where mine has a period-correct SuperTrapp. I checked the NADA Price Guide & according to them, a #1 Condition (mint, like new) bike should be worth about $4,775 & a #2 Condition (gorgeous, but not perfect) is worth $3,625. So, I figuring $4,000 is a very doable number.  It's this math that is the basis for my entire Rickman 250 Restoration Project.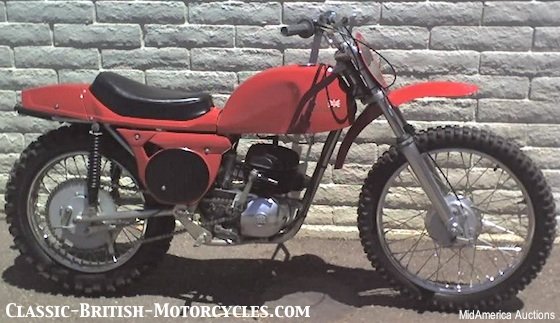 This 1971 Rickman 250 sold for $4,000 at the MidAmerica Classic Motorcycle Auction in Las Vegas in January 2011.
---
RICKMAN 250 RESTORATION PROJECT – CONDITION
Having lost my shirt on more than one motorcycle and/or car project, I vowed to be smarter this time on this Rickman 250 Restoration Project. My vast experience in this area has convinced me that the keys to turning a profit are 1.) Buying Right & 2.) Buying a bike that needs nothing. This last one has always been my undoing. I love working on bikes & cars & I've always managed to convince myself that I could turn a turd into a gem and still turn a profit. Not possible…for me, anyway. So, it was vital that this time I got a bike that was pretty much ready to go. Even a set of tires today can get very expensive. But, this Rickman was in near-perfect condition. It started from cold in 3 kicks, then started easily on the first kick every time. Everything works. The paint has had some chips that have been touched up. The touch-up paint was a perfect match, but they didn't do a good job of getting it on smoothly. But, these spots are small, few & far between. And that's the worst thing I can say about the bike. The tires are also brand new, I mean still with the nibs on them, never having touched the dirt. I have had to resist temptation to take it out for a spin. But, I like being able to sell it with brand new tires like that. They can only look new once.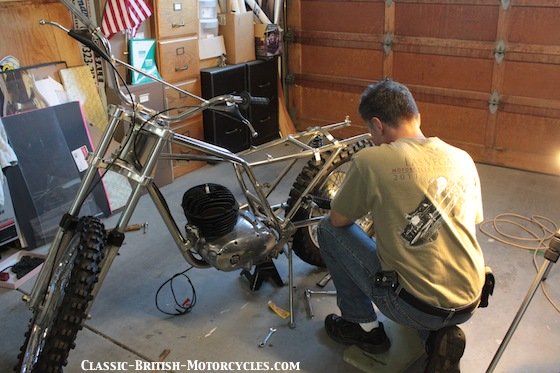 The first thing I did was to strip off all the bodywork, the tank (steel, no fiberglass), seat, fenders & side covers. I also removed the exhaust, footpegs, brake pedal, shifter, coil & air filter. This left nothing but the frame, engine, suspension & wheels.
---
RICKMAN 250 RESTORATION PROJECT – WORK COMMENCES
I decided that the best way to do this bike was to polish it up to an eye-popping level, making it so pretty that buyers couldn't resist it. Of course the Rickman was already a gorgeous bike, with its nickel-plated frame & lovely bodywork. So, I started polishing. I did one frame tube, buffed it up & took a look…WOW!! It really looked fantastic! What a difference. What an improvement!! I polished frame tubes, sometimes in tight spaces & at difficult angles, until my fingers ached. But when I was done, man, did it look good! I've now finished the frame, the engine & the back wheel. All that is left to do is the front wheel. Then I'll wax the bodywork & put it all back on. I plan to get a length of new hose for the air cleaner & some new clamps to finish off that "perfect" look. When I'm done, it should look like a show bike. Certainly much nicer than the '71 Rickman 250 I saw sell at the last Vegas auction for $4,000. Can I get more? $4,500 perhaps? $5,000 maybe?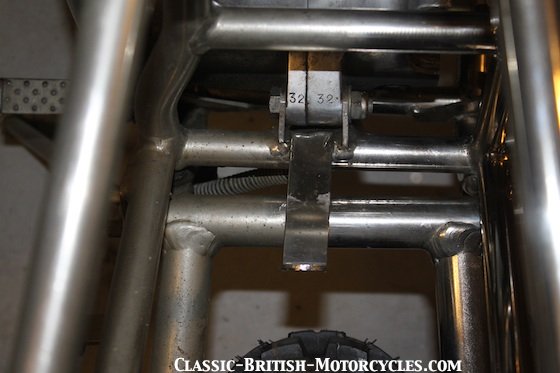 How's this for a 'Before-and-After' shot? On the left is the frame as it was before polishing. On the right is the finished job. After seeing how good it could look, I felt it would be a crime to let that luscious nickel-plated frame go unpolished.
---
RICKMAN 250 RESTORATION PROJECT – PUTTIN' HER BACK TOGETHER
After stripping it all the way to the bare frame, engine, suspension & wheels, I hand-polished not just all of that, but also every piece, large & small that I had taken off the bike. And even on something as spartan as a 1970s Motocrosser, there were tons of bits & pieces to clean & polish. But, over about a week, I polished what I thought was all of them…until I began the reassembly of the bike. That's when I noticed how bad this old bolt looks next to that freshly polished bracket. Then my forward progress would cease while I painstakingly polished the bolt head. It made for slow going.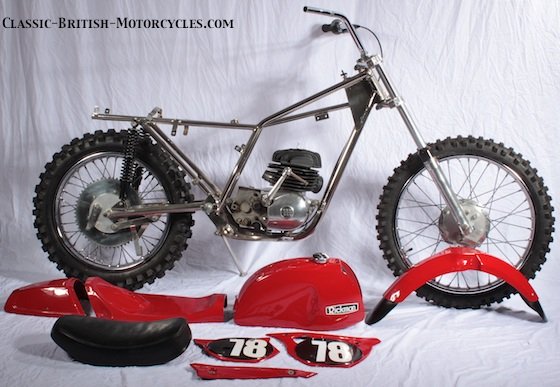 RICKMAN 250 RESTORATION PROJECT – LIGHTS…CAMERA…
To add to the complexity of it, I decided to film the entire reassembly process and use a series of time-elapsed still photos run together in video form. So, I set up my lights & white photo backdrop (the one I use at Classic Motorcycle Shows like Clubmans Show), put the camera on the tripod & rolled the bike into position. The key with these time-elapsed sequences is to never allow the camera or the subject to move out of place, not even slightly.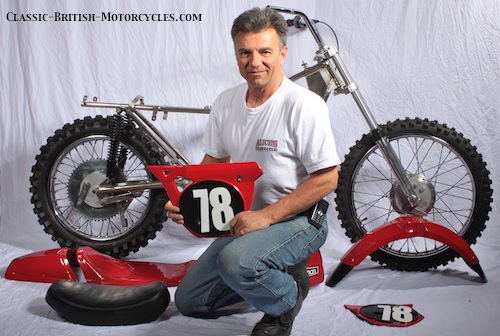 So, with everything fixed in place, I proceeded to put one piece on first, the front fender, then stop & take a picture of it on the bike. Then the front brake cable, stop, take a picture. It's a tedious process. But one that I enjoyed immensely. I started early Saturday morning, turned on the radio to my favorite classic rock station and started taking pictures, non-stop until I finished at about 6:00 pm. When I was done, the bike looked terrific! When I saw it all together & fully-detailed like this, I immediately knew that it certainly looks much better than the Rickman 250 that sold at this last MidAmerica Vegas auction that sold for $4,000. Maybe my bike will bring more…$4,500 perhaps? Maybe even as high as $5,000? Who knows, its purely speculation at this point.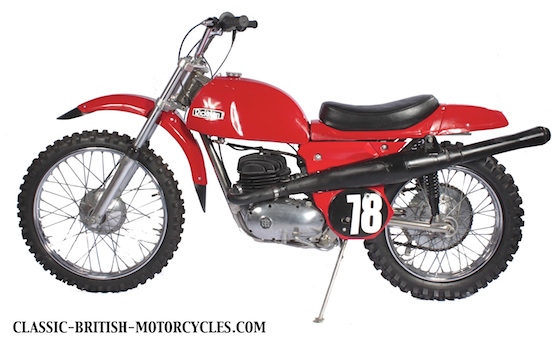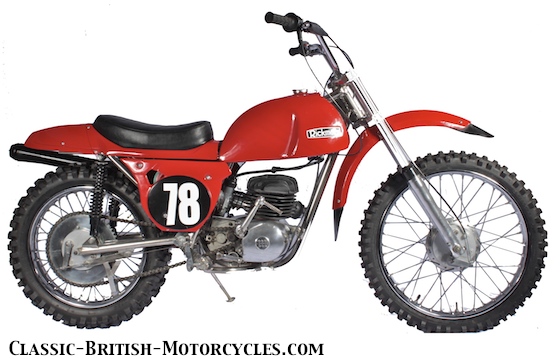 DOING THE FINISH WORK
In the end, what buyers see is a pretty paint job and shiny chrome. All your hard work can be in vain if the bike isn't gorgeous to look at, eye-popping is the phrase I like to use. A good paint job is critical to getting top price at auction (assuming you're not destroying authentic patina in the process). If you're lucky enough to have good paint, then you need to prep it and make it shine. Buffing, light polishing compounds, hand-rubbing, and a good high-quality car wax can all be employed to bring that paint job out and make it pop.
PREPARING FOR THE AUCTION
The deadline to get a bike into MidAmerica's Vegas Auction Catalog is mid-November. And I wanted some truly eye-popping photos of the Rickman for it. That was actually the goal of all the efforts above, to detail it beyond belief, then to take stunning photos for that catalog. It's a gorgeous full-color piece on heavy gloss paper & it's beautiful. MidAmerica really does a nice job on them. I've had bikes in there before, and its vital to make that deadline and be in the catalog, since they send it out to thousands of registered bidders & former customers from over 20 years in the business. This will be MidAmerica's 21st year in Las Vegas. So, I got the pix, Photoshopped out the backgrounds, organized my paperwork & other stuff & filled out my application with MidAmerica. As it turns out, I need to put the title in my name to sell it through them. I hadn't planned to do that since it's a dirt bike & doesn't need tags. But, I'm going down to the DMV tomorrow morning to turn in the old title (still an actual Pink Slip, a true classic in itself, these days) & get a new one in my name. Paying the sales tax (9.75% in CA) & the transfer fee (probably $15) was an added expense I wasn't counting on. But, it's all good. I'm sure we'll do great. Especially now that I've seen how nice it looks. And it comes with the original Owners Manual, Parts Manual, and original Sales Brochure. It promises to be interesting…I can't wait!