Spirit Jacket Image Gallery
February 19, 2012 – The Richa Spirit jacket (review) was formally introduced at the 2012 Dealer Expo by Vega Helmets, the importer and distributor, and Richa Clothing.
Richa is a European (Belgium) manufacturer who has been making motorcycle gloves and clothing for more than 125 years.
That's a long time in anyone's book!
The brand is well regarded in Europe and, as we wrote in the review, it's good to see the Richa brand finally make it to the U.S.A.
I stopped by the Vega Helmets booth and ran into Stijn ("Stin") Rigaux from Richa, who came over from Belgium to help introduce the brand to U.S. dealers and who kindly agreed to pose in the Richa Spirit "Politie" (Netherlands Police force) jacket (in a size larger than he takes) in the photos below.
Can you imagine a police force in the U.S.A. spending $1,000.00 on a jacket? No, I couldn't either. And the police in Netherlands get BMW K1600GT's to ride — equipped with Clearwater Krista lights (review), no less (the police takedown version)!
Too bad, because the Richa Spirit jacket is in a different universe entirely from the 1940's inspired gear that most of the motorcycle police in the U.S.A. wear. What — our police don't need protection from the elements?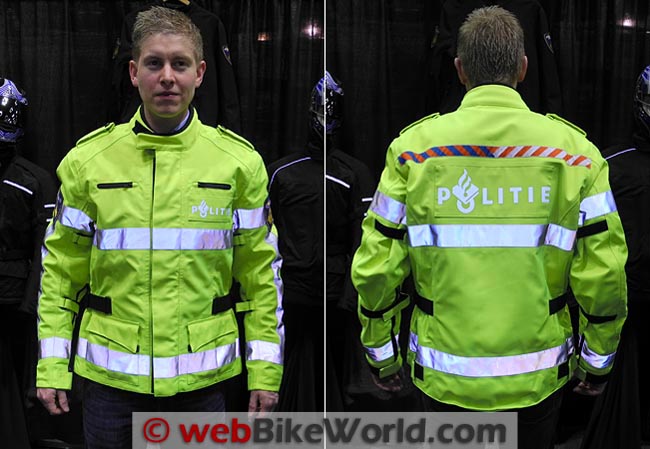 Richa Clothing in the U.S.A.
I learned that the Richa Spirit jacket and pants have received a super reception from U.S. dealers and more than expected have signed up to carry the brand, so expect to see it soon in a dealer near you! That's great news, because the Spirit outfit is loaded with features.
In fact, the reception has been so good that Vega Helmets is planning on bringing the entire Richa line, including their motorcycle gloves, to the U.S. Richa has been making gloves for 125+ years, and they're supposed to be "da nuts", so I'm looking forward to checking them out.
It's tough explaining why a jacket is worth 700 bucks, especially since many of the technologies can't be directly seen or touched and, frankly, sound like something from Star Trek. I plan on following up the Richa Spirit review with a Part 2 this summer, when the C-Change technology should really show its stuff. In fact, I like the Richa Spirit outfit so much, it's one of the few I'm going to keep!
The jacket comes in gray and black and this was a chance to see those colors. The black is, well, black…but the gray is a very nice shade for sure.
Here are some photos of the police version of the Richa Spirit jacket, along with a couple of shots of the gray version. Be sure to read our Richa Spirit jacket (review) and the follow-up this summer, describing the performance of the C-Change fabric.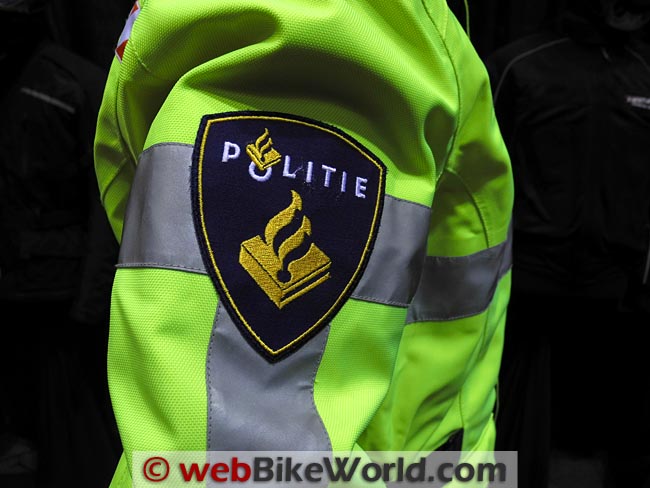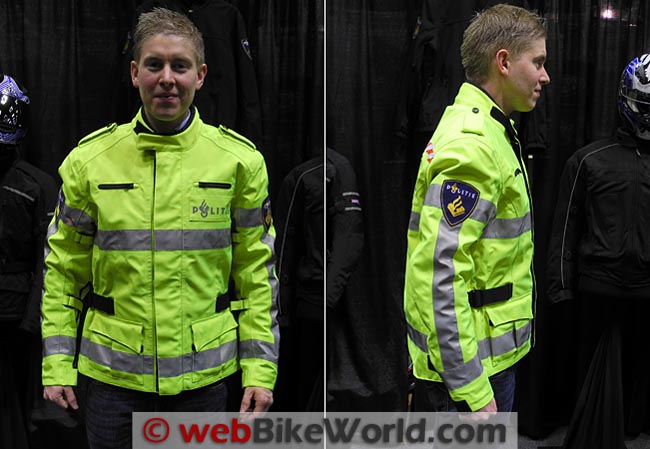 [includes/motorcycle-superstore/richa-spirit-jacket-pants-std.htm]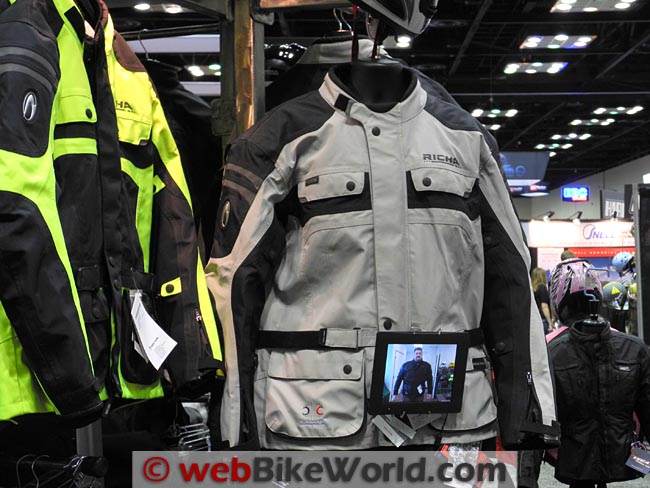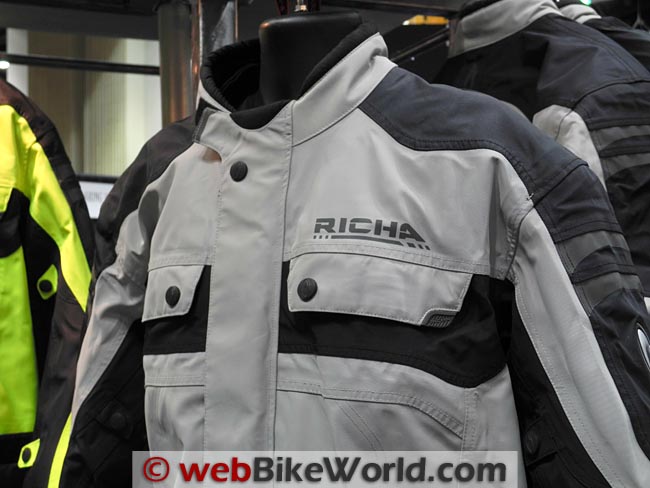 More: 2012 Dealer Expo Live Reports
Publication Date:  February 19, 2012
Note:
 For informational use only. All material and photographs are Copyright © webWorld International, LLC since 2000. All rights reserved. See the webBikeWorld® 
Site Info page
. Product specifications, features and details may change or differ from our descriptions. Always check before purchasing. Read the
Terms and Conditions
!
Owner Comments and Feedback
---
From "S.K." (February 2012):  "Just wanted to add some comments to your review… I'm using the 2011 Freeway jacket and can easily say it's the best dedicated riding jacket I've worn in my 40+ years as a tour rider.
The older style neck closure, although not magnetic, is still something that can be easily adjusted, and once adjusted, closed while wearing winter gloves! The "storm collar" that zips onto the jacket actually works! (I no longer need to wear a neck gator when I ride in the winter).
The pocket waterproof zippers really are, and the multiple air vents let me use this jacket even in the summer for tour riding without wishing I was wearing my mesh jacket. The cuffs are nicely adjustable, and there are more pockets than I can find use for! It's a very comfortable and functional jacket that I would heartily recommend.
But there are a couple of negative points that really stand out… I can't tell from the review if the liner has been redesigned, but they REALLY need to remove that silver foil stuff. Body moisture actually condenses on it and drips down! The jacket breaths nicely but that zip-in liner does NOT!
And when inside the jacket, the combination is so stiff that I have trouble bending my arm to raise my helmet visor. I eventually stopped using the included liner and opted for a thin polar fleece over-shirt. The outer jacket seals so well that with everything buttoned up and the fleece used as a liner, I'm more than comfortable riding for hours when the temps are hovering at the freezing point (I can ride about 360 days here, with a few days down for snow flurries or snow on the street).
The second (and there are really only two) negative aspect is the sleeve length. Perhaps a street racer who's lying flat on the tank with arms stretched out in front might not find this too much of a problem, but as a cruiser rider with somewhat shorter arms (not unduly short, but shorter…) the sleeves are almost three inches too long for me.
With my arm hanging straight down, the sleeve completely covers my entire hand a half inch past my finger tips!
The rest of the jacket is a very snug but accurate fit … for people with normal bodies. (I have a rather big neck and nothing has ever fit that correctly out of the box. I always do a collar modification to anything that needs to close)."