The REV'IT! Westport overshirt is what we used to call a "shirt-jac", or shirt jacket. You might call this an 80/20 combo of street wear with a touch of protection. The outer shell is a fairly hefty 11 oz. Cordura denim with what feels like (but isn't) a lightly waxed finish. The external seams are triple-stitched and the lining has the REV'IT! "PWR shield" protective fabric on the inside, doubled in the impact areas.
PWR shield is "a unique knit technique which results in a fabric with unsurpassed cut, tear and abrasion resistance." Also hidden inside are the REV'IT! "SEESMART" CE Level 1 shoulder and elbow protectors, with a double layer of PWR shield as well. REV'IT! has probably done more than any manufacturer to push the boundaries of street wear for motorcycling that's loaded with style and the Westport is the latest example.
The Westport could easily pass for high fashion in some Manhattan clothing boutique, yet it has a modicum of protective features that should help satisfy non-technical riders. Match it with the REV'IT! Alpha RF Pants (review) for a good-looking, stylish outfit that you can easily wear to work or for a day out on the town.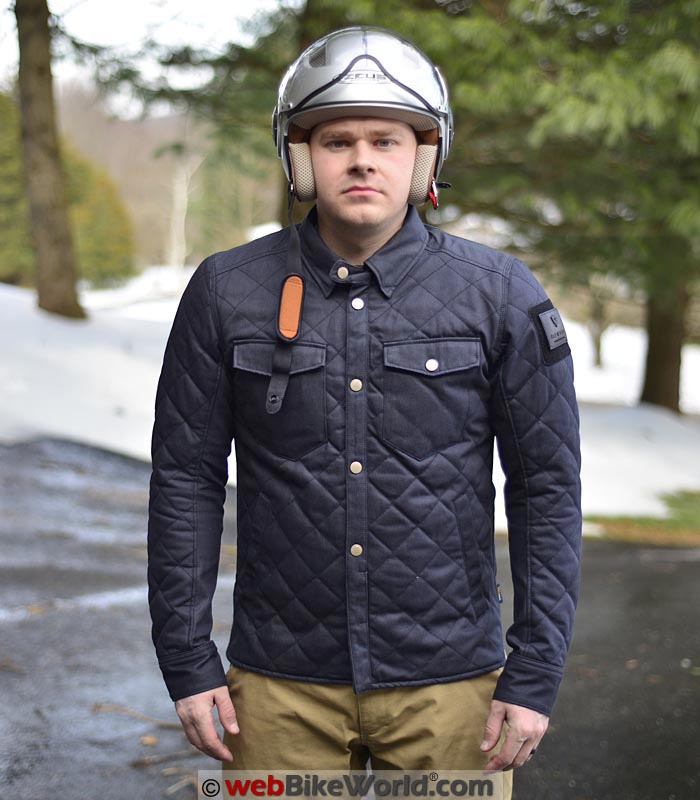 Background
REV'IT! has been a leader in bringing high style and fashion to motorcycle riders, with the ever-expanding lineup of REV'IT! urban clothing. It wasn't all that long ago when motorcycle clothing looked like something worn by a fire fighter or an Alaskan deep-sea fishing boat crew.
Until recently, you'd never use the word "style" or "fashion" with anything related to motorcycle clothing. That all changed a few years ago and it's getting better all the time. Let's get this over with right away: this is not highly protective "technical" motorcycle gear. If that's what you want, there's plenty of it to be found.
This is lightly protective clothing designed with style so you don't have to look like you just came from a toxic waste cleanup site when you get to work. In fact, the Westport jacket and the REV'IT! Alpha RF chinos we'll review next look better than most regular street clothes you have in your closet. And what's wrong with that?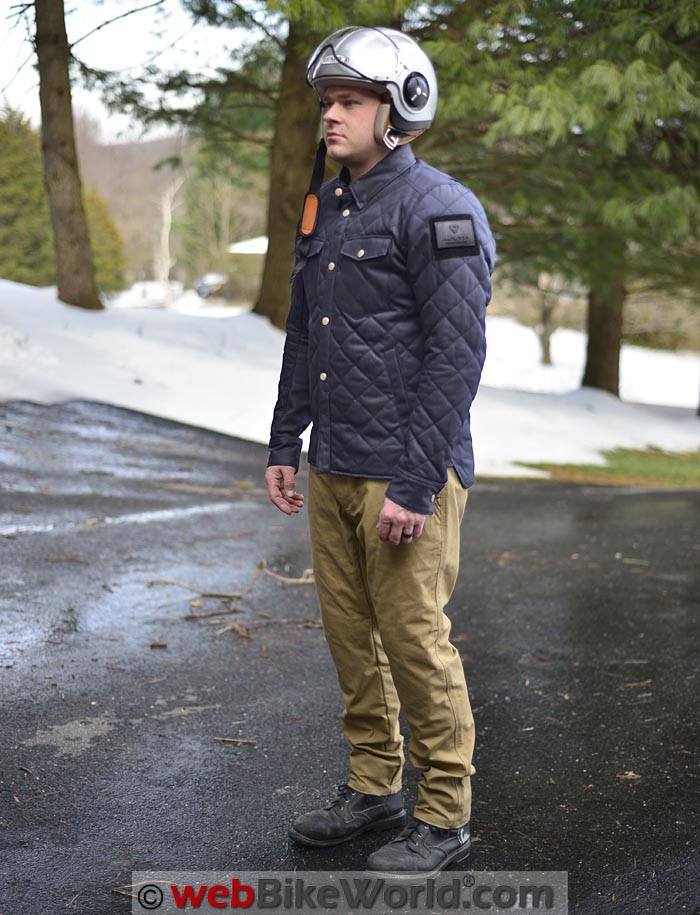 The REV'IT! Westport Overshirt
REV'IT! calls the Westport an "overshirt"; we used to call this a "shirt-jac" back when. It's sort of a combination of both; not really a shirt but not a jacket either. It's really designed for wearing something underneath, like a T-shirt at a minimum and maybe a T-shirt and dress shirt for work. If you need to wear anything more than that, you'll probably have to go one size larger, but we'll describe the fit in a following section.
The body or shell of the jacket is made from something you've probably never seen on a motorcycle-related garment before; it's kind of a soft-ish cotton Cordura weave with some type of textile finish or treatment that makes it feel vaguely like waxed cotton. This gives the Westport a mildly water-repelling property but by no means is this a waterproof garment.
It's not as lightweight as you might think, with this size large tipping the scale at 1.4 kg (3.1 lbs.). This gives it a heft that feels more like a mid-weight winter jacket than even a heavy quilt-lined flannel shirt or similar. The dark Navy blue color has a sort of "heathered" appearance, with tiny (tiny) flecks of lighter blue visible on close inspection of the fabric.
The quilted sewn diamond criss-cross pattern gives the Westport an additional textured appearance without too much of that puffy ski jacket look currently in vogue.
Overall, the dark blue color and the overall very nice styling (our photos don't do it justice, by the way) makes for a jacket you will want to wear on or off the bike…and can do so without anyone knowing what's up, no problem.
Notable external features of the Westport overshirt include the brass snaps with tiny molded "REV'IT!" text. The snaps set off the color very nicely. And guess what? The bottom snap is hidden under the fabric hem, so you can still fasten the bottom of the jacket without a metal snap carving your initials in the gas tank. The external seams down the arm and other locations are triple-stitched, which should provide good seam strength.
Under the front main entry flap is a zipper, so the combination of the entry and the zipper adds some wind protection. Also on the outside, the upper arms have a nice expansion gusset that provides extra room for the arms when you're reaching for the handlebar. One more external feature is the collar, which again is unique in the world of motorcycles as far as we know and is probably the most distinguishing shirt-jac or overshirt feature: a button-down collar.
That's right, the collar has hidden metal snaps underneath each point to prevent the wind from pushing it around as you're riding. The sleeve cuffs look more shirt than jac, with the brass snaps and a normal dress shirt type of opening with no other liner, gusset or zipper underneath.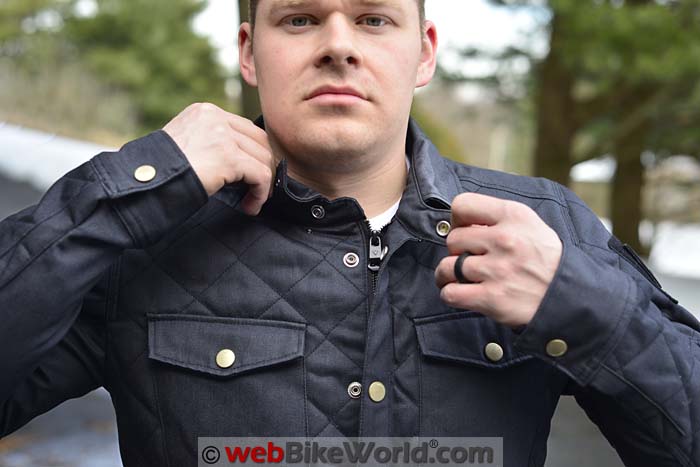 Sizing and Fit
This Westport overshirt is a men's size large and it fits about as expected to perhaps maybe 1/2 size small for a 5′ 10″ male with 43″ chest and 35″ waist. It's what REV'IT! calls a "City Fit".
The Westport should fit a 43-44″ chest but there's not much room underneath for anything much more than a T-shirt (and not much room for anything more than a slim belly!). The arms feel snug to tight, however, even for "normal" arms. If you have anything more than standard biceps, you'll probably need to go up one size.
The sleeve length is perfect for a size large at 34″.
Pockets
Also on the outside are two 165 mm by 127 mm (5″ by 6.5″) sewn-on patch pockets on the upper chest, covered with a flap 'n' snap only. These pockets are unlined but they're large enough (and sturdy enough) to easily hold a big smartphone, like the Motorola Moto X Pure Edition, with its big 5.7″ screen size and 177 gram weight.
There are two hand pockets that are semi-hidden on the lower front, with a single internal snap to secure each. These measure about 178 mm (7″) deep and have a 171 mm (6.75″) opening. They're also lined with a polyester taffeta, which is comfortable for the hands.
On the inside of the left placket, behind the main entry zipper, is a zippered pocket with a 153 mm (6″) opening and about 127 mm (6.5″) of depth. This one is handy for stowing a wallet or cell phone.
And there's one more pocket, this one is horizontal on the right-hand side inner chest. It measures 153 mm across (6″) and it's about 127 mm (6.5″) deep.
So overall, plenty of pockets actually for a jacket of this type.
And the construction and fabric types lend structural integrity to the pockets, more so than many other types of motorcycle jackets, which means they'll hold heavier items without sag or complaints.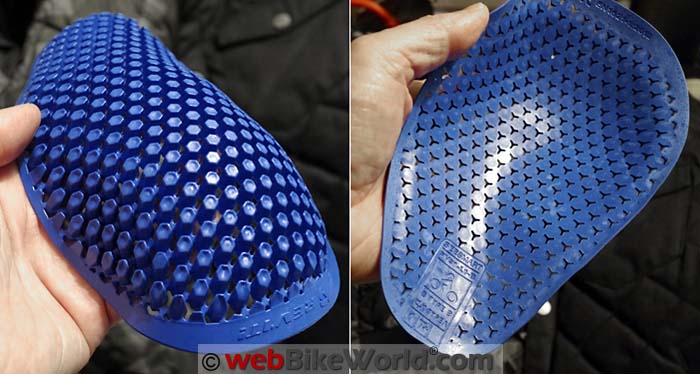 SEESMART CE Level 1 Shoulder and Elbow Protection
When the Westport first arrived and we were giving it the first once-over, we assumed either that it was designed without protectors or that no protectors were included. But looking inside, we noticed pockets for shoulder and elbow protectors and even a slot to insert a back protector.
More investigation turned up the REV'IT! SEESMART protectors cleverly hidden inside. You'd never know it and indeed, the protectors are barely noticeable even when you're looking for them.
Apparently, motorcycle clothing protection technology has evolved more rapidly than anyone knew, because these protectors have to be the thinnest, lightest and most flexible we've ever encountered. Again, this is by no means equivalent to a "technical" motorcycle riding jacket but considering that these protectors are virtually unnoticeable, yet meet the CE Level 1 standard, that's definitely a plus.
The SEESMART protectors are lightweight, very flexible and have lots of perforations that give them about the best ventilation of any protection during hot weather.
And for an extra 50 bucks, you can get the (Type RV) REV'IT! SEESOFT CE Level 2 back protector insert (review) and stick it in the built-in pocket on the Westport overshirt.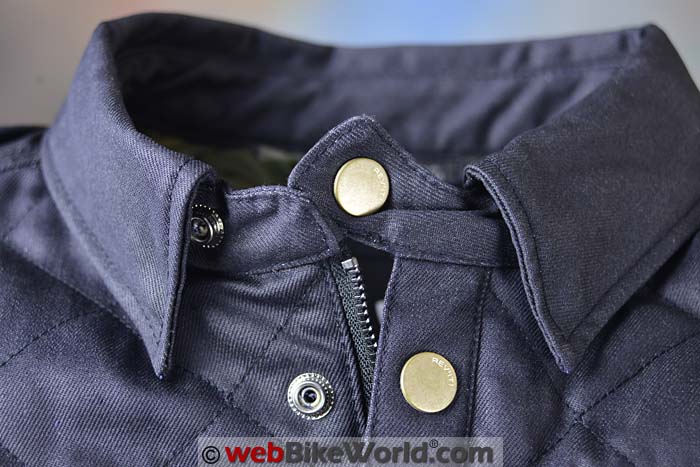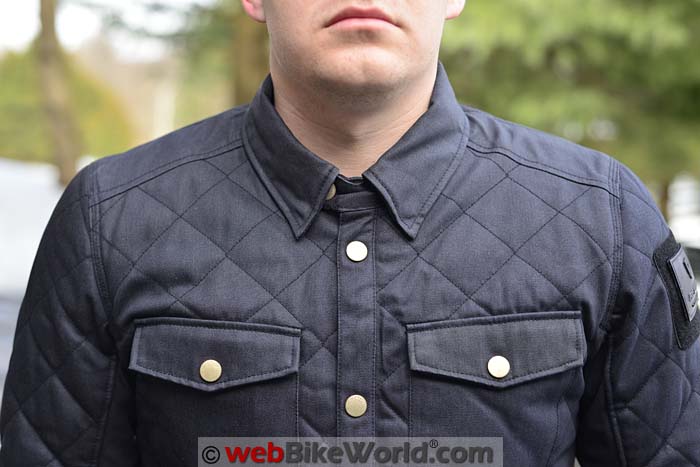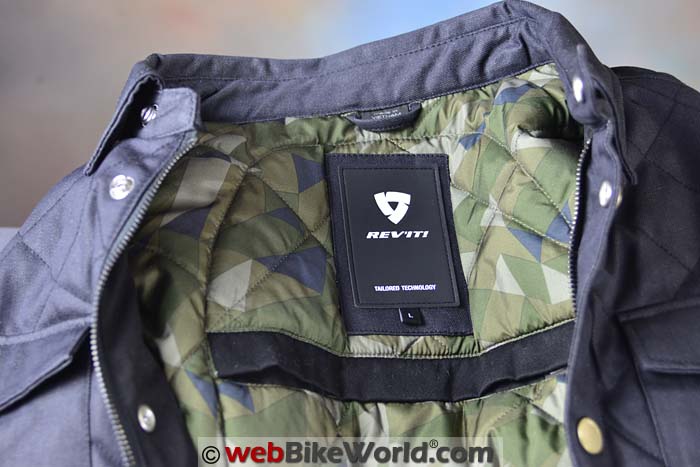 More Westport Overshirt Details
The Westport has a short connection zipper in the rear, under the back protector pocket, that will fit the very clever REV'IT! Safeway belt (review) that connects any pair of jeans or pants to any REV'IT! jacket.
The Westport overshirt does not have the built-in loops for the REV'IT! HV Connector Vest (review), a retro-reflective removable outer vest for nighttime use. The vest can still be used, but it won't stay connected to the overshirt when you take it off. Also, the non-removable slightly insulating and padded liner in the Westport overshirt has an interesting diamond-pattern camouflage that actually looks like a pretty good camouflage pattern!
There's another interesting feature on the upper portion of the left arm. It's a patch of hook-and-loop with a removable REV'IT! logo. This is similar to the method used to attach insignia to some military uniforms.
I'm not sure if REV'IT! has or plans some additional novelty logos or icons to attach, but it would be easy enough to add some hook-and-loop to your own patch and slap it on.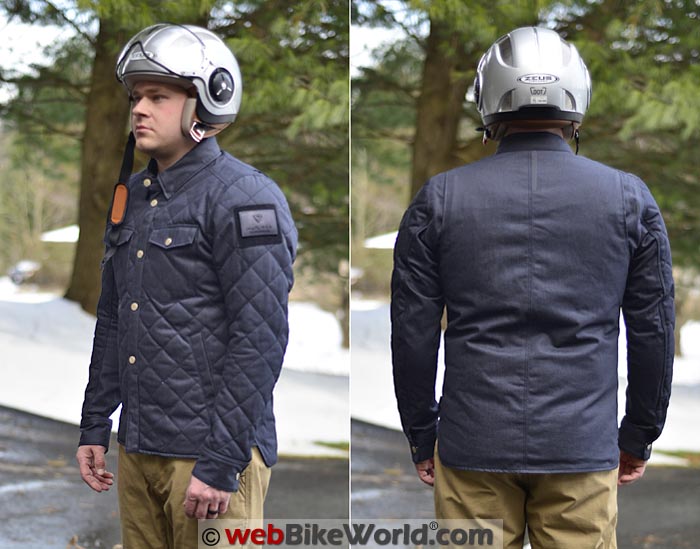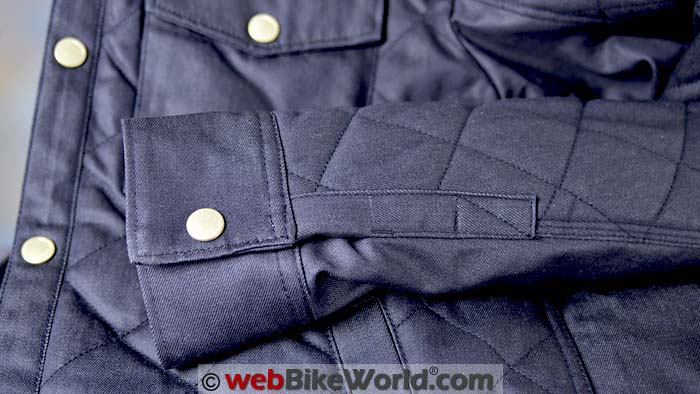 Reflectivity
The Westport has a small strip of reflective tape located vertically in the rear, just below the collar. It's very dark, so it's barely noticeable until it's illuminated. The strip measures about 115 mm long by 8.5 mm wide.
Cost and Comparisons
The Westport overshirt has a list price of $299.99, which admittedly sounds pretty steep. Your justification might be that this is a garment that looks good and is stylish both off the bike as well as on.
Conclusion
The Westport overshirt pushes the boundaries of good-looking and even fashionable street clothing with a secret passion for motorcycling. REV'IT! is probably the leader when it comes to expanding this segment and we give them a lot of credit for that, because better-looking motorcycle clothing may actually help to bring more new riders into the fold. The only issue with the Westport is the price, which may be a bit too rich for some.
By the way, it would be very interesting to see what would happen if REV'IT! were to set up a short-term Pop-Up store (definition) in Manhattan to display their urban lineup to non-motorcyclists. Our guess is that it would be very successful!
Part 2: REV'IT! Alpha RF Pants Review
w

BW

 Review: REV'IT! Westport Overshirt
List Price (2017): $299.99