Ventura Jacket Review Summary
Ventura Jacket Image Gallery
The Rev'it Ventura Ladies Jacket is a top-of-the-line adventure/sport touring jacket with all the features found in men's gear, but designed specifically for women.
Great venting and thermal and waterproof liners make this all-weather jacket versatile enough to use for all seasons in many regions.
Combine this versatility with high-end ProLife CE-approved armor and an abrasion-resistant textile shell and this might be "the one" jacket for all your riding needs.
I live in Big Sky Country: Montana!
And we have a saying…if you don't like the weather, wait five minutes because it will surely change. I'm still dumbfounded when it is sunny one minute and snowing the next!
In March, as I contemplated putting chains on my motorcycle tires (I'm joking, don't try it!) I counted the days to warmer weather.
In April, temperatures were fifteen degrees below normal — still too cold for me with the gear I had. I needed to find a warmer jacket and pants so I could squeeze in more seat time during early spring and late fall.
Fortunately, I got the opportunity to evaluate the Rev'it Ventura Ladies Jacket and Ventura Ladies Pants (review) for this two-part review.
I'm excited to announce that the Ventura outfit kept me warm in temperatures up to fifteen degrees colder than anything else I've worn before (happy dance!).
Temperatures here can fluctuate as much as 35 degrees in a day, so versatile gear is important. The Ventura outfit easily works in all seasons in many regions, so for the most part, the Ventura outfit is all-weather, all-season gear.
Rev'it Ventura Jacket – Sizing and Fit
My experience with Rev'it leather and textile gear tells me there is a difference in sizing between the two, and that's important to know.
For example, I wear a size 36 in the Rev'it Ventura Ladies Jacket, but a size 38 in the Rev'it Ignition Jacket (review). I tried the size 38 Ventura but I can fit a baggy sweatshirt underneath with the liners installed, which means it's too big.
The Ventura Jacket should be snug with the liners in; this keeps the rider warmer by keeping too much cold air from circulating inside. Then, even with the liners removed, the outer shell will still fit the rider closely.
A size 36 Ventura Jacket with the liners attached is a snug fit, but it does not limit my range of motion when riding. The sleeves are a little short on me, but I have unusually long arms.
Rev'it caters to women by making gear specifically designed for the female body. The Ventura Jacket has darts (folds sewn into the fabric to add shape) which provide room at the bust line while allowing the jacket to fit closer at the waist. Even the liners have darts and princess seams to give a closer fit.
Since no two ladies are shaped alike, the rider can adjust straps at the waist and Velcro tabs at the hips for a custom fit. Pre-curved sleeves and stretch panels on the elbows and back let the rider move without restriction.
Adjustment straps on the sleeves of the Ventura jacket hold the armor in place when the liners are removed. The cuffs are also adjustable and will fit under most gauntlet gloves.
Made with laminating technology, the extra-thin adjustment tabs help reduce bulk at the wrist. Even the circumference of the collar is adjustable with five different positions to accommodate layering over under layers such as a balaclava. The collar also has a small hook and loop to hold it open if desired.
The overall style of the Ventura jacket is a regular or tour fit.  I worried that the front would bunch up when I was riding my Ninja 500, but that was not the case. By the way, the back of the jacket is longer than the front so it doesn't creep up in the back and let the cold air in. This helps sportbike riders, who should not rule this gem out!
Protection and Visibility
Protection should always come first when selecting riding gear. No worries here! The Rev'it Ventura Jacket features a ladies version of the ProLife CE-approved armor. ProLife is a step up from Knox brand armor, offering greater flexibility and impact protection. It's usually included on high-end jackets, such as the more expensive Rev'it men's gear. A perforated EVA foam back pad is also included.
The Ventura jacket has laminated reflective panels on the shoulders and lower back. These panels are "welded" to the jacket so that no extra seams are needed, which makes the jacket look better and may be safer because it means fewer holes and no thread to cause weak spots.
Talk about nighttime visibility! These strips are very bright under headlights and can be seen from any angle. These features are great, but it's also important that the jacket won't rip apart on impact. The main fabric is a water-resistant, 500 denier shell (the Rev'it version of Cordura). It is extremely durable and tear- and abrasion-resistant and all of the seams are top-stitched for reinforcement.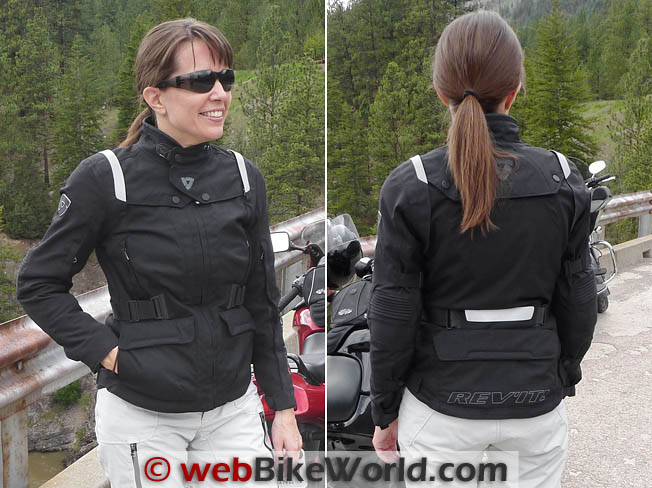 Liners and Ventilation
The Rev'it Ventura Ladies Jacket offers the utmost in versatility and can be worn five different ways to accommodate the rider in almost any condition:
Outer shell with both liners installed.
Shell with thermal liner only.
Shell with Hydratex waterproof/windproof liner only.
Shell with both liners removed.
Shell with collar section removed.
The thermal liner is full-length to the sleeves and it can be attached to the jacket with or without the separate Hydratex waterproof liner. Both liners are easily installed and removed with zippers and snaps. All zippers throughout the jacket are made by YKK and all of the snaps are spring-loaded.
The three-layer Rev'it Hydratex liner is breathable while also remaining wind- and water-proof. Taped seams, elastic in the cuffs and hem, and a double flap over the zipper block air and water from getting inside. This durable liner can also be worn in the jacket with or without the thermal layer.
The Hydratex liner has a short connection zipper to attach to Rev'it pants. The outer shell has both short and long connection zippers.
One of the most unique features of the Rev'it Ventura Jacket is its removable collar. The collar has a higher back to keep wind out and a rolled edge for comfort. On hot days, let the top down on the convertible! Undo the collar snaps, zippers, and Velcro to uncover a large Dynax mesh section for massive air flow.
Dynax mesh is a high-performance, tight-weave mesh with excellent abrasion resistance; this mesh is sturdier than looser-weave mesh but still breathes extremely well. For added air flow, unzip the chest vents (at the outside edge of the bust) and the long vents on the arms. The outer shell also has a permanent full mesh lining for breathability and comfort when both liners are removed.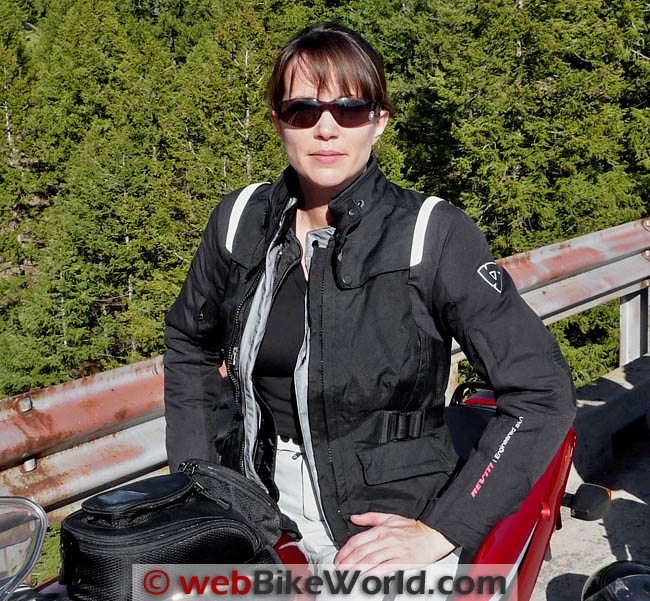 Pockets
There are plenty of pockets in the Ventura jacket and there is always access to an inner pocket no matter how the jacket is worn.
The thermal liner has two zippered inside pockets that are 4.5 inches (11.4 cm) wide and 5.5 inches (14 cm) deep. The Hydratex liner has one inside pocket measuring 5 inches (12.7 cm) wide and 5 inches deep.
The outer shell has one inside pocket that is 5 inches wide and 6.75 inches (17 cm) deep. The shell has several outer pockets.
There are two waterproof, Velcro-closure front pockets measuring 5.5 inches (14 cm) wide by 6.5 inches (16.5 cm) deep.  Beneath those are hand-warming pockets (with no closures) that are 4.5 inches (11.4 cm) wide by 6.5 inches deep.
The large back pocket is 11 inches (27.9 cm) wide and 6.5 inches deep — perfect for storing the Hydratex liner when it is removed.

Translating Features to Performance
As you can see, the Ventura jacket has many different features. But the real test is how well these translate to riding comfort.
As mentioned above, the first thing I noticed was that I was able to ride in temperatures up to fifteen degrees colder than what I previously managed with my other gear, wearing a base layer under the Ventura jacket and pants in the coldest weather.
My coldest ride was at 46 degrees (7 C) at speeds up to 45 mph (72 KPH). After about 1-1/2 hours I started to get slightly cool. I also took a couple of rides in temps ranging from 50-54 degrees (10-12 Celsius) at steady speeds of 55-70 MPH (88-112 KPH) and I was pretty comfortable; I only became chilled at times when riding along the river or in the shade of a mountain.
On thing I should note is that I tend to feel the cold faster than most people; others might be perfectly warm under the same circumstances.
It finally warmed up enough for me to ride without the base layers. I wore only a T-shirt and shorts with both liners in the Ventura outfit, and found that I was a bit too warm in 65-degree weather (18 Celsius) at freeway speeds. After a twenty-minute break, I even started to sweat, so I removed all the layers and the collar for the ride home.
The vents and Dynax mesh provide good air flow. I also had the "pleasure" of riding in a light rain storm and the Ventura outfit kept me dry. When I stopped and took off the jacket, water was beaded on the surface of the shell and nothing had even gotten through to the waterproof Hydratex liner.
The Ventura Ladies Jacket comes in three colors and the Ventura Ladies Pants in two. Go matchy-match or change it up! Don't forget, you can also coordinate with an entire line of Rev'it's women's specific gear.
Conclusion
The Rev'it Ventura Ladies Jacket is heaven-sent for women wanting an all-season, all-weather, high-quality, high-performance adventure touring jacket.
With superior ProLife CE-approved armor, the flexibility to ride in cold or warm weather, three color choices, and enough pockets to store an army of small items, what is missing in this jacket?  Nothing but you!
UPDATE
June 2011: I wore the Ventura Jacket and Pants in fairly heavy rain recently and stayed completely dry. Unfortunately, on that same ride, one of the snaps on the Hydratex liner came off and I was unable to fasten the collar. After only a dozen rides wearing this high-end jacket, I couldn't have been more surprised. Thankfully, the Ventura Jacket and Pants come with a one-year warranty.
Next: Rev'it Ventura Pants Review
w

BW

 Review: REV'IT! Ventura Jacket
Manufacturer: REV'IT!
List Price: $449.99
Colors:

 

Black or Silver.
Made In: Vietnam
Sizes: 34-46 Women's.
Review Date:

 

June 2011
Note:
 For informational use only. All material and photographs are Copyright © webWorld International, LLC since 2000. All rights reserved. See the webBikeWorld® 
Site Info page
. Product specifications, features and details may change or differ from our descriptions. Always check before purchasing. Read the
Terms and Conditions
!
Owner Comments and Feedback