Mistral Pants Image Gallery
Stylish mesh pants with Rev'it quality.  These fit better than the Rev'it Airvent mesh pants we reviewed several years ago.  With the zip-in Hydratex wind- and water-proof liner, these could be three-season pants, depending on your local climate.  Get 'em while you can though; our sources tell us that the Rev'it Mistral pants will be gone next year.
More:  Part I: Rev'it Air Mesh Jacket Review  |  wBW Reviews Home  |  Owner Comments (Below)
A quick look at the Rev'it website shows 16 different types of textile pants for sale in 2008, and you'd think I'd have noticed that one of them is a new mesh design.  I've been wearing the Rev'it Airvent pants and Airflow mesh jacket in hot weather since I first reviewed the pair in 2005, and I was ready for a new pair of mesh pants for this summer's hot weather.
The Airvent pants were always a bit tight in the waist, but they were a nice match for the Airflow jacket, which still fits perfectly, and I felt safer in that outfit than anything else I could wear when the temperatures reach their yearly zenith.
But when Rev'it sent one of their new "Air" jackets for a review, I discovered that in the interim the zipper design has been changed, so the Air jacket wouldn't zip to the old Airvent pants.  Rev'it changed the zipper at some point in the past 3 years for some reason — I hate when that happens!
That's when I discovered the Mistral mesh pants, which have the new zipper configuration to mate with the Air jacket and other new Rev'it styles.  Now I probably could have brought the pants and/or jacket to the tailor to have a matching zipper sewn in, but why not get the whole outfit to evaluate the latest Rev'it mesh gear?
Fit and Comfort
I'm glad I did — the Mistral pants definitely fit me better than the old Airvent pants.  The size 52 Mistral pants shown here provide a nice and comfortable fit around my 36″ waist, and although I always have a problem with the location of knee armor, the Mistral pant legs are proportioned correctly for the waist and they are tapered, so they fit my 30.5″ inseam with just the right amount of room to spare.
Since I'll only be using the Mistral pants for hot-weather riding, I pulled the removable knee armor out of the pockets, removed the full-length Hydratex wind- and water-proof liner and I was ready to go.
I always wore the Bohn "Cool Air" armored pants (review) underneath the old Airvent trousers, so no reason to change now.  If it's too hot for a mesh jacket (with armor), mesh pants with the Bohn undies underneath, boots, gloves and a helmet, then it's too hot to ride, as far as I'm concerned.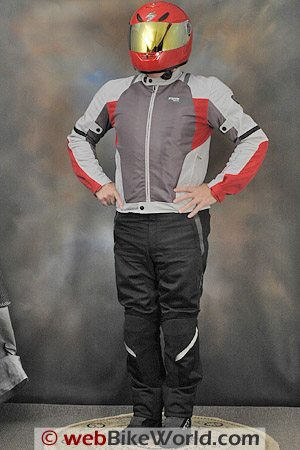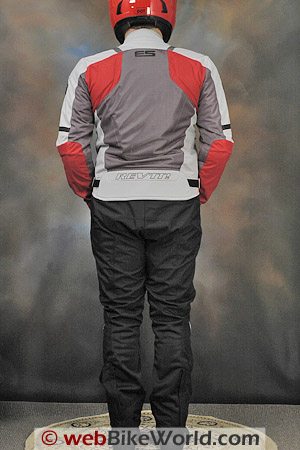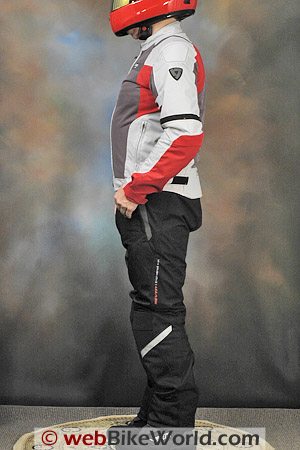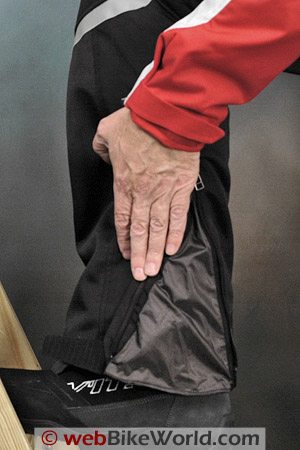 The Air jacket and Mistral pants are the next-gen replacement for the Airflow jacket and Airvent pants, and although the old outfit still works, there are a few good motivators for upgrading.
I've covered the Air jacket in a separate review, but besides the more comfortable fit, the Mistral pants also incorporate some stretch fabric in the legs and they have CE-approved Knox armor in the knees.
The Hydratex full-length liner attaches to the pants with full-circumference zippers at the waist and the leg cuffs, not just the cheap snaps or loops that most manufacturers use, so the liner stays securely in place when it's installed and the entire package feels more secure, especially when riding, because the liner can't bunch up.
With the Hydratex liner installed, the Mistral pants have everything you should require for 3-season riding.  These pants are designed for warm weather, so they do not come with an insulating liner and they don't need one.
The fit should be roomy enough to wear a pair of insulating underpants underneath if you'd like anyway, which should then provide the required warmth in anything but the coldest weather, when you'll probably want something like the Rev'it Cayenne Pro pants (review).
Mesh Fabric and Air Flow
The Mistral pants follow a trend we've seen recently in most brands of mesh motorcycle clothing — the surface area of pure mesh is decreasing, while the area covered by abrasion-resistant and non-breathable material is increasing.
This is always the tradeoff with mesh clothing, no?  More abrasion resistance means less room for mesh, but when it's hot, you'll always wish for more air flow.  The Mistral pants are a decent compromise between safety and ventilation; they have enough mesh that one day when the temperatures dropped to a relatively balmy 82 degrees F., I actually felt too cool.
On the other hand, when the temperature soared over 95 degrees with matching humidity for a couple of days, nothing was cool enough and I could only ride for 1/2 hour or so just for evaluation purposes.  With temperatures that high, nothing is comfortable.
Leg Cuff and Zipper
The leg cuff zipper on the Mistral pants is very similar to the system used in the Airvent pants.  The zipper is on the outside of the leg, and it has a wide gusset underneath that must be kept out of the way of the teeth to avoid getting caught.  But the zipper pull has a nicer tab on the end, making it easier to get the pants on and off.
One feature the Mistral pants inherited from the Airvent pants is the hook-and-loop cuff attachment, which may not have enough length to securely close the cuffs for some riders with thin legs (like me).  It seems to be about 50 mm or so too short.
The Air jacket has a similar problem at the wrist cuffs — I can't get the cuff closed tightly enough because the attachment runs out of mating hook-and-loop on the sleeve.  I think this may be an area where the Rev'it designers somehow overruled the engineers by going for a sleek cuff attachment at the expense of functionality.
The leg and arm cuff hook-and-loop attachments could both stand to be about double their existing length.  I can get it fastened, but I wish I could get it tighter.  This probably will not be an issue for most riders, but I'm noting it anyway.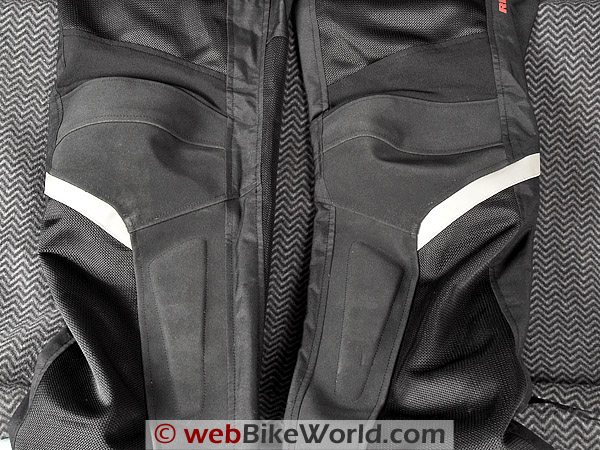 But other than that, the Mistral pants are the nicest and most comfortable (and best looking) mesh pants I own.  The waist includes the short attachment zipper for the minimalist Air jacket and a full-length waist zipper for other Rev'it jackets (and there are many).
The knees and shins are generously covered by abrasion-resistant non-mesh material, which I assume is the Lorica synthetic leather listed on the information tag.  The pants include soft padding for the hips and a couple of zipper-covered slash pockets in front.  A couple of reflective panels are located at the knees and upper leg.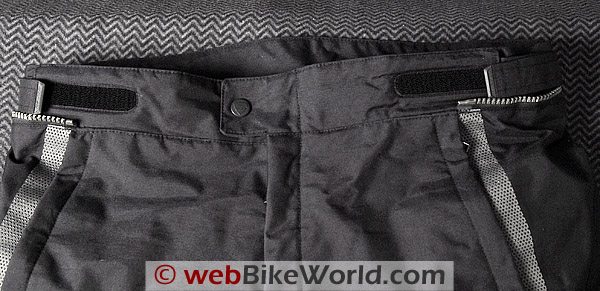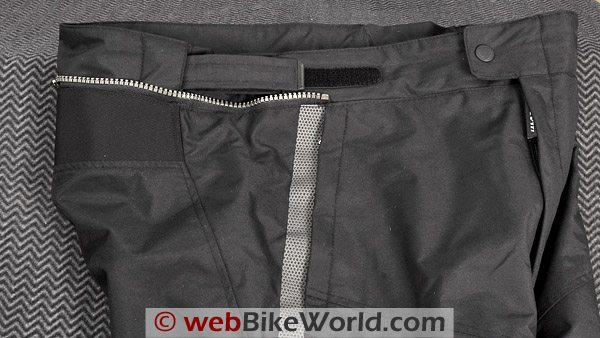 Waist and Adjusters
The waist has a front snap instead of a metal hook and loop; my feeling is that all motorcycle pants should have a metal hook and metal loop attachment at the waist, because this is a much safer method to keep the waist more securely connected, preventing the pants from coming off in a crash.
Besides, a simple snap can be too easily popped getting back on the bike after a two-wiener meal at the local greasy spoon.
The waist circumference is adjustable with hook-and-loop straps on either side; it would be nice to have some elastic included on the sides.  I mentioned this to the Rev'it CEO a couple of years ago as a feature that should be included in all of their pants.
I'm a big believer in adjustable, elastic waists — many modern street pants now include "hidden" waistbands that make the pants comfortable over a range of a couple of inches, which helps with expanding and contracting waistlines.
This would really help on a motorcycle, when you're forced into a sitting position for long periods of time and an elastic, expanding waist would add to the comfort level.
The Mistral pants come in an expanded size range, from Men's 46-58 (Euro) standard length to Men's 50-50 Short; Men's 50-56 Long and Women's 34-44 standard.
Picks
Nits

▪

  Comfortable

▪

  

Snap rather than hook at waist

▪

  

Decent air flow

▪

  

Could use elastic in the waist

▪

  

Waist and length are proportional

▪

  

Could use more mesh surface area

▪

  

Styling

▪

  Needs l

onger hook-and-loop at cuff

▪

  

Liner zips at waist and leg cuffs

▪

  

Hip armor feels thin
Conclusion
The Rev'it Mistral pants fit me better and more comfortably than probably any other textile or mesh pants I've tried.  The proportions seem right and the waist is roomy without feeling baggy.
They're a perfect match for the Rev'it Air mesh jacket, and the pair are now my favorite riding outfit when it's too hot for leathers.
More:  Part I: Rev'it Air Mesh Jacket Review  |  wBW Reviews Home
Product Review:  REV'IT! Mistral Mesh Pants

BUY IT!  Get your REV'IT! motorcycle clothing at RevZilla and help support webBikeWorld!

Available From:  REV'IT!
Suggested Retail Price:  $229.99
Colors:  Black.  Sizes:  Men's 46-58 (Euro) standard length; Men's 50-50 Short; Men's 50-56 Long and Women's 34-44 standard.
Made in:  China
Review Date:  July 2008  Notes:  Jacket was provided by Rev'it for this review (more).
Note:  For informational use only.  All material and photographs are Copyright © webWorld International, LLC – 2000-2011.  All rights reserved.  See the webBikeWorld® Site Info page.  NOTE:  Product specifications, features and details may change or differ from our descriptions.  Always check before purchasing.  Read the Terms and Conditions!
Owner Comments and Feedback
Comments are ordered from most recent to oldest.
Not all comments will be published (
details
).  Comments may be edited for clarity prior to publication.
---
From "D.M." (10/08):  "I have to say that I love these pants. They are extremely comfortable with a soft feeling to them which makes sitting on the seat for extended periods a pleasure.  By comparison, I bought the BMW Venting Machine pants this summer and find them quite abrasive and uncomfortable on long rides.  The Venting Machine pants don't include a wind/rain liner which is a mistake in my books.
The inner liner has not been tested in rain yet but in this cold, October weather they did the trick in keeping me warm.  I also own the Rev'it Typhoon jacket which is a match for the pants.  I used this jacket all summer in the heat and, literally, in typhoons and was never let down.
More people should get their hands on Rev'it products, in my mind they are top quality.  Despite my affection for BMW Motorrad clothing, I find I am equally, if not more satisfied with the Rev'it line."