Livengood GTX Gloves Review Summary
Review Summary
The REV'IT! Livengood GTX Gloves are a feature-rich do it all glove. Many of those features are high-end, including GORE-TEX with GORE Grip for waterproofing, Primaloft Gold for insulation, knuckle and palm protection, and a single hand closure system. Riders looking for a waterproof insulated glove should give consideration to the Livengood.
Pros
Quality construction
Comfort
Subtle style
Waterproof
Insulated
Closure system
Protection
Cons
Fingers a bit too long
Not for hot weather
Price
Livengood GTX Gloves Image Gallery
Introduction
I am always anxious to get riding in the spring and push fall riding as late as possible. One of the concerns is that with dropping temperatures comes cold hands and the lack of ability to properly control the motorcycle.
As I have snowmobiled for decades, my default is always to pack my latest snowmobile gloves in case the temperatures dropped. These worked fine when it came to keeping my hands warm, but could be bulky and offered little in the way of protection. So, with that in mind, I was looking forward to trying the REV'IT! Livengood GTX gloves.
First Impressions
I am not one for flashy colors, so at first glance, I was immediately drawn to the simple styling. They are all black with subtle reflective bands on the fingers and REV'IT! branding. The gloves are well constructed with a mix of materials giving a high-quality look and feel. Included in the packaging is literature on the various features and technologies used.
After a few weeks of riding, these are my thoughts on the REV'IT! Livengood GTX Gloves.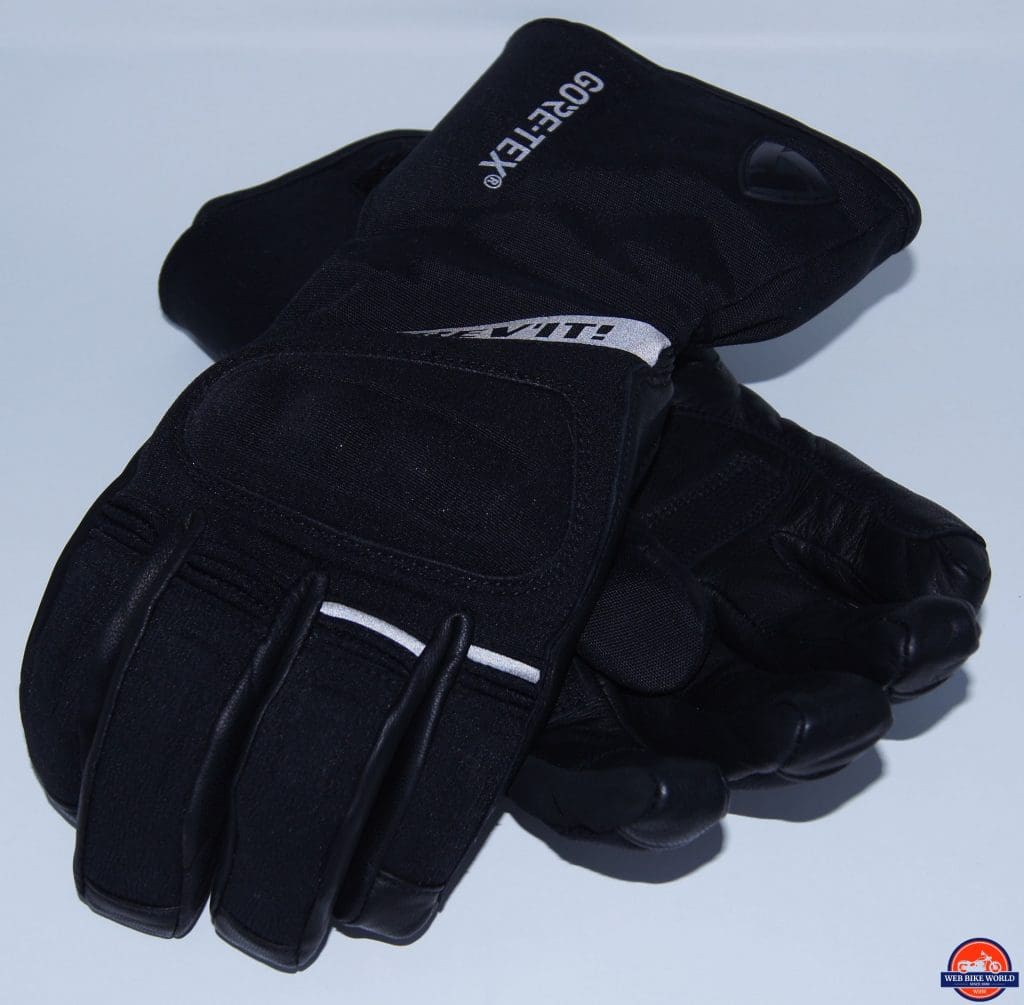 Construction
The REV'IT! Livengood GTX Gloves are constructed of high-end materials to increase comfort and performance. These gloves are very high quality.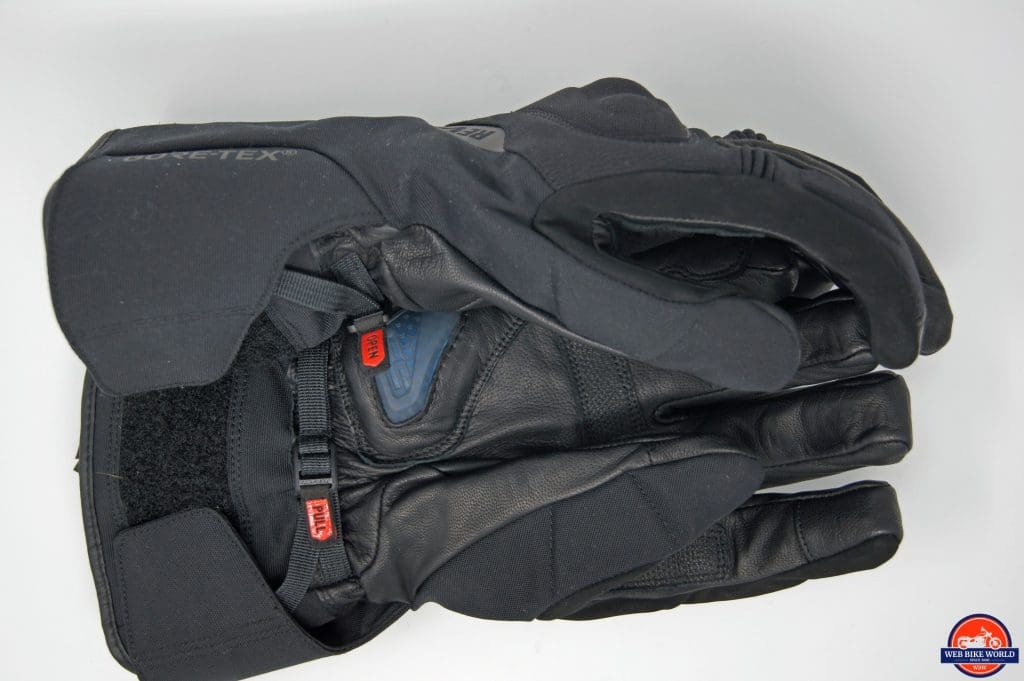 Outer Shell
The outer shell is made up of multiple materials. The palm, finger box and fingertips are made from goatskin, which according to the REV'IT! literature has been bonded with a water repellent and soil resistant coating. The tip of the index finger is designed to allow for touch screen operation.
The back of the hand and fingers are constructed PWR/Oxford, REV'IT!'s version of a woven stretch Cordura. The gauntlet is made from PWR/Ripstop shell material.
The inner section of the index finger and thumb is made from an absorbent flocking material. This allows for an easy way to wipe a wet visor.
Waterproofing
The Livengood uses GORE-TEX + Gore grip to provide a waterproof breathable glove. The Gore grip technology bonds to the outer shell to reduce bulk, and movement typically found between the outer layer and waterproof layer.
The gloves also have a full gauntlet offering protection against wind and rain.
Insulation
For Insulation the Livengood uses PrimaLoft Gold. This is a thin and lightweight insulation that is breathable to allow moisture to escape. This inside of the glove is lined with faux fur to help trap heat.
Protection
The Livengood gloves carry a CE Level 1 KP (Knuckle Protection) rating.
The knuckle uses 3D SEESOFT™ material for impact protection. The finger knuckles use TPR (Thermoplastic Rubber). There is also a palm slider made of a high abrasion resistant TPU (Thermoplastic polyurethane) material. An additional layer of leather is used to secure the palm slider and also continues along the outside of the pinky finger. Double stitching is used in all high impact areas.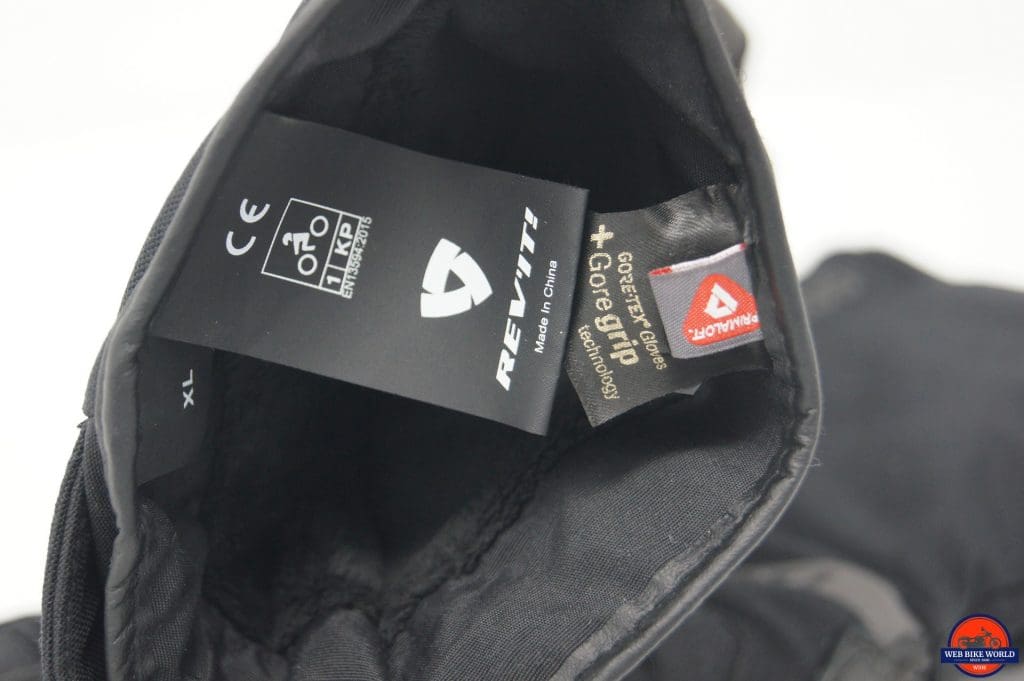 Fit & Feel
Sizing
The REV'IT! Livengood GTX glove fits true to their sizing chart. Depending on the manufacturer I wear either a large or extra large. Because of this I always refer to the sizing charts. In this case, I ordered XL. Initially, they were tight to get on, but after several days of riding, I no longer had an issue. I did have a small issue with the finger length being too long. I have had this issue in other gloves when having to move up to a larger size, so perhaps this is a 'me' thing.
Comfort
The goatskin leather is soft and took no time to break in. The fingers are pre-curved with plenty of articulation. The faux fur liner not only helps retain heat but makes for a very comfortable interior feel. The insulation is concentrated on the back of the hand, allowing for full dexterity when operating the handlebar controls.
Retention
The gauntlet and wrist closure use something REV'IT! calls Single Motion Closure System. I have to say that I am a fan of this system. This system tightens both the gauntlet and wrist at the same time. It is a hassle-free system that is easy to use with a gloved hand.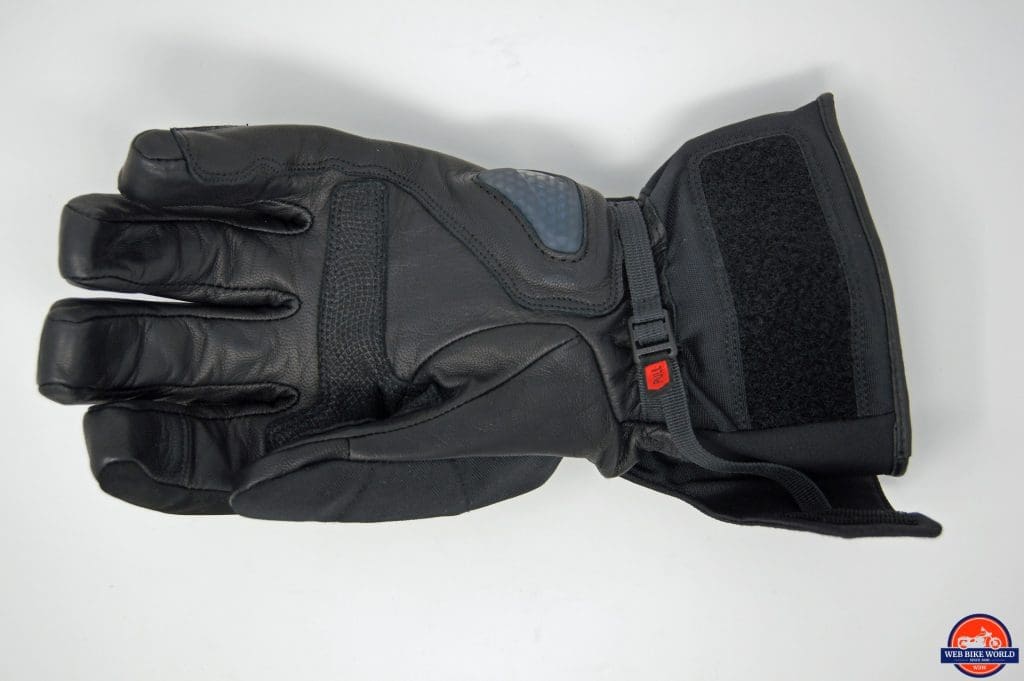 Road Testing
I received the gloves in mid-March, expecting that I would not be able you get out riding until my typical mid to late April. The latter part of March brought above freezing temperatures and rain to melt all the snow.
So, in the last week of April, I got the bikes out of storage and prepped for my initial ride with a couple of riding friends. I wore the REV'IT! Livengood GTX gloves and packed my Klim snowmobile gloves just in case. It was 4 degrees Celsius (39 degrees Fahrenheit) when we hit the road, headed for the Hockley Valley area northwest of Toronto.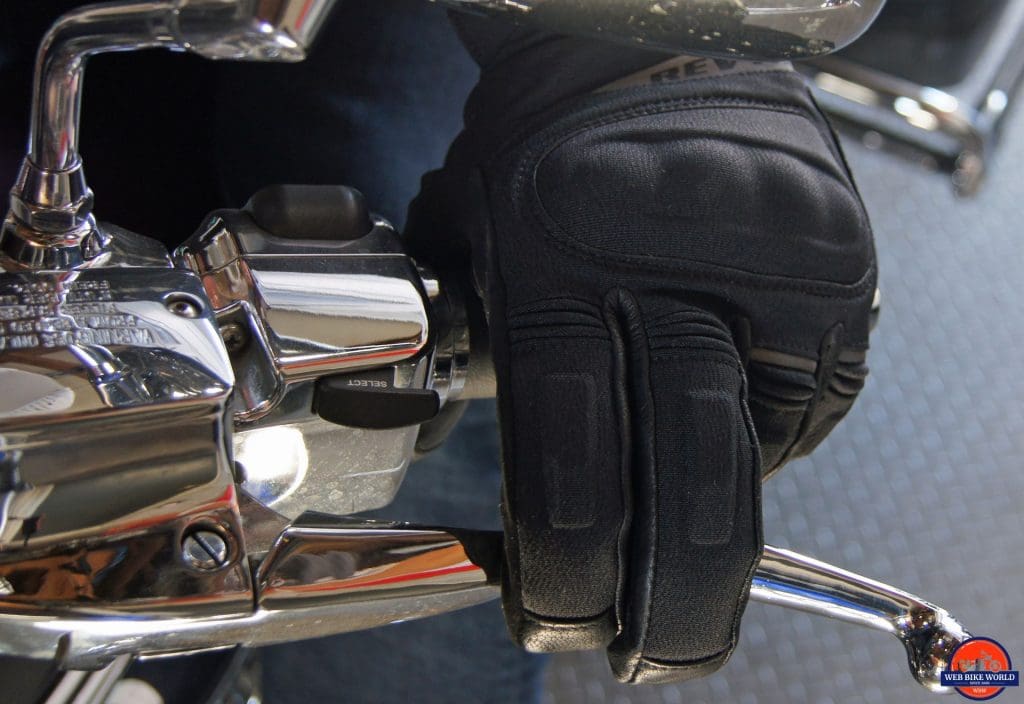 The gloves worked great. Although they were new, the soft leather felt natural immediately. The insulation added very little bulk and allowed for good control. After about an hour of riding my hands felt cool, but at no time would I say they were cold. I think in combination with heated grips the gloves would be even better. I did unpack the snowmobile gloves, but that was for one of my cold handed riding friends to use.
Later in the day, the temperature climbed to about 10 degrees Celsius (50 degrees Fahrenheit) and my hands were nice and warm. I have used the gloves several times in similar conditions, around town, and on secondary highways. They have continued to perform very well.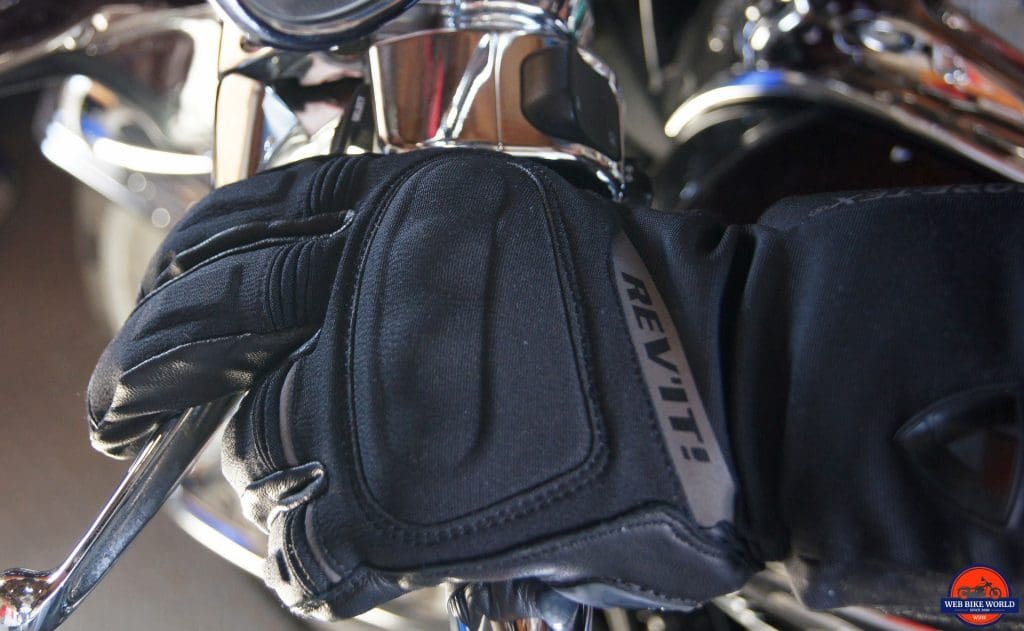 I use my smartphone as a GPS, for speed/speed limit and music. The index finger allows for the use of touch screens. This is a great feature for modern motorcycle gloves. The connect finger worked well for simple tasks, but don't expect to do anything more than simple selection or swipe. It would be nice to have the feature on the thumb as well. This would allow for easier zoom functionality.
I did not have the opportunity to use the gloves in the rain. So, I did the 5-minute dunk test in a pail of water, and my hands stayed completely dry.
Conclusion
I have very few negatives to say about the REV'IT! Livengood GTX gloves, and much to praise.
They are very well constructed of top quality technical materials. They have the features that I look for in an all-around glove; waterproof, insulated, protection, great comfort, subtle styling and added features.
These are cool weather gloves aimed at keeping your hands warm and dry and they do so very well. In combination with heated grips, they would be even better. I did not have the opportunity to wear the gloves in the hot weather. Based on the fact they are insulated and provide no ventilation I suspect they will not be at their best in hot temperatures.
My only real negative was with the finger length. As I stated earlier, I have had this issue with other gloves, so it may be my issue. In this price range, it would be nice if you could specify short/normal/long finger length. This leads to another small negative, and that is the price. Although they are expensive gloves they compare well with other gloves of similar quality and features. As one of my friends said, you can't put a price on warm dry hands.
It was great to have the REV'IT! Livengood GTX glove along for my first ride of the season. When you can get out for the first ride of the season in late March you truly are Livengood!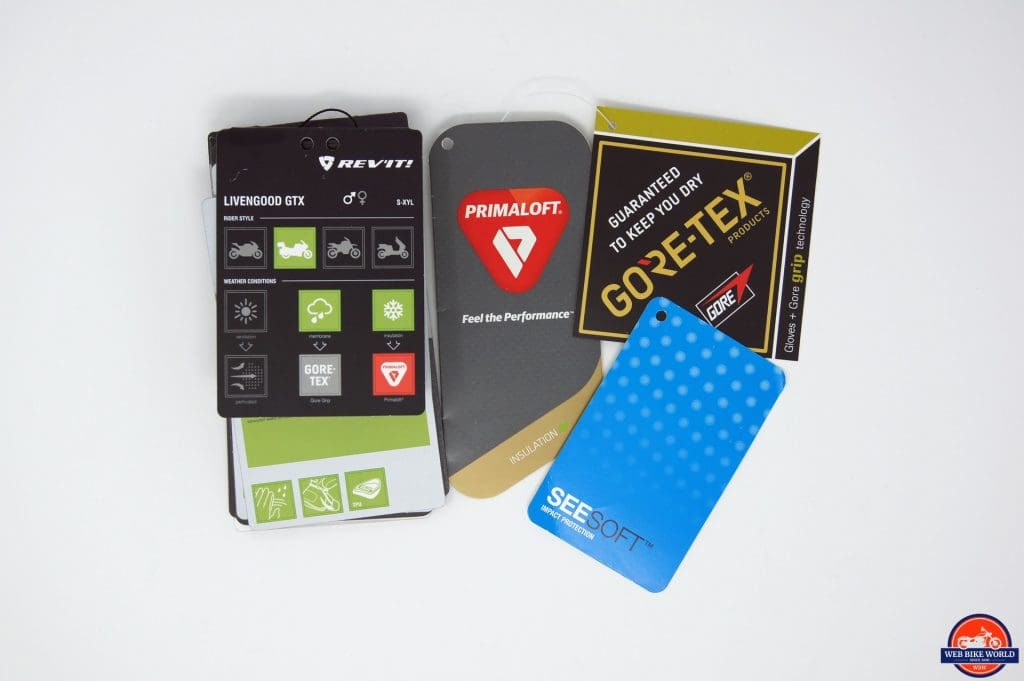 Pros
Quality construction
Comfort
Subtle style
Waterproof
Insulated
Closure system
Protection
Cons
Fingers a bit too long
Not for hot weather
Price
Specifications
Manufacturer: REV'IT!
Price (When Tested): $190 USD
Made In: China
Colors: Black only
Sizes: S, M, L, XL, 2XL, 3XL
Size chart: On this page

Safety designations: CE Level 1 KP, EN13594 2015

Review Date: April 2019