One-Piece Suit Image Gallery
The folks at REV'IT! are always hard at work, updating and releasing new products about as fast as anyone in the industry.  They usually have some interesting new motorcycle clothing announcements at the Indy show and this year was no exception.
You really need to ask your dealer to let you look at the REV'IT! catalog.  It's amazing, with high quality photos and it demonstrates the huge selection of REV'IT! motorcycle products, covering everything from windproof underwear to rainsuits to leathers and, of course, jackets, pants, boots and gloves.  You could open up any page with your eyes closed and I'll guarantee you'll want what you see.
Well, the catalog costs a whopping 20 Euros each to produce — about $30.00 U.S., so REV'IT! is putting theentire catalog online in a very unique format.  The pages actually turn and the photos and information are exactly like the paper catalog, so you won't miss a thing.  If you have a widescreen laptop or monitor, you'll really get the full effect.
In fact, it looks like 2007 will be a huge year for REV'IT!, with several new and unique products that will be announced, including the ground-breaking Infinity one-piece, which looks like it will definitely advance the state-of-the-art in one-piece textile motorcycle riding suits.
The Infinity one-piece suit has so many new features I don't know where to start.  The REV'IT! staff talked me through it and we'll run one through an in-depth review as soon as it becomes available in May.
REV'IT! is also updating their top-of-the-line racing glove, the GT Corse.  This glove will have a unique ceramic impregnated fabric called SuperFabric, which will provide much better sliding properties but will also insulate against heat buildup during the slide and, of course, abrasion.
As far as we know, this is the first application of this new type of fabric in a motorcycle glove — the stuff is very expensive, so at this point it will probably only show up in the ultra racing glove but hopefully we'll see it in more of the REV'IT! glove lineup soon.
REV'IT! Infinity One-Piece Textile Motorcycle Suit
The new Infinity suit has been in development for a couple of years and we've been anxiously waiting to obtain one for a review.  The suit has been released in Europe but licensing agreements prevent sales in the U.S.A.  There are a few modifications, upgrades and improvements also being made for the U.S. market and the suit should be ready for its May 2007 release date.
The Infinity suit was designed to be the ultimate one-piece textile motorcycle riding suit.  It's claimed to be completely, absolutely and positively 100% waterproof, but it uses the highest-tech fabrics and it incorporates several vents to ensure breathability.
"We wanted a spare no expense, absolute best, top of the line oversuit that no one would ever have anything to say about other than it's the best thing out there", said Jordan Levitt, Director of Operations for the U.S. REV'IT! organization.
It's also designed to be ultra-safe, with features like the new SAS-TEC armor, which includes a CE-approved Level 2 back protector in addition to CE-approved SAS-TEC shoulder, elbow and hip armor.
The first thing you notice about the suit is the incredible laser-cut fabric sections, the minimal number of seams and the flush-fit welded zippers and reflective material.  This gives the suit a very sleek look and also makes it safer, with a minimum number of protrusions that could catch and grab in the case of a fall.
The Infinity suit is constructed entirely from Schoeller three-layer Dynotec abrasion-resistant climate change material.  This material is exclusive to the Infinity and it includes a laminated Hydralite breathable, waterproof and windproof membrane that responds to the heat and cold by helping to keep the rider cooler or warmer.
And — get this — the outer material uses the super-high-tech Schoeller NanoSphere technology finish.  The fabric threads are impregnated with a special nanotechnology finish that, it is claimed, "makes it virtually impossible for dirt or water to affix to the material, resulting in a garment that will stay clean and dry under all circumstances".   Can't wait to give that a try!
The suit is cut with a slightly fitted profile, which is designed to fit over clothing or thermal underwear.  Of course, REV'IT! has a huge selection of both in their catalog, and I can definitely envision wearing the Infinity suit over a set of nice 'n' comfy fleece undies.
The full length, top-to-bottom front zipper was specially designed to be waterproof but to also allow ease of entry and exit.  It actually has two sets of teeth running in parallel with a gasket in between, but the zipper works as easily as any I've tried.  It's claimed to be 100% watertight.
The suit will be available in a wide range of sizes, from Small to XXL in Standard, Short and Long fits.  It's available in the nice-looking grey color shown below, or black.  It incorporates acres of flush-fitted Scotchlite reflective tape.
The interior lining of the Infinity suit is a sight to behold, with welded and flush seams everywhere.  Flex panels are incorporated into any stretch areas.  All of the pockets are attached separately to minimize the number of stitches poking through the fabric.  Three of the suit's many pockets are waterproof and there's an entry for an electric vest.
The suit has direct ventilation on the chest and back.  The outside wear areas are specially covered for abrasion and wear resistance.
All of this high-tech won't come cheap — it takes 20 days to make a single suit!  But if you're looking for the ultimate, go-anywhere in any condition one-piece riding suit, this looks like it.  Very impressive!  We'll get one for a full-length review as soon as possible.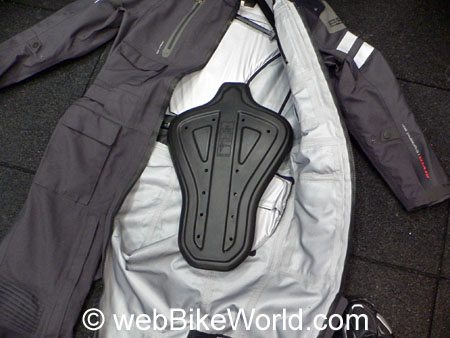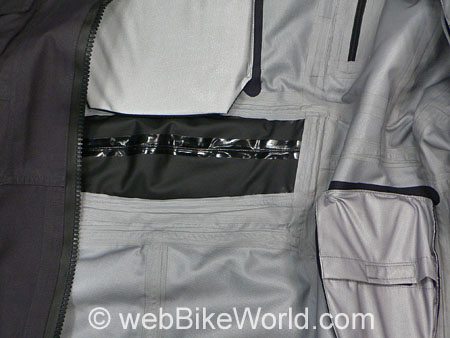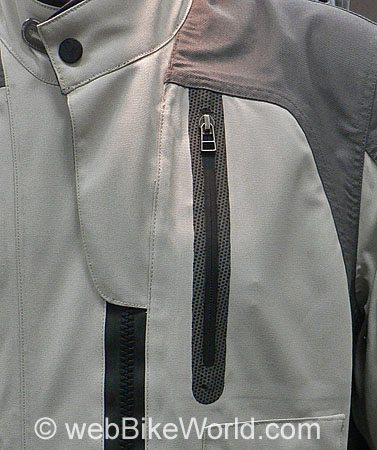 Product Review:

  REV'IT! Infinity One-Piece Motorcycle Riding Suit

BUY IT!  Get your REV'IT! Gear at RevZilla and help support webBikeWorld!

Available From:  REV'IT!
Suggested Retail Price:  See our review
Colors:  Black, Grey
Made in:  Designed in the Netherlands, manufactured in various countries.

Note:  For informational use only.  All material and photographs are Copyright © webWorld International, LLC – 2000-2011.  All rights reserved.  See the webBikeWorld® Site Info page.  NOTE:  Product specifications, features and details may change or differ from our descriptions.  Always check before purchasing.  Read the Terms and Conditions!
Owner Comments and Feedback
Comments are ordered from most recent to oldest.
Not all comments will be published (
details
).  Comments may be edited for clarity prior to publication.