Rev'it makes a wide variety of motorcycle gloves, several of which have been reviewed on webBikeWorld over the last few years (see the right-hand column of this page for a listing).
Although Rev'it does make a nice-looking "race" style glove (the Stealth), most of their gloves seem to be designed for the more practical uses that the vast majority of us face every day.
I have a sneaking suspicion that most of the Rev'it designers are also hard-core motorbike commuters, because their glove designs and the Rev'it clothes are usually chock full of the kinds of features that are most useful for those pursuits.
I know we've also mentioned the frenetic pace of Rev'it new product releases, with gloves, jackets, pants and everything else simply pouring out of the factory at regular intervals in a frenzy of continuous improvement.
The Inferno gloves are a good example, as they add to a Rev'it glove lineup that, besides the Stealth race gloves, includes no less than five different styles of waterproof gloves, two different summer mesh gloves, adventure touring gloves (the R59) and probably one or two others that I've missed.
The Inferno gloves are "designed to fill the gap between a race glove and a touring glove in terms of protection and functionality", according to Rev'it.  The Inferno gloves have a conservative styling, which is fine by me, because I'm not fond of some of the over-the-top flashy glove designs with carbon fiber or even chrome-plated knuckle protectors.  I'll leave my riding, my bike, my helmet and my jacket to showcase my style, thank you.
Rev'it says that the Infernos have a French cowhide outer shell, and why not?  After all, if you're going to be wearing cowhide leather gloves, they may as well be made from French cows.  I can picture them (the cows, that is!) laying around in some beautiful country field, wearing berets with a Gauloises hanging out of their mouths as they work over their cuds!
The Inferno gloves have a variety of other leather types, including nappa, Clarino (a synthetic leather), Pamas, Pittard's and even goat skin.  Add in a touch of Schoeller Keprotec for protection and there you have it.
The gloves have a type of rubberized knuckle protector on the first three fingers; one on the forefinger, two on the middle and third fingers and an extra patch of leather on the side of the pinky finger.  The main knuckles are protected by a hard type of armor that's sewn into the glove with a double row of stitches.  This armor has a rough feel and Rev'it says it's carbon covered with Schoeller Keprotec.
The Inferno gloves fit very snug, which is probably important for protection during a crash so that they don't slide out of place.  But it does take a bit of extra break-in time to get used to the snug fit and the narrow wrist opening.  I wonder if someone with extraordinarily large wrists might have a problem getting the gloves on.  But the tight fit does give a better sense of protection.
The palms of the gloves have a few layers of leather protection, and the palms are covered in a large section of the heavier Pampas leather.  I'm not sure what Pampas leather is exactly, but it seems like a thicker type of stiff leather that I can only describe as feeling something like a plasticized suede, if that makes sense.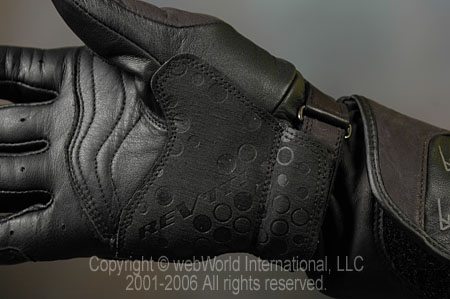 The Pampas leather section on the palm continues down to the wrist, where it acts as a cover for the wrist closure system.  This makes the gloves slightly fussy to put on, because the leather flap has to be raised up, then the wrist closure must be secured and then folded under the flap.  But the flap is designed to cover the wrist closure and prevent it from opening in a crash, and hopefully it will do its job if that time ever comes.
There's also a wrist gauntlet closure; the gauntlet follows the Rev'it design practice of being on the small side.  Since I mostly wear the gauntlets inside my sleeve anyway, I'm not as bothered by this as the other webBikeWorld staffers (see "The Case of the Missing Gauntlet").  Note that I'm wearing the gauntlet on the outside of my jacket in these photos for illustration purposes.
The fingers of the Inferno gloves are nicely tapered, which allows a more precise fit.  I don't like the "box" style fingers that have too much wiggle room, because they get bunched up when my hands are wrapped around the grips.
The lining feels slightly stiff and not quite as instantly comfy as other gloves I've tried, but the Infernos do seem to be breaking in over time.
One very nice feature of most Rev'it gear is the availability in a wide variety of sizes and lengths.  The Inferno gloves are available in the women's specific sizes of small, medium and large, and the men's version is available in sizes S through XXXL.  The women's size medium fits me perfectly — a bit tight at first, but now starting to become nicely broken in.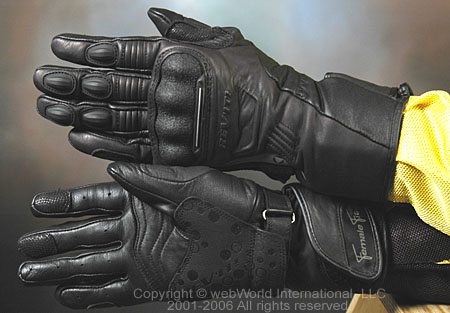 Conclusion
The Rev'it Inferno gloves offer serious protection with what I think is a nice conservative styling.  I feel more confident wearing these gloves than many of the other women's (and men's) gloves that are available that seem more like street dress gloves than anything you'd want to wear while riding a motorcycle.  The list price of $119.99 is reasonable, considering the quality and thought that went into producing these gloves.
Product Review:

  REV'IT! Inferno Gloves

BUY IT!  Get your REV'IT! motorcycle clothing at RevZilla and help support webBikeWorld!

Available From:  REV'IT!
Suggested Retail Price:  $119.99
Colors:  Black.
Made in:  China
Product Comments:  Available in men's sizes S to XXXL and women's sizes S, M, L.

Note:  For informational use only.  All material and photographs are Copyright © webWorld International, LLC – 2000-2011.  All rights reserved.  See the webBikeWorld® Site Info page.  NOTE:  Product specifications, features and details may change or differ from our descriptions.  Always check before purchasing.  Read the Terms and Conditions!