Energy HV Jacket Review Summary
Energy HV Jacket Image Gallery
The new Rev'it Energy HV (High Visibility) jacket introduces a new direction for Rev'it. This commuter-oriented jacket is value priced and easy to use. It forgoes many of the expensive high-tech fabrics and race protection of other Rev'it garments while incorporating some unique features to make a reliable, highly wearable city, scooter or touring garment.
The announcement of the new Energy HV jacket was the biggest surprise for me when I visited the Rev'it USA headquarters to see the new 2011 Rev'it clothing lineup back in January of this year. Why a surprise? Well, Rev'it designers had been reluctant to incorporate high visibility fabrics into their modern European-influenced designs.
But high visibility clothing, helmets and other gear has become surprisingly popular with motorcyclists, so the time had come to "bite the bullet" and "get 'er done", as we say in the U.S.A. And get 'er done they did, in a big way! As I mentioned in my report from Rev'it USA HQ, the Energy HV is no-excuses, sunglasses only big time high-vis.
It comes in any color you like, to paraphrase Henry Ford (did he really say that?), as long as you like CE-approved, EN-471 high visibility lime yellow. The stuff is so bright I had trouble photographing it in the Rev'it showroom and we didn't do much better in the studio. Take my word for it: this stuff is bright!
And I think it works even better with the high contrast black accents. Of course, yin-yang contrast like this is a photographer's nightmare but somehow the lime yellow pops even louder because of it.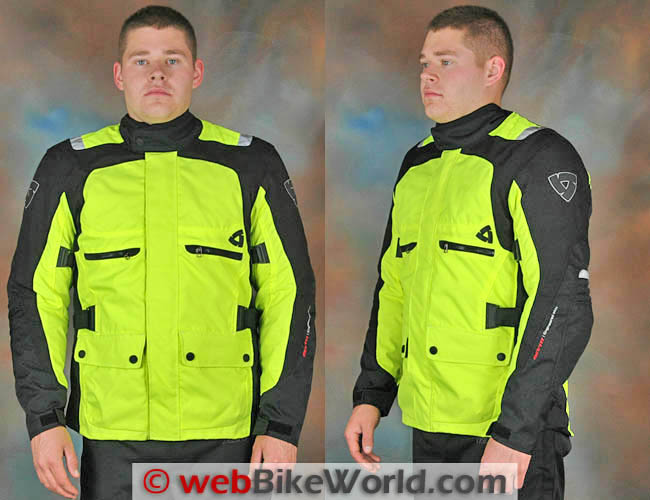 Rev'it Energy HV Jacket Details
The Energy HV and the matching Rev'it Axis pants (review) were designed for commuting with a side order of scootering and/or touring. But heck — you can wear it any day you like for any purpose; who's going to stop you?
The city/commuting pretext gave Rev'it designers more freedom to stray from their normally doctrinaire approach to safety through technology. There's a tradeoff here to be sure, but I have to admit — it's so much easier to throw on the Energy HV jacket, with its looser, very comfortable fit than it is to buckle and strap myself into, oh, something like a tri-layer Defender GTX (review), for example.
When you're wearing khakis and a button-down shirt and you just want to take the scooter from the National Gallery of Art to Pitango Gelato for a Gianduja during lunch break, who wants to strap on 5 kilos of clothing?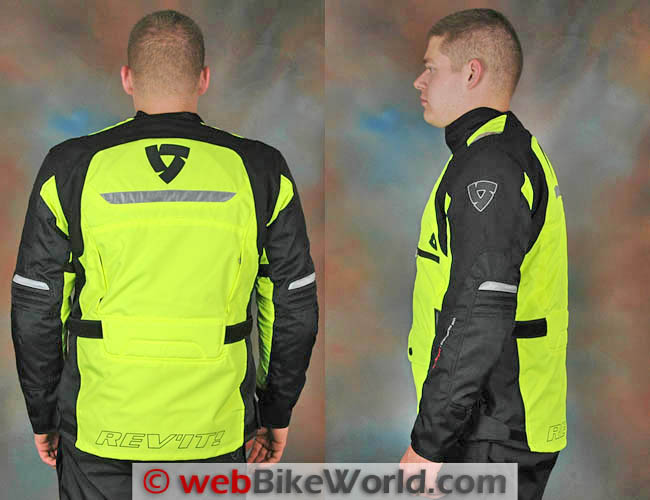 Shell and Liners
So besides the dizzying 600 denier lime yellow Cordura-type (polyester) shell, what else does the Energy HV have to offer? You get all the basics, with a built-in (non-removable) Hydratex waterproof liner and Knox "Flexiform" CE-approved armor in the shoulders and elbows.
A few genuine 3M Scotchlite reflective strips are discretely included and you probably can't see it in these photos but the arms have a nice two-textured heavy fabric for a dash of panache.
The jacket is nicely constructed with double stitching prevalent and some rolled seams for a richer look. The elbows are covered in reinforced sections of material and a section of accordion pleats just above the elbow adds to the flexibility and comfort.
The Rev'it tri-corn logo is made from leather and pressed on the outside of the shoulders and upper back, along with a smaller version over the left front pocket. These are discrete and they compliment the styling without adding too much to the already eye-popping color.
There are twin horizontal vent zippers across the front and a pair of vertical vents in the rear, but when open they circulate air inside of the jacket, between the shell and the liner only; there are no direct vent openings through the Hydratex liner, to ensure its waterproof integrity.
However, the Energy HV jacket feels like it's nicely ventilated even in warm weather, so where the air is coming from and how it cools the inside of the jacket is a mystery. I haven't worn it in a downpour but got caught out in a light on-and-off rain and I was perfectly dry, so apparently the liner works.
The jacket also comes with a removable thermal liner; it's a lightweight and comfortable piece that runs the full length of the jacket and sleeves. It attaches with a one-piece, full-length zipper and dual snaps in each sleeve cuff. I immediately removed it from mine because it's nearing mid-summer, but I'd estimate the Energy HV as a good three-season jacket.
Jacket Sizing
The Energy HV jacket shown here is a size large, and it fits pretty much as expected. Remember that the jacket is cut fuller than usual, as it is really meant to wear over street clothes and not just a T-shirt.
It doesn't lose much at all when the insulating liner is removed; perhaps a half-size or less. The model shown here usually takes a size XL but he fits into most of our size L garments pretty easily. The bottom line is that based on this single example and the Axis jackets I tried in the Rev'it showroom, I think you can feel comfortable ordering to size.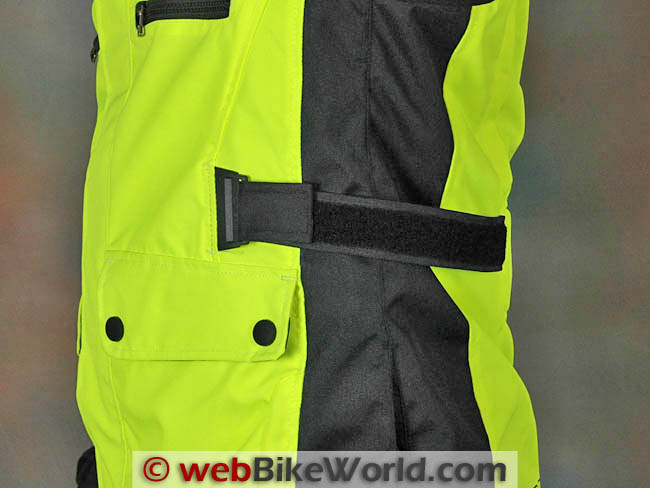 Jacket Adjustment and Zippers
The Energy HV sleeve cuffs have your every day, basic hook-and-loop fastener; nothing special but it works perfectly fine. The arms of the insulating liner are designed to end about 100 mm from the end of the sleeve cuff on the shell, which helps to slim down the sleeve and fit into a glove gauntlet.
The arms have a hefty-looking adjuster on the underside of each upper arm. These use a square D-ring type system to cinch up the extra length of adjuster webbing, so there are no loose ends to worry about.
The sides of the jacket feature waist adjusters. These are the standard hook-and-loop style that run through a heavy plastic D-ring double-stitched to the jacket shell; pull the tab and re-stick it to the hook-and-loop and you're all set.
The Rev'it specs list a "drawstring cord at the hips", but I don't see it on this jacket so not sure about that.
The main zipper is a YKK Vislon nylon type of Rev'it design with their loop metal zipper pull and an extended vinyl pull tab attached. It's easy to use and the front of the jacket also has a separate flap that runs from the left to right and attaches to the shell with a series of four 130 mm long by 20 mm wide hook-and-loop strips sewn and bonded on to the jacket. This keeps out wind and moisture.
The 70 mm tall neck has the nice adjustable Rev'it snap to fit a variety of neck diameters. The collar is comfortable, with a lightly padded round piping along the top and some sort of very comfortable, foam-like mesh material on the inside. It feels good against the skin and also seems to have a bit of a standoff to keep the air circulating and prevent sweating.
The Energy HV jacket has an internal attachment zipper, but what's strange is the matching Axis pants don't. I guess the Energy HV jacket will attach to other Rev'it pants though…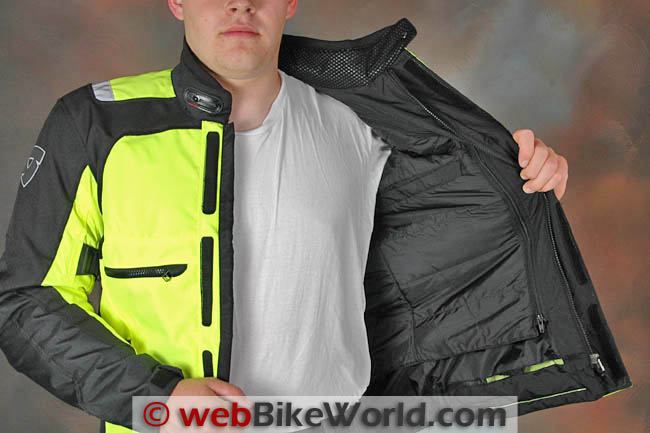 Safety, Armor and Protection
The Knox "Flexiform" CE-approved armor in the shoulders and elbows is a sort of touring/commuter cut — not so dramatically severe as race armor. It's comfortable and I barely feel it when riding.
The Energy HV jacket also comes with a removable EVA foam pad in the back; I'm not sure if there is an optional back pad but I'm sure something or other can be made to fit if you're looking for a bit more security.
Overall, it's a basic but adequately solid protection package I think, especially for the jacket's intended purpose.
Pockets and Storage
The jacket has two large patch pockets located at the lower front. These appear to be waterproof, with a lining that looks like Hydratex. The flaps secure with hook-and-loop plus a pair of metal "King Star" snaps. The outer part of the snap cover is rubber-covered to protect against paint scratching.
Both the jacket shell and the removable liner have an internal pocket in the left-hand side. I wish the jacket shell had the vertical zipper pocket in the left-hand placket, standard on most Rev'it jackets and very handy for storing a wallet.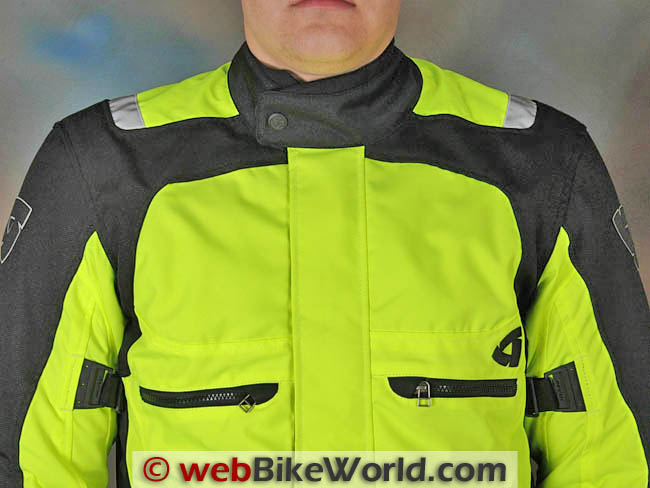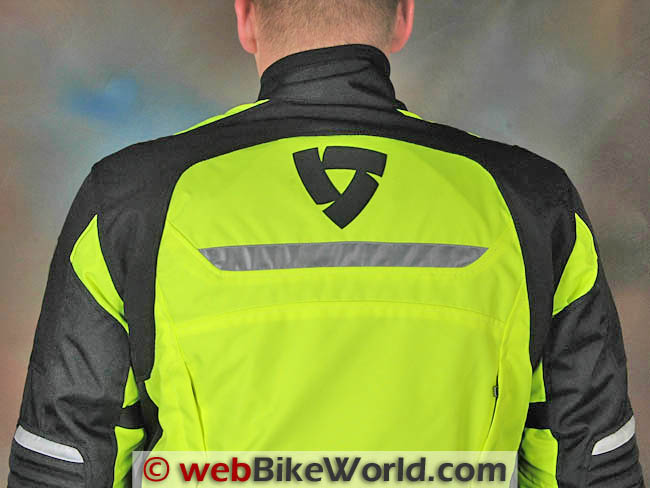 Riding With the Energy HV
I didn't look at the specs before tearing open the box, removing the liner and riding with the Energy HV for a few weeks, so I didn't even pay enough attention to realize the jacket had the built-in Hydratex liner.
When I sat down to write this review and discovered this fact and I was surprised because I am quite comfortable wearing the jacket in the warmer 80-degree current temperatures. In fact, I'd swear I felt air coming through the shell, almost like it was mesh. So either the vents really do work to pull air around the Hydratex liner, which is doing its job at being breathable, or…?
The jacket just seems very easy to wear — throw it on, zip it up and you're ready to go. Not much different than putting on a basic street jacket. The cut and fit is very roomy without feeling too large, and I think this goes a long way towards giving it a more comfortable ambience.
Yes, it is not a Rev'it-snug fit, like their more "serious" jackets maybe, but for basic running around, touring, commuting and tooling, I have to confess that the Energy HV is the more carefree, easy-to-use solution for me.
The Hydratex liner is rated by Rev'it as resisting a pressure of a 5,000 mm (that's 5 meters!) column of water and allowing 5,000 grams per square meter of moisture to breathe outward every 24 hours. That's pretty good spec and Rev'it is one of the only manufacturers — if not the only one — to actually test and rate their gear (here's a quick YouTube video of Rev'it abrasion and waterproof testing I took at the 2010 EICMA show).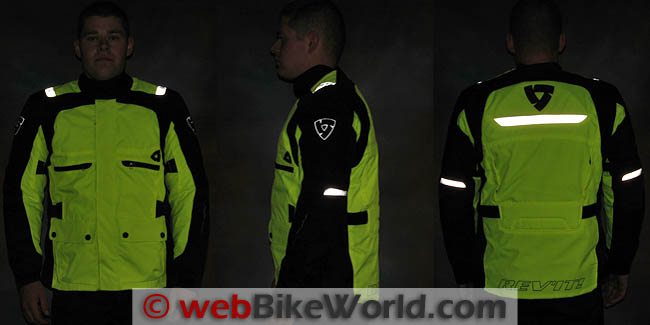 The 

w

BW 

Opinionator: Rev'it Energy HV Jacket
Picks…
…and Pans.

Eye-popping color.

Very comfortable fit and feel.

Decent amount of protection.

Water- and wind-proof liner.

Works better in hot weather than I expected.

Wish it had a placket wallet pocket.

Can't think of anything else?
Conclusion
The Rev'it Energy HV jacket represents a new tack for the company. It offers a lot of value for the list price of $249.99 and it still has the Rev'it attention to detail and focus on quality and safety as other Rev'it gear.
I find this jacket to be very easy to wear due to its commuter-centric fit. It's perfect for throwing over a set of business casual street clothes for the ride to work or around town. It also works perfectly well for touring and general street riding.
The high-visibility, CE standard fabric is a real eye-popper and the black trim only sets it off that much more. The amazing thing about the jacket is that it wears cooler than you'd think, even with the full-length Hydratex liner.
If you don't have the time to saddle up and climb into a set of all-singing-and-dancing race wear — and who does when you're riding to work? — the Rev'it Energy HV jacket may be just the ticket.
Next: Rev'it Axis Pants Review  |  wBW Rev'it Clothing Reviews
w

BW

 Product Review: REV'IT! Energy HV Jacket

The Rev'it Defender GTX outfit was named the webBikeWorld 2010 Motorcycle Product of the Year!
Manufacturer: Rev'it
List Price: $249.99
Colors: High-Visibility EN-471 lime yellow with black trim.
Made In: Unknown
Sizes: M to 4XL.
Star Rating (1-5): 
Review Date: June 2011
Note:
 For informational use only. All material and photographs are Copyright © webWorld International, LLC since 2000. All rights reserved. See the webBikeWorld® 
Site Info page
. Product specifications, features and details may change or differ from our descriptions. Always check before purchasing. Read the
Terms and Conditions
!
Owner Comments and Feedback