Airwave Pants Review Summary
Airwave Pants Image Gallery
Strictly for summer, the Airwave trousers offer excellent air flow combined with a good fit and protective armour.
Easy to put on and take off, they're great for commuting, and can stand up to longer trips too.
The Airwave pants also work as overpants with a pair of jeans or other work pants underneath for commuting.
Included in this article are Alice's review, along with Rick's feedback for the men's version of the Airwave pants to describe any differences.
The REV'IT! Airwave trousers arrived in March as a match for my REV'IT! Levante jacket (review).
Like the Levante jacket, the Airwave pants feature large mesh panels for air flow. Unlike the jacket, the pants have no liner, making them suitable for warm, dry days only.
It would be a couple of months before an opportunity arose for me to sally forth in lighter gear. The first time, I also managed to lock myself out by leaving my house keys in my winter trousers, but I can't really blame that on REV'IT!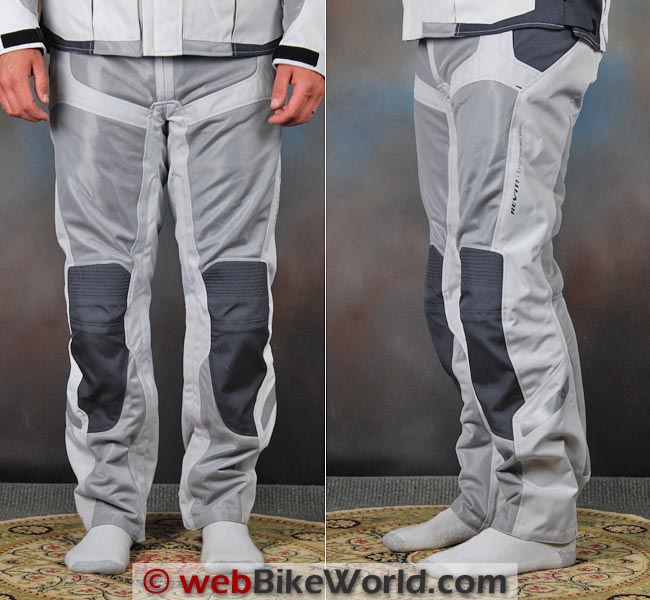 REV'IT! Airwave Trousers Details
While jackets come in a huge variety of colours, motorcycle trousers — unless they're part of a matching set — tend to be available in black…or black.
I received the Airwave trousers in black, to go with my jacket, but these also come in the summery "silver/anthracite" color shown in the photos.
The black version is very plain in appearance, with only a turquoise eyelet on the zip tag (on the women's version) and a few turquoise stitching details to break the monotony.
A flash of 3M Scotchlite reflective silver halfway up each calf matches those on the shoulders of the Levante jacket, and the turquoise accents also complement the Levante's styling.
Although the Airwave trousers are made from two different materials, with mesh panels down the front and back and a more solid nylon for the sides, knees and seat, both are similar in shade and its hard to see the join from a distance.
The mesh portions are a little shinier, with a close weave that looks as though it should stand up to some hard wear.
Textile trousers tend to be a looser fit than leather ones, which may be a blessing or a curse, depending on individual body image. Certainly few motorcycle textiles have a particularly flattering effect on legs and bottoms, and these are no exception. Paired with the Levante jacket, though, they make quite a smart-looking two-piece outfit.
Order up a size and the Airwave trousers can fit over a pair of jeans or other pants for extra protection during the summer commute.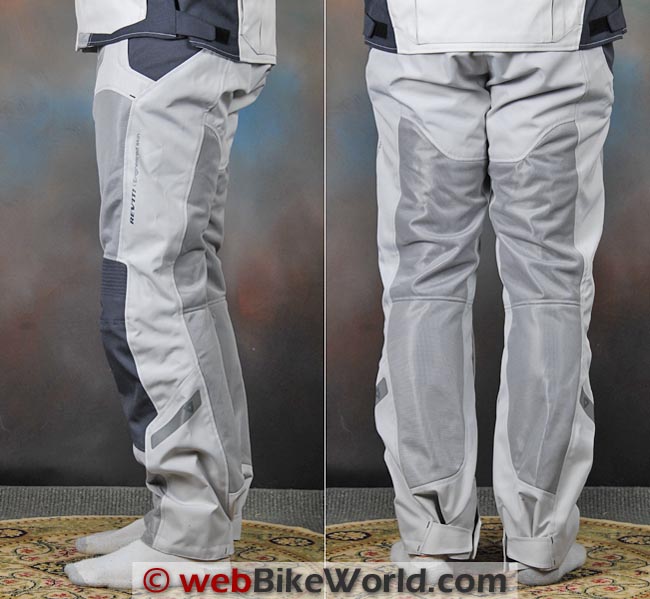 Fit and Fastenings
The women's black Airwave pants shown here are a European size 38 (UK 10, or US 6). When I put them on over ordinary trousers for the ride to work, as is my habit, they felt a little too tight, both around the waist and in the crotch.
If you plan to wear these as over-trousers, you may wish to go one size up from your usual. (I'm sure it's nothing at all to do with the amount I ate on my recent visit to webBikeWorld HQ).
I also found the legs were a little too long for my 5'2″ frame. This doesn't matter when the trousers are zipped up, but I wish more manufacturers would offer a choice of lengths, especially as the price climbs.
The men's version of the Airwave trousers come in Short and Long lengths in size M to 2XL — why not the women's version?
The Airwave trousers fasten at the waist using a metal zip with a fabric pull. There's a hook-and-clasp type fastener as well as a press stud, so they feel very secure when everything is done up.
Once fastened, the waist can be adjusted using nylon straps at the sides, which run through plastic fasteners (photo below).
By far my favourite feature of these trousers is the generously long zips up the inside of each leg, which extend to mid-thigh.
They make it easy to get the trousers on and off, even over chunky bike boots, which saves a great deal of hopping around and makes changing for work much easier.
On the outside of the ankles, hook-and-loop straps let you fine-tune the circumference for a snug fit.
Rick's Comments: We nicked REV'IT! in several webBikeWorld pants reviews over the years, asking for a metal hook in addition to the snap, and we finally got it! Thanks REV'IT!
The men's Airwave pants shown in the photos are a size large. They fit loose, as expected for pants that can be worn over jeans.
The model is shown wearing the pants alone, and the fit does appear to be too loose, but the pants fit more snugly when worn over jeans.
The side adjusters on the waist work nicely but it would be even better if REV'IT! had added a longer length of elastic.
As it is, the pants can be adjusted smaller easier than they can be adjusted to fit larger at the waist.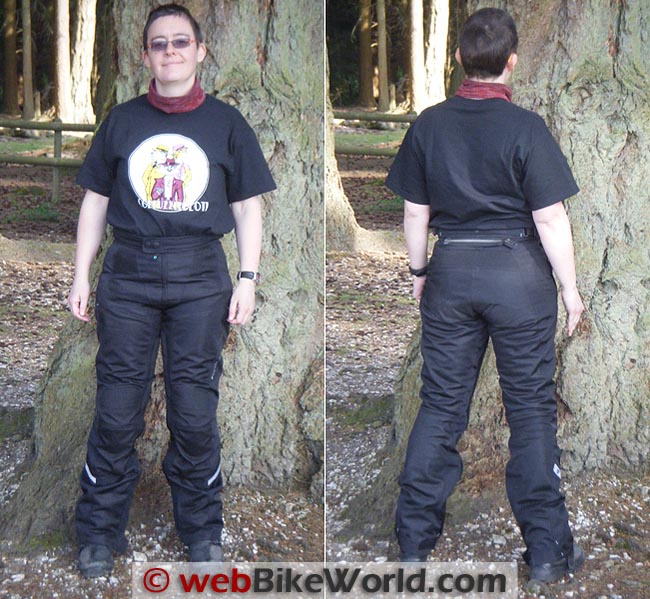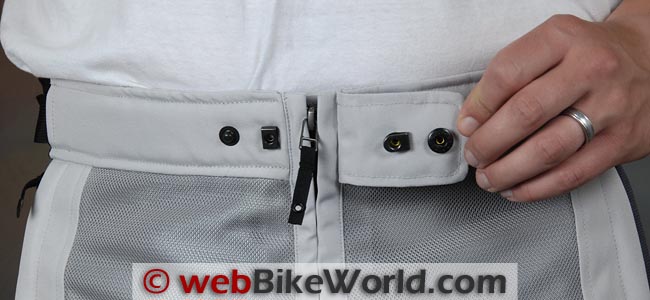 Pockets and Armour
There are two hip pockets in the Airwave pants, which close with zippers. The pocket openings are narrow, and the pockets sit quite snug to the thighs.
I tend to carry my house keys in my bike trousers, but the Airwave pockets are too small and fiddly to do this in comfort.
The knee armour is in the right position for my knees and sits comfortably, neither moving around nor constricting my movement. The protectors are CE marked Knox, formed in a cup shape and flexible.
There are pockets inside the hips, which currently contain thin pads of perforated foam. The pockets are designed specifically for this rather odd shape, which will make it difficult to upgrade.
Besides, the trousers are a tight enough squeeze on me already without adding extra padding. For my peace of mind, though, I'd like to try.
Armour doesn't generally allow much air to flow, and armoured pads in summer trousers add an unwelcome extra layer of warmth. I'll happily take hot knees along with the extra reassurance they bring, though…
Airwave Trousers Liner?
Just to reiterate, the Airwave pants are unlined, so the air flows through just like a screen door. The pants are also a perfect match for the REV'IT! Airwave jacket, which also is unlined.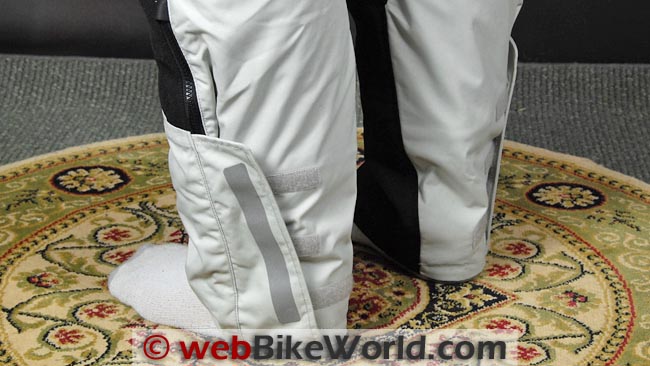 On the Road With the REV'IT! Airwave Pants
I'm at something of a disadvantage when it comes to summer trousers. The footboards and fairing of a scooter, which provide welcome shelter in winter, prevent knees-in-the-breeze airflow in warmer weather.
But I still feel the benefit of light, unlined trousers, both when I'm moving and when stationary in traffic.
It doesn't take a lot of forward motion to get a good breeze flowing through the Airwave pants. At anything above town speed, they should provide adequate cooling power on even the hottest days.
When stuck in a jam, things will still get sticky, though not as much as they would under heavier bike trousers or jeans.
Because I'm so well protected from the wind, I can cope with a drop in temperature, or a light shower, without discomfort. If your machine leaves your legs more exposed, you might want to save the Airwave trousers for reliably warm days.
Mesh fabric tends to have a slightly harsh feel, which can rub uncomfortably if worn next to bare skin.
The finer weave of the Airwave fabric ought to mitigate this somewhat, although, as previously discussed, I'm an over-trouser type person, and haven't yet experimented in this direction.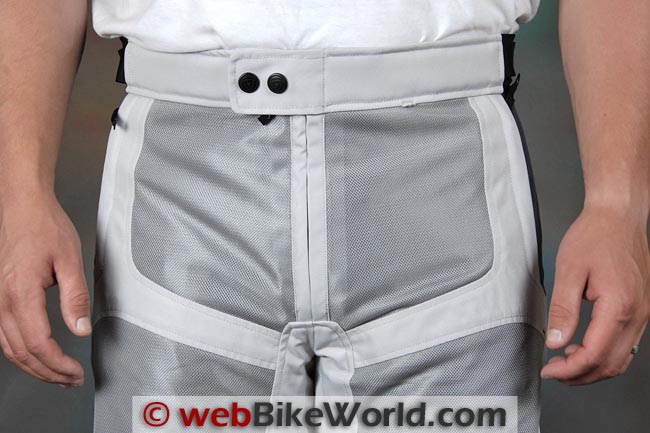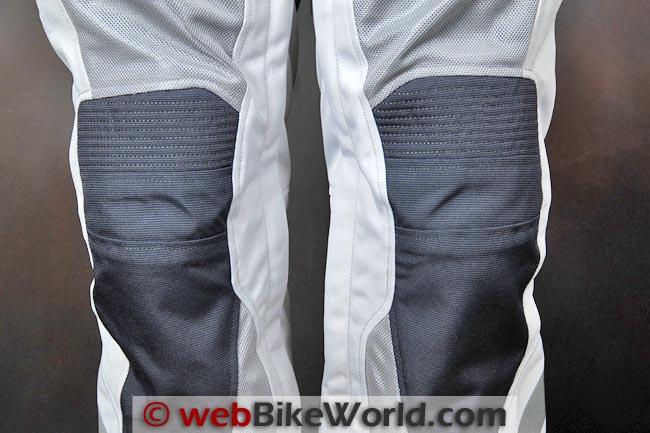 The 

w

BW 

Opinionator: REV'IT! Airwave Trousers
Picks…
…and Pans.

Excellent quality construction.

Comfortable fit.

Fit as pants or over-pants.

Huge amount of air flow.

Good range of adjustment in waist and leg cuffs.

Good pocket placement.

No short or long lengths in women's sizes.

Hip pad has an irregular shape.

Styling may actually be a bit too plain?
Conclusion
I'm pleased with the Airwave trousers, which are a comfortable fit, if a little tight over jeans, and offer a reassuring level of knee protection (I'll probably add armour to the hip pockets at some point, too).
So far they've stood up well to the on/off/on/off of commuting, and the long leg zippers make application and removal a quick and easy operation.
My main complaint is the lack of a waterproof and thermal liner.
The trousers are designed to match the all-rounder Levante jacket, as well as the summer Airwave jacket, so why not include a lining like the one included with the Levante jacket to transform these trousers into year-round performers?
Regardless, these are the trousers I'll choose for my upcoming holiday (have I mentioned I'm going on holiday?) although I'll definitely be packing a waterproof pair to go on top, just in case.
w

BW

 Product Review: REV'IT! Airwave Pants
Manufacturer: REV'IT!
List Price: $199.99 (U.S. men's and women's version). £119.95 (UK women's version).
Colors: Silver or black.
Made In: Vietnam
Sizes: Men's: S to 4XL, S&T. Women's: 34-46 Euro
Review Date: July 2013
Note: Item provided by a retailer, distributor or manufacturer with these Terms and Conditions.
Note:
 For informational use only. All material and photographs are Copyright © webWorld International, LLC since 2000. All rights reserved. See the webBikeWorld® 
Site Info page
. Product specifications, features and details may change or differ from our descriptions. Always check before purchasing. Read the
Terms and Conditions
!
Owner Comments and Feedback
---
From "D.R." (June 2013): "I noticed the comment in this review towards the end about wishing for a waterproof, thermal liner to be included with the Airwave pants.
I believe if your wish came true, you would then own the REV'IT! Tornado pant, which is basically a slightly beefier Airwave with (guess what?) a waterproof, thermal liner."