Summer weather is just around the corner in this part of the world, meaning that it's a good time to take a look at the latest in mesh motorcycle apparel for 2006. Mesh motorcycle apparel has only been available for about 3 years or so, and each year seems to bring an evolution in the products and the technology.
The first generation of mesh jackets mostly fit very loose and they also had questionable abrasion protection, but they were a breakthrough concept that really took off with motorcyclists who were desperately searching for summer alternatives. There were actually shortages of the material and the jackets when they first appeared because demand was so high.
The next generation of mesh motorcycle apparel brought us tighter weaves and a tighter fit and they also started appearing with leather on the impact areas, which helped improve their protective qualities. Now we're seeing designs that allow the mesh clothing to be used in a broader range of riding conditions, with removable waterproof, windproof or insulating linings.
There are so many different combinations now available that it's become hard for any one company to distinguish their products in the marketplace.
The Rev'it Airforce mesh jacket and companion Challenge pants (review coming soon) constitute the latest version of the popular Rev'it line of mesh motorcycle clothing. The combination is not designed to be an all-season outfit, but my feeling is that they provide a good alternative for riding in temperatures from about 60 degrees Fahrenheit on up.
See our review of the Rev'it Challenge mesh pants andSolar mesh gloves, which are a good match for the Airforce jacket
The Airforce jacket uses a much tighter mesh than the type found on earlier generations of mesh motorcycle apparel; in fact, the mesh on the Airforce doesn't really look like mesh at all. But hold it up to the sun and you can see lots of light coming through, and it provides plenty of air flow when riding.
I'll take a guess that the Rev'it designers found that it isn't necessary to have a loose weave to get good air flow, which makes sense when you think about it. Air is made up of some pretty small molecules, and they'll work their way through a tighter mesh just fine, thank you.
Looser knit mesh fabrics also offer potentially less protection during a slide, as the "holes" in the mesh can be more prone to catching on something, causing the rider to tumble, so in this regard, tighter is better.
The jacket's soft outer shell is made from a combination of high-tech fabrics, including Cordura, Dynax mesh, Schoeller Keprotec Kevlar, something called Hitena and some Nyspan stretch material. There's even some Pampas leather thrown in for good measure here and there on the jacket.
Understanding textile motorcycle clothing today means interpreting a mouthful of strange-sounding trademarks, but all we have to know is that the Airforce jacket is soft and comfortable, and hopefully the high-tech fabrics will do their job during a crash.
Liner
The Airforce jacket uses the same type of Rev'it detachable waterproof and windproof Hydratex membrane liner used in other Rev'it apparel. The liner has a strange rubbery feel on the outside, while the inside has a comfortable feel like a kind of silky taffeta.
The liner is easily removable via a series of snaps around the perimeter, which is a change from previous Rev'it liners that used zippers. I have come to like the snaps better than the zippers, because it seems easier and quicker to remove and insert the liner.
The jacket also has a permanent mesh lining attached to the inside that feels comfortable against the skin when the waterproof liner is removed.
A soft microsuede collar uses the standard Rev'it adjustable snap closure at the top, but I wish it had more adjustment at the larger end of the scale, as the collar just barely fits my size 17.5″ neck. A collar is one place where I'd rather see "hook and loop" fastener used to provide a wider range of fit.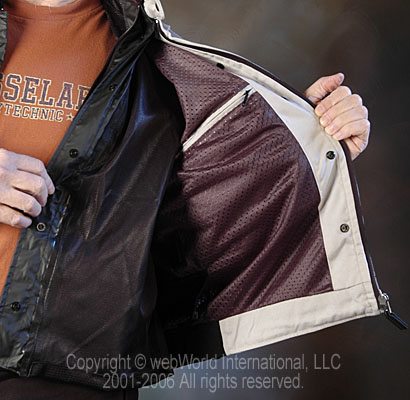 Pockets
The Airforce mesh jacket has two slash hand pockets and two big pockets across the top of the chest on either side. The chest pockets use the unique waterproof Rev'it zipper type, which seal tightly when closed, making them appear to be a single piece of fabric. They also have a reflective coating and a laser-applied Rev'it logo.
The zippers on the chest can also be opened for ventilation when riding with the jacket liner removed. The pockets are big, measuring about 7″ deep by 6.5″ wide (18x16cm). There are also two zippered pockets, one on each side, inside the jacket at chest level, which can be accessed when the liner is removed.
The Airforce jacket also has an additional pocket on the inside, down below the full-length zipper that attaches to the Challenge pants. This pocket is about 15″ long and 5″ deep (38x13cm) and it has a another pocket inside, this one is removable and waterproof  and can be used to store a wallet or anything else that needs to stay dry. These features certainly add to the jacket's interest and they continue the tradition of surprise pockets found on Rev'it apparel.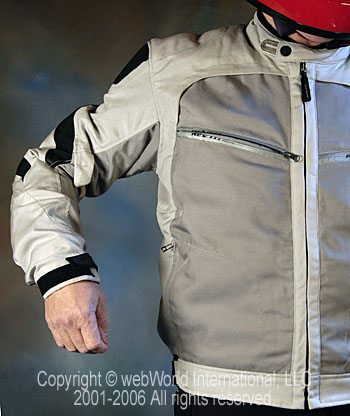 Armor and Padding
The jacket uses ProLife CE-approved elbow and shoulder armor, which is "semi-hard"; that is, it's not quite as hard as the stuff found in a full racing jacket, but it's harder and more substantial than most. A nice surprise is the full-length zipper opening in the back of the jacket, which allows the use of some types of owner-supplied back armor. A thin section of back padding is included with the jacket.
Sizing and Fit
Rev'it clothes are designed to fit correctly for motorcycle riding; that is, they are designed to be close fitting, as they should be. Most riders wear their clothing about one size too loose, and this will not provide the best protection during a crash. I take a size 44 US men's jacket, and the size 54 (Euro) Airforce jacket fits me just about right. The Airforce jacket is also available in women's sizes.
The jacket has adjustable tabs at the waist and an extra snap in each arm to tighten up the sleeves if necessary. The cuffs use a hook-and-loop fastener with a rubberized cinch tab. The cuffs seem to bunch up a bit more than I'd like, making them hard to fit inside the Rev'it Inferno mesh gloves.
Conclusion
Each generation of mesh motorcycle apparel has brought us more features while also expanding the usefulness over a broader range of temperatures and conditions. But what counts the most when considering a mesh jacket is its ability to provide lots of air flow in hot weather.
The Rev'it Airforce jacket offers lots of ventilation with typical Rev'it attention to detail and quality. The jacket can be connected with both a short and full-length zipper to the Rev'it Challenge pants, which are also designed for hot weather riding, making this a good alternative for summer conditions.
w

BW

 Review: REV'IT! Airforce Mesh Jacket
Manufacturer: REV'IT!
List Price (2006): $299.99
Colors: Black or Silver.
Made In: Unknown
Sizes: 46 to 58 and women's sizes 34 to 44 (Euro).
Review Date: April 2006
Note:
 For informational use only. All material and photographs are Copyright © webWorld International, LLC since 2000. All rights reserved. See the webBikeWorld® 
Site Info page
. Product specifications, features and details may change or differ from our descriptions. Always check before purchasing. Read the
Terms and Conditions
!
Owner Comments and Feedback
---
From "C.C.":  "I just wanted to give you a bit of my own personal feedback regarding the jacket which I bought primarily based upon your review.
Quality wise, the jacket is first rate. The "information" booklets that come with it practically require a PhD to understand them with all the techno fabrics and materials but nonetheless, it all seems to work. Lots of attention to small details such as extra waterproof pouches for holding extra gear.
About the pockets…The pocket in the back that accepts the removable liner is good however, I found that with the liner in the pocket, you do get a "pillow on your back" sensation with the jacket zippered up. No matter how well you fold up the liner, it still bunches up. The solution I found was to use a Ziploc bag and put the liner in that and squish out all the air while sealing. It stays almost completely flat and you notice it much less. Space-bag anyone?
The other "little" issue I have is with the inner pocket zippers. Because the pockets are within the inside of the jacket, the fabric where the zipper is attached is very soft. Consequently, you need 2 hands to unzip the pocket, 1 to hold the zipper, and 1 to hold the fabric. Without the 2 handed open, you just end up pulling the fabric inner liner. Of course, I just leave it open as its plenty deep enough and doubt anything will fall out.
Also, as an FYI, the jacket has a "female" zipper – with zipper on the left handed instead of right handed. Most US jackets tend to have the zipper on the right. Just have to get used to it.
Lastly a word about the styling. Although I work in marketing too, having the Rev'it name/logo plastered 8x times (3 on the back; 3 on the sleeves and 2 on the front) on a single jacket is a bit much. Let the product speak for itself. As a self proclaimed cruiser person, I tend not to want to feel like a rolling Rev'it advertising billboard.
Overall the jacket is excellent and I am a happy customer. A few less logos and it would have been perfect. Thanks again for your review. It was most helpful in purchasing a jacket."
Editor's Note:  We agree about the problem with two-handed zipper opening; it's something that seems to be common of late. Could be due to the softer materials that are currently being used on textile clothing?