Winter Clothing Image Gallery
I made a quick stop at REV'IT! USA headquarters last week to check out the Fall/Winter 2014 lineup.
Yes, you read that right! It's time for winter clothing.
Hard to believe, now that summer has just begun its hot and moist grip on most of us in the northern hemisphere.
But not to worry: the Spring/Summer 2015 lineup will be ready for viewing at REV'IT! just 6 weeks from now!
(September 1, 2014) – The information and photos about the REV'IT! jeans and ingenious belt connector (below) was removed from the original July 2014 posting of this article based on a request from REV'IT! HQ. That information is now ready for public release.
I was at REV'IT! USA headquarters last week to view the Spring/Summer 2015 lineup and I can tell you that it's fantastic! There are a huge number of new and innovative products that will be announced on webBikeWorld on January 1, 2015, so be sure to check back! In the meantime, we'll be reviewing the new REV'IT! 2015 gear (and more 2014 gear) so there's lots more to come.
The Fall/Winter REV'IT! Fall and Winter 2014 catalog is relatively slim, because most of the energy has been put into next year's clothing, which should be interesting.
In the meantime, I took a few pics of the most recently updated products in the REV'IT! "Urban" clothing line. I still need to get some samples for reviews and I've been promising that since the REV'IT! 2013 Fall/Winter preview from last September.
I'm intrigued by what's now called "Urban" motorcycle clothing because you can easily thrown on a pair of the new REV'IT! jeans, slide into a pair of the really good-looking REV'IT! boots and then top it off with, of course, a REV'IT! leather or textile jacket from the Urban lineup and you'd probably have the paparazzi chasing you down the street. Just don't forget the shades…
The best part about it is that you'll still have decent CE-rated protection while looking good at work or play.
REV'IT! Jeans for 2014
While the jeans shown below may look similar to the jeans pictured in the REV'IT! 2013 Fall/Winter preview, they've all been updated with a more "reasonable" fit.
The first generation jeans felt a little too skinny, designed for a time when soft drinks came in 8 oz. rather than 20 oz. bottles and chips were something made in a machine shop, not gobbled down by the pound.
In any case, the REV'IT! jean lineup has been right-sized for 2014 body types, and that's good news. Apparently it's working, because the jeans have been selling so fast that the retailers are having a hard time keeping them in stock.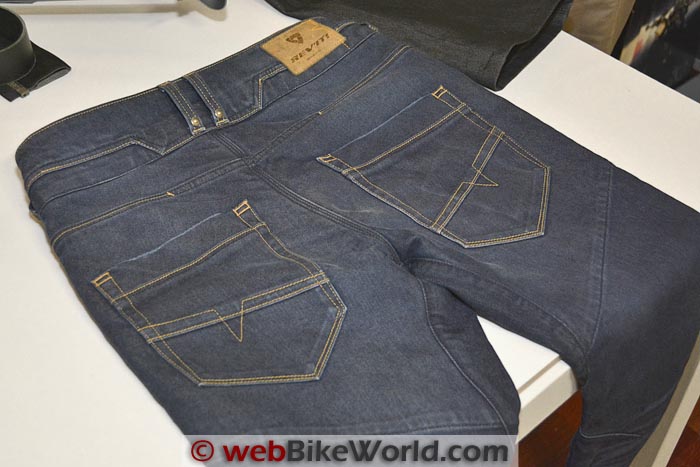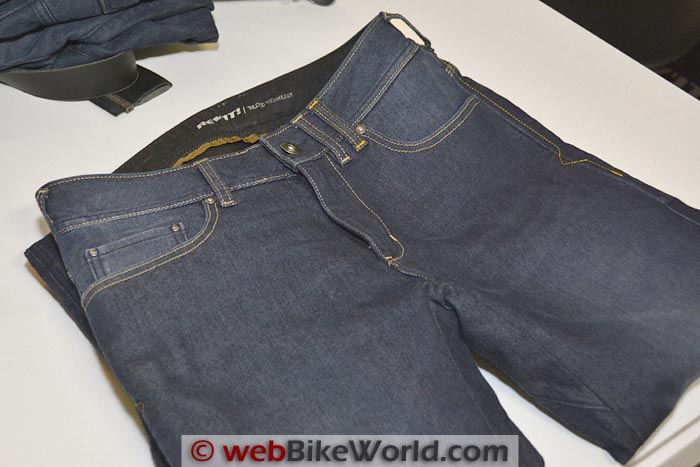 REV'IT! Memphis H2O Waterproof Jeans
There is a new entry in the jeans lineup for 2014 and it's called the Memphis H2O. As the name implies, these jeans are waterproof, according to REV'IT! and the product description says the Memphis H2O jeans are "the first 100% waterproof jean ever made".
The Memphis H2O jeans have a Hydratex 3L pro membrane laminated on the inside, backed (or fronted rather) by a mesh lining for comfort against the skin. The jeans do feel a little heavier than average and I'm not sure I'd want to spend all day at work wearing them (unless I was working outdoors), but they should prove more comfortable than typically stiff waterproof motorcycle pants.
The Memphis H2O jeans have a gusset behind the main entry zipper (i.e., "fly") to keep the rain out and there's a waterproof change pocket in the left side hand pocket.
All of the REV'IT! jeans come with Knox CE-rated adjustable knee protectors and they're ready for the optional Tryonic Seesoft CE Level 1 hip protectors, which are very comfortable. I only wish they came standard with the jeans…
More info and photos on the Tryonic Seesoft protectors is available in the REV'IT! 2013 Fall/Winter preview.
UPDATE: Here is the wBW REV'IT! Memphis H20 jeans review.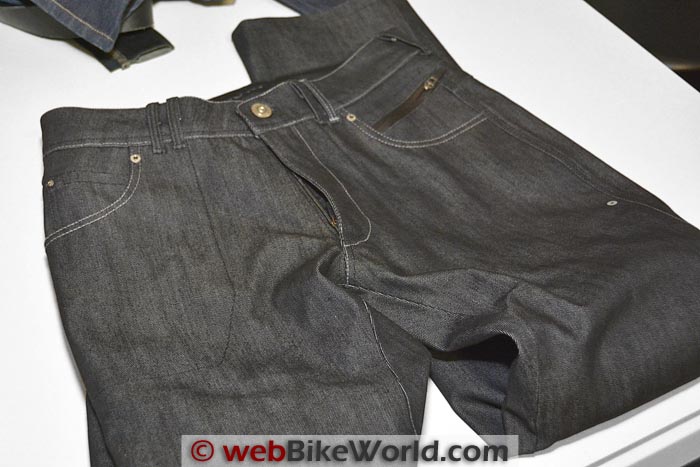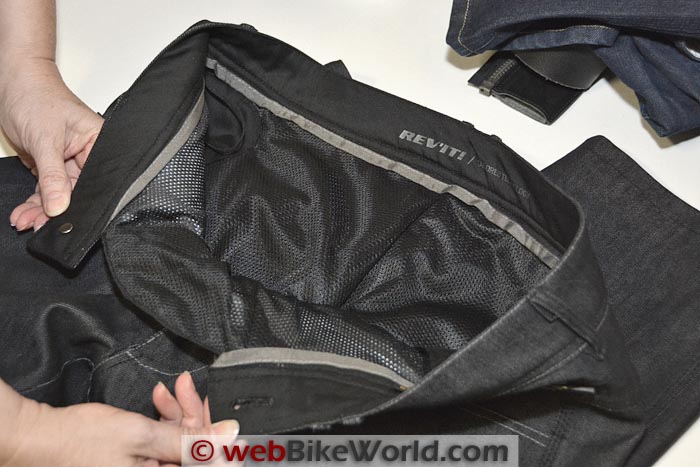 The Safeway Belt
From the "Why didn't I think of that?" department, here's a new ingenious design from REV'IT! that was just announced. It's the Safeway belt, which is a good-looking jeans belt in black or brown with an ingenious sliding jacket connector on the back.
Of course, the Safeway belt itself is designed to work with all of the new REV'IT! jeans, which have reinforced belt loops with a special double design at the rear that fits into the Safeway belt connector.
The special Safeway belt connector is also designed to fit all REV'IT! jackets (the zipper teeth match). It's a simple but very cool design and, by the way, the belts look perfect with jeans and the connector can be easily removed (it slides off the belt).
It might be possible to hack the Safeway belt with connector to work on other brands of jeans but the zipper is designed to match REV'IT! jackets, so you'd have to sew the extra top section of the zipper to the inside of the jacket, which isn't that difficult (I've done it on a couple of other brands of jackets).
UPDATE: Here is the wBW REV'IT! Safeway belt review.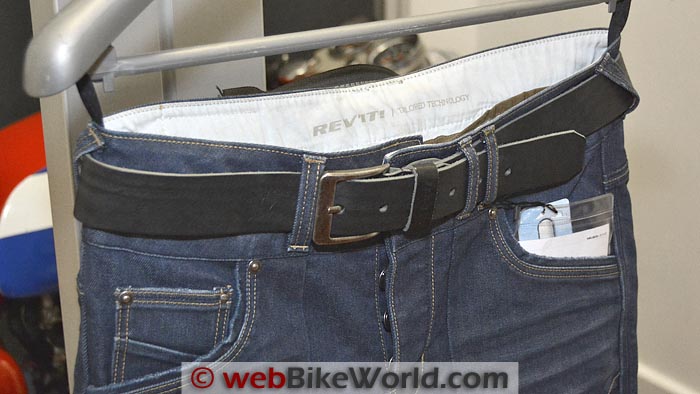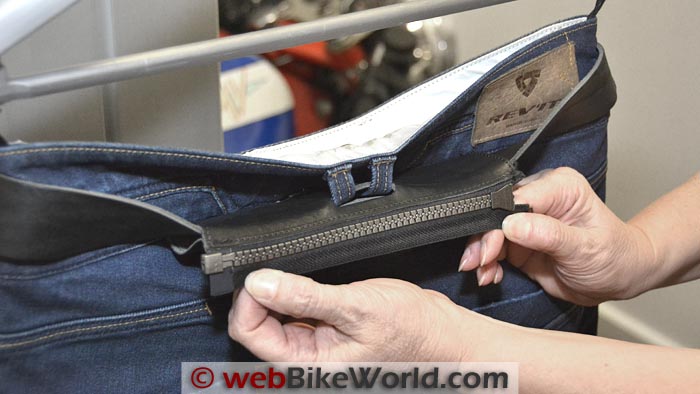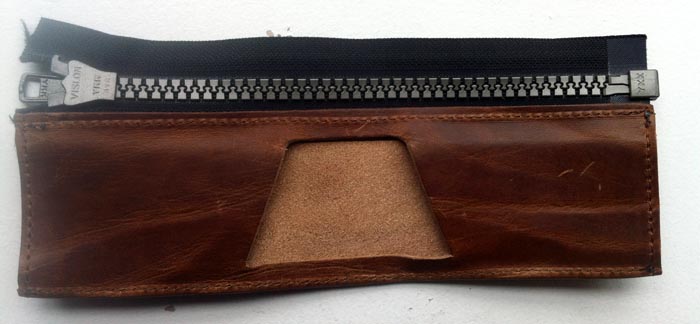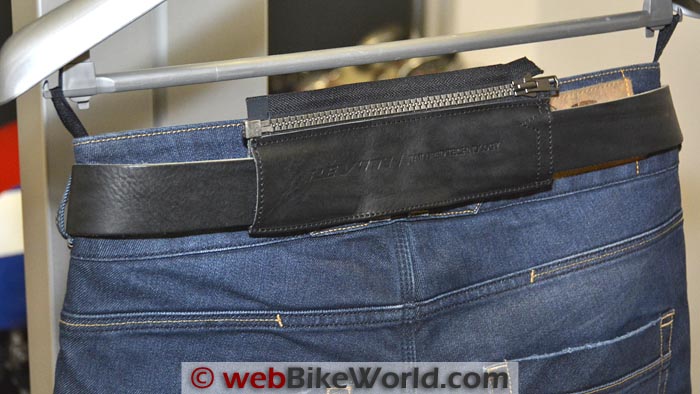 REV'IT! Boots for 2014
I've posted photos of the new REV'IT! boot lineup previously and I need to get a few pair in the shop for reviews. In the meantime, they're still about the best-looking street boots going. The news is that they've all been updated to meet CE specs for 2014.
This means the height of some of the boots has been increased and all boots have toe boxes and torsion control systems, along with ankle protectors on both sides.
Here are a few more photos of the most recent updates: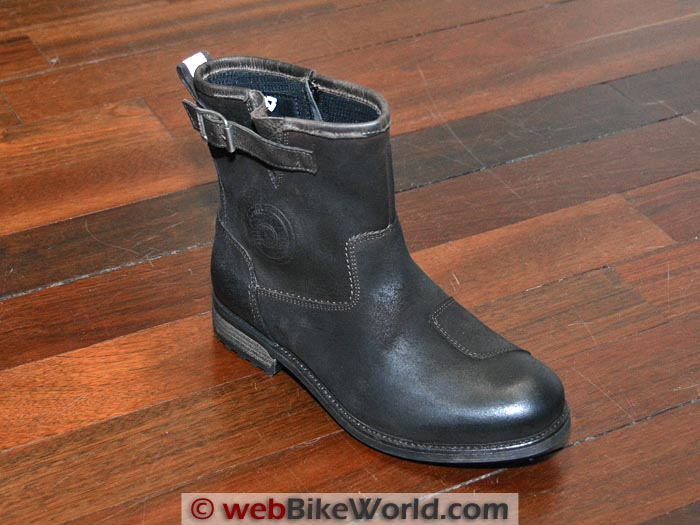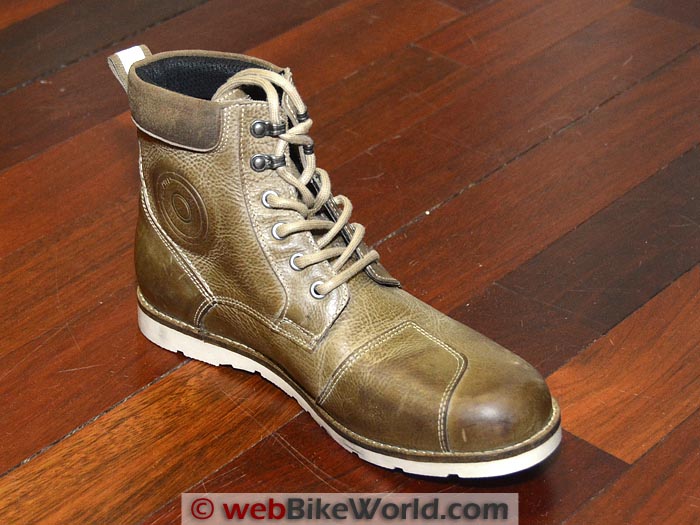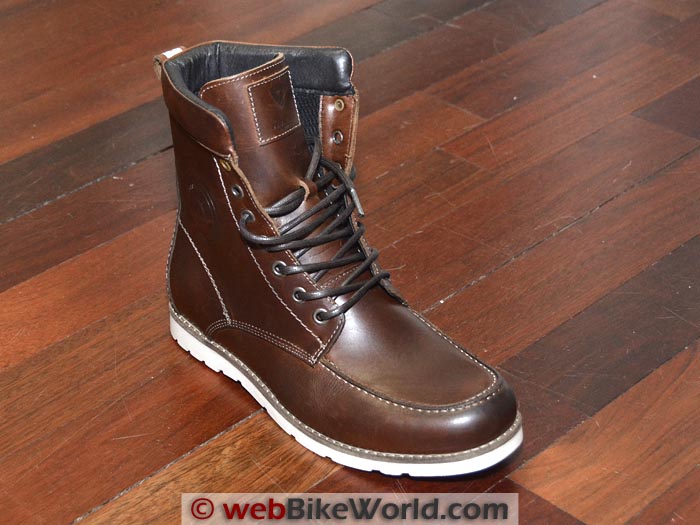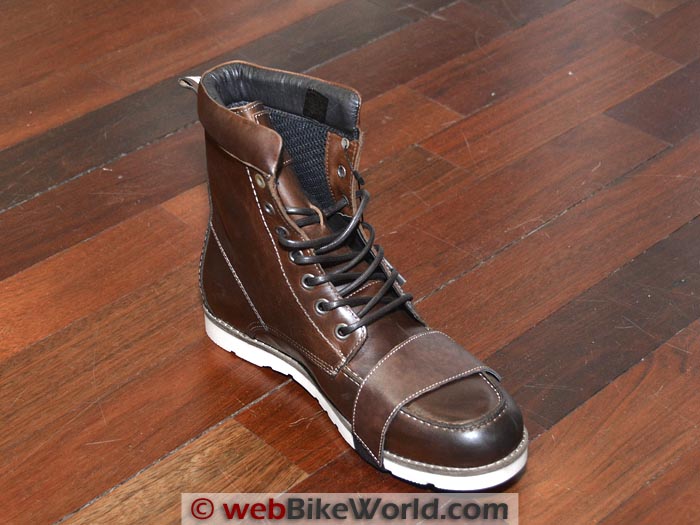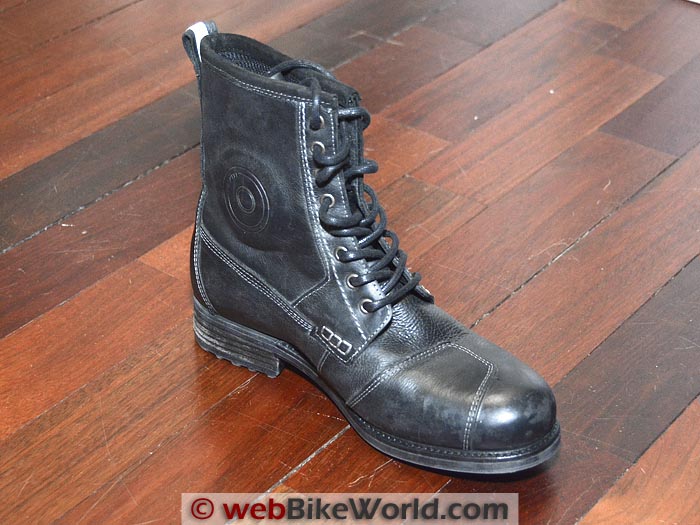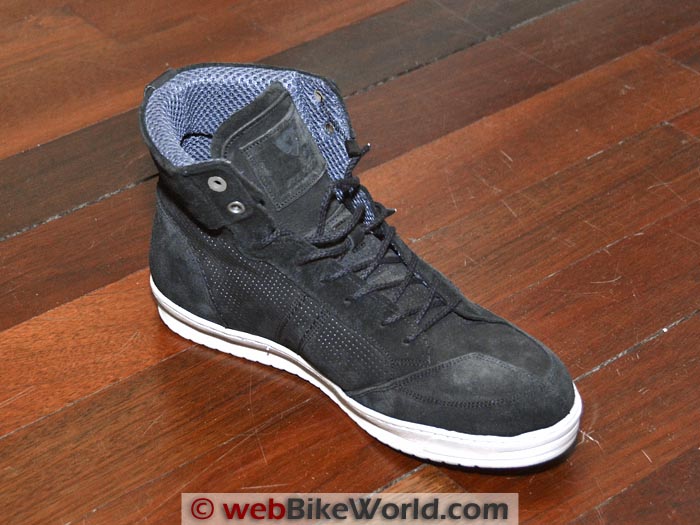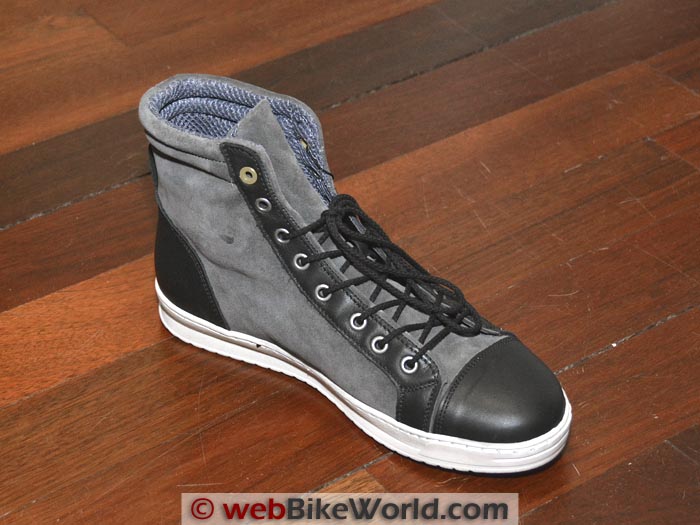 w

BW

 Video: REV'IT! 2014 Motorcycle Boots
More REV'IT! Gear for 2014
Check out these leather jackets — they'd look fantastic over a pair of jeans and the REV'IT! boots. And, you'd have pretty good protection also, especially with the Safeway Belt connector.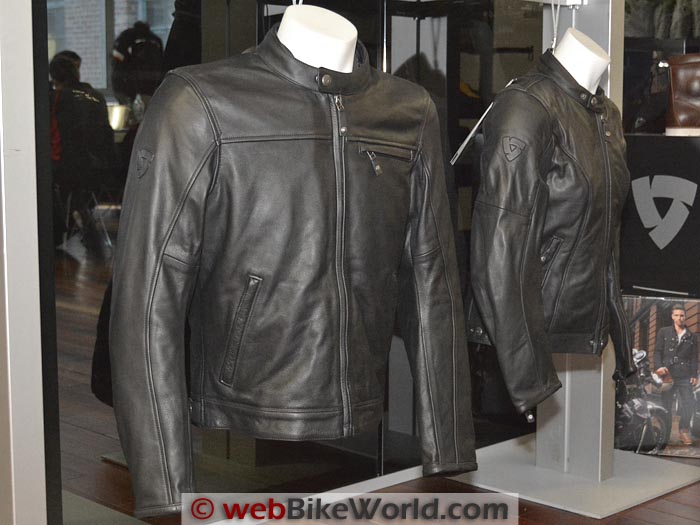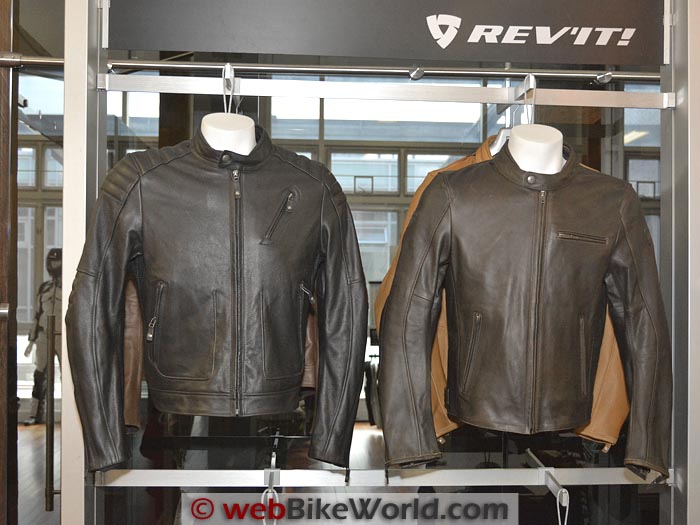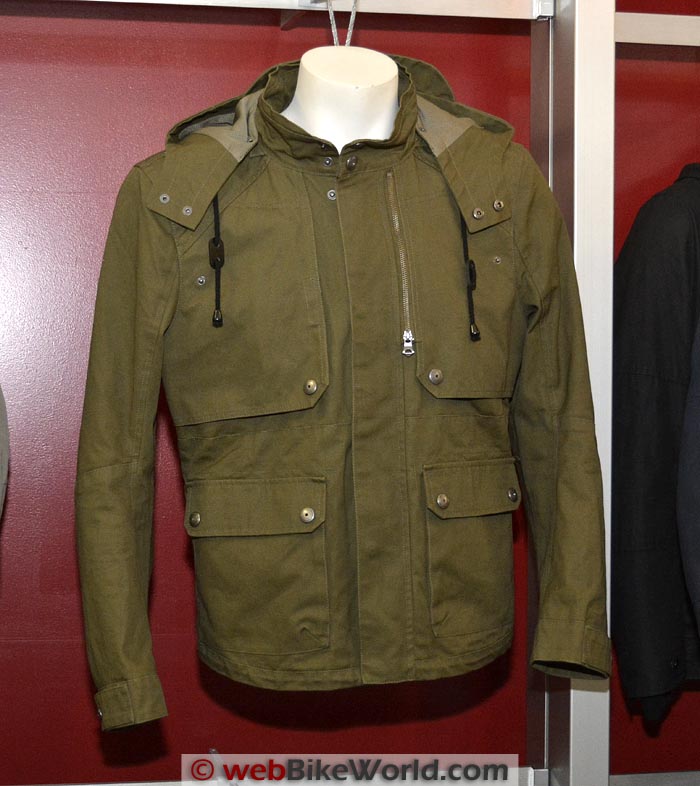 Conclusion
Some nice updates and the REV'IT! Urban clothing lineup is selling hotter than a firecracker on the 4th of July, so I'm told. Lots more to come with the big updates and product announcements rumored for end of August, so stay tuned!
More wBW: Motorcycle Clothing Reviews  |  Rev'it Clothing Reviews
Publication Date: July 2014
Note:
 For informational use only. All material and photographs are Copyright © webWorld International, LLC since 2000. All rights reserved. See the webBikeWorld® 
Site Info page
. Product specifications, features and details may change or differ from our descriptions. Always check before purchasing. Read the
Terms and Conditions
!
Owner Comments and Feedback