Winter Clothing Image Gallery
Twice each year, I make the trip up to Red Hook to see the latest REV'IT! gear for Spring/Summer and Fall/Winter.
I've been doing it since 2006 and it's been very interesting to see the evolution of REV'IT! products during that time.
The brand has been a personal favorite of mine for several reasons.
The clothing fits me correctly, it looks good and I feel confident that I am getting the protection I'll need if the time comes.
That's my main concern when it comes to motorcycle clothing.
I've never been one to go cheap just to try and save a few bucks. When it comes to motorcycle gear, that extra bit of confidence is worth it to me.
Sure, there are some bargains to be had by buying a third-tier brand.
But carefully study the wide variety of available gear from hundred-buck junk to hock-the-Lambo-for-the-Rukka and you'll see that there is a difference.
The clothing manufacturers have told me time and again that the most difficult part of their job is educating motorcyclists on how the little details make a big difference.
The typical consumer sees a jacket that looks the part and if the price is right — the cheaper the better — buys it.
But webBikeWorld readers are not typical motorcyclists, right? You're educated, smart and focused on quality and protection — crash protection, weather protection and comfort.
Perfect REV'IT!! customers, no?
2013 REV'IT! Fall/Winter Overview
We'll have the detailed reviews of the new REV'IT! gear as the winter (ugh) progresses, but here's a "Quick Look" at a few of the interesting items.
Be sure to read my first impressions of the new REV'IT! Poseidon GTX jacket and pants (preview), which replaces the REV'IT! Everest GTX (review).
Also, the new REV'IT! Chronos GTX jacket (preview), replacing the much-beloved REV'IT! Turbine.
And the brand-new REV'IT! Neptune GTX jacket and pants (preview), a replacement for the REV'IT! Legacy GTX.
Here are a few more details on some of the other interesting REV'IT! items I discovered during my trip..
That's right — REV'IT! is now in the jeans business, and in a big way.
The jeans will come in several varieties for both men and women. Names will be Carnaby, Campo, Nelson, Lombard, Broadway Ladies, Vendome and Madison Ladies.
I don't have many details other than REV'IT! said the fabric used in the jeans has some type of abrasion protection fiber weave.
At least two of the jeans — the Carnaby and Campo — exceed the EN 13595 Level 1 certification and the protectors are either Knox or SAS-Tec in the knees and hips.
The jeans are triple stitched and some also include a "PWR/Shield" additional layer in the impact points.
List prices will range from $199.99 to $279.99, depending on type, size and options. We'll have more on the REV'IT! jeans as they become available.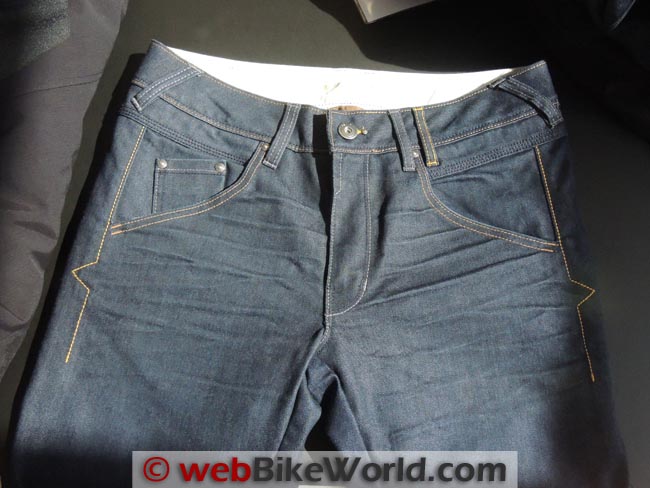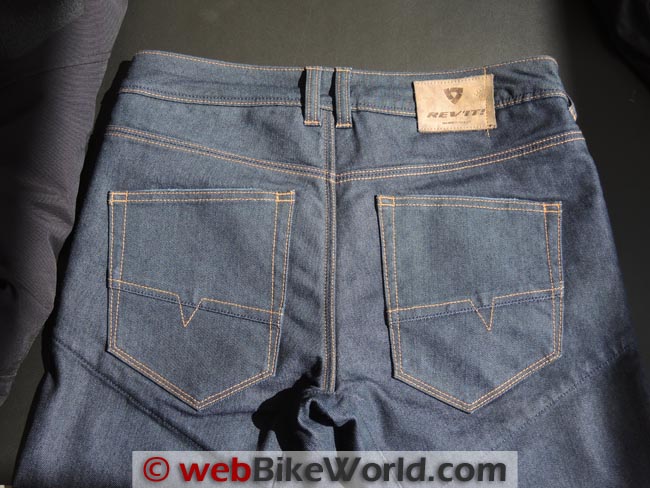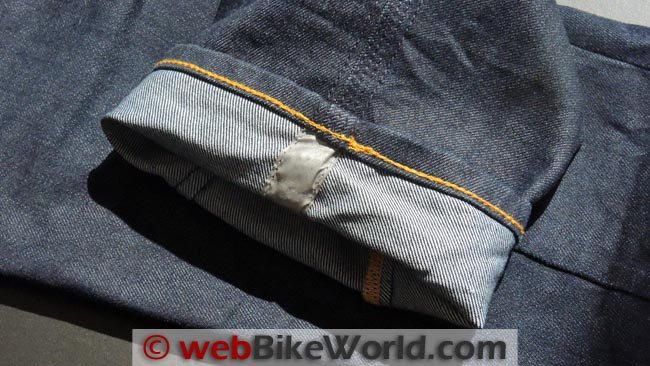 Three new winter touring gloves were introduced to REV'IT! retailers for winter 2013. I tried each pair on and they feel very comfortable.
The gloves include the Oceanus GTX and Centaur GTX in men's and women's versions. All have the Gore-Tex "Guaranteed to Keep You Dry" promise. List prices are a reasonable $129.99 for the Centaur GTX and $149.99 for the Oceanus GTX gloves.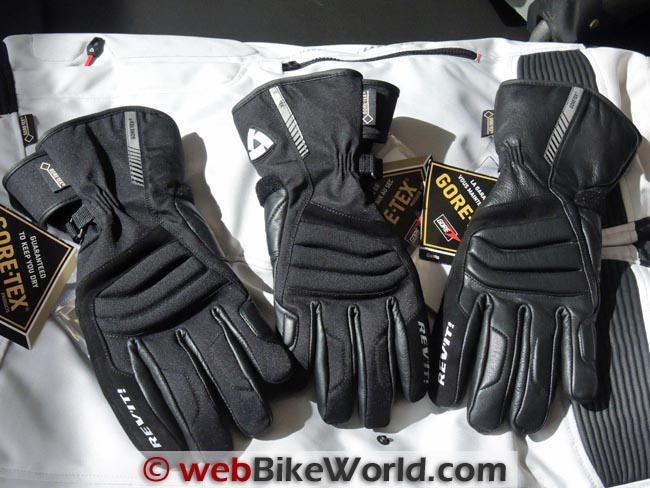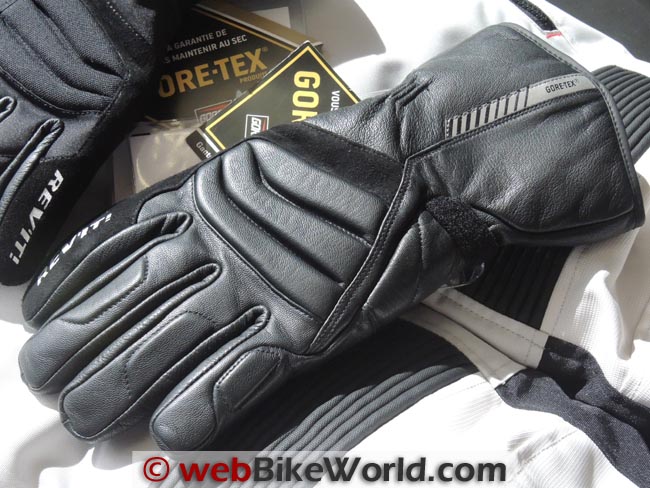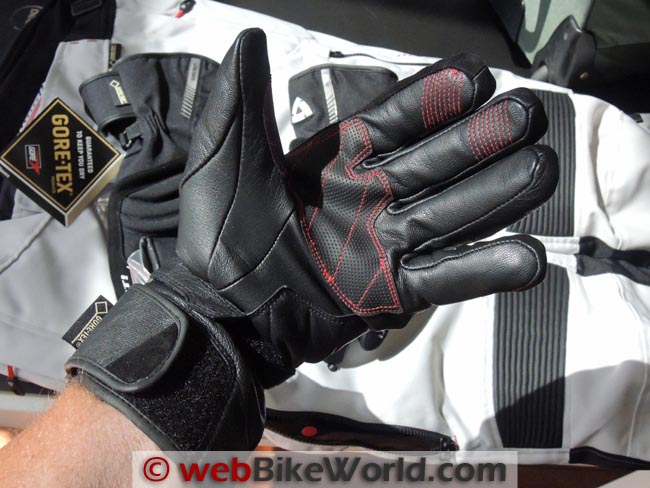 REV'IT! Seesoft Protectors
REV'IT! is continuing the development of Seesoft back protector (report) and hopefully will include one as standard equipment, at least on their high-end jackets.
The Seesoft lineup has been "normalized" and the REV'IT! jackets have been standardized to fit Seesoft back protectors in four different sizes.
Seesoft back protectors are also available in SAS-Tec and Knox standard sizes, so there may be a Seesoft back protector that will fit your jacket, no matter the brand.
The sizes and shapes, along with dimensions, are listed in my Seesoft back protector report that was part of my REV'IT! 2013 Spring/Summer preview, but I'll repeat the graphics here.
Type RV is REV'IT!; Type ST is SAS-Tec and Type KN is Knox:

REV'IT! will also introduce a Seesoft hip protector; hopefully we'll see both the back protectors and hip protectors included as standard equipment on REV'IT! clothing soon.
If you haven't seen the Seesoft protectors, they're definitely worth a look.
The design is quite different than most motorcycle back protectors; it consists of movable layers of a soft perforated foam pad of varying densities that moves with your body as you bend.
The Seesoft back protectors are all certified to Level 2 and the hip protector to Level 1 (there is no Level 2 for hip protectors).
Here are some pics: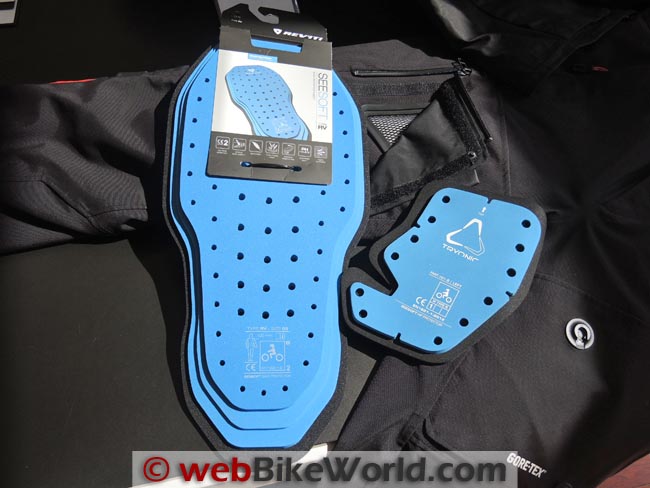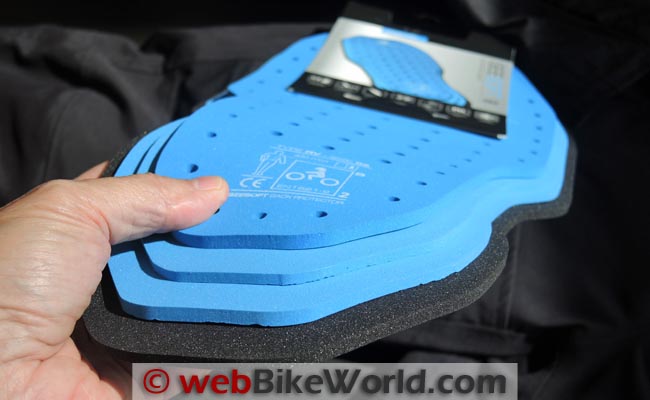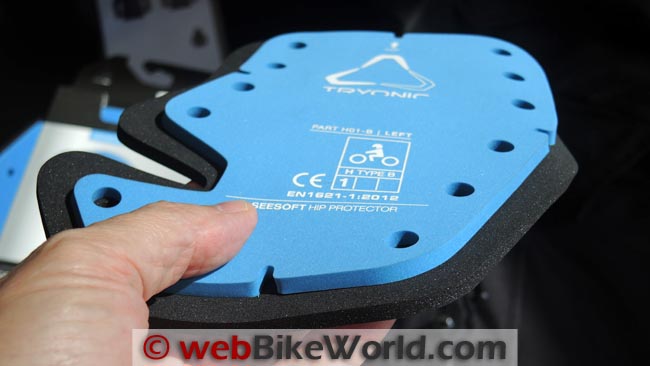 Conclusion
Lots of nice new gear from REV'IT! coming soon for Fall/Winter 2013. Could we possibly be looking forward to winter?!
More wBW: 
▪ Motorcycle Clothing Reviews
▪ REV'IT! Clothing Reviews
Publication Date: September 2013
Note:
 For informational use only. All material and photographs are Copyright © webWorld International, LLC since 2000. All rights reserved. See the webBikeWorld® 
Site Info page
. Product specifications, features and details may change or differ from our descriptions. Always check before purchasing. Read the
Terms and Conditions
!
Owner Comments and Feedback