Motorcycle Clothing Image Gallery
One last report from the 2009 Powersports Dealer Expo: a few of the new Rev'it items for 2009.  There's a lot more than I can report on here, and we hope to feature reviews of a few of these interesting new items for 2009, including the Rev'it Dragon jacket, already in process.
In the meantime, here are a few photos and some information on changes and additions to the Rev'it lineup for 2009.  Note that the prices shown here may change so check your retailer for updated pricing information.  Also, remember that you can use this special link to buy REV'IT! clothing at RevZilla which will help supportwebBikeWorld!
I hope you enjoyed my 2009 Powersports Dealer Expo report and the 2010 show will be here before you know it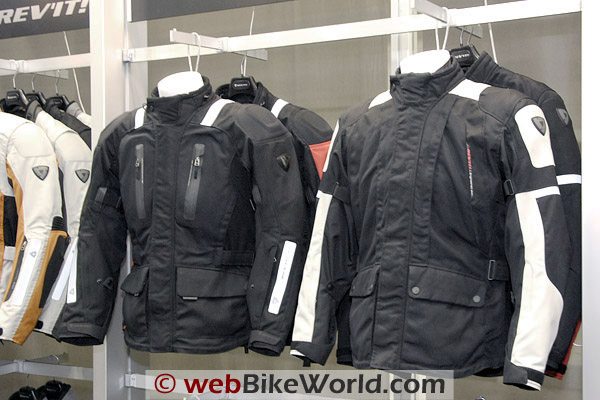 Rev'it "Navigator" jacket (L) and Rev'it "Dragon" jacket (R).
The big news is the Navigator (left, above) and Dragon jackets; both are new for 2009.  The Navigator is very similar to the Cayenne Pro and offers almost all of the same high-tech features, but it's designed to have more of a Sport Touring profile vs. the Cayenne Pro's Adventure Touring flavor.
The collar of the Navigator feels very soft, it's a "Euro" style collar with an extended range 7-point adjuster for the collar/neck, a feature which is showing up on other Rev'it jackets for 2009.  It has a new molded "zipper garage" for the vertical waterproof zippers in front, which hide a mesh panel/pocket underneath.  The collar can also be secured when open to allow more air flow.
It uses Superfabric on the elbows like the Cayenne Pro and ProLife (vs. SAS-Tech) armor, including the back pad.
It's available in all black and black with red or blue and it has lots of reflective striping and other features like stretch panels under the arms.  The Navigator also has a waterproof breathable liner and separate insulating liner; a short connecting zipper for pants.
The Navigator will retail for $549.99 in sizes M through XXL.  The 2009 Cayenne Pro has a list price of $579.99.
Rev'it Dragon Jacket
We currently have one of the new Dragon jackets (shown above on the right) in black with high-visibility yellow contrasting panels, and it's a great-looking jacket.  It uses genuine DuPont high-visibility yellow Cordura, the good stuff.
The Dragon is designed to be sold at a lower price point ($299.99) than the high-end Cayenne Pro or Navigator.  It's available in all black; black/red; black/white/gray and black/neon yellow.
The Dragon uses 500 and 1000 denier Cordura fabric but it has the same precise CAD/CAM laser-cut sections as the other Rev'it garments.  The jacket has a minimum of stitching and uses Rev'it's CAM thermal welding process instead, which also allows interesting fabric shapes to be created for more interesting styling.
The high-viz yellow panels are all in the right places (they will be where the white panels are in the photo above) to give good visibility without having to make the jacket entirely yellow.
The jacket has dual zipper vents on the front and the back; a Euro-style collar; rear storage pocket and the internal windproof/thermal liner can be zipped out and used as a "walk-around" jacket, which is a nice feature.  It also has all the other nice Rev'it styling features with the logo on the shoulder and more.
Rev'it probably has more dedicated women's motorcycle clothing in women-specific sizes than any other motorcycle clothing manufacturer.  The women's version of the Dragon is called the Siren, and it comes in 3 colors: all black; gray and red.
It's sized for women's shapes and has a few differently cut panels, so this is not just a simple remake but an entirely new design takeoff from the Dragon.  It has similar liners and it's a serious women's riding jacket, not a phony style show.  The Siren has waist adjusters; a storage pocket; the removable liner that can be worn separately and more.
The Siren will also retail for $299.99 in sizes 34 to women's size 48 (in black).
The Factor pants ($209.99) are a good match for the Dragon and Siren jacket.  The mens's version uses Knox armor and the women's version uses ProLife armor because ProLife has a women-specific shape for women's motorcycle clothing.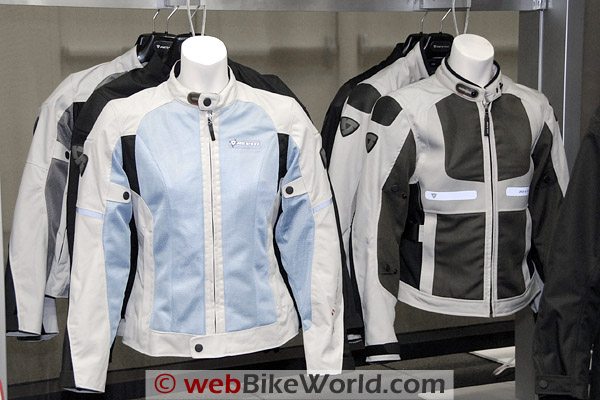 Rev'it Ladies "Air" Jacket (L) and Men's "Turbine" Jacket (R).
Rev'it Turbine Jacket
The Turbine is an update on one of my favorite hot-weather mesh jackets, the Rev'it Airforce.  The Turbine is now also available in women's sizes and colors (and fit).
It has Sirocco-type styling, almost like a short version of the Sirocco.  It has nice styling and reflective strips on the front.  It uses DyMax mesh and 1000 denier Cordura; the expensive but highly protective SuperFabric; SAS-Tech armor (men's) and ProLife in the women's and more.  The Turbine has no liners (it doesn't need one, it's a pure hot-weather jacket).
This is a high-tech mesh jacket for riders who previously did not want to wear mesh due to safety concerns.  Rev'it will introduce a line of layering garments in the fall of 2009 which can be used with the Turbine if required.
The Turbine lists for $359.99 and a pair of matching Turbine pants (photo below) are available in two different colors for $329.99.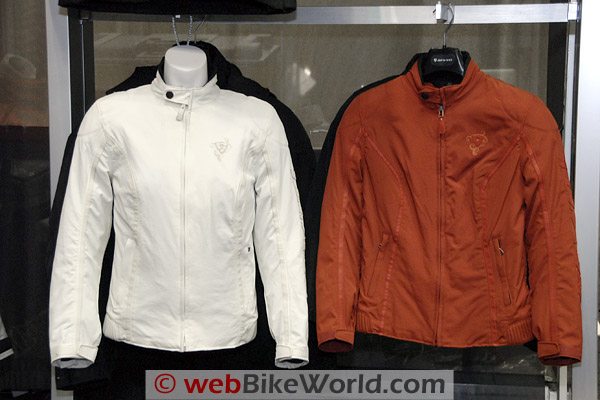 Rev'it "Ginger" Jacket in Cream and Red.
Rev'it Ginger Jacket
The Ginger has a nice soft finish that isn't apparent in these photos (which were taken in very difficult lighting conditions).
The Ginger has very nice detailing (seen in the piping) and the jacket is a combination of nylon with leather piping.  The specially treated fabric has a very nice, soft feel and I think it could also be worn as a street jacket with the armor removed (or not, depending on which neighborhood you live in!).
It has a removable Hydratex waterproof/breathable liner and a thermal liner and it features ladies' ProLife armor.
The Ginger is designed for a beginning rider and/or scooterist and it lists for a reasonable $229.99.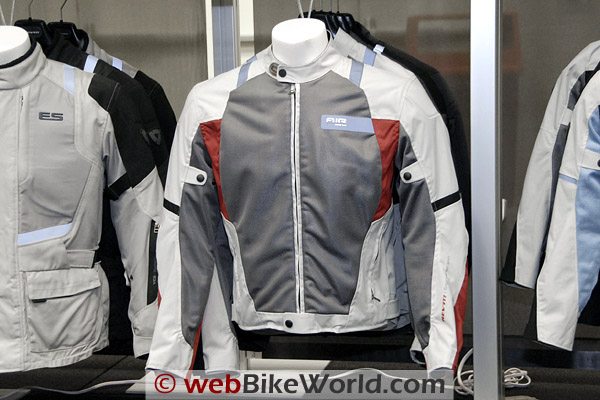 Rev'it "Air" Jacket
Rev'it Air Jacket
The popular Rev'it Air jacket (review) continues for 2009 at $189.99.  It features large mesh panels and Knox armor in the elbows and shoulders; a foam back pad and uses 500 denier fabric in the shell.
This is a great jacket for hot weather and it's the lightest weight mesh jacket I'll wear — if it's too hot to wear the Air jacket, it's too hot to ride!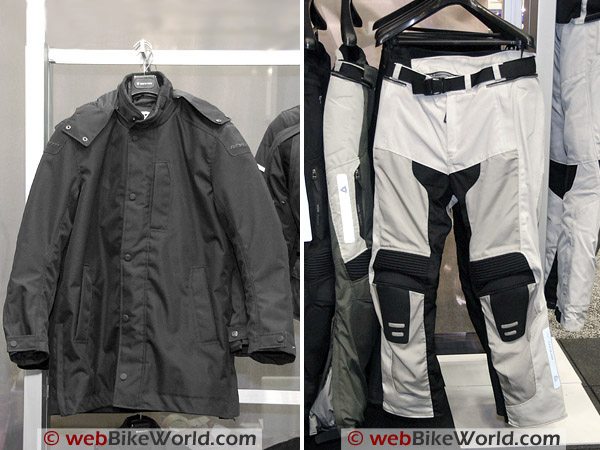 Rev'it "Manhattan" Jacket (L) and "Turbine" Pants (R)
Rev'it Manhattan Jacket
Manhattan is the new Brooklyn, right?  Rev'it had a Brooklyn jacket in the lineup in past years; the Manhattan is an update.  It's designed to be an urban scooter-style jacket, but it has armor yet can be worn as a regular street jacket.  The price is right at $239.00; black only.
The Turbine pants are available in black or the light gray shown here.  It has SAS-Tech armor (men's) and ProLife (women's) and SuperFabric.  The list price is $349.00 and they're available in short and long lengths.  The Turbine pants will go with the Cayenne Pro, Sirocco or Turbine jacket.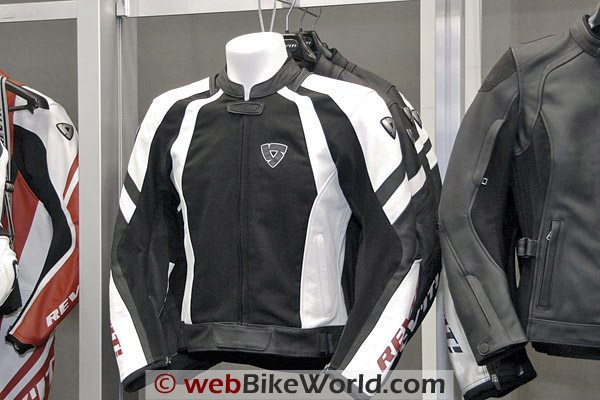 Rev'it "Phoenix" Leather Jacket.
Rev'it Phoenix Jacket
The Rev'it Phoenix is new for 2009; it's a nice-looking jacket that combines leather with stretch panels and some Dymax mesh for a leather-biased hybrid.  It also features ProLife armor in the shoulders and elbows and perforated EVA foam in the back.
It's available in men's Euro sizes 46-58 in all black or the black/white pattern shown above and retails for $399.99.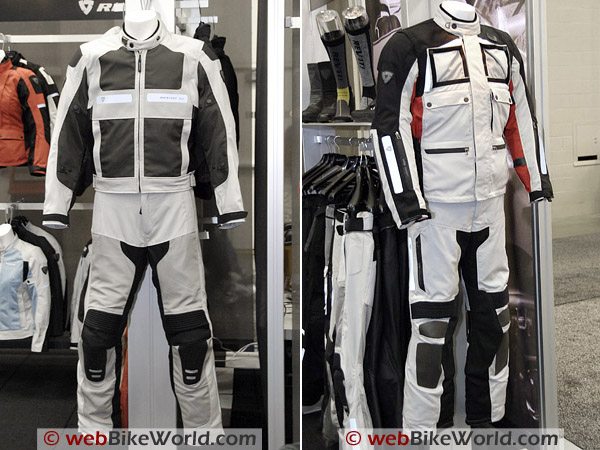 Rev'it Turbine jacket and pants outfit (L). Cayenne Pro jacket and pants (R).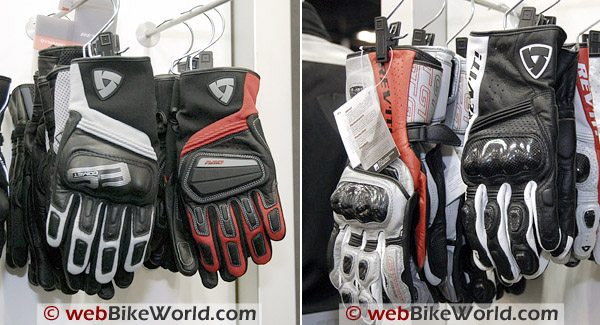 Rev'it "Comet" glove (L) and "Giri" glove (R).  Photo Right: Rev'it "GT Corse" gloves on the left.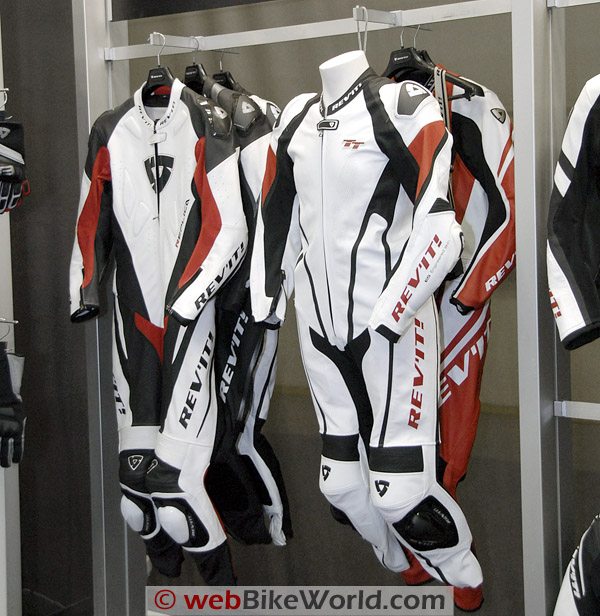 Rev'it "Replica" (L) Leathers and the new "TT" leathers (R).
Rev'it TT One-Piece Leathers
The new Rev'it TT leathers were designed with Rev'it MotoGP rider Randy de Puniet.  Note the elbow sliders; Randy has a habit of dragging his elbows through some turns (think about that for a second!) so the TT leathers feature elbow sliders along with an advanced air ventilation system.
The TT leathers have too many features to list here, but they're actually priced at a very reasonable (for this type and quality in a no-compromise, shaped, one-piece leather suit) at $1,399.99.
Selection of Rev'it Pants for 2009. 
The "Marryl" women's leather pants are shown at the right.  They're available in women's sizes 34-46; 38-44 short and 36-42 long.
Publication Date: March 2009
Note:  For informational use only.  All material and photographs are Copyright © webWorld International, LLC – 2000-2011.  All rights reserved.  See the webBikeWorld® Site Info page.  NOTE:  Product specifications, features and details may change or differ from our descriptions.  Always check before purchasing.  Read the Terms and Conditions!
Owner Comments and Feedback
Comments are ordered from most recent to oldest.
Not all comments will be published (
details
).  Comments may be edited for clarity prior to publication.
---
From "H.L.S.", Apparel Manager, Bob's BMW Motorcycles, Columbia/Jessup, Maryland (3/09):  "On top of the items you featured, I'm also very excited about the new Gear pant, which matches the popular men's and women's Ignition jacket, as well as the new Phoenix jacket.
Combining the pant with the Ignition jacket makes for a good looking yet much more functional alternative to black leather.  Also, your readers might enjoy hearing about the new Rotor pant, which matches up with the men's and women's Air jackets.  Both of these pants are items I've heard customers ask for time and again.  I don't doubt they are on your list of items to be reviewed.
Rev'it gloves are one of our favorite things and, in addition to those you mentioned, I'm looking forward to having the Airvolution glove in the shop.  I believe it will be a more sporty alternative to the Monster glove, which has been a staff and customer favorite for a couple of years now.
Anyway, just thought I'd mention. Keep up the good work.  Thanks for keeping those of us who didn't get to attend Expo informed!"