Harley fans thought the world was coming to an end in 2017 when Harley-Davidson axed the popular Dyna family and married those models with the new Softail family.
They loved the handling of the twin-shock models and enjoyed the comical shaking character character of the unbalanced engine that vibrated madly on its rubber mounts. 
Some may miss that. I certainly don't.
Not since the new-era Fat Bob with its slick 107 and 114 Milwaukee engines, stiffer frame, lighter weight, plus single shock and upside fork suspension.
It is now smoother, more sophisticated, more powerful and better handling with more cornering clearance.
Quite simply the world did not come to an end!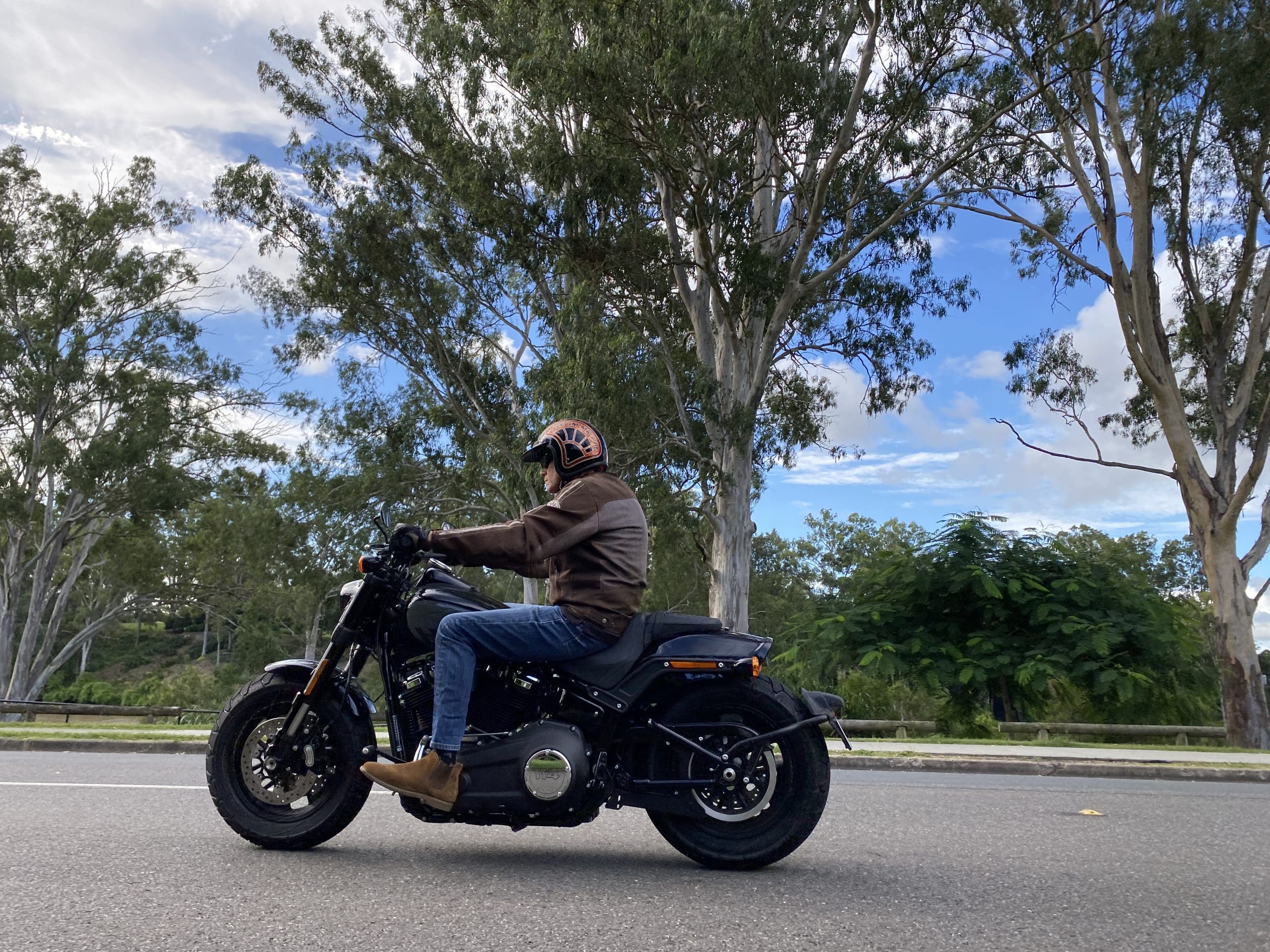 For 2022 the only change to the Fat Bob is a "waterslide" fuel tank graphic in an oval shape with "H-D" on the lower edge and the absence of the 107 model, leaving just the Fat Bob S with the whopping 114 torque monster drivetrain.
However, improved factory settings and fine-tuning seems to have made the bike even better.
The suspension feels a little better suited to our conditions and the drivetrain is slightly slicker with less mechanical noise and neutral easier to find.
The new-era FXFBS Softail Fat Bob S cost $A30,250 when it was launched and dropped to $29,995 last year. For 2022 it's up to $31,750.
It's my pick of the new Softails for its menacing looks and performance.
Dyna fans may bemoan the loss of the unbalanced engine, but they will love the fact that the Fat Bob S is now a much improved performer and handler.
In fact, I have taken a previous Fat Bob to Lakeside Raceway in Brisbane's north and startled many track-day riders as I passed them thundering out of corners on the massive 160Nm of torque that had that 180mm rear Dunlop leaving thick black lines on the track.
I sheepishly retired the bike by lunchtime as I had simply run out of rubber!
Somehow the upside-down 43mm forks, slanted single hand-adjustable shock and high-profile rubber works just fine on this bike while a similar configuration on the new Sportster S doesn't.
Of course, cornering clearance is an issue on all cruisers, but this is a little better with upswept single-sided dual exhaust pipes and lean angles of 31 degrees on the right and 32 on the left.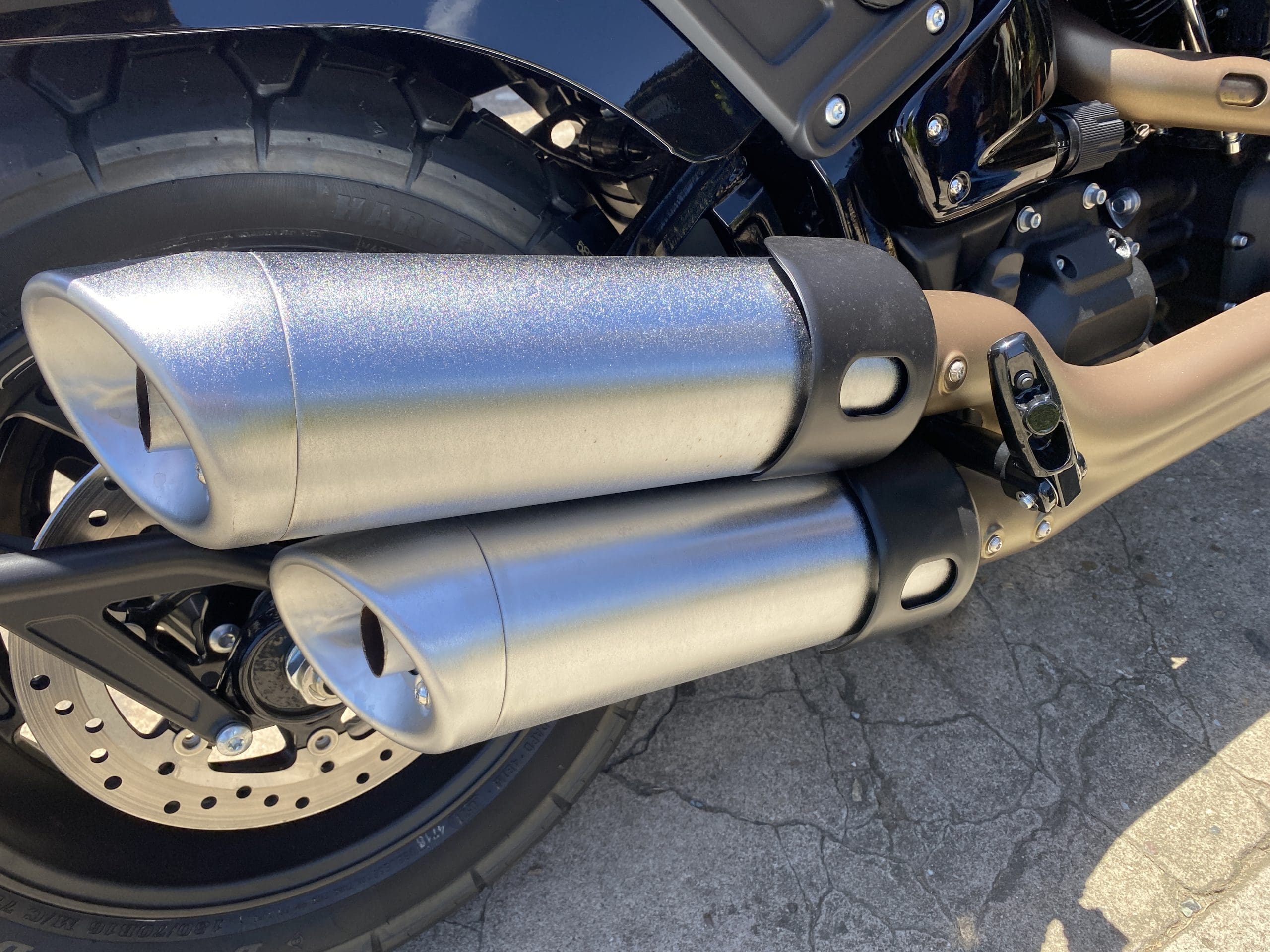 You can tip in with confidence, too, because the stiffer frame means there is no wallowing in corners, even when you hit corrugations.
It also changes direction more nimbly than the tyre specs would suggest thanks to sharper steering geometry.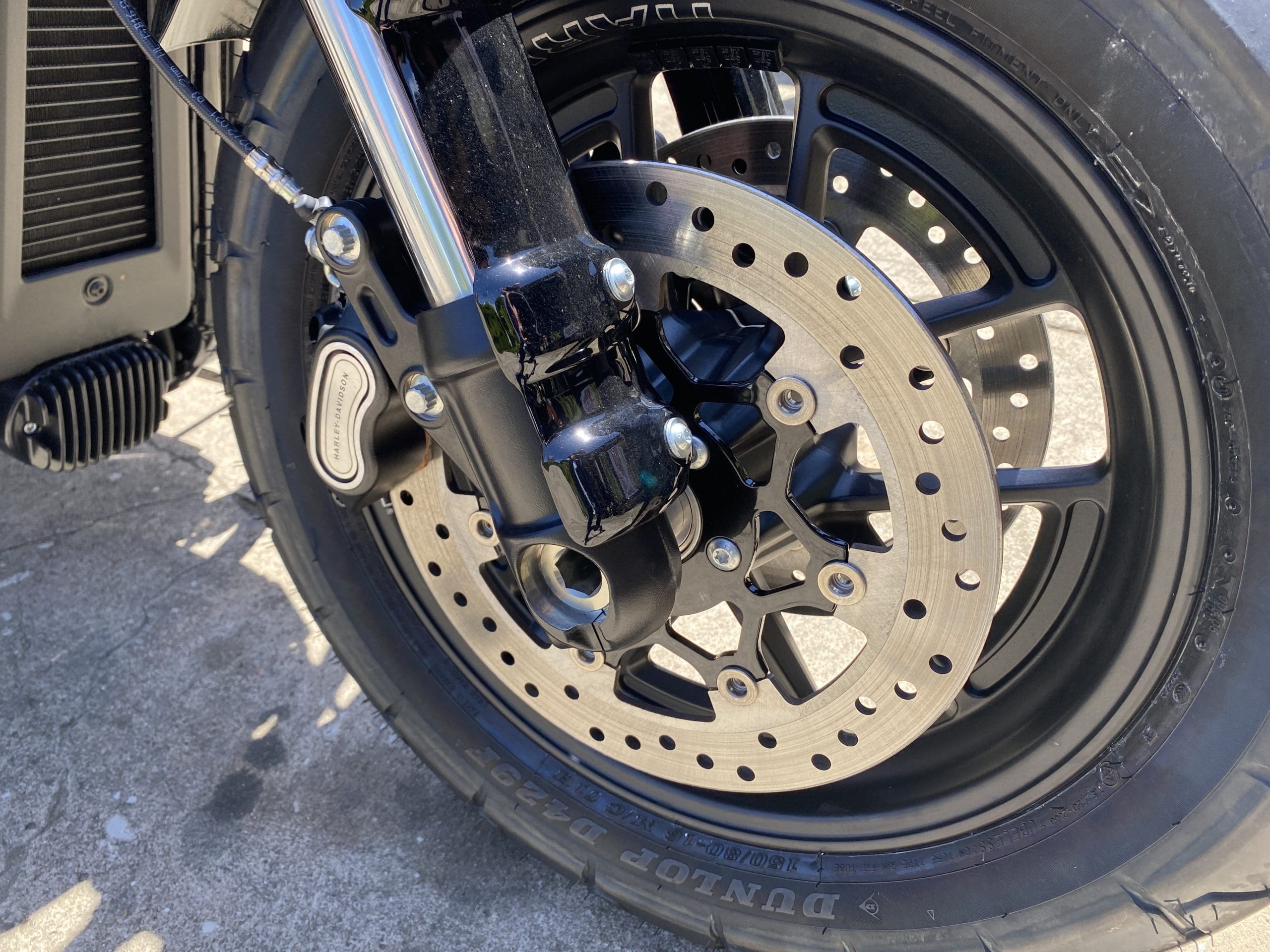 And the Fat Bob S rides the crusty back roads of Australia better with only a shudder rather than an earthquake shock.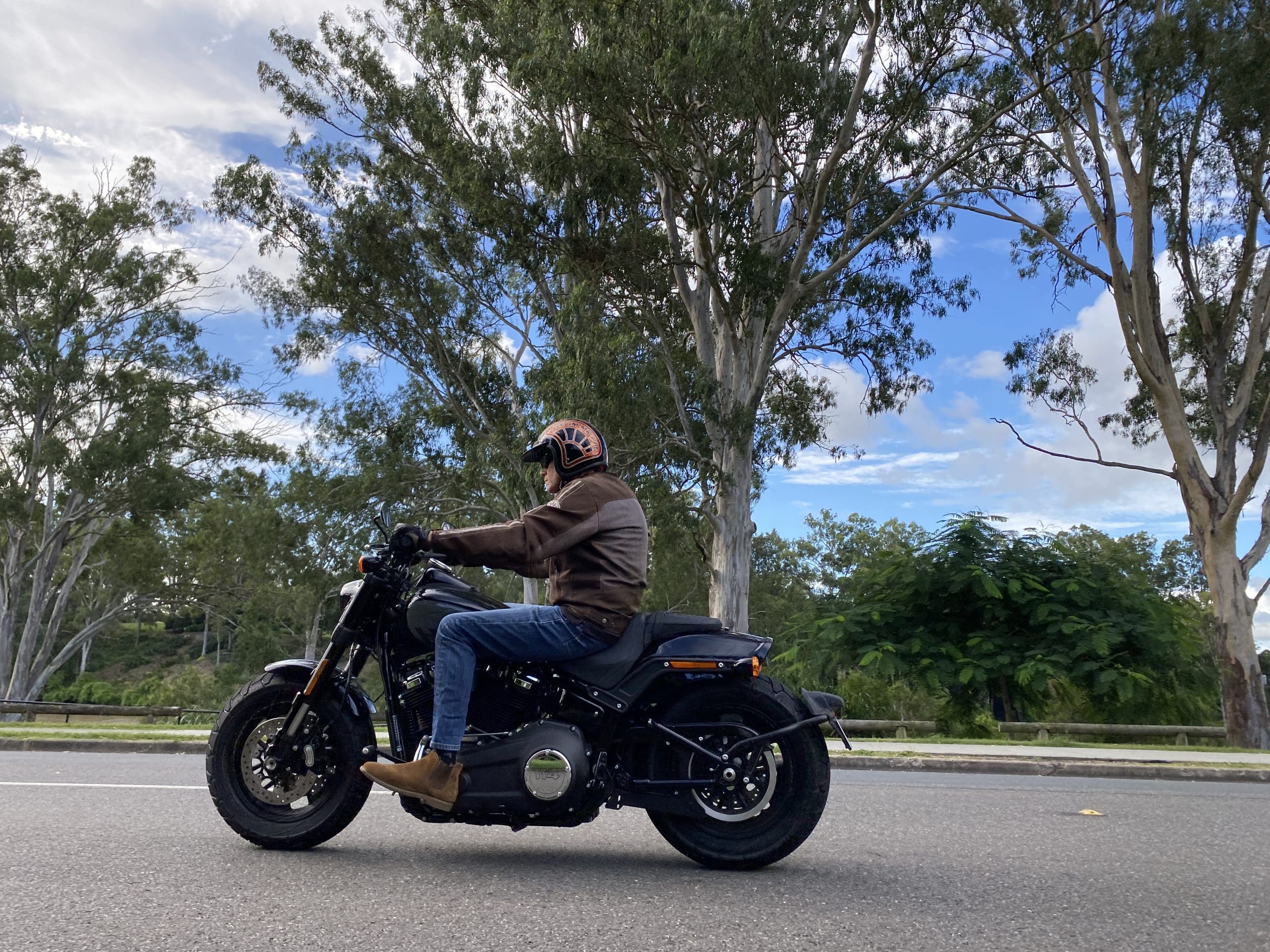 I find it a comfortable riding position with a firm but well-shaped saddle although the reach to the drag bears might be a bit far for shorter riders.
Apart from being slicker, the powerful 114 engine is also more economical and cooler which is handy in slow-moving commuter traffic on a hot summer's day.
Interestingly, Harley never used to provide power figures, only torque. But now that they have water-cooled engines on their new Revolution models, they are providing power figures for all their models.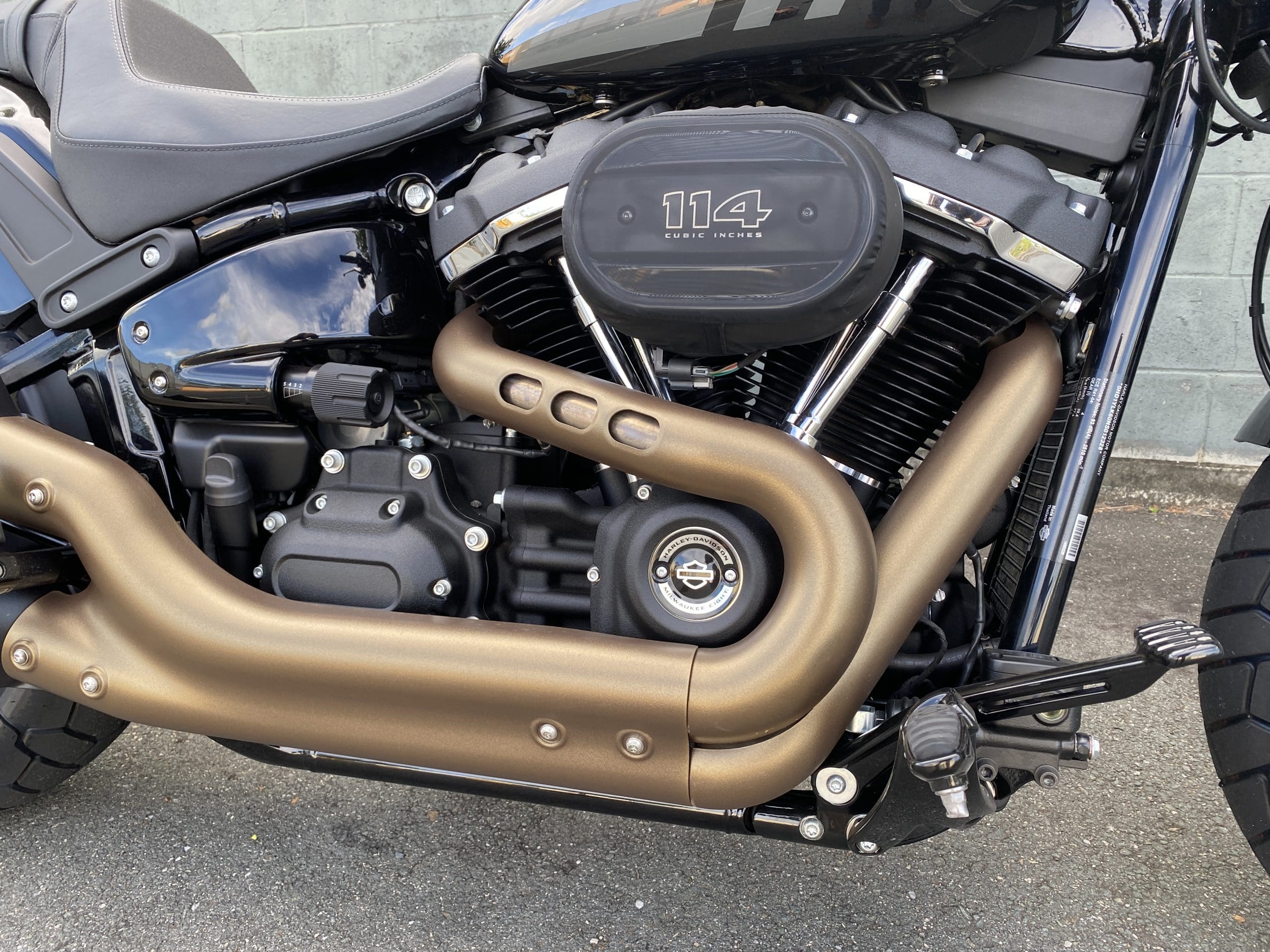 It might be a relatively modest 71kW, but it comes in at 4750 revs and tears at your arm sockets under hard acceleration.
The hard-mounted engine also feels smoother thanks to it being 100% balanced with a secondary balancer.
The most confronting element in the Fat Bob's styling over the past few years has been the move from twin circular headlights to a horizontal rectangular shape with rounded edges.
I'm now starting to warm to the unique LED headlight tucked inside a neat, gloss-black pillar-box nacelle.
However, I'm not such a fan of the bronzed header pipe covers and the silver "rattle-can" painted mufflers.
Like all new Softails, it comes with new keyless ignition, more comfortable seats and new wheel designs.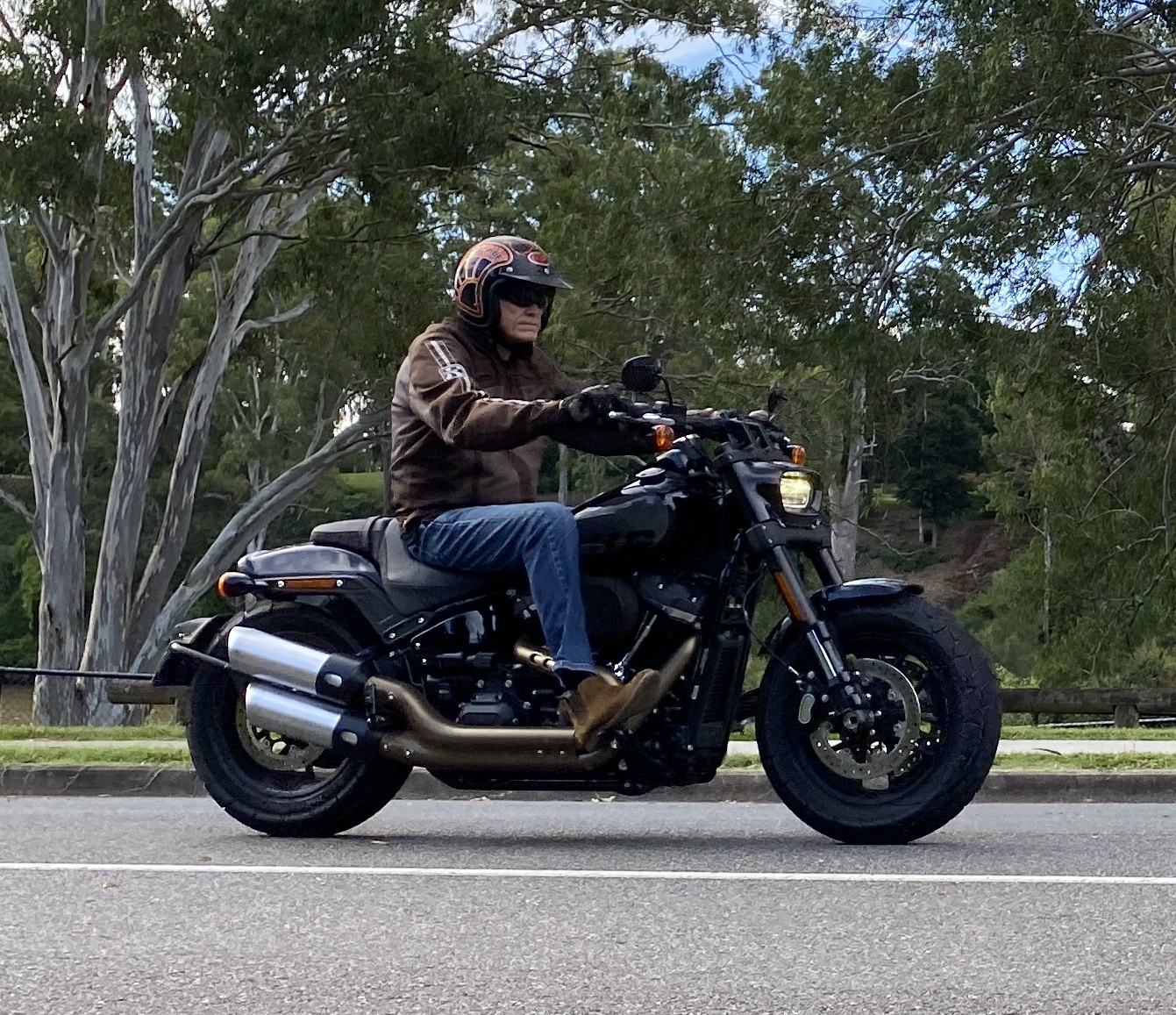 2022 Harley-Davidson FXFBS Fat Bob S 114 tech specs
| | |
| --- | --- |
| Price | $A31,750 |
| Warranty | 2 years/unlimited km |
| Service | 1600/8000km |
| Engine | Milwaukee-Eight 114 (1868cc) |
| Power | 71kW @ 4750rpm |
| Torque | 160Nm @ 3500rpm |
| Transmission | 6-speed, belt drive |
| Length | 2340mm |
| Height | 1110mm |
| Seat | 710mm |
| Wheelbase | 1615mm |
| Tyres | 150/80-16,71H,BW; 180/70B16,77H,BW Dunlops |
| Fuel | 13.21L |
| Wet weight | 306kg |
| Suspension | USD 43mm forks; single shock |
| Brakes | 300mm dual front discs; 292mm rear disc |