Police and road safety authority claims that returned riders are the biggest safety risk on the road is a "furphy", says Victorian Motorcycle Council media spokesman John Eacott (pictured above).
John has spent some time analysing Victorian Transport Accident Commission (TAC) statistics and now claims returned riders are not the major safety risk they have been labelled.
He says this is a concern because road safety initiatives are being directed to the wrong group.
Stats don't lie
"It would appear that the TAC site has a better analysis than we initially thought with Motorcycle Age Group and Gender as a good start," he says.
"In 2018, there were 38 motorcyclist fatalities and, in 2017/2018, 1312 motorcycle riders were compensated by the TAC for injuries involving an acute hospital admission.
"Some 53% of motorcycle riders who lost their lives in 2018 and 48% of those hospitalised in 2017/2018 were aged over 40.
"While the numbers of females injured have increased, males are significantly more likely to lose their lives or be seriously injured than females."
While these are Victorian figures, the state and national stats show similar results. Check out the national motorcycles fatalities graph below.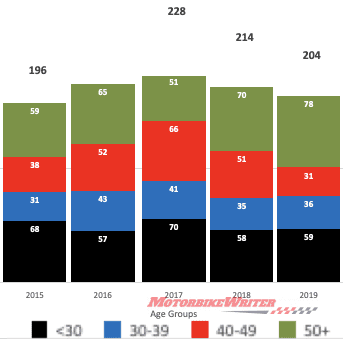 However, this is only half the story.
Licence holders by age/gender
John also researched the ages of registered Victorian motorcycle licence holders on the Motorcycle Crash Data site.
He found that in June 2017 there were more than 420,000 Victorians with a current motorcycle licence or permit with the following breakdown:
88% were male;

5% aged 25 or less;

70% aged over 40;

20% aged over 60 (with 4% over 70); and

Just over half (56%) of motorcycle licence holders were active riders.
Once again, the figures are expected to be similar in all states and nationally.
"So while the age group and gender implies a 'worrying' crash rate for over 40s, they account for less than 50% of fatals and hospitalisations yet comprise 70% of licensed riders," John says.
"Using the stats on the age group page, under 25s have 11% of fatals and 24% of hospital admissions, yet they are only 5% of registered riders.
"Comparatively the over-60s comprised 21% of fatalities and 11% of hospitalisations yet are 20% of licence holders, so they are underrepresented in hospitalisations and on percentage for fatalities.
"The lack of referencing to these factual statistics by the various authorities along with the constant referencing of stats for over 40s shows an institutional bias against older riders.
"Until this is corrected and the over-representation in accidents of under 25s is addressed, we fear nothing will change."
Road safety funding misdirected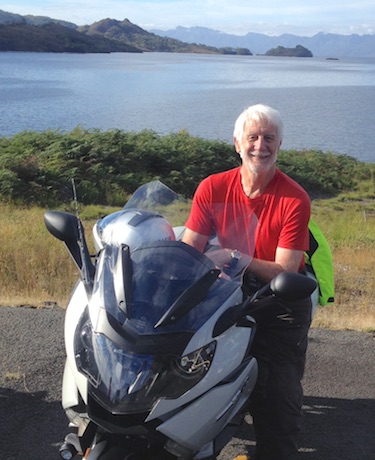 "Time and time again the government and media make comments about returned riders being a problem," John says.
"We are actually underrepresented in crash stats and under 25s are grossly overrepresented and this is not being addressed.
"It is a misapplication of resources and the Motorcycle Safety Levy."
John suggests the levy would be better used to subsidise advanced rider courses that would be voluntary for mature riders and mandatory for novices before they secure their full licence.
"The VMC does not agree with the levy," he says.
"No other section of the road-using public has to fund their own safety. It's appalling.
"However, while it's there, let's use it to subsidise these course as a positive improvement in motorcycle safety."