PEKEV Women's Jeans Review Summary
PEKEV Women's Jeans Image Gallery
The Resurgence Gear PEKEV women's jeans are durable motorcycle jeans with nice protective features.
Be careful when choosing a size and definitely check the quality on the pair you are buying.
The first time I rode a motorcycle, I was wearing a pair of regular women's jeans.
I associate jeans with terms like "casual", "comfortable" and "durable", but I was informed that keeping your skin intact is not going to happen if you are counting on a pair of pedestrian jeans to protect you if you are unlucky enough to have a slide on the pavement.
Fortunately, the market for women's motorcycle gear has steadily improved, and it is not necessary to wear pedestrian "street" jeans as motorcycle gear.
There are numerous brands today offering motorcycling specific jeans with protective features for both men and women.
In the past, the jeans that were available had subtle (and sometimes not-so-subtle) clues that they were not really something that was very fashionable. The cut of the jeans weren't and there were telltale signs of reinforcement with stitching in places that would easily give away the secret of the protective layers underneath.
This is certainly acceptable, as the protection is the important factor here, but it would be nice to have the protection and looks all in one. A girl can dream, right? Well that dream may have become reality thanks to Resurgence Gear.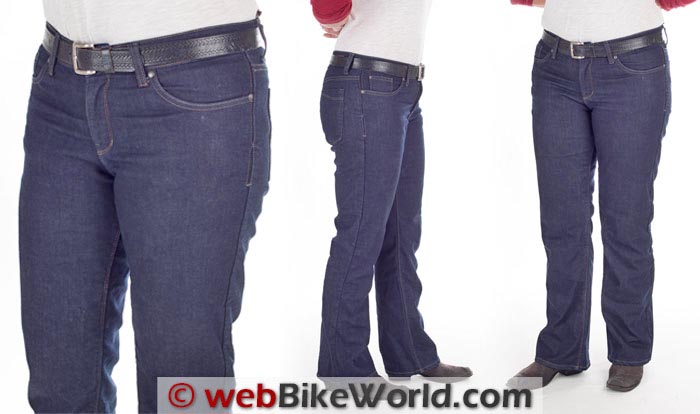 Resurgence Gear "Black Bird" Jeans
Motorcycle jeans from Resurgence Gear have been reviewed previously on webBikeWorld and the company currently offers four styles of men's PEKEV jeans (more on PEKEV below). The company also currently offers five styles of jeans for women, so we finally have more choices than the guys do!
The star of the Resurgence Gear "show" is the use of the PEKEV liner material. The PEKEV abrasion-resistant liner was first described in the webBikeWorld RHOK Gen3 jeans review (PEKEV was developed by Resurgence Gear and was licensed to RHOK at one time; now the PEKEV liner is only available in the Resurgence Gear line of jeans and cargo pants).
PEKEV incorporates Aramid and Ethylene fibers using their own proprietary technique to produce this tough, abrasion resistant material.
According to Resurgence Gear, the PEKEV and denim liner combination passed the SATRA CE tests at Level 2, while other brands of jeans — including Kevlar lined types — lasted only a few seconds in the abrasion tests. So this is some very "high tech" technical wear that is well disguised as a pair of denim jeans.
Resurgence Gear Women's PEKEV Jeans Types
The two styles of boot-cut Resurgence jeans I received — one in indigo blue and one in a blue black wash — look like a nice pair of fashion jeans.
There are also black, medium blue and light blue options as well. The blue black pair have "washed" striations that cross horizontally across the upper thigh area in front to give them that stressed look. They are a standard five-pocket jean which includes a small coin pocket within the right side hand pocket. As I mentioned above, there really are no visible indications of the extra PEKEV lining and protection that is occurring behind the denim.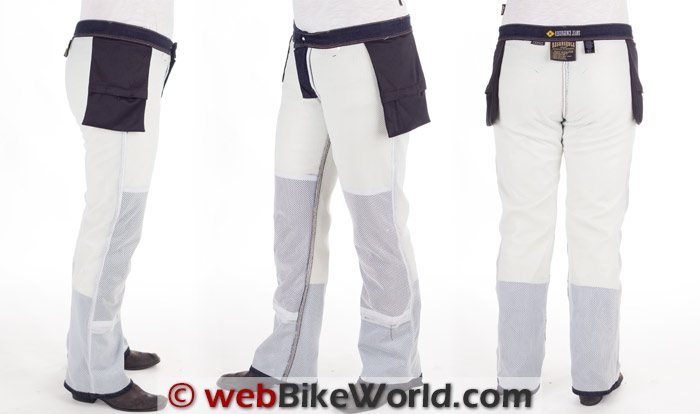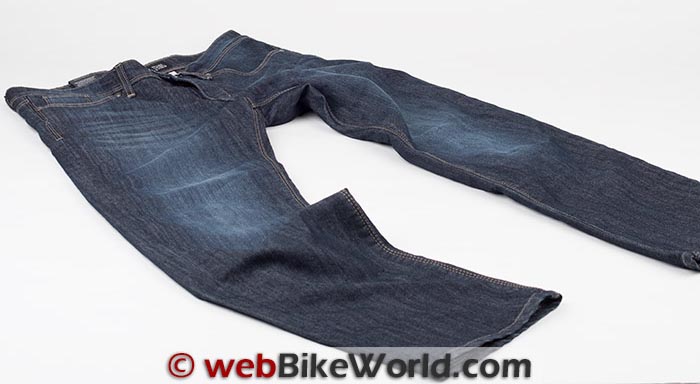 Features and Details
The denim outer portion of the women's jeans are labeled as "100% comfort stretch cotton" and they are not kidding about the stretch. I have to believe that there must be some kind of Spandex-like material included, because pure cotton cannot stretch like these jeans do.
There is double stitching practically everywhere the garment is sewn, except for the very top of the waist and the hem. The stitching uniformity varies a bit in various places around the jeans with small changes in pitch direction as well as places where the twin rows of stitches move closer and then further away from each other. This could be a result of hand stitching, which would result in these types of variances.
The stitching does seem nice and tight, however, and I found no stray threads anywhere. The button hole is also well sewn with no signs of shredding. There are 5 tiny rivets that accent the front pockets and a sturdy metal button with "Premium Denim RESURGENCE JEAN" stamped on for the front closer button.
The metal teeth of the unbranded zipper are uniform and the zipper is easy to open and close. There are five belt loops that can fit up to a two-inch wide belt. The jeans fit me at mid-waist, sort of (more on that later).
Protective Features and PEKEV Liner
On the inside is where things get very interesting. The entire interior is covered in a soft, white, polyester-type of mesh, typical of what is included in a pair of textile motorcycle pants. This is no doubt needed to provide a nice smooth surface between the skin and the PEKEV liner material sandwiched between the outer layer and the mesh.
The PEKEV material itself covers the entire seat area and runs most of the way down the back of the legs and stops about 30.5 cm (12 inches) from the leg opening.
On the front, the PEKEV liner runs about 2/3 of the way down the thigh, where it ends. Below this point is a long pocket in the mesh lining for the included CE knee protectors. The protectors included with these pairs is a pliable rubber (Flexiform is stamped on it), similar to the protectors from Knox.
These are nice protectors but I understand that these particular pieces may or may not be what ends up shipping in all of the Resurgence Gear jeans, although I am told all the jeans will have some type of included protectors.
Inside the protector pocket (which uses hook-and-loop fastener strips to open and close) is a long strip of the "loop" connector. This, in combination with the "hook" portions on the protector itself, allow for a 2-3 inches of adjustment in the placement of the protectors. Good thinking on that…
Protector Pockets
However…the problem comes when pulling open the pockets to insert the protectors. The hook-and-loop fastener strips started tearing away from the liner at their stitching point.
This is not the first piece of gear I have with similar pockets for armor and this damage occurred when simply trying to open them to inspect them for the review. I tried another pocket and found that again, not much effort resulted in tearing of the material to which the hook-and-loop strip was attached.
In the end, I had to gently open the pocket by holding on both the upper and lower hook and loop fastener and working my fingers between them to separate the pieces. To make matters worse, the mesh liner tends to get snagged by the hook portions and when you try to separate the two it starts shredding a bit there too.
UPDATE: Resurgence Gear sent a revised pair of jeans, the revised jeans now have the hook-and-loop sewn in place on both sides, which should prevent any separation. Here are two photos of the revised stitching process, which they said is now being used on all of the jeans: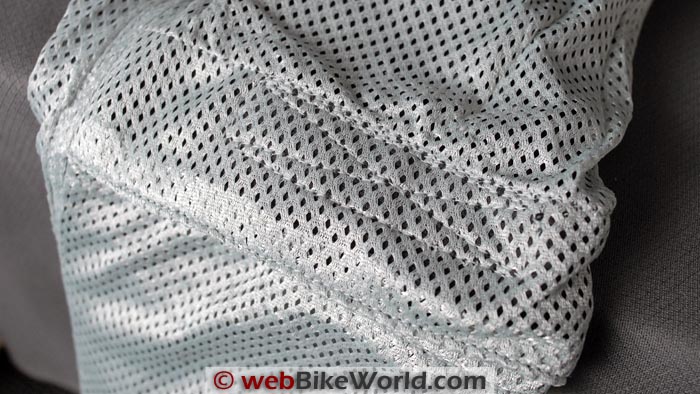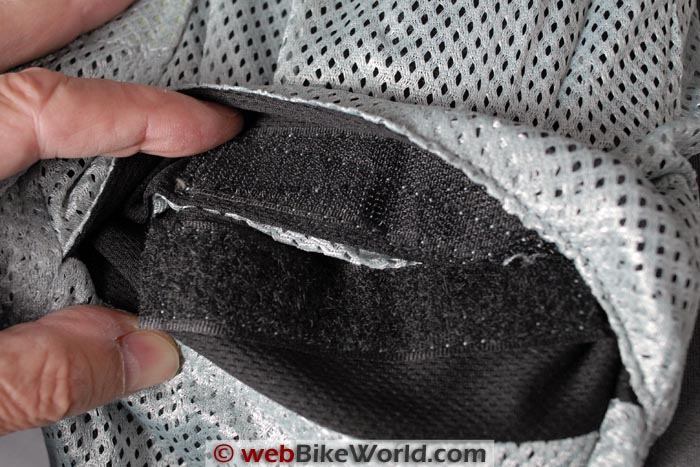 Back to the protectors though, which did stay in place while I was on my motorcycle, thanks to the hook-and-loop fastener arrangement inside the pocket. It is also nice that based on your sitting position you can adjust the protectors to meet your comfort needs.
But wait — there's more. Hip protectors are also included with the Resurgence Gear jeans, but unfortunately the same issue can be found when it comes to the hip protector pocket opening and, in fact, it is worse. Contact of the liner with the hook-and-loop fastener did not shred just a bit, it practically destroyed the pocket. I hope this pocket opening issue is a manufacturing defect and not a design defect, because this discovery was very disheartening on such a potentially great pair of protective jeans.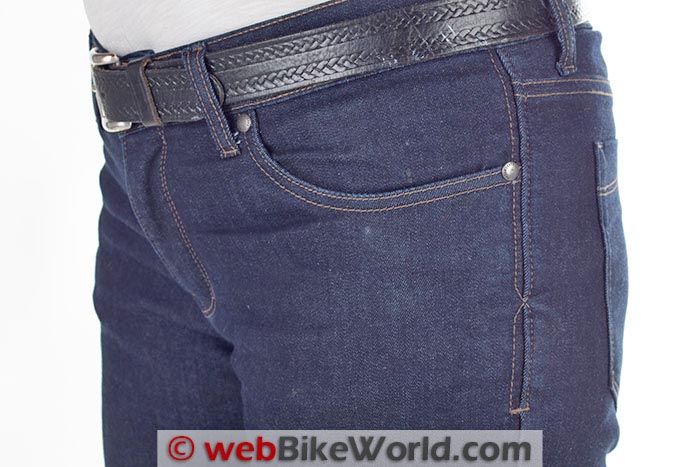 Fit and Comfort
The jeans are lightweight and comfortable compared to some other brands I have tried. The inside liner is soft and non-abrasive with skin contact.
Also, I noted that even in a sunny and humid day, the jeans did not absorb a lot of heat. which seems to happen when I wear other brands of motorcycle jeans. I am not saying they made me feel totally cool, but they don't add to the heat I feel against my skin in these condidtions.
These are also a type of jean style that could be worn on "casual Friday" at the office…with the protectors removed, of course. They look nice — especially the dark blue version.
Sizing
Now let's talk sizing. I almost think when Resurgence Gear came up with the sizing for these jeans they were meaning "Junior" sizes, not "Women's" sizes.
The size 8 jeans that I originally received were so tiny I could barely get them past my mid-thigh, yet I am a solid size 8 in women's pants. I ended up getting a size 12 to do this review.
For you men out there, you may not think that is a big deal. But for many of us women, that is almost a reason not to buy a pair of jeans from that particular brand/manufacturer.
Another thing I found is that the sizing is a bit inconsistent from one color to the next and the cut was also different. The blue/black jeans were noticeably tighter than the indigo pair and they also hit my waist much lower, as if they are designed to be a "low-rise" style. This may be an intended design difference, but the Resurgence Gear web site does not give any indication of this difference so it would be advisable to check first.
In my case, the rise on the blue/black jeans was so low in the back that they could be a bit embarrassing. Also, since they expose so much skin in the lower back area, the protection could be compromised in the event of a slide.
The market for women's motorcycle gear is still evolving, so we don't have a ton of choices, but hopefully some manufacturer is going to be smart enough to get the sizing correct or perhaps even generous in sizing for our motorcycle clothing needs. And then you will see sales rise as we flock to that brand or manufacturer!
Conclusion
On the whole, I found the Resurgence Gear women's jeans to be a protective and comfortable piece of motorcycle gear with excellent documented abrasion resistance.
The included knee and hip protectors are a nice touch and the hip protectors in particular are something that I feel is too often overlooked in motorcycle riding pants in general.
I was disappointed to find that the the hook-and-loop fastener issue was such a fiasco and this caused my perceived value of these jeans to decline rapidly. I am hoping this is an early version of this manufactured jean and that this quality issue has been addressed.
The "stealth" look of these jeans makes them fashionable and I would feel very comfortable wearing them to the office or out and about when not on the bike. These are perfect for looking your best, both while riding and once you get to your destination (assuming the cut of your particular pair covers all the right areas).
The price is a bit on the high side at $250.00 for a pair of jeans, but the protection cannot be overlooked and you can't really put a price tag on avoiding road rash. If the sizing was a bit more realistic and the build quality more consistent, I'd say they are worth every penny. Hopefully these issues have/are being addressed.
w

BW

 Review: Resurgence Gear PEKEV Motorcycle Jeans
List Price (2014): $250.00
Review Date: September 2014
Note:
 For informational use only. All material and photographs are Copyright © webWorld International, LLC since 2000. All rights reserved. See the webBikeWorld® 
Site Info page
. Product specifications, features and details may change or differ from our descriptions. Always check before purchasing. Read the
Terms and Conditions
!
Owner Comments and Feedback