You can now remove the approval certificate sticker on the outside of your helmet, but you still need to have an internal certificate label or sticker to avoid a fine from a copper who thinks they know the law better than you.
In fact, just in case you are ever stopped by a cop for a non-compliant helmet, we suggest you cut and paste this article and keep it in your smartphone or print it out and leave it in your motorcycle jacket pocket to show them.
Over the past few years each state in Australia has approved the use of European-approved helmets, with South Australia the last to fall into line in 2016.
That means you have to wear a helmet that is Australian approved (AS/NZS 1698) or European approved (ECE 22.05).
You cannot wear other approvals such as Japanese JIS or American DOT helmets unless they also carry an ECE 22.05 certificate.
However, you do not need to leave the certificate sticker on the outside of the helmet.
Under AS/NZS 1698, your helmet has to be "permanently and legibly marked". A label inside the helmet can be that "permanent" requirement.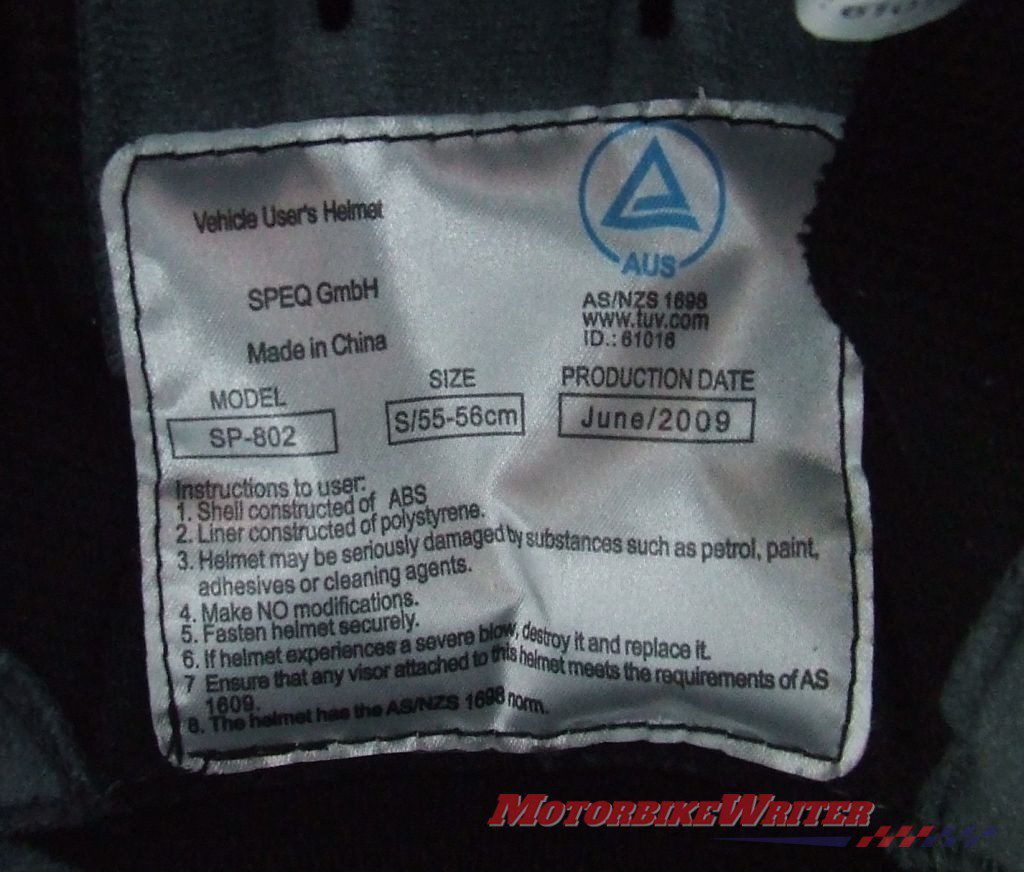 ECE 22.05 does not require any external sticker except for the manufacturer's trademark name, only a certificate label sewn to the chin-strap.
Sticker rule makes sense
Motorcycle Council of NSW helmet expert Guy Stanford says the rules now make sense as external stickers are "subject to fade or defacement in normal use".
"In fact, the external sticker is not part of the standard, nor part of the road rules," Guy advises.
"The important labels for all purposes are those inside the helmet, but most significant in terms of what is on a label is that it includes a certification mark.
"The external label can be best described as advertising for the certification company.
"Some police think it means something else."
Guy says that once a certification company puts their certification mark on a helmet, they have made themselves responsible for the compliance of that helmet.
"While several road authority sites carry a picture of the external sticker, it has no force of law," he says. "They are simply examples."
Internal labels
The external sticker's trademark is only a copy of what is inside the helmet, anyway.
That internal label is usually sewn to the comfort liner or chin strap.
In some cases it may be on a separate sticker on the polystyrene impact absorption layer under the comfort lining.
Some European helmets have labels that are very difficult to find. For example, Davida helmets tuck it under a sleeve on the chin strap.
Just because you can't see it does not mean it's not there. You just need to look a little harder.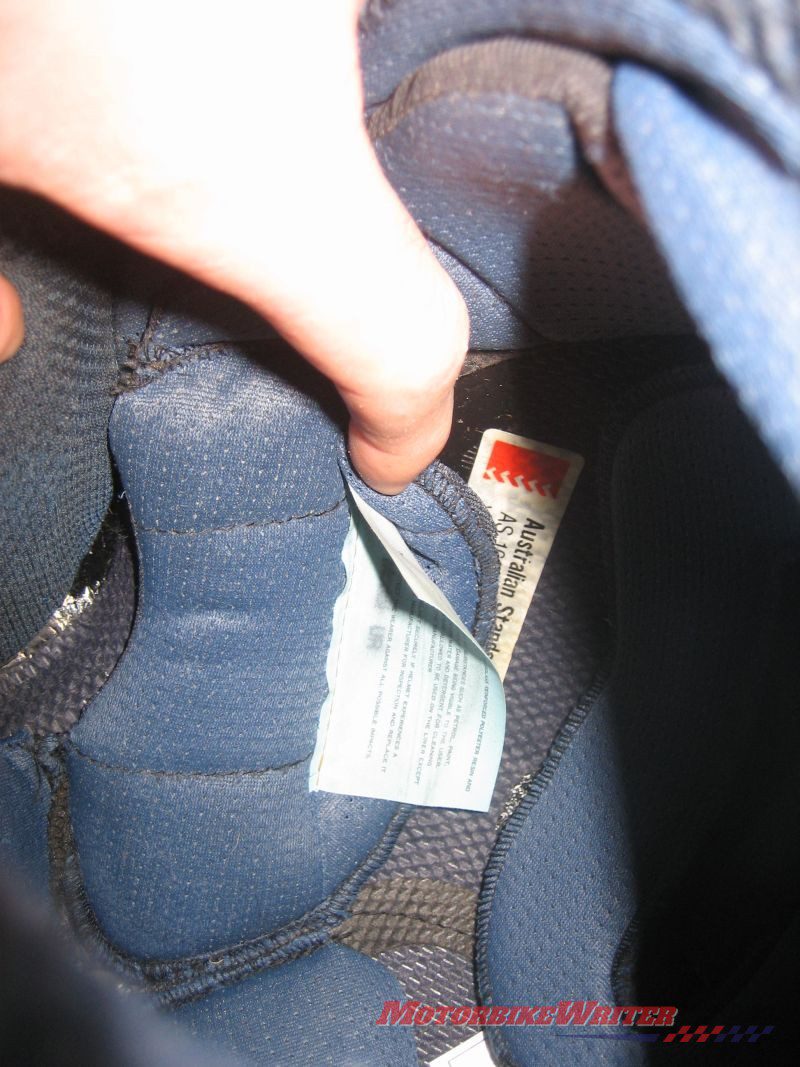 Guy says these obscured labels are still legal as they are able to be read without removing any padding. You might just have to dig around the lining a bit.
He also advises that if the label becomes unreadable because of the "normal wear and tear" of riding, it is still legal.
"If you can see the remains of the certification mark on an inside label and that the label information was originally there, then there is no problem with determining that, when sold, it was a standards-compliant helmet," he says.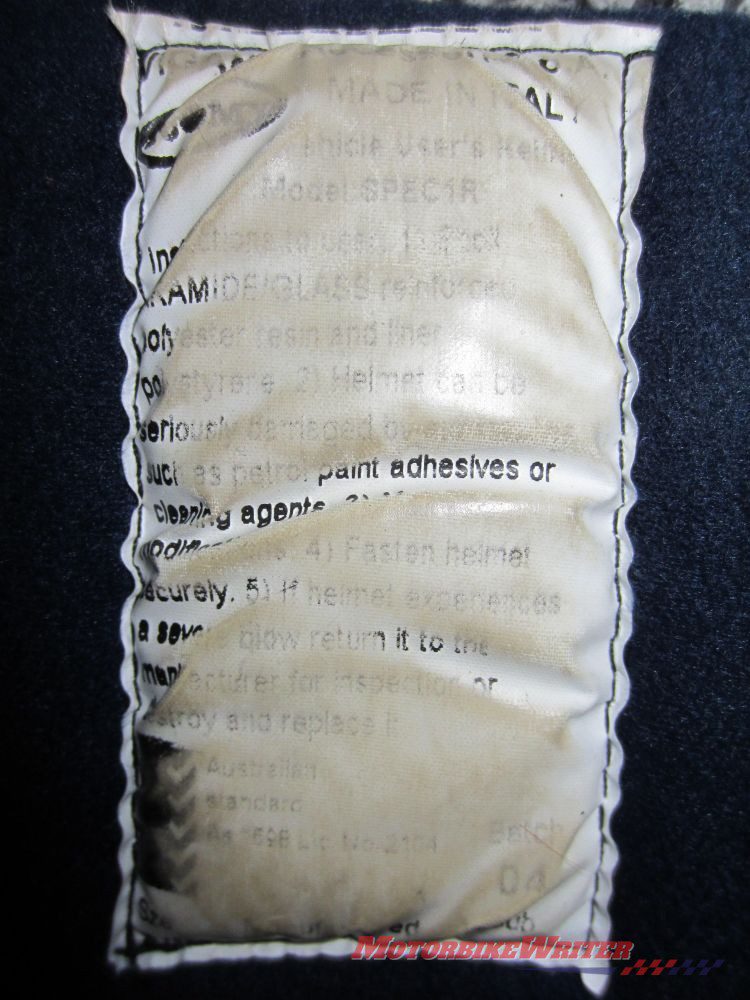 "If Johnny Copper asserts that a helmet is no longer compliant due to partial illegibility, then that is the same as saying a car is not ADR compliant or defective because the under-bonnet labels have become faded and illegible with age, exposure to rain, mud or atmosphere, wear, normal cleaning, etc."
ECE 22.05 labels
All those numbers and letters on ECE labels have a meaning.
The number 22 refers to regulation #22 applying to road helmets which has been revised five times; hence it's 22.05.
A circle with E and a number refers to the country in which the helmet was approved:
E1: Germany

E2: France

E3: Italy

E4: the Netherlands

E5: Sweden

E6: Belgium

E7: Hungary

E8: Czech Republic

E9: Spain

E10: Yugoslavia

E11: United Kingdom

E12: Austria

E13: Luxembourg

E14: Switzerland

E16: Norway
The numbers and letters on the next line are divided into three sections.
The first section is the homologation, starting with the revision of ECE approval. It can be 03, 04, or 05 which is the current version. The next five digits are the homologation number.
It is followed by a letter which refers to the type of helmet:
"/J" if the helmet does not have a lower face cover (open or jet)

"/P" if the helmet has a protective lower face cover (full-face)

"/NP" if the helmet has a non-protective lower face cover
Some flip-up or modular helmets have both J and P approval which means they can legally be used with the chin piece raised or lowered.
The last bunch of digits refers to the production serial or batch number.