Australian service stations can legally refuse to serve you fuel if you don't remove your helmet, but very few provide anywhere safe for you to place your helmet while you fill up.
The owners say it's for safety reasons, but really it's so you don't ride off without paying, which is happening more frequently. In the US, most gas stations require you to pay first!
If you feel offended by the lack of trust, you only have the thieves to thank for this get-tough attitude.
Some argue that open-face and flip-up helmets provide facial identification for security cameras.
However, legal experts tell us the owners have the final say on their private property. Some also request you remove your hoodie.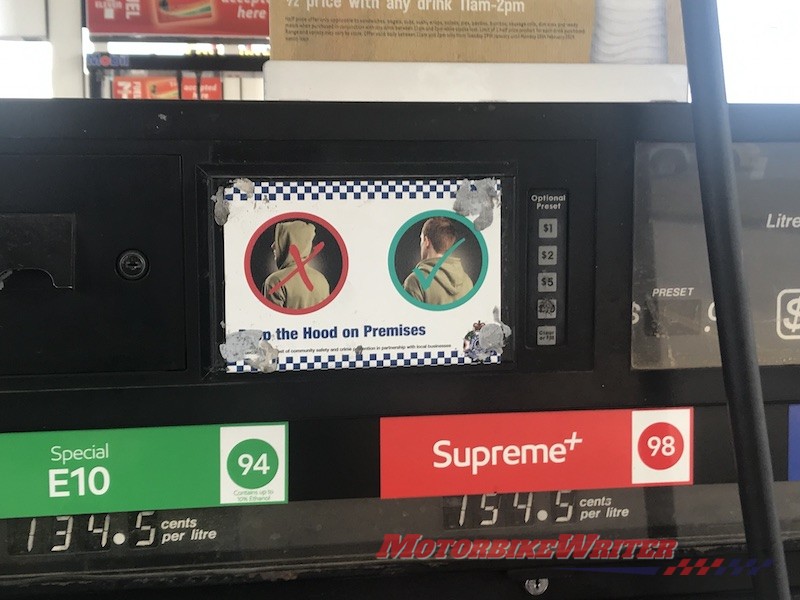 They say it is the same as a night club that won't let you in if you are wearing thongs.
All you can do is refuse to give them your business and move on.
But if the servo doesn't have any warning signs about removing your helmet and they start the pump, then go for it!
That's fine if you pay at the bowser, but if you need to enter their premises to pay, they can still refuse to let you in until you remove your helmet.
That's understandable given the amount of violent robberies at servos. I know I would not let anyone in if I was the working the cash register solo late at night! Would you?
If they don't let you in, you are then within your legal right to ride away without paying and you may have the defence that you tried to pay but were rejected. But you could be on shaky ground there.
Courteous service stations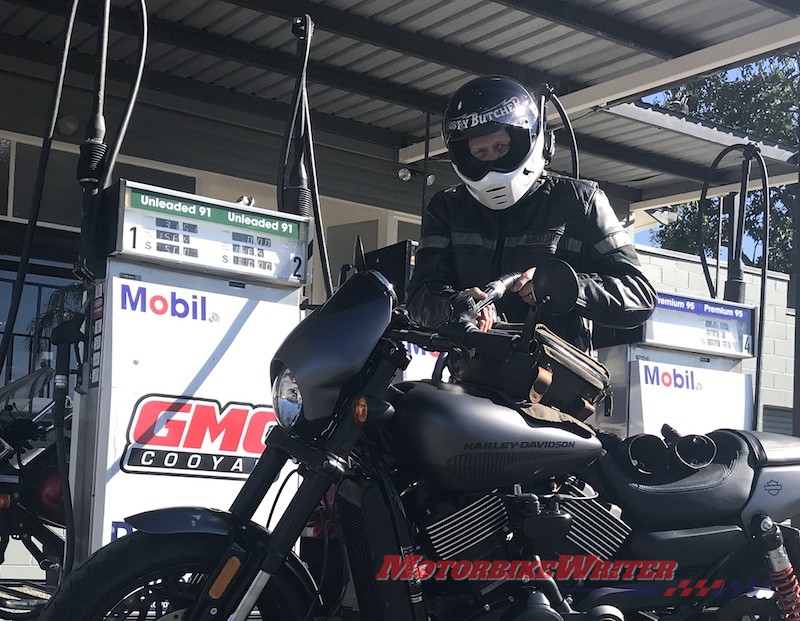 There are still some servos that let you use the pump without taking off your helmet.
GP legend Garry McCoy owns the GMC servo at Cooyar on the Darling Downs and naturally they don't mind if you fill up while wearing your helmet.
I've found a few other servos that are also courteous to riders, probably because they now know me.
Country servos are often the most forgiving.
Nowhere to store helmet
However, most service stations don't offer much in the way of service with anywhere safe to store your helmet while filling up.
Helmets cost from a few hundred dollars up to more than $1000. So the last thing you want to do is leave on your handlebars or seat where they could easily get knocked off.
Nor do you want to place them where they can get dirty, filled with petrol fumes, or fall and get damaged.
Yet most bowser tops these days have advertising signs on top, preventing you from placing your helmet there.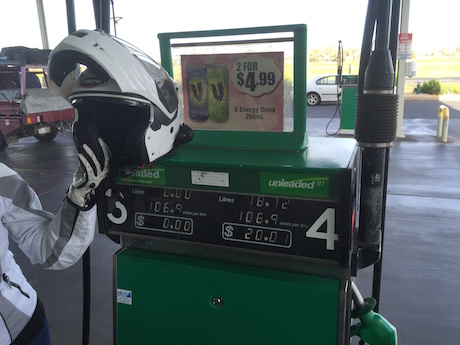 Not every bike has a safe place to hang a helmet. I've seen many helmets roll off mirrors, footpegs and bike seats.
Consequently riders are forced to place their helmet on top of a dirty bin or on the ground. (Never put your helmet on the ground as ants, spiders and other insects can crawl in and give you a nasty surprise down the road!)
If they can't offer the simple "service" of providing somewhere to put your helmet, they shouldn't be called a "service station".
We suggest you buy one of those carabiner-style hooks so you can quickly and safely fasten your helmet to your bike.