The Recon 23 is an easy-to-use and inexpensive padded tail bag that goes on and off in seconds.
Away from the road it looks like an overnight bag, and the shoulder strap makes it easy to tote.
Comes with a waterproof rain cover that has its own pocket. Rugged construction. Decent capacity but not quite large enough to hold a full-face helmet.
Commuting on a motorcycle is a wonderful way to get to and from work. You walk into the office with a smile on your face, and seeing the clock approach quitting time takes on an added layer of joy.
But, there's a catch. Where to carry your stuff?
Unless you work in an establishment where leather pants are the norm, you'll probably need to carry along a pair of dress pants. Ditto for shoes, maybe a brown bag lunch, and that file you were working on while you watched last night's episode of House…
A hard case or saddlebags or a top case can be added to the bike, and they look great, but they cost a lot, extra racks will have to be installed and if you don't want to lug your Givi into the office every day, you've got to carry your lunch and work pants in yet another bag, which somewhat defeats the purpose.
My solution?  A soft luggage tail bag, namely the Rapid Transit Recon 23. It holds the same amount as a decent backpack, it goes on and off the bike in seconds, and when you sling it over your shoulder you look like any other office drone carrying an overnight bag, except you're wearing a motorcycle jacket.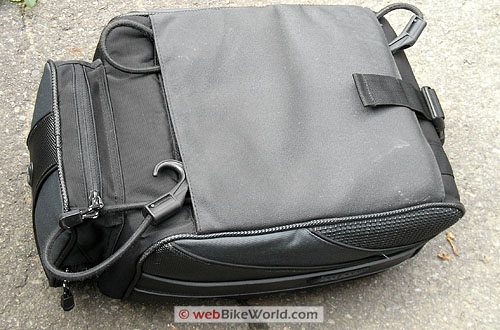 Capacity
The Recon 23 Tail Bag holds 23 liters of gear (hence the '23'). It measures 34 cm long by 26 cm high and 26 cm wide, (13.4″ x 10.2″ x 10.2″), although the top does slope from front to rear.
That's a decent amount of space without being too bulky: enough for my lunch bag, a pair of shoes, a rolled-up pair of pants, and a book or two. I had it on the bike last time I went out for groceries, and stuffed it with 6 cans of orange juice, 1/2 pound of cold cuts, 2 pounds of frozen fish, a dozen potatoes, 4 bananas, 3 kiwis, 4 children's books, a toddler rain suit, and a copy of "Ride Hard, Ride Smart" (yes, they sell strange stuff at the grocery store nowadays!).
In any case, the Recon held it all with a little bit of room to spare. The main compartment has two zippers, one on either side, that are held together with stiff fabric. It essentially makes opening and closing the Recon a one-handed operation.
The tail end has a hook and loop closure to stay shut, with an extra buckle for added security. This buckle could also be hooked through your passenger grab bar for extra stability, although I've rarely found it necessary.
The Recon has two extra pockets on the front end. The front pouch is almost as wide and high as the main portion of the bag, with a zipper that goes almost three-quarters of the way round for easy access to your wallet, house keys, small can of oil etc… It also has the ever-more-popular headphone hole for people who like to listen to their iPod while riding.
Sneakily located under the front pouch is another zippered pocket; the zipper is actually on the underside of the bag, and this under-pocket is between the main pouch and the front pocket. This out-of-the-way stash is where the rain cover is kept.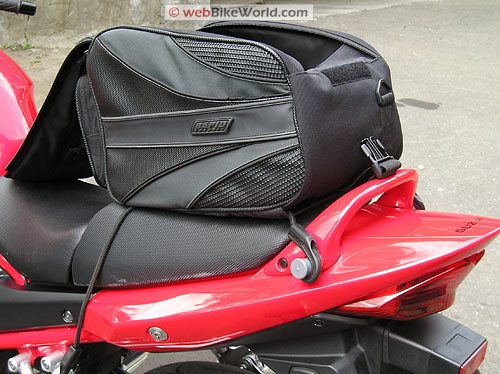 Ease of Use
I said earlier the bag goes on in seconds, and I wasn't exaggerating. Two bungee cords run the length of the bag, with 3/4″ hooks at either end. Throw the bag on the pillion seat, attach the front hooks to your passenger pegs (or if you're lucky, the luggage hooks next to the pegs), then hook the rear cords to the spools on your tail end.
After taking the Recon off the bike, just stuff the hooks and cords into the pocket that covers the entire underside of the bag, and trust the hook and loop closures at either end to keep everything in place. To carry the bag around, you can either use the big handle on top (better have the top flap buckled), or attach the shoulder strap.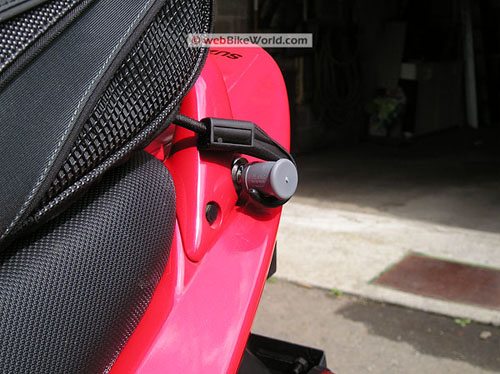 Since the hooks on the bungee cords are wider than the flange on my spools, I often loop the bungee through my grab rail, around the spools, then hooked the cord onto itself. On its website, Rapid Transit recommends going around just the spool itself.
This wasn't an optimal solution since it was rubbing off some paint on the rail, but the fix can be located in the plumbing aisle of a hardware store: 3/4″ diameter plastic plugs. I bought two for about $1.50, trimmed them to the right length, then placed the plugs over my spools (see photo above). The plugs are the same diameter as the hooks, which now click into place.
Construction
One nice touch with the Recon is that it has stiff padded sides which hold its shape even when empty, so it never looks like a deflated balloon sitting on your rear seat. The 1000 Denier nylon outside is quite rugged, and I've yet to have any issue with loose threads, a catching zipper, or even the hint of feeling something might be loose.
The bag is built well enough to handle some light rain, but for anything heavier it's time to dig out the included rain cover. The spring-loaded cord lock does a great job of keeping the cover in place at high speeds, and the plastic itself stood up to an hour-long heavy soaking without a problem.
The rain cover itself is black on one side, silver on the other, so I suppose it could be reversed for better visibility, although I haven't done that myself. The base of the Recon is rubberized, so if you've got a rear cowl instead of a seat, you don't need to worry about anything getting scratched.
Conclusion
The Recon 23 is a really great bag that does everything asked with no muss, no fuss. There have been times that I've wanted a little more capacity, but that's probably because I'm a pack rat who likes to buy "just a little bit more" when I go shopping.
It really does go on and off the bag in moments, and the hidden rain cover pocket is one of those well-executed ideas that makes the bag a treat to use.
w

BW

 Review: Rapid Transit Recon 23 Motorcycle Tail Bag
Manufacturer: Rapid Transit
List Price (2007): $99.00 CAD; $79.99 USD.
Colors: Black/Gunmetal.
Made In: Vietnam
Review Date: September 2007
Note:
 For informational use only. All material and photographs are Copyright © webWorld International, LLC since 2000. All rights reserved. See the webBikeWorld® 
Site Info page
. Product specifications, features and details may change or differ from our descriptions. Always check before purchasing. Read the
Terms and Conditions
!
Owner Comments and Feedback
---
From "L.M." (11/08):  "I saw your comments and picture regarding (the Rapid Transit Recon 23) lack of ability to hold a helmet. I have a new Arai Vector (medium) and it fits in there fine. Room for little else, but the helmet fit and zipped closed."