Aviator Eyeglasses Image Gallery
Why didn't I buy these years ago?
The classic Randolph Engineering Aviator eyeglasses work in every type of motorcycle helmet I've tried.
If you're an avid motorcyclist and eyeglass wearer, they are well worth the money.
I'm a life-long eyeglass wearer and I've been riding motorcycles since…well, let's just say that gasoline still had lead in those days. Can you imagine?
And for all this time, I've suffered through various half-baked eyeglass solutions.
This meant trying to stuff a pair of eyeglasses into an equally diverse variety of motorcycle helmets, from open-face with bubble shield to true modular type helmets.
That includes off-road helmets with goggles — a potential nightmare for eyeglass wearers.
Nothing really worked, although the best of the worst was my idea to cut the ears off an old pair and press the temples in between the helmet padding and my scalp, as detailed in thismotorcycle eyeglasses article.
But Randolph Engineering had the solution to my problem all along. My optometrist had been suggesting them for years, and when I needed a new prescription recently, I finally decided to heed his advice and give 'em a try. I'm so glad I did.
The difference is the straight temples; quite simply, they easily fit inside every motorcycle helmet I've tried. That's no surprise, because the Randolph Engineering Aviator eyeglasses were designed by pilots for pilots, to fit inside of flight helmets. These eyeglasses have been developed, tested and proven to work with helmets — no other eyeglass frame I know of can make that claim.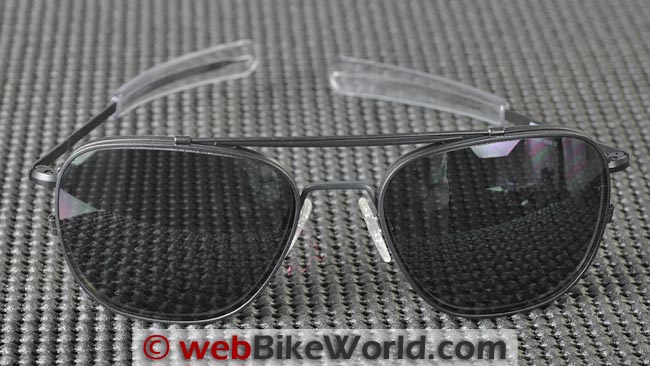 The Randolph Engineering Aviator Eyeglasses
The Randolph Engineering "Aviator" eyeglass frames are made in the U.S.A. and they have been standard issue in the U.S. military since 1982 (manufactured as HGU4/P, MIL-S-25948), used by pilots in conflicts ranging from Vietnam to Afghanistan.
That alone tells you something about their quality. The rugged frames and the straight "bayonet" temples (side pieces) have been battle-tested, perfected and evolved over the years for a comfortable and secure fit inside of helmets used for military aviation.
Which also means that the styling is "classic". Whether or not that translates into "trendy" is debatable. Let's just say that if Brad Pitt showed up in a pair, you can bet these things would be hotter than the afterburner on an F-18 afterburner. But in the meantime, I think they look a bit dated, in a sort of 1980's way.
No matter, because for me they're purely functional, and those un-trendy large lenses provide nearly 100% coverage from top-to-bottom and side-to-side inside a motorcycle helmet.
That's one of the major advantages of the Aviator frames — the full coverage view, which is especially good with the accessory clip-on sunglasses installed. I can honestly say they have given me the best viewing and eyesight I have ever experienced while wearing a motorcycle helmet. No glare, not bright spots sneaking in over the top or bottom, just pure shaded (and in-focus) bliss.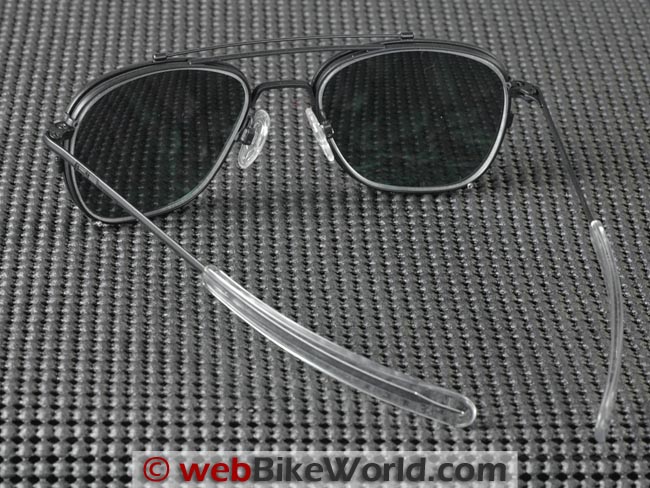 The Aviator Frames and Motorcycle Helmets
The other bonus of the Mil-Spec build is the quality. Even though the metal used in the Aviator frames doesn't seem unusually thick or much different than what might be found on the "no-name" brands, it feels very rugged.
This means that the wide, flat and thin bayonet temples can be pushed into the tight space between the padding and my "Earth" shaped skull without fear that the metal (on the frames, that is) will fold like paper.
Different helmets have different internal shapes, padding and fabrics, which can affect the method used to insert the Aviator eyeglass temples. With most helmets, such as the Arai RX-Q (review), I can easily slide those straight bayonet temples right into the helmet.
The Aviator frames have fit in a variety of helmet types I have tried. With some helmets, a good insertion technique is to first slide the temples in above the ears, then pull down (horizontally) at the temples until the straight bayonets slide into place.
The large lenses fit nicely into a helmet eye port, and provide excellent coverage in terms of visibility.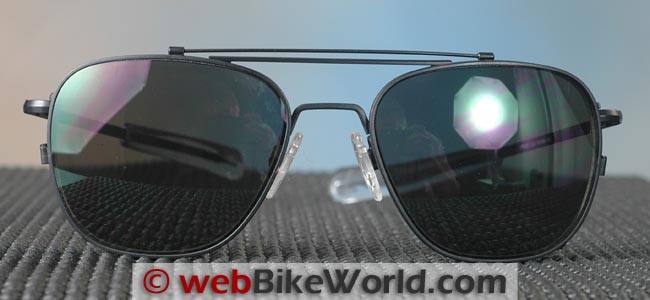 Frame Sizes and Colors
The Aviator frames are available in gold, matte black or chrome colors. I couldn't decide which color to buy and ended up with the black frames, thinking the silver or gold color would look a bit too retro. I'm pleased with my choice, although I don't usually wear black eyeglass frames. But I purchased these solely for motorcycle use, so it's not an issue.
The Randolph Engineering eyeglass frames are available in three sizes, measured across one lens and from tip-to-tip across the front, all the way to the outside edges of the tips that hold the temples.
The small frame has a 52 mm lens size and it is 137 mm wide, for small- to medium-sized faces. Mine are the medium size, with a 55 mm size lens and 143 mm width, for medium-sized faces. The size large has 58 mm lenses and it's 149 mm wide for large faces.
The frames can be purchased directly from Randolph Engineering online or ordered by any optometrist. I bought mine sight unseen through the Hidalgo's website, because they offer a discount and I've purchased several pairs of sunglasses (both prescription and non-prescription) online and through mail order from them over the years with good results.
Hidalgo's also has a printable template to help size the eyeglass frames; they also have an excellent return policy and you can even try a few pair to see what fits. (No affiliation other than being a long-time satisfied customer).
I think the temptation is to go for the largest size possible, but these frames are much larger than normal to begin with, so follow the directions carefully. I think you'd have to have a very large sized head to need the size large frames, and they might not fit inside the eye port of some full-face helmets.
I brought the eyeglasses to my optometrist, who installed a new set of thin polycarbonate progressive lenses (my age now requires it for both distance and close-up viewing), which I also had treated with the anti-reflective coating. I do this on all of my eyeglasses because it helps reduce lens flare from various light sources, especially at night.
Don't forget: you want the straight temples; these are only 2 mm thick and 10 mm wide at the base. This is the key factor; other eyeglasses may have "sort of" straight temples with a "sort of" thin or round profile. Believe me, I've tried them all and the Randolph Engineering design spreads the load out and eliminates the pressure on the inner part of the ear and head that can occur with smaller and/or rounder temple shapes.
If your helmet is correctly fitted and shaped — i.e., very snug around the entire head — than the tight fit at the sides will keep the straight temples in place with no problems. If they are slipping out, then your helmet is either too big or not correctly matched to your head shape.
Other temple types are available for  the Aviator, but the key factor that makes these work for motorcycle riding is that the straight, wide and flat temples will slip into the tight space between the ears and the helmet padding.
Depending on the helmet fit and size, I can sometimes feel pressure where the top of my ear is pressing against the plastic of the temples on the eyeglasses, but so far I have been on rides up to several hours long without a problem.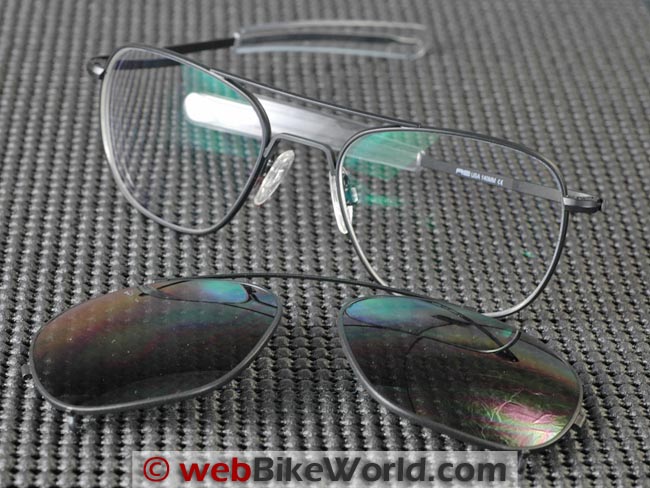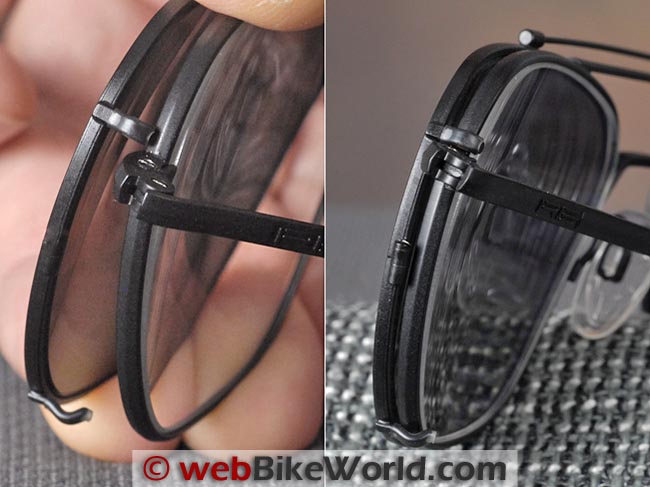 Randolph Engineering Clip-on Sunglasses
The Randolph Engineering Aviator frames (and the other Randolph Engineering frame styles) are available with clear lenses or as sunglasses with different colored lenses.
I debated whether to buy the Aviators as sunglasses or not, but I figured I'd be better off with the clear prescription lens and clip-ons, which I could then use both during the day and at night. Clip-ons aren't a perfect solution for motorcycling; for example, if you ride through a long tunnel, these can't be turned upwards temporarily. But since I have never ridden through a long tunnel in my entire history of motorcycling, I'm not concerned about that.
So I purchased the optional clip-on sunglasses, which are designed specifically to fit the Aviator frames. They come in matched frame colors and the genuine Randolph Engineering brand of clip-ons come in either dark gray or dark gray polarized lens colors. Hidalgo's has other colors available that they can install; the optional lens colors are made in their own labs.
I recommend the non-polarized sunglass lenses for a couple of reasons. Non-polarized lenses are actually hard to find today, but they are much better for reading most LCD screens. Also, polarized lenses can cause an optical pattern to appear to the viewer through some/most motorcycle helmet face shields.
And polarized lenses can change the appearance of grease or oil spots on the road, an attribute which can be especially dangerous for motorcycle riders.
That Randolph Engineering recognizes this and offers the choice is another mark of the quality and care to which these eyeglasses are made, in my opinion.
The clip-ons fit very tightly to the outside of the frames, with four short hooks on either side. The clip-on frame is pulled outwards and then over the front of the Aviator eyeglass frames to fit. Unlike other clip-ons I have tried (and I have used them on all of my other motorcycle eyeglasses), these fit tightly and do not move around in the wind if I lift the face shield.
The clip-ons are said to have 98% to 100% UV protection.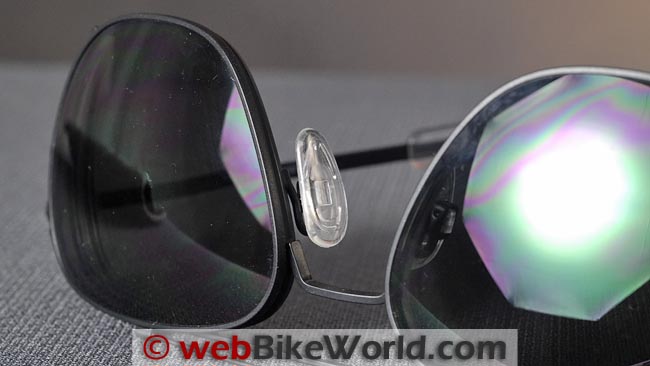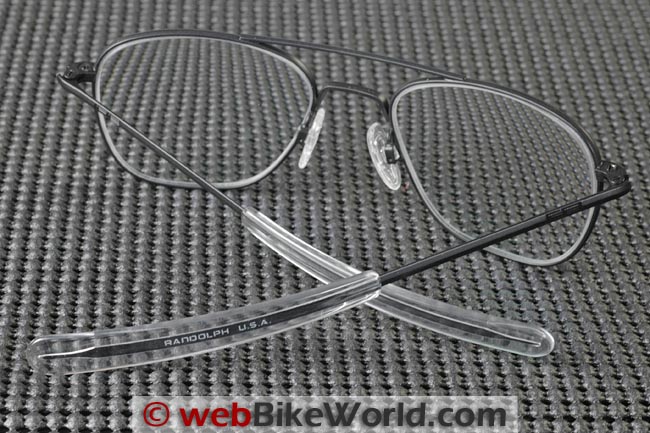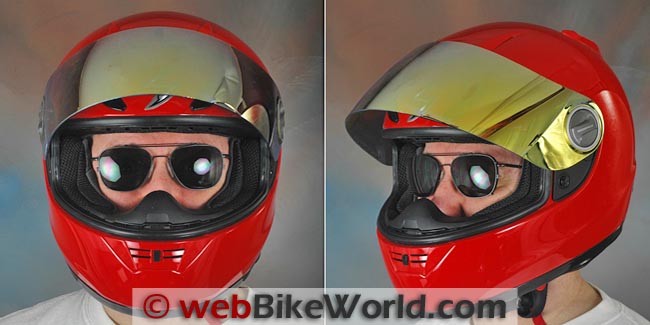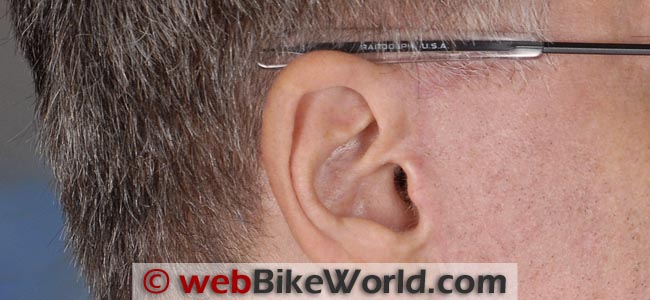 Conclusion
The Randolph Engineering Aviator eyeglasses with the straight bayonet temples fit very comfortably in any motorcycle helmet I have tried. If you're an avid motorcyclist and eyeglass wearer, you owe it to yourself to try a pair.
w

BW

 Review: Randolph Engineering Aviator Eyeglasses
List Price (2012): $99.90
Made In: U.S.A.
Colors: Black, Silver, Gold or Tan frames. Multiple clip-on colors.
Sizes: S-L
Review Date: August 2012
Note:
 For informational use only. All material and photographs are Copyright © webWorld International, LLC since 2000. All rights reserved. See the webBikeWorld® 
Site Info page
. Product specifications, features and details may change or differ from our descriptions. Always check before purchasing. Read the
Terms and Conditions
!
Owner Comments and Feedback
---
From "B.J." (September 2012): "I've been using your technique of shortening the temples on my sunglasses for a couple of years. Like you, I've been looking for a better solution to get quality sunglasses, thus the Randolph Engineering glasses looked good, although pricey for something I would probably lose within a year.
I did a search for something comparable at less cost and found the American Optical brand (Pilot Aviator Style Sunglasses
). They seemed to be very similar to the Randolph Engineering brand, just less expensive.
I bought a pair (for) $38 and have found them to be quite satisfactory. Your review of the Randolph Engineering glasses was the catalyst to find these. Thank you."
---
From "S.S." (August 2012): "I just wanted to add a warning for anyone who suffers from contact dermatitis as I do. I called the manufacturer, and these frames are nickel/silver, and anyone who is sensitive to nickel as I am may have issues with these.
I have to use titanium frames for all of my eyeglasses, and while they are more expensive, they are very lightweight and strong, and do not cause the dermatitis issue.
I am actually surprised that these are not titanium, as there must be members of the military who suffer from the common allergy to nickel? By the way, this issue is a problem with all three finishes they offer."
---
From "J.S." (August 2012): "I wear a XL Bell Star Helmet (review) and am also an eyeglass user. To remedy the problem of the temple foam being too snug for the eyeglasses arms to pass through, I found that if you push the foam area down towards the bottom of the helmet, the foam can stay compact enough to provide a small tunnel for the arms to pass through to your ears. Simple solution and I also love the Transition lens on my Star Helmet."
---
From "J.W." (August 2012): "Maybe I'm missing something here but I've never experienced a problem wearing sunglasses (or regular glasses for that matter) under a helmet and I've owned a variety of helmets. It's a relatively simple matter to bring your helmet with you when you buy glasses and to find a pair that fit. If you insist on a certain style, giant aviator glasses for instance, you're going to have a problem but if you're somewhat flexible, it's a non-issue. I wear a Shark RSI which is a pretty close fitting helmet and I have no problem nor have I had a problem with Arai, Shoei or HJC."
Editor's Reply: You're lucky I'd say, as the issue of eyeglasses fitting into a helmet is the #1 concern based on all the emails we've received over the years. In fact, it's the main reason why many people buy flip-up helmets. I have always had problems and I've tried many different types of frames. My head is widest at the sides, and I wear my helmets snug, so that may be part of the problem. Head shape, jaw shape, ear shape, type of frames and the match of the helmet fit and shape to the head all play a role.
---
From "D.W." (August 2012): "Apparently like you, I have a giant, mostly globe shaped, cranium. I am also an eyeglass wearer. I wear frameless glasses with wire arms. I have two pair; a regular set and a pair with tinted lenses. They work in pretty much every helmet I have ever owned.
I wanted to get a Bell Star helmet (review) as I wanted access to the SolFX shield, but the padding inside the helmet would guide my wire arms into the wrong place. I could not get any Bell helmet to work with my frames."
---
From "R.N." (August 2012): "Great to see your review of Randolph Engineering frames. I've been wearing them for well over ten years and swear by them both on and off the bike. As I've gotten older and now wear prescription lenses, I just have those lenses put in my Randolph Engineering frames.
One thing I'd mention though is that you don't need to get the straight ear pieces in order to use these frames inside a full face motorcycle helmet. I get the traditional hockey-stick shaped ear pieces and have no problem wearing them inside my Shoei helmets."
Rick's Reply: Although I have worn various types of eyeglasses with different ear curvature on the temples, and some of them do work, the straight temple is definitely a major improvement.
---
From "B.C." (August 2012): "Another alternative is Oakley. I'm on my second pair, and my regular eyeglass supplier carries them in stock. Here are the frames I'm using (these on the Oakley website). The biggest downside is that there isn't a clip-on, so you would need a separate set of sunglasses or a different helmet shield, which was the solution I use on my Shark RSR2."
Rick's Reply: I actually have a similar pair of Oakley eyeglasses for my everyday wear, but they don't work as well as the Randolph Engineering Aviators because the frame on the Oakley is not as strong and the round profile causes too much pressure.
My head is widest at the sides, which probably means helmets fit me tighter than average. The wide, flat and thin profile temple on the Aviators is specifically designed to fit in and work with helmets.
---
From "J.D." (August 2012): "First off, I can't say enough good things about Hidalgo. I've be doing business with them since they were located in Wimberley, Texas — long before they moved to Louisiana.
I'm writing because I want to bring two things to your attention. First off, if, like me, you wear glasses when you ride and also a full-face helmet that has a dark tinted visor, you might be interested to know that Hidalgo offers (or at least they used to offer) prescription glasses in a frame with straight bayonets.
I'm on my second pair, having misplaced my first pair. They used to advertise these in their print catalogue as being designed for motorcycle riders. My most recent receipt describes the frames as Cerruti 1881 48 mm frame with 140 mm temples (photo below).
I ordered a pair of clear plastic signal vision lenses over the phone and gave them the information on my most recent RX.
Secondly, I need the glasses because my distance vision is pretty bad, but because I also wanted to be able to read my instruments, I recently bought and installed a pair of stick-on bifocal lenses on the Hidalgo glasses. I first found them in the Aerostich catalogue, but was told they were on back order, so I bought them directly from the company (Stick on Bifocals). (Here's a selection ofstick on bifocals
 at Amazon.com — Editor).
They work like a charm and come in a variety of strengths."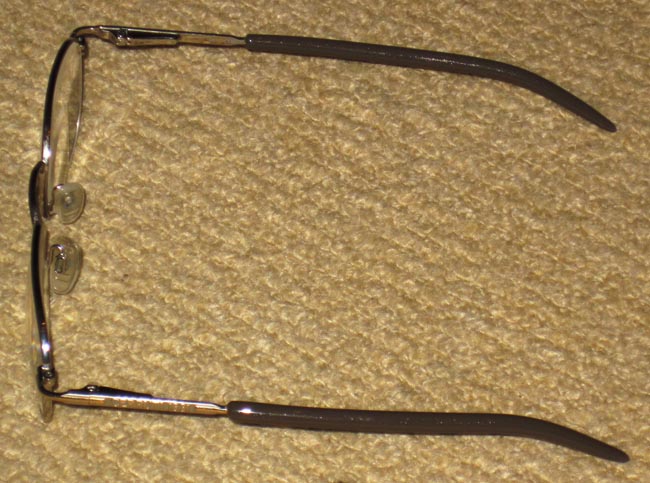 Rick's Reply: I've tried that type of frame, the slight hook over the ears and the thicker/rounder temple profile doesn't work for me, it causes too much pressure between the ears and my head when wearing snug-fitting helmets. I think it's important to have the flat, thin and wide profile found on the Aviator frames.