Rain delayed the start of the Dakar Rally today, washed away some Aussie hopes and dampened the Frenchman Cyril Despres' chances of a sixth title.
So far in the second stage of the marathon section only 106 of the 196 motorcycle competitors have finished with many off course because rain washed away the tracks, making navigation difficult.
Only two Aussies have finished the 352km fourth stage – Allan Roberts in 35th place and Troy O'Connor in 45th. The KTM riders are now 52nd and 53rd overall.
Australasian Safari winner Ben Grabham (KTM), who scored his highest finish in stage two with a sixth place, crashed and has withdrawn from the rally along with fellow Aussie Mark Davidson (KTM).
There is no word yet on other Aussies, Shane Diener (Yamaha), and Clayton Jacobsen (KTM), but they have not been listed as finishing the stage, nor in the list of withdrawals.
Four-time Dakar competitor Christophe Barriere-Varju of Sydney says Ben's crash, which appeared to happen early in the stage, is typical in the rally.
"The first 30-50km are where most crashes in the Dakar happen," says Christophe whose 2010 Dakar bid is the subject of an award-winning DVD, Dream Racer.
"Racers need to get into their rhythm. His time getting lost and losing time on Stage 3 can never be gained back. Remember my words from your first article (click here), he either goes for it but faces high risks or play shadow. He seemed to have chosen to go for it."
Ben, who has won at least 30 Australian titles in various forms of off-road motorcycling, encountered a drop-off in thick dust and fell heavily, before being taken to hospital for examination in Argentina where he was subsequently released.
General Manager of KTM Australia Jeff Leisk said the fall was most likely a result of yesterday's misfortune, in which Grabham – while running third in the stage – was one of four riders to follow a lead competitor down a wrong turn and got badly stuck on a steep mountainside. The difficulty compounded when one rider crashed heavily, and Grabham and two others waited with the injured rider while he was airlifted to safety. The chain of events dropped Grabham from 9th outright to 32nd place, and left him many slower riders to pass in dangerous, dusty conditions.
"Ben's had to ride through a lot of dust today and found a big drop and gone over the front," said Leisk, himself a former World Motocross Vice Champion. "I've received a small amount of information and it looks like he's hit his head and is pretty battered and bruised. He had to get checked out but seems to have nothing broken.
"Obviously he's extremely disappointed to have his Dakar end in this manner," Leisk said. "I was concerned when he had his setback yesterday because it puts the rider in the position of having to take calculated risks to keep moving forward. We've all done it – but the most important thing is that he seems okay, so I'm very relieved about that."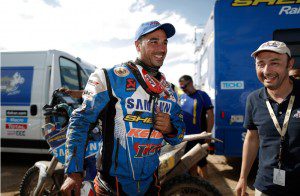 It was a maiden stage win today for Sherco and Chilean Juan Pedrero Garcia, while Spaniard Marc Coma (KTM) came in second and jumped to second outright, now just 3:10 mins behind Joan Barreda Bort (Honda) who lost time today with navigational issues.
Defending champion Despres lost over 40 minutes with an electrical fault just 9km from the finish. However, the Frenchman says he is not quitting yet.
"The day I give up is the day I should pack up and go home," he says. "True, it's a big setback, but I love this race, and I know it's not over until it's over. I could have given up today, but I'm still here. The motorcycle doesn't miss a beat, and I'm in tip-top shape."
Christophe says Cyril is "extremely resilient and will keep pushing and claw himself back".
"He will also now try to force Barreda and Coma to the mistakes. I don't believe he is concerned with anyone else, his machine will be the deciding factor."
So who does he predict will win?
"Too early to say still, but the old guard will play some nice strategic games."
Dream Racer is available in Pal and NTSC video at $24.95 or Blu-Ray for $29.95 or video-on-demand through their new website.
 Stage 4
1 Joan Pedrero 05:29'13 ESP SHERCO Sherco Rally Factory
2 Chaleco López +00'29 CHI KTM KTM Red Bull Rally Factory
3 Marc Coma +03'10 ESP KTM KTM Red Bull Rally Factory
4 Jeremias Israel +06'30 CHL SPEEDBRAIN Team Speedbrain
5 Olivier Pain +07'01 FRA YAMAHA Yamaha Racing
6 Joan Barreda +13'56 ESP HONDA TEAM HRC
7 Paulo Goncalves +18'38 PRT HONDA TEAM HRC
8 Ivan Jakes +19'30 SLO KTM Nad Ress Adventure
9 Alain Duclos +23'10 FRA SHERCO Sherco Rally Factory
10 Daniel Gouet +24'38 CHI HONDA Tamarugal Honda Racing XC Rally Team
Overall
1 Joan Barreda 13:39'53 ESP HONDA TEAM HRC
2 Marc Coma +3'10 ESP KTM KTM Red Bull Rally Factory
3 Chaleco López +5'12 CHI KTM KTM Red Bull Rally Factory
4 Alain Duclos +25'25 FRA SHERCO Sherco Rally Factory
5 Olivier Pain +29'38 FRA YAMAHA Yamaha Racing
6 Cyril Despres +41'17 FRA YAMAHA Yamaha Racing
7 David Casteu +42'17 FRA KTM Team Casteu
8 Jeremias Israel +46'33 CHL SPEEDBRAIN Team Speedbrain
9 Jordi Viladoms +49'14 ESP GAS GAS Gas Gas JVO Team
10 Kuba Przygonski +54'52 POL KTM KTM Rally Factory