Racer Gloves Review Summary
Racer Gloves Image Gallery
Very nice gloves, loaded with features that really make a difference. Well worth the money and actually surprisingly inexpensive compared to others we've seen. It's interesting to watch how the popularity of different motorcycle clothing items waxes and wanes over time. We recently featured several articles on back protectors and visitors kept asking for more. Then it was motorcycle jeans. Now gloves seem to be red hot.
webBikeWorld visitor "J.W." from Finland (and others) wrote to tell us about the Austrian brand Racer Gloves, which have become popular in Europe. "Maybe a contender for the Marsee Race gloves?" he said. All I can say is: Thanks for the tip J.W.!  We took your advice and found a pair of the Racer Gloves "High End" model and I'm very impressed.
Regular visitors know that we're always on the lookout for the perfect glove, and I have to say that the Racer High End gloves have bumped all the others and now reside at the top of the list. It's funny, because the High Ends (not a great choice to name a pair of gloves) don't really look much different than any of the other "Boy Racer" gloves which have been popular over the last few years.
In fact, the carbon fiber look is so yesterday, so let's just say instead that these have "Old Skool" styling. At least that's what I thought when I saw the photos and ditto when I first pulled them out of the shipping box. "So what's different?" I thought. But take a second and third look and wear these babies a couple of times and all of a sudden the attention to detail becomes apparent.
Many of you also know that one of my (our) all-time favorite gloves are the old Teknic Violatorsthat are still kicking around here and that we use as a baseline to compare new designs as they arrive. The Racer High End gloves remind me of a cross between the good ol' Violators and something like the Icon Merc gloves.
Racer "High End" Gloves
One of the first things you notice about the Racer High End gloves are the kangaroo leather palms. I suppose there's no reason why the tan colored leather couldn't be dyed black, but then who'd know that you're wearing something special?
Kangaroo leather is lighter than cowhide and supposedly has greater abrasion resistance. But it also feels much softer than some of the thick plasticky stuff that passes for leather nowadays.
Soft and thin means better feel, and better feel for the throttle translates into better bike control.
Actually, all the leather used everywhere in the High End gloves seems softer than expected, perhaps because extra care has been taken in preparing it?  The gauntlets also feel very pliable, which is another real surprise. It all adds up to make these gloves seem like they're worth much more than they actually cost.
And speaking of gauntlets…remember our recent diatribe on the Case of the Missing Gauntlet?
Well, here's just one more reason to love these Racer gloves: King Size gauntlets!  Well, maybe not sized for a King, but nice 'n' big nevertheless. Like they used to be. Old Skool, remember?
I've had no problem fitting these gauntlets with room to spare over any of the jacket cuffs I've tried. And none of that triple-dipple complex gauntlet closure stuff either — a simple Velcro flap secures the gloves to the wrist.
Actually, there's an interesting design feature underneath the closure that's worth noting. Racer has sewn in a "dart", or V-shaped section of leather in the gauntlet, which gives the gauntlet some extra room and also allows it to easily fold over the wrist. Nice!
A piece of what looks like Kevlar mesh with hard padding underneath protects the outer section of the wrist, and another section of padding under a sewn-in leather section protects the inner wrist bone.
Security
Move up a bit and there's a separate wrist closure strap to snug up that area and (hopefully) prevent the glove from coming off during a crash. That strap is covered by a leather flap.
This makes the second glove slightly more difficult to put on, but not as bad as others I've tried with this system and worth the effort, I'm sure I'd say, if they helped prevent crash damage.
The palms have a very nice sewn-in leather section over the kangaroo, with 5 carbon fiber buttons to act as sliders. An extra section of leather is double-stitched in the area between the thumb and forefinger to help prevent wear during those throttle on and offs.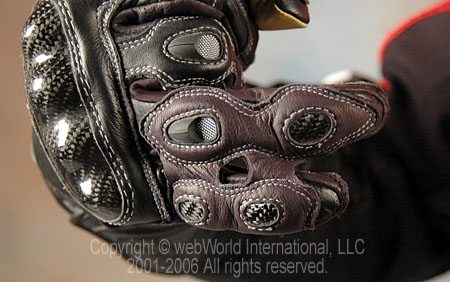 The Racer High Ends have a feature usually seen on, well, high-end racer gloves.
The pinky and ring fingers on each hand are sewn together. Don't worry — I didn't even notice this, believe it or not, until the second time I wore the gloves, so it's not a bother.
Sewing these two fingers together is supposed to help prevent the pinky finger from rolling under and getting damaged during a slide.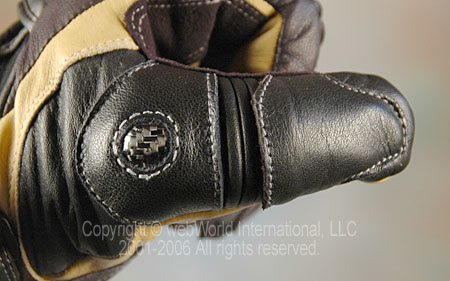 Moving over to the thumb, the High End gloves have a feature I've never seen before; the leather that covers the thumb knuckle is articulated. And it's also covered with a separate leather hood for added protection.
This must have cost a fortune to design and to manufacture, because there are a lot of extra steps to make this work.
It really makes a difference in thumb flexibility and hey, we need the flexibility, because opposing thumbs are what differentiates motorcycle racers from squids, no??
The back of the gloves have the typical carbon fiber knuckle protector, sewn on to a sort of hood that floats over the knuckles for a bit of flexibility here also. But look underneath and you'll find more articulated leather for added flexibility.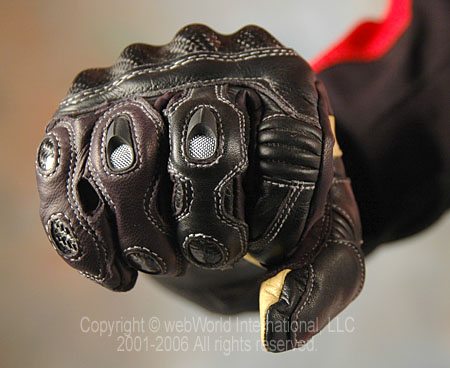 Two more carbon fiber buttons protect the back of the pinky finger, along with a carbon fiber button on the back of the ring and the second fingers.
Mesh-covered air vents are located on the back of the second and third fingers also to complete the picture. One more articulated leather section is located over the back of the all-important second knuckle on the forefinger, providing flexibility for throttle and clutch control.
Let's see, what else?  Elastic in the wrists; another carbon fiber button over padding on the back of the wrist; other odds and ends of padding, perforated leather and even some rubberized strips on the tips of the fore- and second fingers finish off these beauties.
Conclusion
The more I wear the Racer High End gloves, the more I like them. Each of these gloves must take hours to manufacture, there are that many different sections and parts.
The size large fits exactly like it should; slightly tight at first but the supple leather loosens up a bit after only about 3-4 rides.
The only thing I'm not completely happy with is the tips of the fingers, which are tapered towards the end. The seams grab at my fingernails unless they're clipped short.
But overall, the Racer High End gloves have some of the best features I've ever seen on a pair of motorcycle gloves. They don't have a lot of styling flash, but the details are what counts, and these gloves have 'em in spades.
w

BW

 Review: Racer "High End" Motorcycle Gloves
List Price (2006): $160.00
Made In: Unknown
Colors: Black, Gray, Red, Blue.
Sizes: XS to XXL
Review Date: June 2006
Note:
 For informational use only. All material and photographs are Copyright © webWorld International, LLC since 2000. All rights reserved. See the webBikeWorld® 
Site Info page
. Product specifications, features and details may change or differ from our descriptions. Always check before purchasing. Read the
Terms and Conditions
!
Owner Comments and Feedback
---
From "F.M."  (7/10):  "Well, I bought me a pair of the Racer High End gloves after doing the research the reviews sounded good.
But, the first time I went down with them on, the whole palm with carbon fiber bits tore off. Not even 2 weeks old. Not even a scratch on the kangaroo. Oh, and the fall was when I hit some dirt doing a U Turn at 10mph… idiot enough on me for that… but adding to the insult was the gloves piffing out… my denim jeans held up better… no tears there…
When you do product reviews, is there any way to do some abuse testing on them? (As opposed to just ride testing? This is what Consumer Reports does… they beat on something until it fails.)
Makes me really worry… if I was doing track day and went down… the palm of this glove would have vaporized… and my hand with it.
Just look at the tear line (photo below)… it's literally like someone too scissors to it. Perfectly around the seams. And if you look the leather… it's paper thin. It was just like tearing a perforated notebook page out.
Editor's Reply:  Unfortunately, it is impossible to predict exactly how an item of protective gear will perform in a crash, in any circumstance, whether at low speeds or not. We consider protective gear (jackets, pants, boots, helmets, gloves, etc.) a "one time use" item. If it protects in a fall, then it is immediately discarded because it has done its job.
So I'm not sure it's really possible to extrapolate from a low speed crash at how the glove might have performed in a different situation, or if another brand of glove would have performed better or worse.
Another way of looking at this is that the glove did its job — it gave its life to protect your hand. Hang it on the wall and buy a new pair and I guess the best thing at this point is to consider yourself lucky. Good thing you were wearing a pair of gloves!
Unfortunately, there's no way for us to test products to determine their protective capabilities. D oing so is extremely difficult, and this is why almost no one actually does it. There's just no way to standardize a test that would predict what might happen in every circumstance. There are also some legal issues regarding this type of testing, which is one of the reasons why we never claim to "test" a product, we provide subjective owner opinions only.
I would suggest contacting Racer, perhaps they will replace the gloves or have some comments at least on why this may have happened, and hopefully they will use the information to improve the design of the gloves for the future.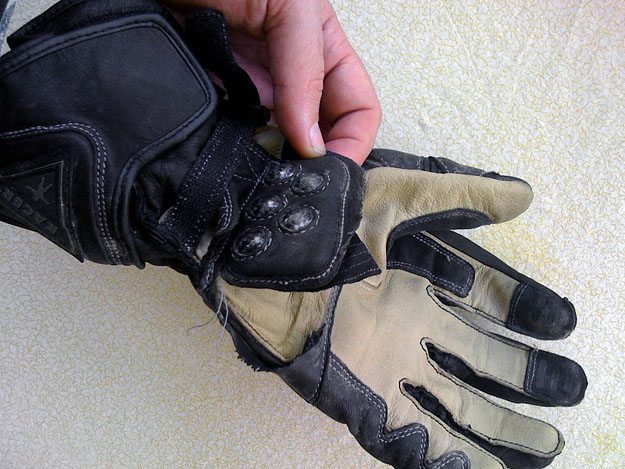 ---
From "T.B." (10/08):  "I've owned a pair for a bit over 4 years now and they are, hands down, the best, most comfortable gloves I've ever owned (& I've been riding for 40 yrs). My local bike shop clued me into them & I haven't regretted the purchase a bit (though I didn't pay nearly the $160 SRP). I ride a ZX10 regularly & wear them summer & winter here in California (I tape the finger vents in the winter!)
One of the keys to their comfort it the external stitching between the fingers (& only between the fingers). In deference to J.G.'s comments I agree that the ideal riding glove from a safety standpoint would have no exposed stitching (good luck finding those!).
The compromise Racer has made in this glove for comfort is a compromise I can appreciate every time I put them on. Lets face it, no glove design that allows good feel of the hand grips and free movement of your fingers is going to save your hands from a major impact with anything hard. Motorcycle riding equipment is always a compromise between ultimate protection and comfort / practicality.
Buy these gloves and you won't be disappointed. Mine have held up incredibly well through 4 years of wear (no failed stitching, no wear through except for the tiny little patch of suede leather at the tip on the palm side of the index finger (but not through the underlying kangaroo leather).
J.G. should have sent his pair back to the manufacturer for a replacement. If he/she noticed a "discontinuity" in a finger stitch when first opening the box maybe he/she should have closed the box & sent them back!  For crying out loud, these gloves cost to much to accept a defect identified immediately after purchase!  To condemn the product because you received a pair that managed to slipped past quality control is hardly fair."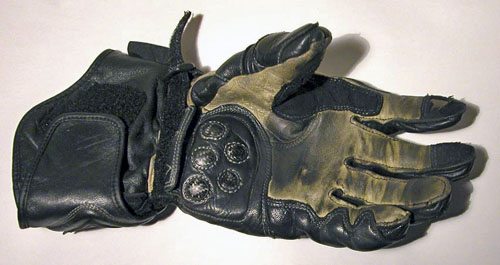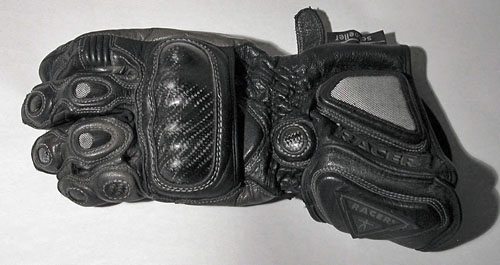 ---
From "W.L.":  "This'll be a little wierd since this is a second hand review (pun intended), but important non-the-less. Finding proper fitting, and proper protecting performance gloves for my wife had been a real trial until we found these at Road Rider in San Jose, Ca.
We'd never heard of them, but they fit Julia well and the external stitching is nice as it's easier to repair, adjust, and doesn't leave seams on the inside to interfere with a rider's fingers. Julia was in love right away and only ever wears a different pair of gloves for inclement weather.
The real trial for these gloves came a year ago however. After a hurried stop at a stale yellow, I heard a noise I hope to never hear again. The screech of tyres and a load crash behind me, followed by the very frightening scene of my wife sliding past me into an intersection, her bike headed in a similar vector, carbon and fuel going everywhere.
Julia had low-sided her bike from near upright at about 35 mph when she locked her front on an oily tar snake. The hit was hard enough to tweak the chassis of her Duc, and bruise her kneecap through hard and soft armour. she came to a stop on her front, hands down. And yet, her hands were unscathed!
The gloves held up fairly well too, as evidenced by her wearing them to this day. somehow she rashed the palms of both gloves and the knuckle of one pair, but nowhere were the gloves rashed all the way through!  The leather was untouched, the carbon buttons did their job admirably.
There is no better test for a pair of gloves than a real world crash, but no-one wants that job. The Racer High End gloves have been tested, and proved to be all they are touted as. Also, even with dainty girl hands, Julia has never taken issue with the attached pinky, in fact she likes it, as she tends to two finger brake anyways.
A personal note – I'm continually throttled to see (women) on the back of their boyfriend's bikes, in little or no gear, or at best streetwalker-esq biker fashion gear. If you like your significant other with their skin, but them real gear. they'll look great and you'll gain brownie points and hopefully never have to test the gear anyhow."
---
From "E.L.":  "I've had the Racer High End gloves for over a year, and have used them continually for over 3 months. These gloves have held up perfectly. The fit is more snug than most gloves around the fingers, giving it a "tailor-made" feel. Once broken in, they are very comfortable.
The soft perforated leather, elastic webbing, and the ribs help make the glove very compliant. I love the vest on the gauntlet because it blows air directly into my sleeves. My only gripe is that the Velcro on the gauntlet isn't long enough, so when I try to really cinch down the gloves, the Velcro comes up short. If there was more Velcro, this glove would be perfect, but I'd still buy it again….and almost did when I temporarily misplaced these gloves last week!"
---
From "J.G.":  "Hello, I've read your article on the Racer high end glove, and decided to purchase the glove following the positive review. I've now owned the glove for a few months and many rides. I'd like to offer some thoughts to those who are considering this glove.
Unfortunately I do not share the same positive opinion on them as the editor. The stitching on these gloves is under-par, and starting to come apart. I noticed an discontinuity in a finger stitch right away when I first opened the box, and more stitches have started to come loose after regular use.
The biggest downfall of these gloves is the external stitching. While this type of stitching provides the most comfortable fit, it is absolutely useless for holding the glove together when sliding down the pavement. The stitches will be the first to go in such a slide, and the glove would subsequently split open.
While this glove does have double stitching, it is in all the non-critical areas which leaves one wondering about the design itself. The most obvious and most important palm/finger area all have exposed stitches. I really want to stress this point to the readers as it may not be obvious from the photos of the glove at first glance. Personally I would advise on searching for gloves with internal protected stitching only."
Editor's Note:  Many of the "high end" motorcycle racing gloves use external stitching; for example, see the $300+ Hurt "Schizo" gloves we reviewed recently. I'm not sure why this type of stitching is used in racing gloves.