Pilot Direct Air Hybrid Mesh Jacket
The Pilot Direct Air jacket is good-looking, nicely made and comes in a variety of color combinations. It's a hybrid mesh/textile jacket, with large sections of "Pilotex" mesh for ventilation with textile on the abrasion points. Included is a removable waterproof liner and CE-rated protectors in the shoulders and elbows.
The jacket comes with a decent back pad that can be replaced with the optional Pilot Core Level 2 protector and a rare chest protector is also optional. The chest protector attaches with hook-and-loop on the inner sections of the jacket front for a custom fit. The extra abrasion-resistant sections on the shoulders and elbows are designed without seams in the center to defend against tearing.
Most of the seams are either double- or triple-stitched and the overall build quality is excellent. The lining also has extra textile fabric hemming, which is unusual at this price point. 3M Scotchlite reflective strips make the jacket visible at night and several other usable features are included, like a waterproof lower sleeve pocket. The price is also very reasonable considering the build quality and included features.
Introduction
Pilot-branded clothing was introduced on webBikeWorld during the 2013 AIMExpo show (report)and described to webBikeWorld readers in the Pilot Direct Air Jacket preview reported live from the show.
We also reviewed the Pilot Trans.Urban jacket (review) last year and it became a webBikeWorld 2013 Motorcycle Product of the Year Award winner.
You may recall from those articles that Pilot makes custom leather suits for AMA motorcycle racers and other racers.
The company is also an OE (Original Equipment) provider of branded apparel for Honda, Kawasaki, Suzuki, Yamaha and many others.
Based on those initial observations, I can generally say Pilot makes excellent quality gear with "a little something extra" that is unexpected at the prices they charge and the Pilot Direct Air jacket is no different.
Pilot doesn't make a huge variety of clothing — and that's probably a good thing because they can concentrate on the important features with fewer designs to worry about.
But what they do make seems to have a lot of the company's real-world racing experience as a major ingredient. Where most motorcycle gear at this price range is made just to check off a few boxes, the Pilot gear just seems different, i.e. better.
---
Where to Buy Pilot Direct Air Jacket
Check Reviews & Prices on Amazon
Check Reviews & Prices On RevZilla
Also: Motorcycle Jackets, Motorcycle Gloves, Motorcycle Boots, Motorcycle Pants
---
The Pilot Direct Air Jacket
The Pilot Direct Air jacket is what I'd call a "hybrid" mesh. It's not a full mesh jacket, nor is it full textile; it's a blend of both.
This means that while it may not have ultimate air flow like the Dainese Shotgun jacket (review) or a Joe Rocket Phoenix jacket (review), the solid textile sections provide better potential abrasion protection…and the air flow in this jacket is still excellent.
Also, unlike those other full mesh jackets that are designed solely for use in the warmest of weather, the Direct Air jacket can be stretched from Spring into Fall, especially when the removable wind- and water-resistant liner is used.
The Direct Air jacket feels a bit more substantial than some other jackets of this type, especially in the shoulders and the elbows.
The elbows have thicker padded sections of 600 denier overlay, specially designed to eliminate a central seam, which is claimed to help the abrasion resistance (this is where some of Pilot's racing experience comes into play).
The mesh is 210 denier "micro-mesh" textile and it's very nice stuff, with plenty of air flow but a fine weave that looks very similar to (but isn't) the mesh found on the much-more-expensiveRukka AiRider jacket (review).
The Direct Air jacket is available in a nice selection of colors, including the black and (very) high-viz yellow shown here.
Equally nice are the white with red or blue trim and black accents or the silver/black and yes, there's even an all-black version. But who wants that for a summer jacket?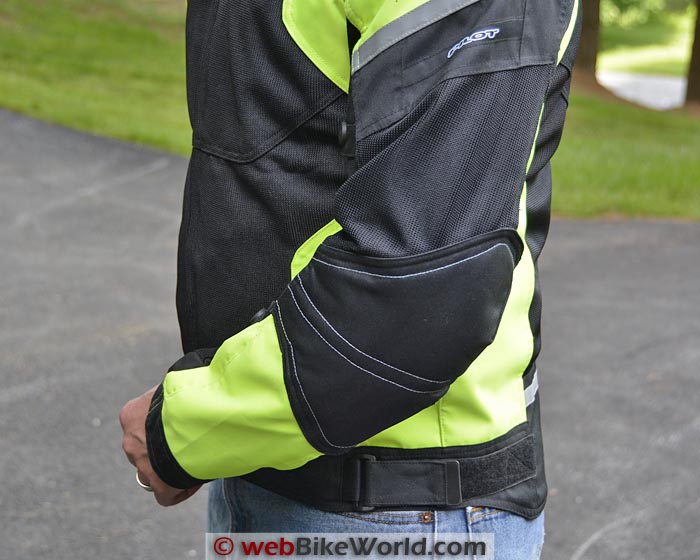 Pilot Direct Air Jacket Features
The "micro mesh" panels cover the parts that matter, including the chest, back and the front of the arms.
With the thin water-resistant liner removed, the jacket flows a good amount of air and overall I think it's a good compromise between protection and ventilation, especially for mesh-shy riders.
The white versions of the jacket with red, blue or black look very nice and if you're a fan of high-viz, this one really pops.
As is typical when taking photographs of high-visibility colors, the camera goes crazy, so the photos here aren't quite a perfect representation, especially considering there's a huge contrast difference between the black and yellow.
But wearing the high-viz version of the Direct Air jacket feels really good — beside the fit and comfort.
It may be psychological, but being surrounded by all that high-visibility yellow just makes you feel like you have a fighting chance with the cell phone toting and texting soccer moms and dads in their oversized SUVs.
The fabric quality is very good and has a soft-ish feel, which also helps to make the jacket comfortable. The interior is lined with an attached mesh liner but the sides and bottom hem of the jacket are finished in textile, which is a higher-end feature.
Most of the inexpensive mesh jackets have the mesh right out to the edges, where it's sewn into the hem. The Direct Air jacket has a lot of extra finishing work done on the inside; again unusual at this price range.
The Direct Air jacket doesn't have the array of pockets and liners included in the Trans.Urban jacket, but it does use the Pilot "RedTab" system where the matching liner connecting parts and the pockets are indicated in red.
This makes it easier to find them at night or in poor lighting conditions and this is another one of those "real world" riding features that makes Pilot gear different.
The collar is lined with neoprene all the way, which makes it nice and comfortable. Also, there's a red loop on the left side just inside under the collar to hold a cable for an MP3 player or similar.
Adjusters
The sleeve cuffs have your basic hook-and-loop tab adjuster and the sleeve ends have a "V" dart so that when the sleeve is folded and secured, the fabric doesn't bunch up.
This is yet another rider-oriented feature that is sorely missing from the much, much more expensive Rukka AiRider jacket.
The jacket also has a nice waist adjustment system at the lower hem on each side. The adjustment tab runs through a square nylon "D" ring and has hook-and-loop along the back to secure it.
There are two sleeve adjusters on each arm, one at the biceps and one at the forearm. These have one adjustment that goes one snap tighter.
Zippers
The front zipper is one of the big heavy-toothed YKK types (5VS) with the "Vislon" nylon teeth.
This is one of my favorite zippers for an entry location on a motorcycle jacket. The runner is not the locking type but the large teeth pretty much take care of holding the runner in place.
Also, there's a "Pilot" logo that sticks via hook-and-loop just under the collar and this also helps prevent the zipper runner from wandering.
The front hand pockets also use YKK zippers and these have the smaller style nylon teeth.
This type is also used for the liner, which has a single zipper that runs up one side and down the other on the inside of the jacket, for a firm fit. This is another feature that you probably won't find on competitive jackets in this price range.
Protectors
The front main entry zipper is backed by a thick 45 mm wide flap and the back of the flap has hook-and-loop to attach the optional Pilot chest protector — another one of those race-inspired features that you won't find on competing jackets.
We described the chest protector in the Pilot Trans.Urban jacket review.
The shoulder and elbow protectors are CE rated and the jacket will fit the optional CE Level 2 back protector or the Forcefield Pro Level 2, size 001 (available here) protector.
The jacket comes with a relatively thick basic back pad that's at least a cut above the typical foamy nonsense you find in most motorcycle jackets.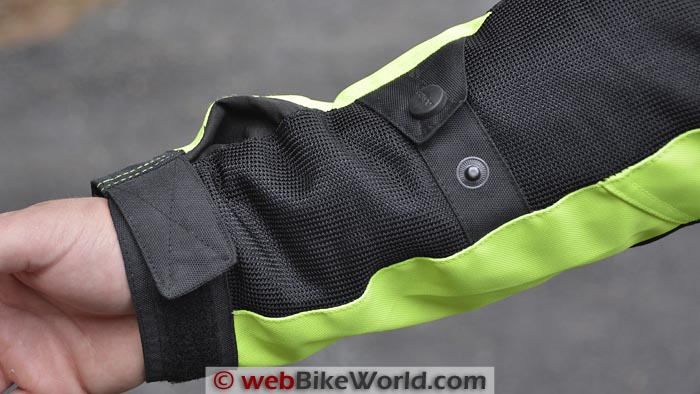 ---
Where to Buy Pilot Direct Air Jacket
Check Reviews & Prices on Amazon
Check Reviews & Prices On RevZilla
Also: Motorcycle Jackets, Motorcycle Gloves, Motorcycle Boots, Motorcycle Pants
---
Pockets
The front hand pockets open with zippers and they're mesh-lined, so there's nothing to block the air flow. There's a surprise pocket on the left side sleeve down by the cuff.
The zipper opening is about 100 mm long and the pocket is about 100 mm deep and has a waterproof lining. This can be used to keep an ID or maybe keys or toll booth change or similar.
Inside on the left along the bottom is a long, narrow cell phone pocket with a flap and the red tab marker.
This pocket is backed with solid textile. Behind that is a larger mesh cargo pocket with an open top that closes with a short section of hook-and-loop.
Both of those pockets are repeated on the inside of the removable wind/water resistant liner, so those are the pockets you'll use if you get caught in the rain.
There's also a nice vertical pocket in the left placket, just under the main entry zipper. This is lined with mesh for maximum ventilation, although this means that it might not be the best place to stow a wallet if it starts to rain.
Altogether, the Direct Air jacket has a nice selection of pockets and more than you'll find on just about any mesh jacket of this type that I can think of.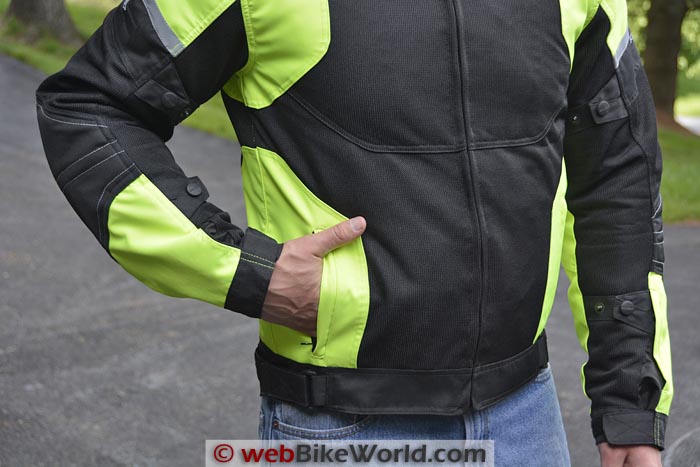 Removable Liner
The full-length wind- and water-resistant liner zips in completely around the front, going around the neck and back down. This is a nice feature that keeps the liner firmly in place.
It also attaches with "RedTab" marked loops at the sleeve cuffs and there are even two more loops along the bottom at the rear hem to make sure the liner is securely fastened.
Actually, if you don't fasten any of the loops and just use the wrap-around zipper in the front, it makes the liner a lot easier to remove or replace.
You'll have to hold the liner sleeve cuffs with your fingers when you pull your arms in or out if you do this, but it makes for fast in/out if the weather is variable.
With the liner installed, the jacket blocks a lot of air and I rode with it back when the weather was closer to 60 than the 90 it is today. So the Direct Air jacket could be used from Spring until Fall and that's another advantage.
I haven't been out in the rain with the jacket but this type of system that's designed mostly for maximum air flow and where you have what is basically a mesh jacket shell, will obviously not provide any protection from the rain.
So the water-resistant liner is all you have. If you think it's going to rain, the jacket will provide some protection with the liner installed, but you may also want to carry a waterproof outer shell, like the excellent Tourmaster Sentinel rain jacket (review).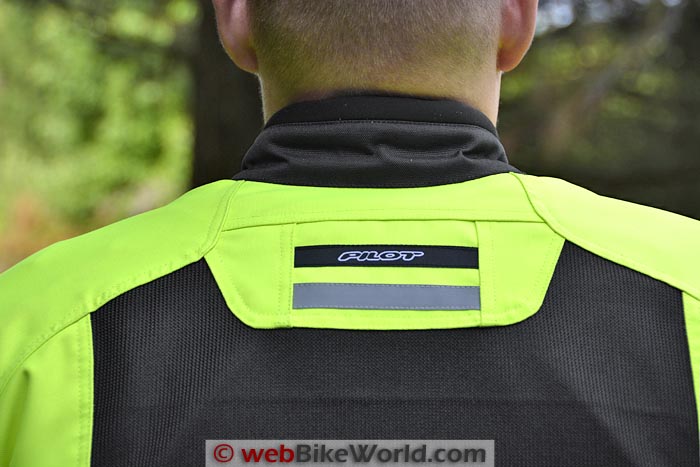 ---
Where to Buy Pilot Direct Air Jacket
Check Reviews & Prices on Amazon
Check Reviews & Prices On RevZilla
Also: Motorcycle Jackets, Motorcycle Gloves, Motorcycle Boots, Motorcycle Pants
---
Sizing and Fit
This Direct Air jacket is a men's size large and it fits exactly as expected for a 43″ to 44″ chest with a 35″ to 36″ waist and about 34″ sleeve length.
I read a comment somewhere that an owner said the Direct Air jacket doesn't fit to size but based on this example, I can't agree.
In fact, I'd say that this jacket fits both me and Rick better than most and it's about as perfect as one would expect for a size large. The jacket is available in a size range from XS to 4XL.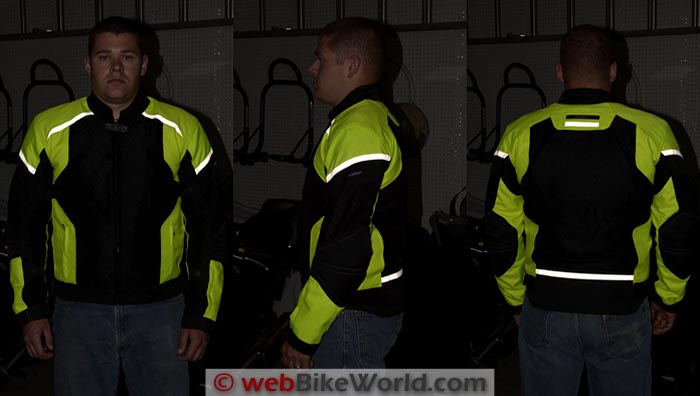 Reflectivity
The Direct Air jacket has sections of 3M Scotchlite along the upper chest, back and outer portion of the arms. These light up very nicely when illuminated, as you can see in the photo above.
Between the high visibility color and the reflectors, which are located high up on the jacket for good overall visibility, the jacket really pops, although the jackets with the large white colored sections may be better at night.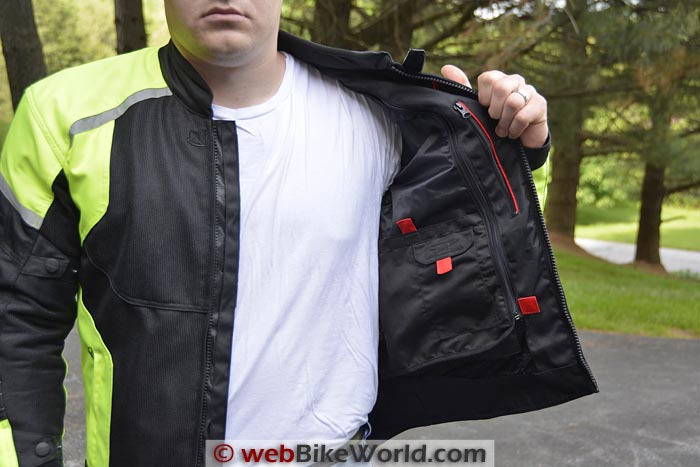 Conclusion
Pilot does it yet again and the Direct Air jacket is another bargain at a list price of $150.00. It's nicely made and a good compromise between protection and ventilation.
It also has several useful and practical features, which is what Pilot is becoming known for and the jacket compares very well with others in this price range.
The fit — at least on this one example in size large — is perfect also and that's a plus. You can match the Direct Air jacket with the Pilot Omni Air Over Pants (review) for a nice summer outfit at reasonable cost.
While you may give up ultimate air flow because of the solid textile panels and the overall slightly heavier feel of the Direct Air jacket, I think the additional potential for better protection is worthwhile.
Next: Pilot Omni Pants Review  |  Pilot Direct Air Jacket V3 Review
w
BW
Review: Pilot Direct Air Jacket
Made In: Pakistan
Colors: Silver, Black, Red, Blue or High-Viz Yellow.
Sizes: XS-4XL
Review Date: June 2014
Note:
 For informational use only. All material and photographs are Copyright © webWorld International, LLC since 2000. All rights reserved. See the webBikeWorld® 
Site Info page
. Product specifications, features and details may change or differ from our descriptions. Always check before purchasing. Read the
Terms and Conditions
!
---
Where to Buy Pilot Direct Air Jacket
Check Reviews & Prices on Amazon
Check Reviews & Prices On RevZilla
Also: Motorcycle Jackets, Motorcycle Gloves, Motorcycle Boots, Motorcycle Pants
---
Owner Comments and Feedback
---
From "R.R." (August 2014): "I purchased the Pilot jacket and immediately saw how well made it was. I tried it on and immediately sent it back.
It was 2 sizes from being comfortable, but already a size larger than I normally wear. I am short and round, truth be told, but I can size a jacket…"
---
From "S.F." (August 2014): "Thank you for yet another very helpful review. I'd been looking for a summer jacket for some time.
I didn't want to give up the protection my well armored heavy leather Firstgear Scout offers but it gets rather warm sitting in commuter traffic on those hot and sunny summer days.
You got my attention with "I think [the Pilot Direct Air] a good compromise between protection and ventilation, especially for mesh-shy riders."
I ordered one … shortly after your review was published. I agree completely. It's a high quality jacket for a very reasonable price. It offers good ventilation while maintaining abrasion protection and armor in all the right places.
The Hi-Viz sure stands out in traffic which is great.
When the traffic is moving slow on a 90 degree (F) day, the sun can get a little hot on the black sections of the Hi-Viz/Black jacket, especially where the back pad limits ventilation (I'm not sure whether Hi-Viz/White would be a good look?).
The jacket's design, material and construction are all impressive.
Sizing: I don't mean to beat a dead horse here but I too am in the "runs small" camp. I had to exchange a large for an XL.
Most of my casual outer jackets are size large. I definitely fall into the large per Pilot's size chart which says 42″ – 44″ chest, 5'6″ – 6'1″ height and 36″ – 38″ waist.
I'm 5'11", wear size 36 jeans and a size 42 jacket.
At just under 200 lbs, I'm not the athletic build of a young racer Pilot probably makes form-fitting custom race suits for, but there's no beer gut hanging over my belt either.
The large was the right length both overall and at the sleeves, but when worn over a simple t-shirt, the fit was very snug everywhere, even including sleeve diameter. The XL is quite comfortable.
It fits me well but there's no chance I could wear a sweatshirt under it with the rain liner in.
Bottom line: I would not hesitate to buy it again, but I'd order a size up."
---
From "M.S." (June 2014): "I enjoyed your review of this product, and based on your recommendation, purchased one from Amazon. As you wrote, the jacket is very well made and quite a bargain.
Unfortunately, I think you're very wrong about the sizing. I always buy size XL motorcycle jackets and they typically are a perfect fit (Olympia, Scorpion, and similar "non-Euro" brands).
Since (despite a user comment) you said the Pilot Direct Air fits true to size, I ordered an XL. But it most definitely is a full size too small for me (possibly two sizes).
The jacket is too tight across the chest and WAAAY too tight on my armpits, where the sleeves join the jacket's main body. Naturally, I'll return the product.
But to be honest, the fit is so strange compared to every other jacket I've owned, that I doubt I'll exchange the XL for a larger size."
Editor's Reply: The size large we have fits perfectly to size (as you can see on the model in the photos) and the dimensions listed in the "Fit" section. In fact, it's probably one of the best-fitting short jackets I've ever worn.
It's possible their XL sizing is off; as mentioned in the review, Bill found some comments online about sizing issues but all we can report is our experience with the jacket we have. I'll email Pilot to ask if they know anything about sizing issues.
---
From "K.K." (June 2014): "I have been riding this whole season with this jacket. I took a chance on Pilot after the Trans.Urban jacket review you did a while back.
The quality has been fantastic. The jacket is heavy when holding it, but isn't noticed after it's on. The weight is a sign that the protection is very good for a mesh, especially after seeing the stitching and build quality.
I called the company and they have a lot of crash experience, and feel very comfortable that they put all the right stuff in it for the best protection (for textile and mesh).
The jacket flows good amounts of air too. The styling is nice and my wife wanted one too, so we now have two of these, and she likes the comfort and style. Great review and I am really happy with ours!"
Other WebBikeWorld Jacket Posts