Cable iStart Image Gallery
Think of the Quick Cable iStart Li-Ion Power Pack as a  power source for peace of mind.
Fitting nicely in the hand, this powerful compact power supply is one of the most versatile and valuable tools one could hope to have for home and travel.
And that goes double if home could be almost any point on the map.
The iStart Power Pack Kit is capable of charging at 5, 12 and 19 VDC batteries.
Or, it can also power cell phones, GPS, radios and other devices.
The rechargeable 12,000mAH battery inside gives it the ability to jump-start gasoline powered ATVs, motorcycles, cars and light trucks.
It's rechargeable, with either an automotive charger or AC-DC adapter. Thus, the iStart Power Pack Kit now goes with me everywhere — literally.
It even has a built-in LED flashlight with SOS flashing capability.
There are lots of similar and competing power pack modules and kits on the market.
Some have higher capacity ratings than the iStart, but this kit was available at a good price and it does everything asked of it, constantly.
My mantra regarding this precious kit is "Have peace of mind — don't leave home without it".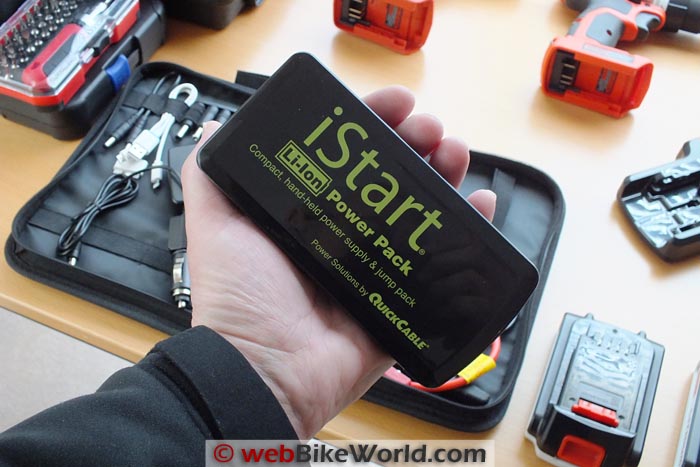 Introduction
There are some things that many of us just won't leave home without and one of them is a set of jumper cables.
I always pack a small motorcycle-sized set, along with USB connector cables to make use of the installed accessory USB outlets on the bike.
On some trips, even my trusty small BMW battery charger is packed.
And with time and technology marching on, more and possibly better solutions were bound to appear.
In browsing a few forums and websites, my attention kept coming back to an offering that seems to be branded under more than a few different names — that being a "Portable Power Pack".
The rapid implementation of advanced battery technologies has resulted in lightweight, compact yet powerful solutions.
For the most part, this has been a real positive for powersports enthusiasts in providing lightweight battery and related power solutions.
So it was only natural that a small-form-factor power pack would be offered up to consumers eager to keep their personal electronic devices charged up, anywhere and at any time.
And in taking advantage of the power pack's output, it can also provide the ability to jump start a vehicle, particularly when support might be far from hand.
I was debating which one to purchase, while keeping an eye on the diminishing value of our CAD vs. USD.
Then I found a local Total Battery outlet that was offering the Quick Cable iStart Power Pack kits for an attractive introductory price.
After checking out its specs and everything packed in the zippered case the decision was easy.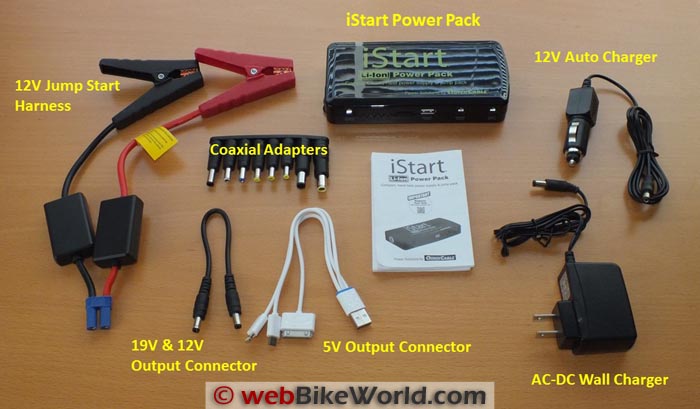 Quick Cable iStart Portable Power Pack Details
Quick Cable (Franksville, Wisconsin U.S.A.) is a manufacturer of "connectors, cable, cable assemblies, and tools for the energy storage industry".
The popular iStart Portable Power Pack is just one of their many products.
The iStart comes in a zipper case with a nice logo and it measures 26 x 18 x 5 cm. This is about the size of a computer tablet case, although the iStart case is thicker, of course.
But it is still easy to carry and can be readily packed into saddlebags, panniers, top cases, tank bags or wherever.
And you can take comfort in the fact that everything needed to get the most from the iStart power pack is contained inside (contents listing below).
At 75 x 160 x 28 mm (2.95 x 6.30 x 1.1 in), the hand-sized power pack weighs just 430 grams (15.1 oz.), but it has a pretty big 12,000mAH (44.4 WH) battery capacity.
The unit provides a starting current of 200A with a peak current of 400A, which is enough to jump start a motorcycle, ATV, car or truck (with some limitations).
The power pack recharges through a coaxial input port (1A at 14VDC) using the supplied 12V automotive or AC-DC wall charger.
The unit has automatic overcharging or over discharging protection, (smart) fuse protection and turns itself off after 30 seconds if not in use.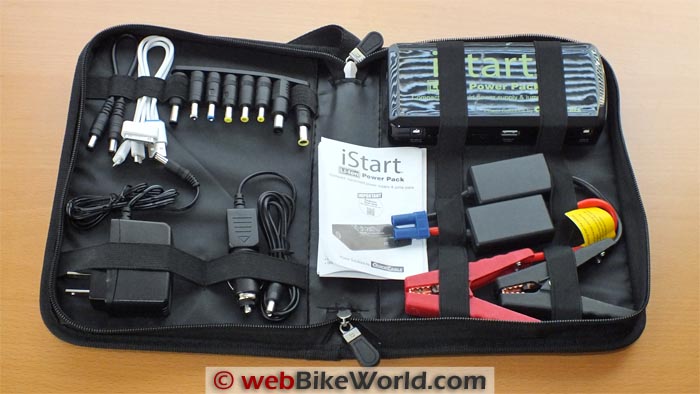 Quick Cable iStart Outputs
Provided outputs include:
5 VDC USB port (2A maximum) for charging mobile phones and other devices.
12 VDC coaxial port (10A maximum), suitable for portable DVDs, cameras or gaming devices.
19 VDC coaxial port (3.5A maximum), to charge compatible laptops or notebooks.
12 VDC dual pin jump start port (covered by flush mounted protective cap, and recessed LED, which is very bright, with flashlight, strobe and S.O.S (international distress signal) modes built-in (located beside the jump start port).
Included in the Kit
All connection essentials are provided in the iStart kit.
Included are the power pack module and a USB cable with three interface connectors (Apple Lightning, Apple 30-pin and universal micro-USB).
Also, a short coaxial interconnect lead with a set of eight coaxial adapters to satisfy most power charging interface requirements is included.
And there's a dual-plug jumper cable harness, along with 12V automotive-style and AC-DC chargers.
Finally, there are two small pocket-sized fold-out Owner Manuals, one in English and Spanish and the second in French.

Functions and Performance
The Quick Cable iStart Power Pack continues to return the investment made on a daily basis.
It has 5V, 12V and 19V DC outputs, the 12 VDC jump-start capability and (bonus) a very powerful LED flashlight with three useful modes.
Whether in my house, shop (garage), visiting a fellow motorcyclist to do some work or travelling by four or two wheels, it seems there is always something for which the iStart power pack can be used.
It spends a lot of time recharging portable devices like smartphones, navigation devices and portable test instruments (small form factor test and analyzer tools are wonderful for motorcyclists).
5V Output: On average, the iStart power pack can fully charge at least three to four smartphones and a Gen 1 Nexus 7 tablet and only lose two of its five battery status LEDs.
So I'm pretty comfortable in saying that a fully charged power pack could keep that essential communications device recharged for a week or more if absolutely needed.
12V and 19V DC Output: The 12 VDC and particularly the 19 VDC outputs see lots of use as well.
I use them particularly as emergency power to a couple of my well-used, well-travelled notebooks, whose batteries tend to drop off quickly (usually at the wrong time of course).
I've managed to get almost two hours of notebook life support out of the power pack before the last LED started to flash, sending me a clear visual that the power pack itself needed recharging.
On one occasion I did let one of the notebooks discharge completely and used the iStart power pack to charge it up again.
It took just over two hours, which is pretty much in the window identified in the specifications.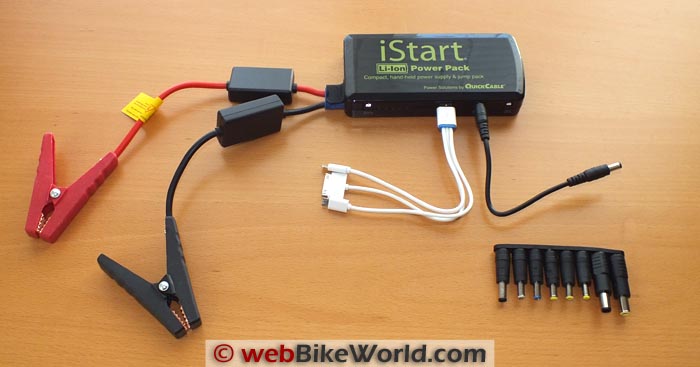 The LED Flashlight
I don't know the exact output of the LED flashlight, but it puts out a nice beam pattern that lights up an entire room.
For distance purposes, it is totally useable out to 15 to 20 meters (50 to 65 ft.).
Holding the iStart power button for three seconds activates the LED flashlight and a second push initiates the very fast and very attention-getting strobe (as intended).
A third push activates SOS mode; the international Save-Our-Souls signal comprised of 3 short, 3 long and 3 short flashes.
A fourth push turns the LED flashlight off.
And speaking of on/off, the iStart automatically turns off after 30 seconds if not used in any way and it has built-in protection to prevent over-charging and over-discharging.
And like many other modern technology power cells the module does get warm, but never uncomfortably so.
12V Jump-Starting
This feature hasn't (yet) been needed.
But I have been present at a demonstration where a fully charged iStart Power Pack successfully boosted two small cars and the iStart didn't seem to be even breathing hard, serving to validate just what the module can do.
A specific warning made in using the dual-plug blue connector is that it must NOT be left connected to the vehicle jump-started for more than 30 seconds after the engine has started, as damage may be incurred.
Recharging the iStart
Using the included AC-DC wall charger, the iStart Power Pack takes just over three hours to recharge from a near zero state, within the range stated in the specifications.
The same task using the included 12VDC automotive charger takes a bit longer.
But at least it can be done from a vehicle source (I use a DIN Plug to Automotive Power Socket cable).
The five (blue) capacity indicator LEDs provide a visual indication of its storage or charging state:
5 LEDs = 100%,
4 LEDs = 80%
3 LEDs = 60%
2 LEDs = 40%
1 LED = 20% percent
When all five indicators are flashing storage or charging is at 10% or less and if the indicators do not light up the unit is depleted.
Regardless of how it is done and with an eye kept on the visual indicators, keeping the iStart power pack at full charge is pretty easy.
Just don't forget your international power adapters if needed.
Conclusion
Most of us know that modern motorcycle batteries are, for the most part, far more reliable than they were not long ago. This is due in large part to relevant technologies that minimize or obsolete maintenance.
Also, most of our accessories today are more electrically efficient than they were in the past, as well as being very effective for their intended use.
But however reliable we think our motorcycles are, as riders we still need to be prepared.
This means the ability to cope with a battery — old or new — that just won't crank the engine as needed, whether it's yours or someone else's.
To the rescue comes the Quick Cable iStart Power Pack, which is easily carried but not forgotten when needed.
Besides its emergency starting capabilities, it can be used to keep all of the other electronic toys (tools) charged as well, no matter where you might be.
The Quick Cable iStart Power Pack kit is a sensible investment that has already returned the investment I have made in it.
It isn't unique; I have found four almost identical kits, albeit with different specifications and sold under other brand names.
But buying it from a well-known, respected local source provides peace of mind regarding after-sales support. .
More 

web

BikeWorld

 Reviews:
w

BW

 Review: 

Quick Cable iStart Li-Ion Portable Power Pack
List Price (2015): $130.00 USD ($129.95 CAD)
Review Date: February 2015
Note:
 For informational use only. All material and photographs are Copyright © webWorld International, LLC since 2000. All rights reserved. See the webBikeWorld® 
Site Info page
. Product specifications, features and details may change or differ from our descriptions. Always check before purchasing. Read the
Terms and Conditions
!
Owner Comments and Feedback
---
From "H.S." (February 2015): "I also have an Antigravity Battery XP-1 (see D.G.'s comment below).
I just bought a cable from Antigravity for plugging straight from the battery to the bad battery via their proprietary cable that has an SAE adapter.
It will allow use of my Optimate 4 smart charger the rest of the time.
That eliminates the need to remove various bike body covers and seats to get at the dead battery connections directly.
Found it (here) at Twisted Throttle for $24. Plan to make up a 12V adapter to connect the Anti-gravity battery to my 400W power inverter to run a LCD TV at the home Raider games."
---
From "S.K." (February 2015): "Nice review of what will be a good tool to have along…unless one is flying.
Have you tried taking it aboard a plane? I have, on three different occasions.
Battery power-packs taken away by airport security. Once as carry-on and twice in checked baggage. Three different airlines at three different airports.
Several airlines have now announced that these rechargeable power supplies are no longer permitted on their planes for risk of fire hazard.
I travel internationally several times a year, and these back-up packs have been a God-send for me.
But these days I find that I have to buy a new one when I arrive if I'm going to be on the ground for any length of time."
---
From "D.G." (February 2015): "While I don't specifically use the iStart version of this device, I have one that looks nearly identical from Antigravity Batteries.
I bought it off of Amazon for an amazing $110 (Now $94.99 – Editor).
Fortunately I have not had to use it yet but my neighbor's Harley benefited from a quick and effortless jump-start.
After the jump it didn't even loose a bar of charge! It spends most of the time in the trunk of my wife's car which provides piece of mind for me.
I think they are great products for any vehicle other than a diesel HD pickup. I highly recommend them."
---
From "E.Z." (February 2015): "When jumping a motorcycle, can this Power Pack be attached to the battery using the connection for my Beltran trickle charger?
Or do the alligator clips have to be connected directly to the battery?
Also, is there any problem using this product with a Shorai or other lithium battery? Thanks for having a great website!"
H.B.C.'s Reply: In any jump-start situation, it is always best/better to connect directly to the battery terminal/terminals, so no other harness/wiring/circuitry is involved that may cause issues.
I know others will or have used a more indirect connection.
But I don't recommend any of the alternatives, although I know many that use an SAE interface for everything — charging and jump-starting as needed.
And if the battery or its terminals are difficult or impossible to reach, sometimes a workaround needs to be provided for, including the electric starter terminals on some older Beemers.
A big concern is not so much the jump starting itself, but the output of the battery or vehicle being used as the source.
Many batteries, including from motorcycles, are or should be marked showing the maximum charging (amount) that should be used.
Jump-starting from like batteries (motorcycle to motorcycle, etc.) or portable power packs that may or typically have a lower maximum output should be OK.
It is interesting to note that most manufacturers or resellers of the technology-based cells like lithium don't recommend any form of jump starting.
Rather, they recommend recharging and recovery using an approved smart charger.
All of which does serve to point out that these technologies do have some (continuing) weak points.
Good point; I asked the question when I bought it, just got a 'should be' response (they sell and provide support for multiple brands of lithium-based products).
I sent a query off to the Shorai distributor, but didn't get anything back.
This would be a good follow-up point; I'm sure it will get asked by others.
Now, having said that, I've jump started a couple of GSAs, both of which had Shorai batteries and we got them both going.
I think part of any overall caution regarding this is that as soon as the motorcycle has started, remove the jump-start cables.