THE QUAIL MOTORCYCLE GATHERING:
A RIDE, A SHOW & AN AUCTION ALL ROLLED INTO ONE
I attended this year's Third Annual Quail Motorcycle Gathering at the beautiful Quail Lodge in Carmel Valley CA, and what an experience! To begin with, these 'Gatherings' are far more than just an awesome Classic Motorcycle Show, they've evolved very quickly into an entire weekend of two-wheeled hedonism. It starts on Friday (which this year fell on the 13th) with
The Quail Ride, a 120-mile loop through hill & dale all around Carmel Valley & the Monterey area, that ended at Mazda-Laguna Seca Raceway for 'touring laps' & a picnic lunch on the Corkscrew! Wow, talk about a day. Rode it on my trusty 1979 Triumph T140D Bonneville Special 'project bike'. Then, on Friday evening, we went to the Auction Preview Dinner for the upcoming Bonhams & Butterfields Auction, to be held the next day at the Quail. We got to view the bikes, relax with some champagne, and then enjoy a fabulous dinner prepared by the talented chefs at the Quail Lodge. This was my first opportunity to really take in, and fully appreciate the beauty of the Quail Lodge.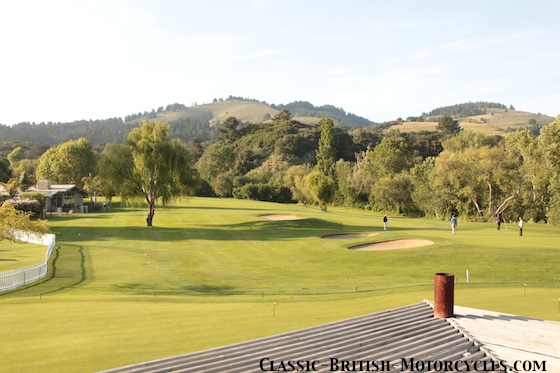 Attending this dinner not only afforded me the opportunity to check out the bikes that would be auctioned off the following day, but it also allowed me to see things before the show got started, sort of a 'before-and-after'. It really caused me to appreciate the sheer magnitude of an undertaking like the Quail Motorcycle Gathering, and the professionalism with which is was carried out is a testimony to the show's organizers and the brilliant staff at the Quail Lodge.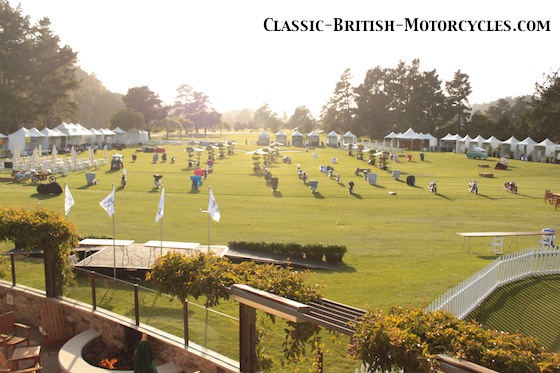 In a matter of hours, this quiet scene of Friday evening…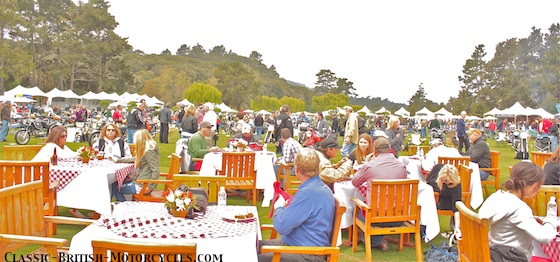 …INTO THIS!! Hundreds of bikes, thousands of people, vendors, the Bonhams Auction, a killer BBQ (prepared by the Quail's chefs) and even a great live band.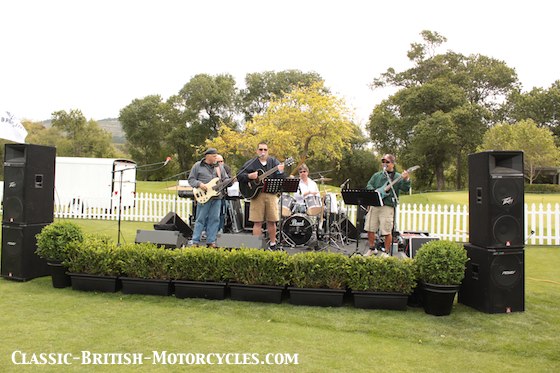 "THE BATHING SUIT BIKE"
Several very special motorcycles were on display at this year's Quail Motorcycle Gathering. One of Steve McQueen's Husqvarna dirt bikes was actually sold at the Bonhams Auction that night. But, even more special than that, and certainly more significant, was what is widely regarded as 'the most famous motorcycle in the world'. The famed "Bathing Suit Bike".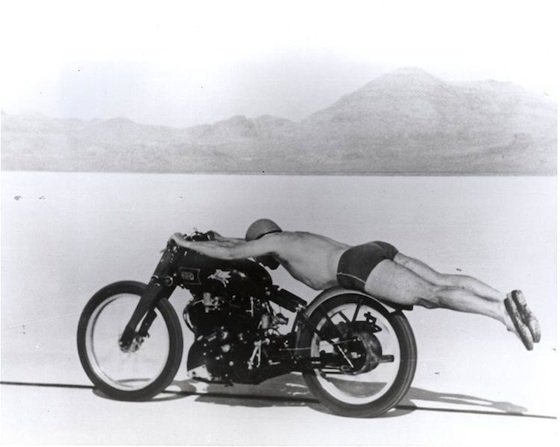 THE STORY OF ROLLIE FREE & THE BATHING SUIT BIKE
Text by Herb Harris
"On a cool Monday morning on Sept. 13, 1948, Rollie Free lifted from Harley Davidson the US national motorcycle speed record by riding the first Vincent HRD Black Lightning racing Rapide motorcycle to a speed of 150.313 m.p.h. When Rollie's leathers tore from early runs at 147 mph, he discarded them and made a final, heroic attempt without jacket, pants, gloves, boots or helmet. Aboard the motorcycle owned by the California sportsman, John Edgar, this final run resulted in the most famous photograph in motorcycling, the "bathing suit bike" shot taken from a speeding car on the Bonneville Salt Flats in Utah. Rollie lay flat out on the motorcycle wearing only a speedo bathing suit, shower cap and a pair of borrowed sneakers. The AMA certified Free's record. The Lightning remained in California and was raced as well as seeing duty on the street until it's owners moved to Michigan in the 1960's. Out of sight for decades, the bike has re-emerged recently in the hands of it's new owner in Texas. Special features included the first-ever Vincent use of a rear shock absorber, the first Mk II racing cams and horizontally mounted racing carbs still in place today on the Lightning. Seldom has a racing bike survived virtually intact for almost 50 years. Following a feature story in CYCLE WORLD MAGAZINE, the Bathing Suit Bike was flown to London as the star of the show for the LOUIS VUITTON CLASSIC in June, 1998. From there, it appeared as the featured bike at the VOC North American Rally at Mid-Ohio in July of last year. Since then, feature stories on the bike and its owner, HERB HARRIS, have appeared in magazines in France, England, Sweden and Italy. Stories about the bike have recently appeared in THE LONDON TIMES and THE LONDON INDEPENDENT newspapers and a segment on SKY TV in England. Most recently, it was featured at the Greenwich Conn. Concours D'Elegance covered by Speedvision. Little wonder that it has been named THE MOST FAMOUS MOTORCYCLE IN THE WORLD.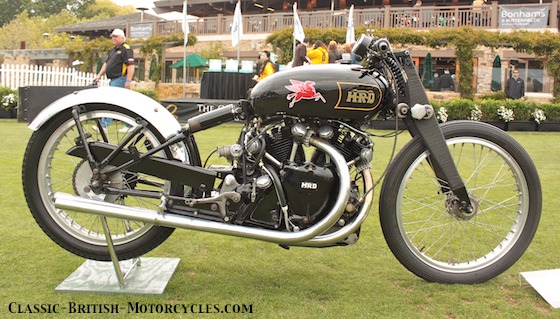 "THE BATHING SUIT BIKE" TODAY
This is THE actual 1948 Vincent Black Lightning that Rollie Free rode into history, here at the Quail Motorcycle Gathering. WOW!!
---
A WONDERFUL EXPERIENCE
My wife & I had a wonderful time a the show. The weather was perfect, the people were friendly, the food was excellent, the music fit the scene perfectly, and of course, the motorcycles were too gorgeous to describe with words.
ENOUGH ALREADY…LET'S SEE SOME BIKES!!!
The Quail Motorcycle Gathgering was not just for Classic British Motorcycles, but all classics. But, all I was focusing on take pictures of were our blessed Brit bikes. I was moving fast, trying to get them all before the crowds showed up. I didn't always take good notes, so some of these bikes are short on details. Let's start with some CLASSIC BRITISH MOTORCYCLES. Enjoy…
The bikes of the Quail Motorcycle Gathering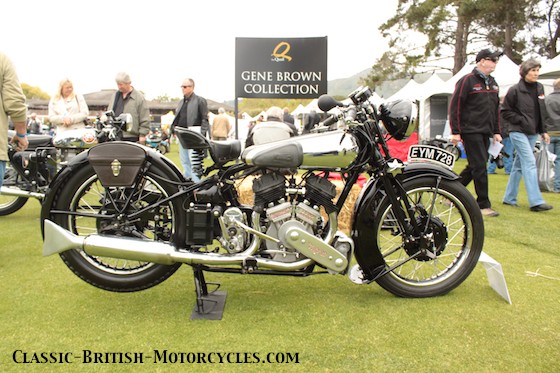 1938 Brough Superior.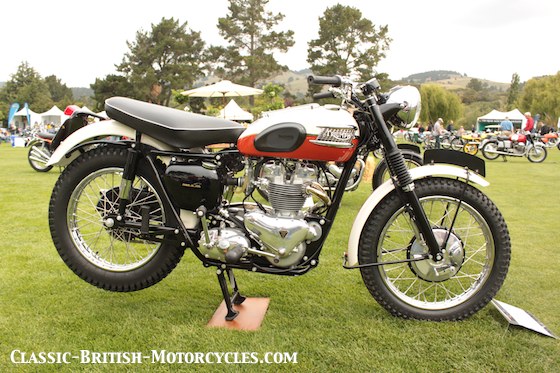 1957 Triumph TR6.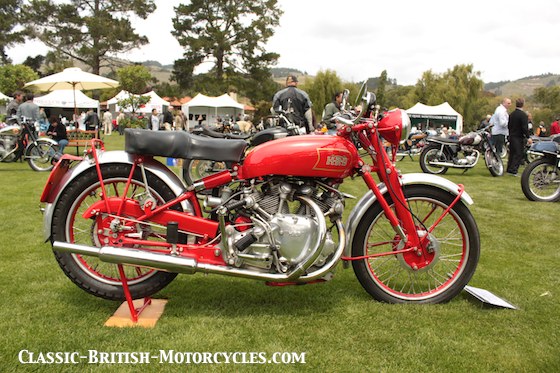 1951 Vincent Rapide.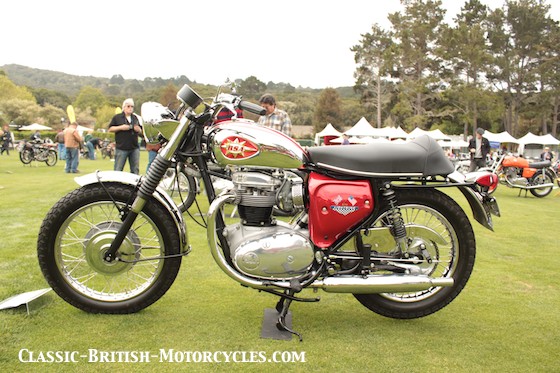 1970 BSA A65 650 Lightning.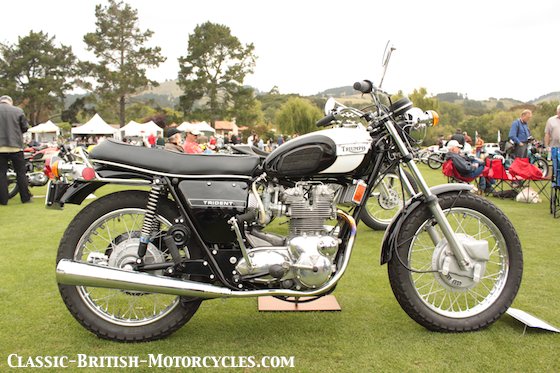 1971 Triumph T150 Trident triple.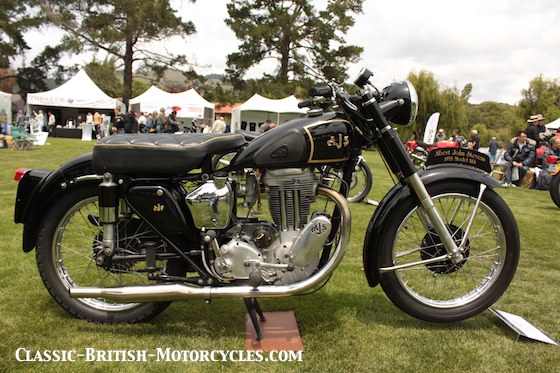 1953 AJS Model 18S.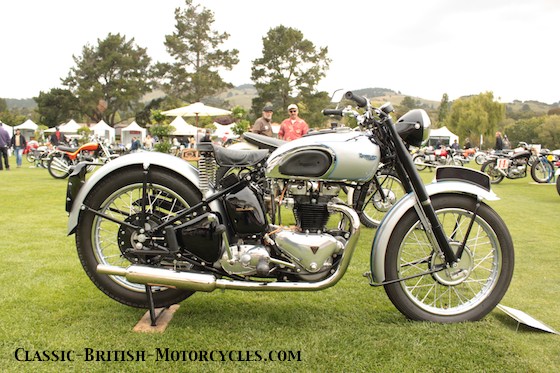 This 1948 Triumph T100 was not just in the Quail Motorcycle Gathering Show, it was also on Friday's Quail Ride.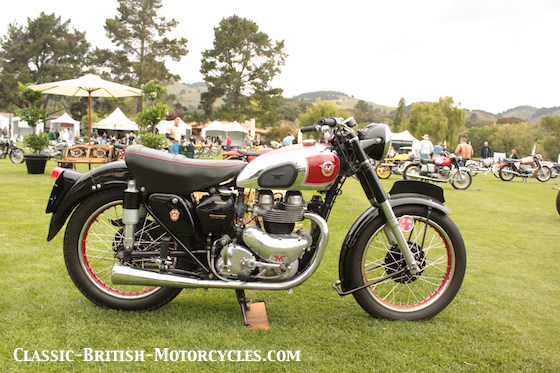 1953 Matchless G9.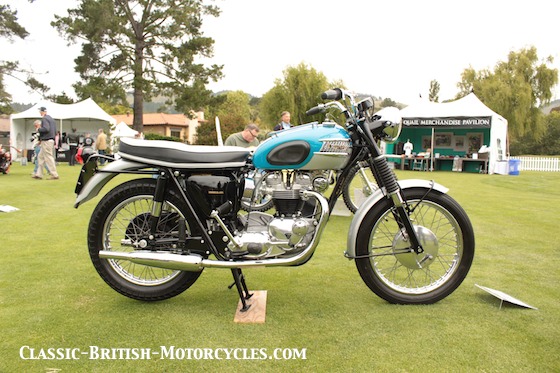 1965 Triumph T120R Bonneville.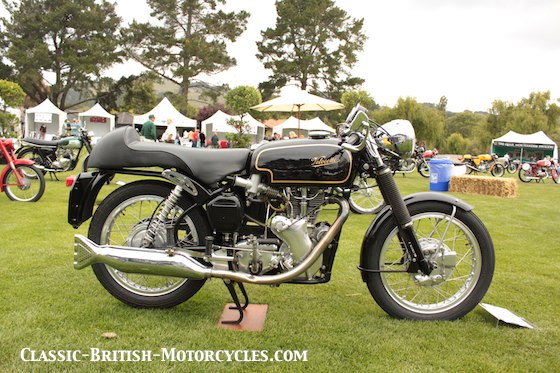 1966 Velocette Thruxton.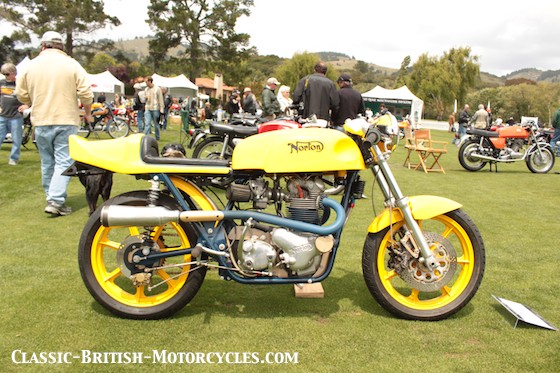 This wicked cafe racer actually started out life as a 1967 Norton P11. That's right, a dirt bike!! The P11 was an AMC hybrid that combined the Norton Atlas engine with a Matchless frame. A nice twist making it into a cafe racer.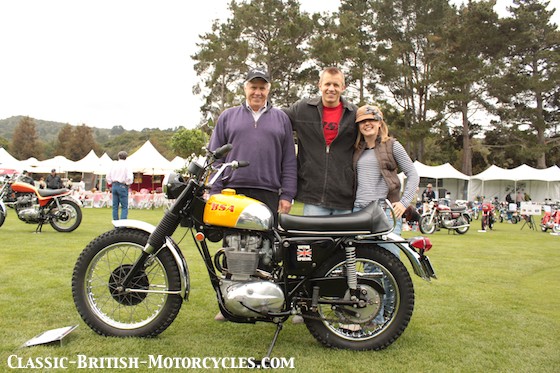 The smiling Simerals & their tidy 1969 BSA 441 Victor Special. They also showed this bike at the Clubman's All-British Weekend show in March.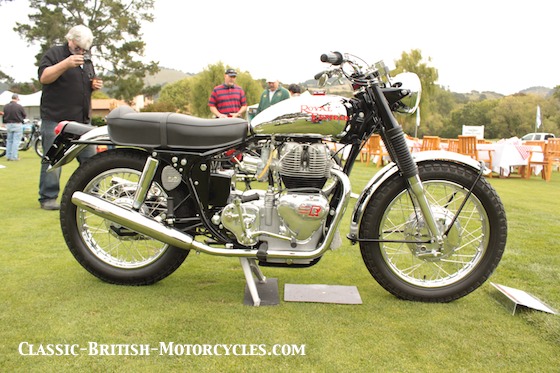 1970 Royal Enfield Interceptor.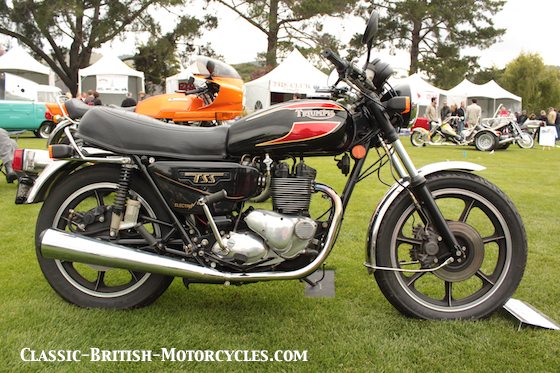 This rare 1982 Triumph Bonneville TSS (all alloy 4-valve-per-cylinder top end) joined us on the Quail Ride & showed well at the Quail Motorcycle Gathering.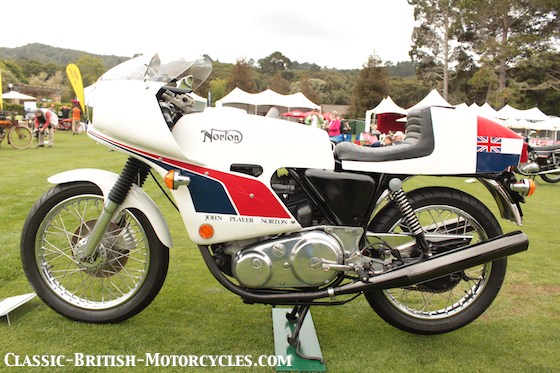 1975 John Player Norton.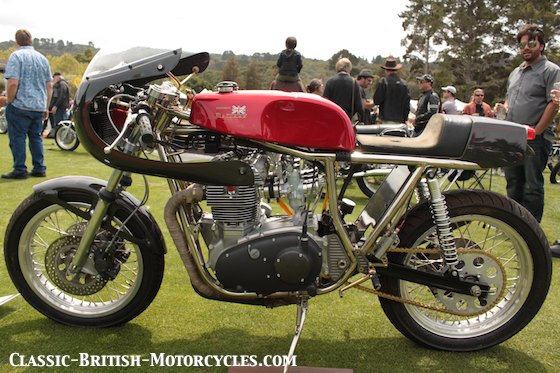 This stunning 1971 Rickman Metisse road racer has a 1000cc Trident stroker motor.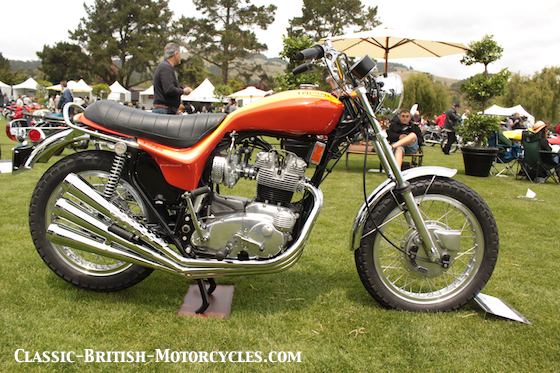 And what show would be complete without a drop-dead-gorgeous 1973 Triumph X-75 Hurricane?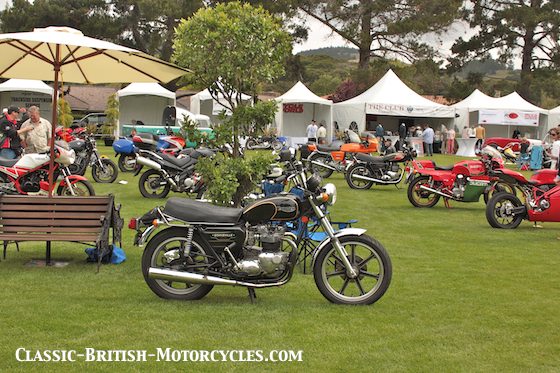 My humble steed on the Quail Ride, the day before, now displayed at the Quail Motorcycle Gathering. My
1979 Triumph T140D Bonneville Special project bike.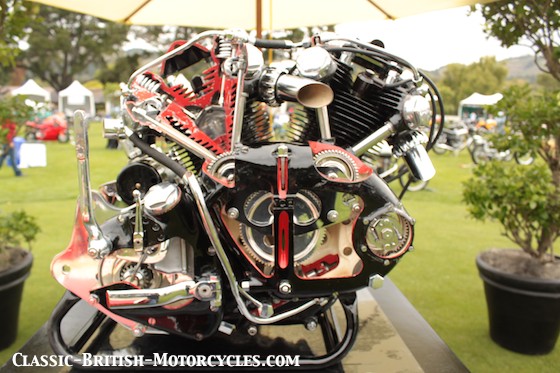 This incredible cutaway Vincent V-Twin engine was on display.

FOR A 360-DEGREE LOOK AT THIS ENGINE
CLICK HERE
---
COOL CUSTOMS & MUCH, MUCH MORE!
This year's Quail Motorcycle Gathering was much more than just a classic motorcycle show. It was indeed a fine venue to showcase some of the amazing one-off customs, choppers, bobbers, street trackers, cafe racers, prototypes & who-knows-what-else. Let's take a look…
Falcon Motorcycles was there in force with 3 unbelievable British-based customs. This Vincent-engined special, like all Falcon Motorcycles, was meticulously fabricated, and is totally, artfully unique. This one even has barrels custom cast in bronze alloy, for both their unique look & for added cooling.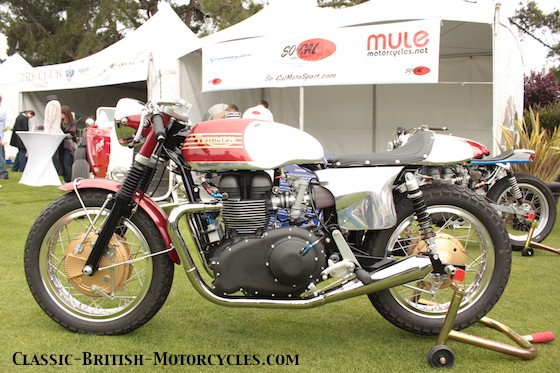 Another strong presence at this year's Quail Motorcycle Gathering was Richard Varner of Streetmaster Motorcycles, with several modern Triumph Bonnevilles that they have fitted out into a variety of retro-styles, a Street Tracker, a Flat Tracker & this ultra-clean Cafe Racer.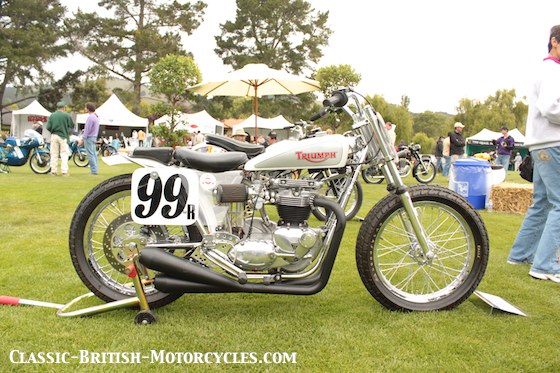 Check out this tasty Triumph Flat Tracker, done right.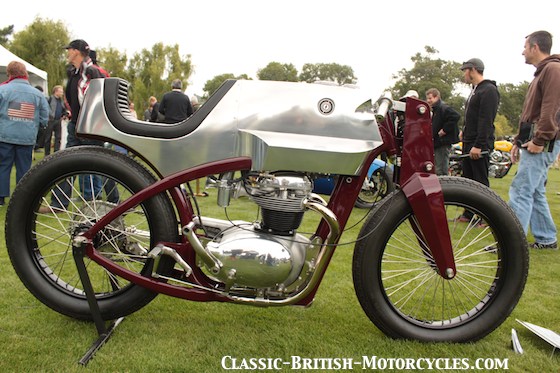 This incredible custom BSA is like nothing I've ever seen before. Part chopper, part cafe racer, the rigid frame doesn't have any round tubing in it, it's all custom-fabricated in flowing shapes. The huge alloy tank & seat-unit is beautifully fabricated & gracefully contoured. Such large, flat surfaces are hard to get so smooth, but these were done to perfection. It was built by Speed Shop Design.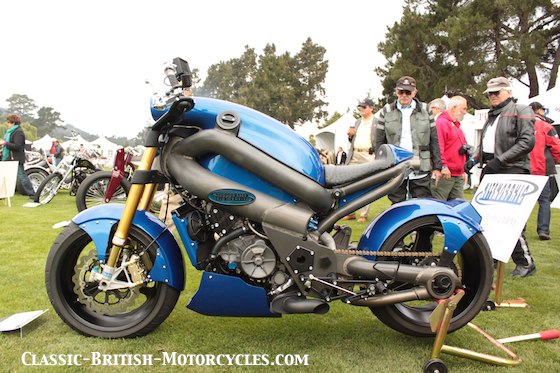 From mild to wild, you can see it all at the Quail Motorcycle Gathering. This is the radical Moto-Morphic, a limited-production bike that is just now hitting the market.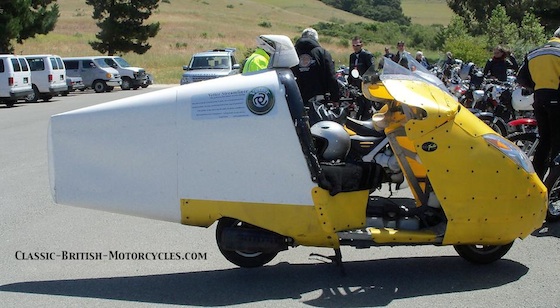 This daunting beast belongs to none other than the legendary Craig Vetter, designer of the Triumph Hurricane, creator of the motorcycle fairing as we know it, industrial designer extraordinaire. And now sponsor of the "Vetter Fuel Economy Challenge", in which motorcycles of virtually any design compete to see who can go the farthest on a gallon of fuel. Craig squeezed 89mpg out of this 'scooter-turned-streamliner', but was bested by two contestants this year, the best of which achieved 128mpg out of his diesel-powered motorcycle.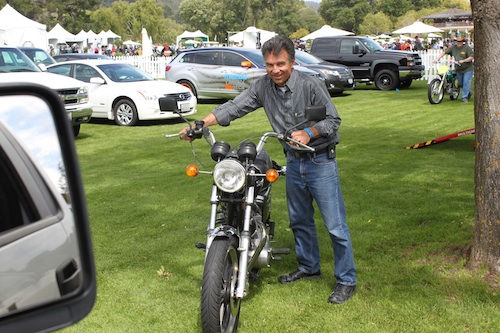 WOW! WHAT A WEEKEND!!
After Friday's Quail Ride, and Saturday's Quail Motorcycle Gathering show & Bonham's Auction, I was beat. I packed up my bike & headed for home, having had a fantastic time! Will I be back next year? ABSOLUTELY! This is one of the best Classic Motorcycle Shows I have attended.
I strongly urge you to make plans to attend next year's Quail Motorcycle Gathering. If you want to go on the Quail Ride, make reservations well in advance, as they only have a limited number of spots & they fill up quickly. The show & auction are a blast & you should have no problems getting tickets. The bikes, the food, the music, the setting, it doesn't get much better than this.