A replica of Jimmy's scooter from the 1979 film Quadrophenia is one of the highlights of a coming Bonhams Auction in the UK in September.
The 1966 Lambretta LI150 Series 3 scooter features the same red-white-and-blue paintwork, massive backrest, multiple mirrors and chrome guards as the scooter from the movie.
Quadrophenia is loosely based on the 1973 rock opera by The Who in which the hero is a pepped-up mod called Jimmy, played by Phil Daniels who is also known for his Cockney narration on the Blur hit, Parklife.
The film also features a cameo of Sting as a hotel bellboy and top mod in the scenes near the end which depict the Brighton riots between Mods and Rockers 50 years ago.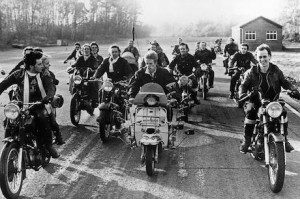 Mods rode scooters, listened to bands such as The Who, and wore fashionable suits and parkas. They often dressed their scooters up with chrome, pop paintwork and loads of mirrors in rebellion against a new law that they had to have at least one mirror on a motorcycle or scooter.
They hated the grubby and old-fashioned Rockers who liked the rock and roll music of the previous decade, wore black leather, had greasy hair and rode British motorcycles.
The replica scooter is expected to attract a lot of attention especially in this 50th year anniversary of the Brighton riots. Bonhams estimates it will sell for up to $22,000.
Bonhams is now inviting more collector motorcycles, cars and "automobilia" for the auction on September 6 at the National Motor Museum, Beaulieu, Hampshire.