Pro Cycle Saddlemen Seat Image Gallery
Flatter profile seat looks good and seems well made but doesn't quite offer the comfort I expected.
Read the posts in the various forums and you may end up believing that the original equipment DR650 seat is made from plywood and barbed wire.
The general consensus seems to be that the stock seat is an immediate throwaway.
My feeling is that it's not great, but I don't think it's as bad as all that either.
Sure, I wouldn't want to ride from Baltimore to L.A. sitting on the thing, but I have to say, I've sat on worse. Well, at least I could probably make it from Baltimore to Cumberland anyway…
I guess my butt has become so numb over the years from sitting on crummy motorcycle seats that my cheeks are beyond recognizing good from bad, because I also don't mind the stock Multistrada 620 seat, which also gets routinely panned by owners.
Pro Cycle "Saddlemen" Seat
As I was trolling through the vast Pro Cycle DR650 online catalog back when I first bought the bike, I happened to notice a sale they were running on their "Saddlemen" seat.
It looked pretty nice from the photos — although buying a seat based on photos is like buying a pair of shoes based on a text description without photos. Or without trying them on…
I couldn't find a decent review of the Saddlemen seat, but at $299.00, it was $50.00 less than the Sargent seat and $60.00 less than the Corbin, both of which get pretty good reviews by owners, so the price difference was attractive.
Besides, this is webBikeWorld, so we're supposed to be reviewing unique products and providing information that helps others make informed decisions.
So the Saddlemen seat fit the bill.
And that extra $50.00 would come in handy for buying a pair of the Pro Cycle engine case guards…
So the Saddlemen seat it was. When it arrived, I realized that the "Saddlemen" name actually refers to a motorcycle seat company and isn't just a Pro Cycle product name.
Saddlemen is located in California and they make a wide range of seats for cruisers, sportbikes, dual-sport bikes and more. Pro Cycle partnered with Saddlemen to design this seat specifically for the DR650.
The Pro Cycle Saddlemen seat is built on the standard DR650 seat pan.
That a plus because you won't have to worry about the seat not fitting the bike.
Pro Cycle says the besides the stock fuel tank, the Saddlemen seat will also fit the DR650 when an accessory fuel tank from IMS Products, Clarke Manufacturing or Safari Fuel Tanks is installed.
I'm still using the stock fuel tank on the DR650, which holds 13.0 liters, or 3.4 US gallons. Although I haven't measured the fuel mileage, a tank of gas seems like it lasts pretty long.
It is a bit scary because the shape of the tank with its sharp pointy top makes it look empty when you peer down into it not long after a fill-up.
But the gas sloshes around down in the large base, so let's hope it's enough to keep me going on my local adventures.
Pro Cycle says that the Saddlemen seat doesn't come with the rubber bumpers installed, but in a weird twist of luck, the stock seat on mine had no rubber bumpers, but the Pro Cycle Saddelmen seat I bought did have them installed.
In fact, I didn't even know the seat was supposed to have the bumpers because mine were missing, and having never seen a DR650 seat before, I didn't know any better.
Perhaps the original owner removed the bumpers in an attempt to lower the seat? I didn't really notice any difference when they were missing.
The Saddlemen seat comes with way-too-long screws sticking out where the seat brackets are supposed to go. The new owner must switch the brackets over from the stock seat, the only assembly required.
I then used the Dremel to grind off the extra length of screws sticking out the bottom of the Saddlemen seat.
Once the brackets were swapped over, the Saddlemen seat was a no-problem installation on the DR650. It goes on and comes off just like the original.
Here are some photos comparing the stock seat with the Pro Cycle Saddlemen seat: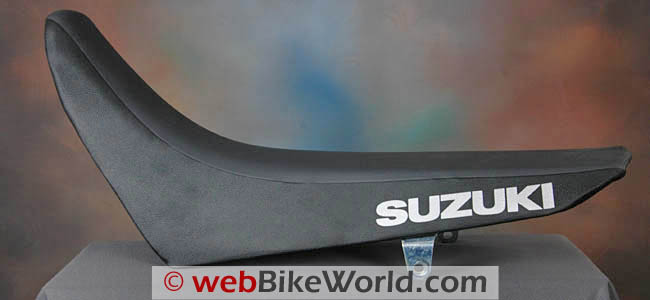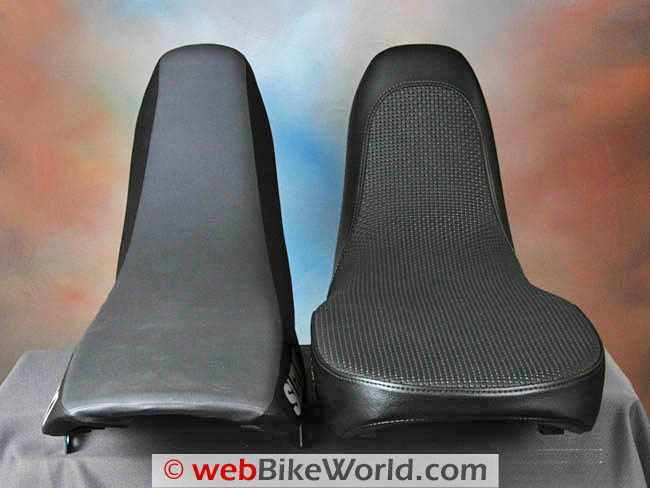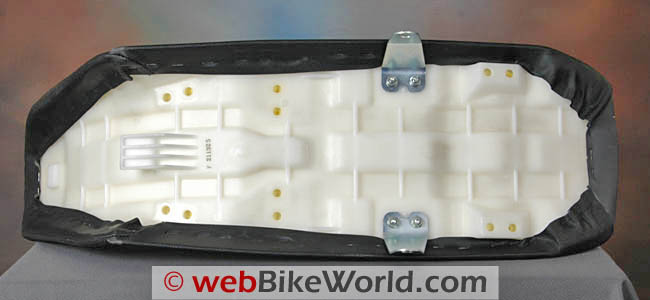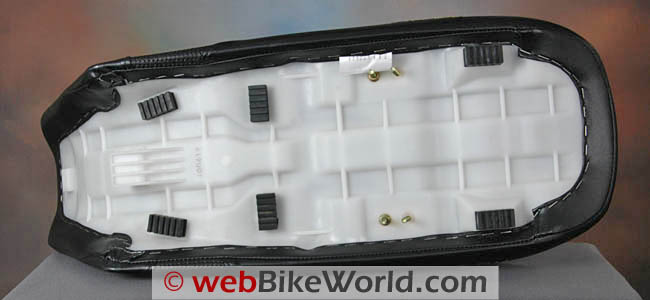 Riding Impressions of the Pro Cycle Saddlemen Seat
The first thing I noticed about the new seat is that it felt very slippery, especially when I was wearing textile pants.
This took me by surprise, because I initially thought the weave on the Saddlemen seat would provide better grip than the cover of the stock seat.
It is feeling "stickier" over time as it breaks in, probably due to the surface texture of the new vinyl becoming abraded.
But even after a few months of riding, I still feel like I'm sliding around on it more than I'd like.
The material on top is a bit loose also, but overall I'd say the build quality of the seat and the thickness of the covering is good and should last a long time.
My honest feeling is that the seat doesn't provide as much comfort as I thought it would. It does have a wider and flatter profile than the stock seat but it's not out-of-the-ordinary, "Wow!" comfy — just OK.
It feels more like a stock motorcycle saddle should be than a special-order item.
The seat foam doesn't have any particularly outstanding cushioning properties; again, it feels more or less like a basic motorcycle seat.
Pro Cycle now has an option for a gel seat insert when you buy a Saddlemen seat, and the price has gone up to $315.00 for the basic seat and $329.00 for the seat with the gel insert.
I haven't tried the gel version, but having tried gel seat pads on other motorcycles, I'm not too fond of them.
The inserts I've tried give me a sort of rocking motion, like I'm sitting on a beach ball instead of sitting solidly on a motorcycle. Also, the gel can get very hot when the seat is exposed to the sun.
The seat also isn't really sculpted in any particular way, and I will admit that I was expecting more of a shaped sitting area that would help relieve pressure on the, uh, "lower unit". It's more or less like sitting on a flat seat, that's about it.
By the way, Pro Cycle also now sells a Saddlemen seat cover kit, so you can take your stock DR650 seat pan and build it yourself.
This is a less expensive option at $149.00 for the standard kit and $165.00 for the gel kit, and although I haven't tried it, I don't think it would be too difficult of a project.
Although if you messed it up and had to enlist the aid of an upholstery service, there goes your savings…
I also wonder how much it would cost to bring the stock seat pan to a seat maker and have a custom seat made with memory foam and a sculpted shape?
The Saddlemen seat also has a strange change in height just where I sit.
It feels like a "hump" and it isn't noticeable when you look at the photos or the seat, and it can barely be felt when I run my hand over the seat, but I can feel it.
In fact, this is the most disappointing aspect of the seat for me, and I've even considered bringing it to a seat specialist to see if they can shave down the top of the seat at that point.
I can only assume there's a change in seat foam height to accommodate a passenger, but I never carry a passenger and indeed, I've even removed the passenger foot pegs from the bike, so I'm not concerned at all about a passenger.
I'd like to have the seat more sculpted where I sit and there's none of that, only that slight hump that I feel and there is a seat maker nearby so I may stop in one day to see what he can do.
As far as the width goes, it maybe adds a slight amount to the bike but I don't really notice any difference when I plant my feet on the ground.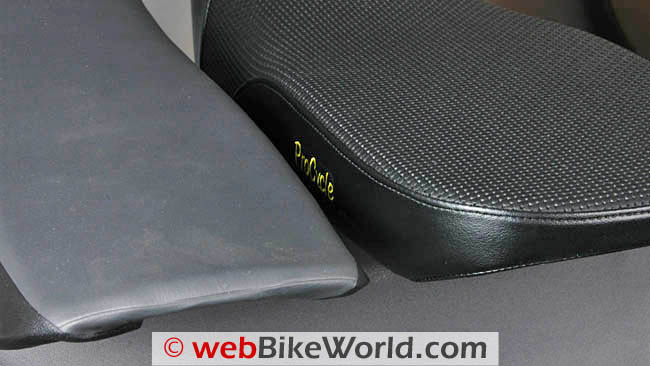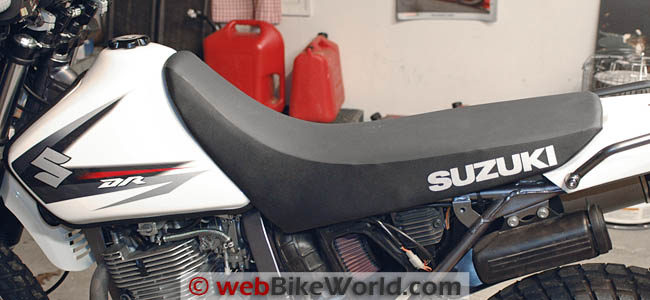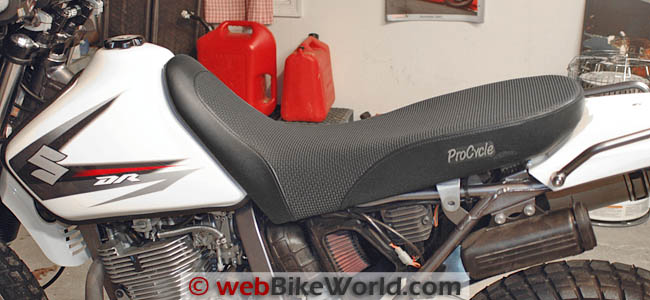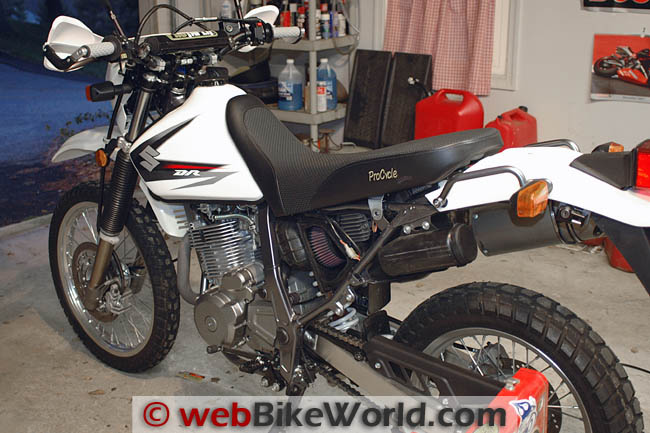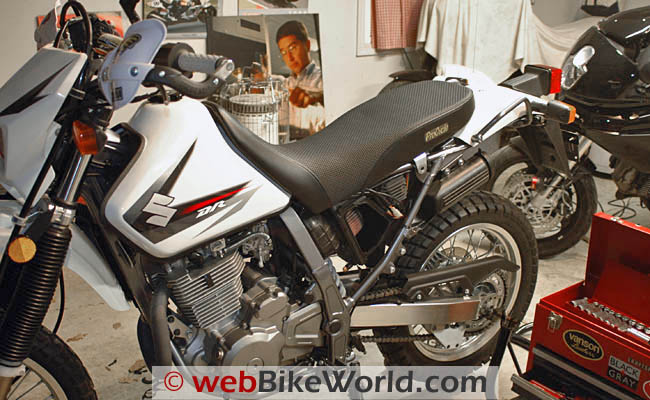 Final Thoughts
One thing's for sure — the Pro Cycle Saddlemen seat looks great. It gives a professional look to the bike; much better-looking than the stock seat in my opinion.
I guess I'm a bit disappointed that the seat doesn't feel as good as it looks.
The bottom line, I suppose, is "Would I buy it again?" The answer is probably not. No offense to Pro Cycle, because they have a fantastic assortment of goodies for the DR650.
All I can give you is my personal opinion, and I guess I expected more out of this seat, especially for the 300 bucks.
I don't have anything else to compare it to, so I don't know if the Saddlemen seat is better or worse than a Sargent or Corbin seat — both of which are available at Pro Cycle, by the way.
But knowing what I know now, I'd probably lay out the extra 50 bucks and try one of the seats that has received pretty good ratings by other DR650 owners.
Conclusion
The Pro Cycle Saddlemen seat looks great; it's a perfect fit on the DR650 and it seems to be made with quality materials that should last a long time.
I did expect that it would provide more comfort — the "Ahhhhh — that feels great!" factor.
I'm not fond of the difference in height that I feel just at the point where I sit, and the seat foam is firm but just doesn't have an extraordinary feel.
I haven't tried any other seats for the DR650, so I have nothing to compare it to, but it just doesn't feel all that special to me and $300.00 seems like a lot of money to pay for a seat that doesn't really overwhelm.
I'd appreciate hearing from DR650 owners on their seat choices?
Note:
 For informational use only. All material and photographs are Copyright © webWorld International, LLC since 2000. All rights reserved. See the webBikeWorld® 
Site Info page
. Product specifications, features and details may change or differ from our descriptions. Always check before purchasing. Read the
Terms and Conditions
!
Owner Comments and Feedback
---
From "D.L." (February 2013): "I just came across your site today, it looks great, and I'm looking forward to reading more about what this bike can offer.
I just recently bought a 2006 DR650, with very low kms. I'm a new rider, and haven't yet got it on the road. That should happen sometime soon, after winter releases its rainy embrace.
I'm not tall, only 5'1″ and the DR was recommended because it's low to start with, and has the factory setting to lower it still.
To increase the height drop, I modified the saddle myself. I took off the stock saddle cover, and shaved the foam down, so it's narrower and lower. To achieve this, I cut the foam with a serrated kitchen knife, and then sanded it.
I used a tin from a jar, punctured with nail holes to get the rough shape, then I smoothed it out with 100 grit. I made the neck of the saddle quite a bit narrower and lower, as that's where I'll need reach the most.
In addition, I glued some high density foam in the area where my backside will spend most of its time on the bike ;?
The foam was quite easy to work with, much to my amazement. In doing this, I was able to get another two inches or so of drop, believe me, I need it!
For the cover, I purchased marine grade vinyl, and stretched it as best I could. To be honest this part was a lot of work! If there are no other seat modifications needed, then I'll redo the cover and sew the seat pieces together to contour the material in the neck of the saddle.
I won't know how much more altering I'll need to do, until I get some time on the bike. I'm able to straddle the bike, and have my toes touch the ground comfortably.
Some people may think me mad, but I will start slow, loops in a parking lot and move on from there. If this doesn't work, I'll be trying something else, perhaps dog bones if need be, or take more foam off the saddle.
In any case, I'll let you know, if you're interested! thanks, happy riding!"
---
From "M.P." (October 2012): "The Pro Cycle seat looks very similar to the Corbin seat I bought for my DRZ400s. It looked very good, but I was disappointed with its performance when compared to the cost of the item.
Any time in the saddle longer than 1/2 an hour had me getting "hot spots".
The width of the seat was good, but the padding was way too firm. I added an Airhawk pad and the comfort improved significantly, although it felt very squirrelly until I let out most of the air. They work best when nearly flat.
My next effort for an aftermarket seat will be a Russell…it reminds me of my old Gold Wing seat! The style factor is not as important to me as the comfort factor :0]"
---
From "I.V." (May 2012): "After reading your description of the Saddlemen seat, I thought I'd comment to compare it to the Corbin I have on mine.
The Corbin was on the bike when I bought it, so I can't really compare it to the stock seat, but I was underwhelmed.
I'm glad it's on there (if the things they say about the stock seat are true), but I'd be pretty mad if I had shelled out the several hundred dollars to buy this on my own.
The Corbin also has a very slick surface to it that I still slide around on when I accelerate or brake hard. The Corbin also seems to have no padding on it at all.
I can feel it squish a little bit when I press on it with my fingers, but when you're riding, it feels like sitting on a wide, flat, wooden kitchen chair.
That said, there does seem to be a very slight "dish" in it that cradles a bit. Even with the lack of padding, it's still fairly comfortable over medium distances.
I've looked at the Sargent seats, and they look almost identical to my Corbin, so maybe it's just a limitation of the seat pan itself not allowing for much cradling, padding, etc."
---
From "S.G." (January 2012):  "Just an FYI — if this seat foam is like most I've fooled with, it'll be easy to shave with a belt sander. You can shave that hump right off of it, and even sculpt a slight "bucket" in to it if you want to.
I have a 30″ inseam and ride dual-sports, so I work on all my seats. Best of luck."
---
From "L.B." (06/2011):  "I just thought you may like to know about the best value seat out there for the DR650. Seat Concepts sell the foam/Cover for $159. It's amazingly comfortable. You can seriously ride all day and not feel any discomfort.
Took me about half an hour to fit it. Anyway. I'm very happy with mine and ride everyday on it. Others that have bought it are pretty happy with it too."
---
From "D.U." (05/11):  "Thanks for the review. While I can't say from personal experience on a bike yet, I wonder if you've considered a BeadRider seat attachment?
It does add some height to the bike, so you need to account for that. I have a similar attachment for my car seat and really appreciate the air flow and passive "Shiatsu massage".
When it comes time to have a bike again, I will definitely add the BeadRider (or similar brand) to it based on my auto experience."
Rick's Reply: I tried one on another bike, I didn't care for it, like the gel and inflatable seat pads, it seems to isolate me too much from the feel of the bike. I'd like to hear from others on this?
---
From "J.B." (05/11):  " While you are considering seat alternatives, the Russell Day Long seat gets my vote. Sure, it's more expensive, but the difference is huge, from "monkey butt" to "home sweet home."
I've had a Russell on my KLR for 8 years and am still in love.
The extra money goes to a wider, shaped seat that is "custom" fit to you and your bike. That, plus the option of a backrest make those long days of slogging the highways no problem at all.
Even after a 3 week, 7000 mile long trip to Newfoundland and Labrador, I was happy on the Russell. By the way, I am in no way affiliated with Russell, just a happy customer."
Editor's Note: Russell doesn't list a DR650 seat, but J.B. said "When I bought mine, they didn't have one for a KLR either. I sent in an old KLR seat so that they could use the seat pan and they made me my seat.
I've kept my old seat, just in case I needed it. It's getting dusty on the shelf.