Call This a Teaser Of Things To Come
It's still winter here in Alberta, Canada and it's been a longer and colder one this year with more snow in March than usual. For us northern motorcyclists impatiently anticipating the arrival of our short riding season, it's pure agony.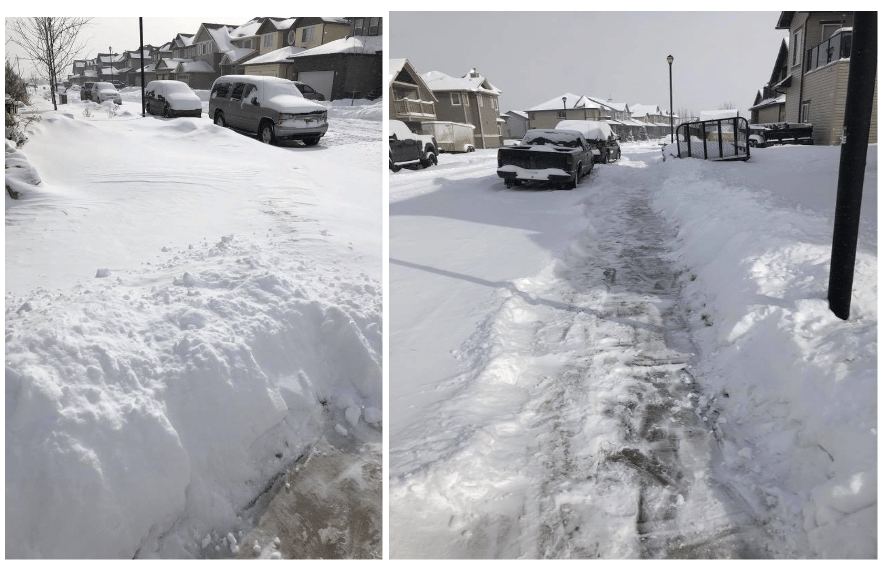 The sensible thing to do while your ride is cooped up in storage? Spend some time adding "farkles" or add-ons to it, while it hibernates. I've picked out a few items that I haven't had the chance to test yet, but our team is working on making contact with the manufacturers in order to get these products in my hot little hands.
It's the perfect time to feature a short preview leading up to the actual road testing – hopefully, to come in the near future.
You'll perhaps recognize a couple is upgraded versions of previously tested products while others are all new to WebBikeWorld. Let me know in the comments which ones you're most interested to read about.
MCCruise Aftermarket Cruise Control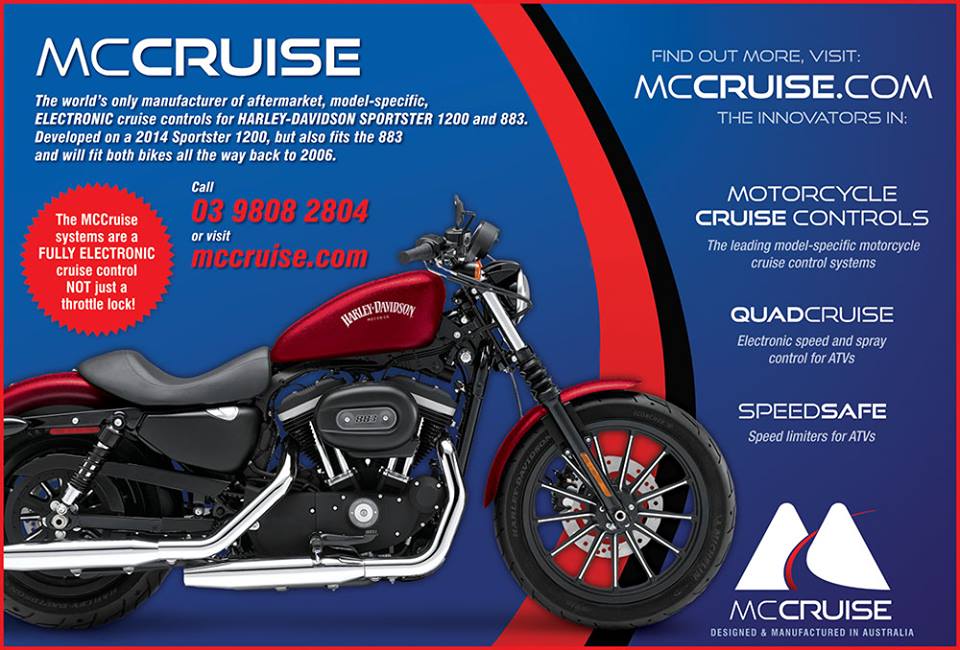 You Don't Know What You've Got 'Til It's Gone
Ever since I traded my 1999 Harley Ultra Classic for a much newer 2014 KTM 1190 last year I have really missed having cruise control on long rides. I contacted my KTM dealer and KTM Twins to inquire whether it could be added to my bike by them since it's a throttle by wire system and the newer 1290 Adventure comes equipped with cruise control from the factory.
No dice… but happily, after searching deep in the bowels of the internet I came across people mentioning an Australian company called MCCruise who since 1997 have custom built units to fit just about any bike on the market!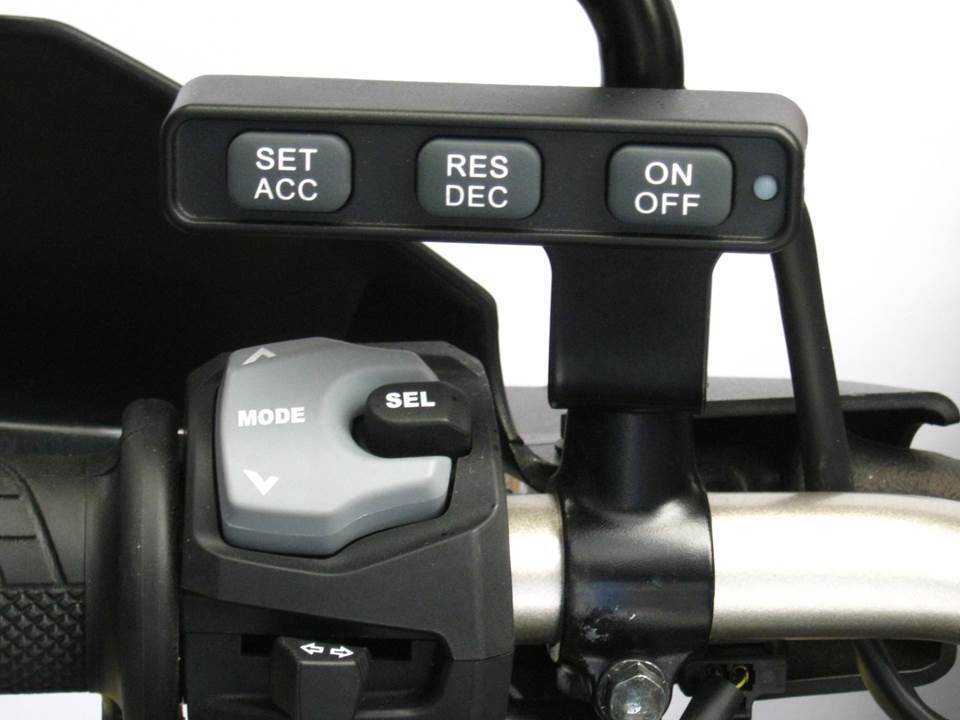 Keeping Motorcycle Cruise Control Safe
Putting safety as priority one the brothers (Tony and Frank Guymer) who founded the company build the cruise control units specifically for each model of motorcycle.
They offer a system that can be continually improved and adapted over its lifetime and so potentially could be the best unit available in motorcycle cruise control tech. This isn't a throttle lock, this is a cruise control system that works perfectly on your bike – Tony says 'better than the system in your car does' in many cases. Hitting the brakes or actuating the clutch shuts it off and there are push buttons to turn it on, set it and allow for increasing or decreasing speed too. Nice!
The MCCruise company makes the following impressive claims about the product:
Easy to install the complete system yourself with detailed do-it-yourself instructions for electronic Throttle By Wire systems or fuel injected/carburetted, cable controlled bikes. The TBW and conventional electric servo systems are 'plug and play' for most bikes.
Maintains set speed within +/- 0.0087 mph (at 60mph).
Control unit has a self-diagnostic feature to tell you if it's working correctly and if it fails – what the cause of failure was, but it always fails in a 'safe' state in the rare event of failure.
Firmware in the control unit can be updated/improved using an MCCruise app uploaded to your cell phone.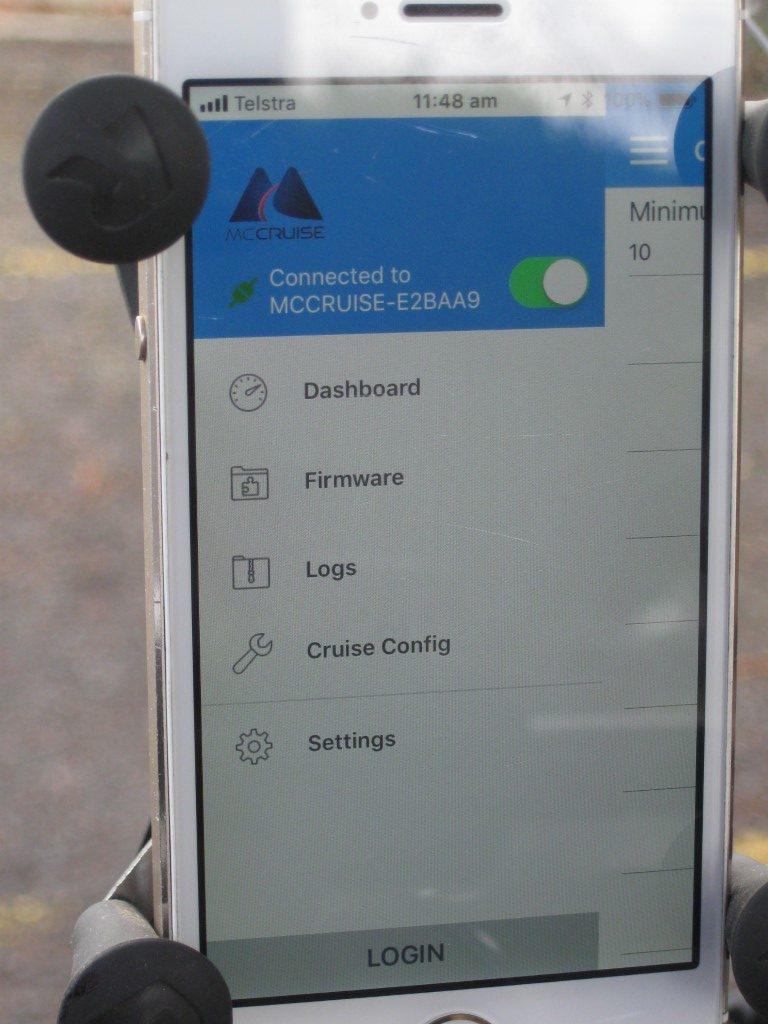 The MCCruise Control unit can be linked by the bluetooth module to your cell phone's GPS location data to give you a warning when you break the speed limit.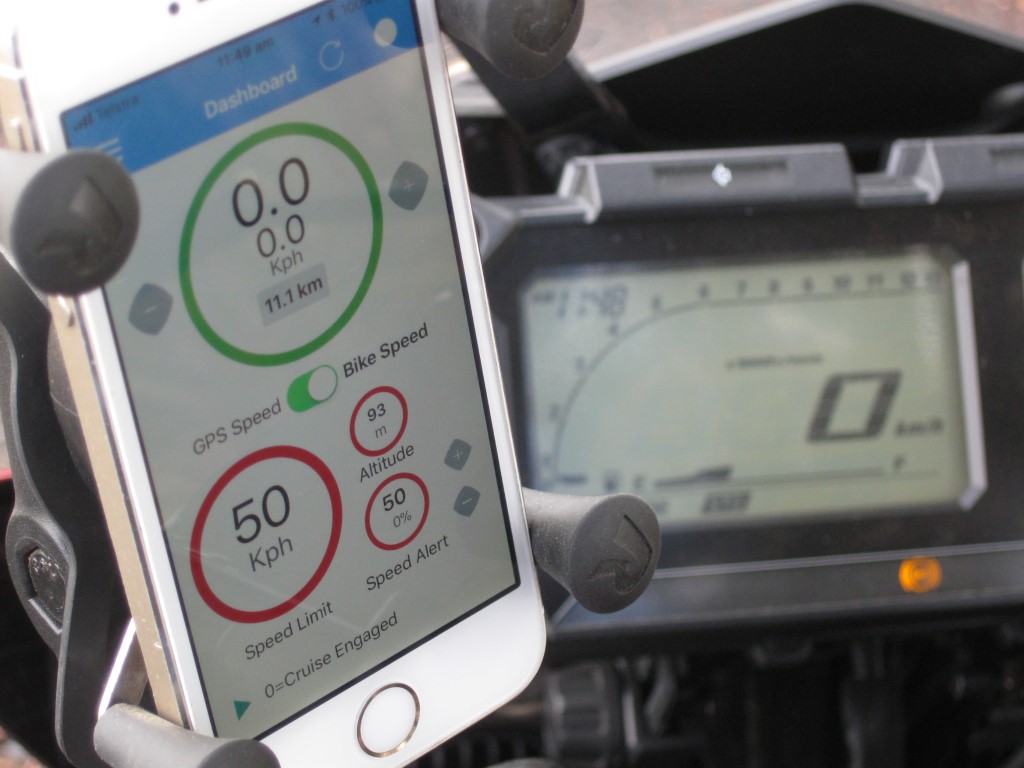 The MCCruise system costs approximately $500 US with shipping (from Australia) for the TBW kit and $775 for the servo actuated version.
Those prices are factoring in MCCruise celebrating their 21st anniversary and offering a 15% off sale.
Their new Bluetooth module will likely sell for around $80USD plus shipping, but that won't be available until May/June 2018.
SnapJack V2

What's It For?
The SnapJack is a small, folding, portable jack for the bike's rear wheel, designed to lift under the rear swingarm just enough to barely raise the rear tire off the ground. It allows you to clean and lube your chain anywhere, anytime. Very handy to take on long trips or just have in your garage at home because finding a good jacking point on a fully faired sportbike lacking a center stand can be challenging.
It's described as much easier and safer to use than a rear wheel stand is by the inventor Basil Paul Andrews. Basil says it can be difficult and a little risky to put a tippy sportbike on a rear stand by yourself, but the SnapJack makes it easier and safer.
Watch this video to get a full demo of the SnapJack V2 in action.

SnapJack V2: It's Back and Improved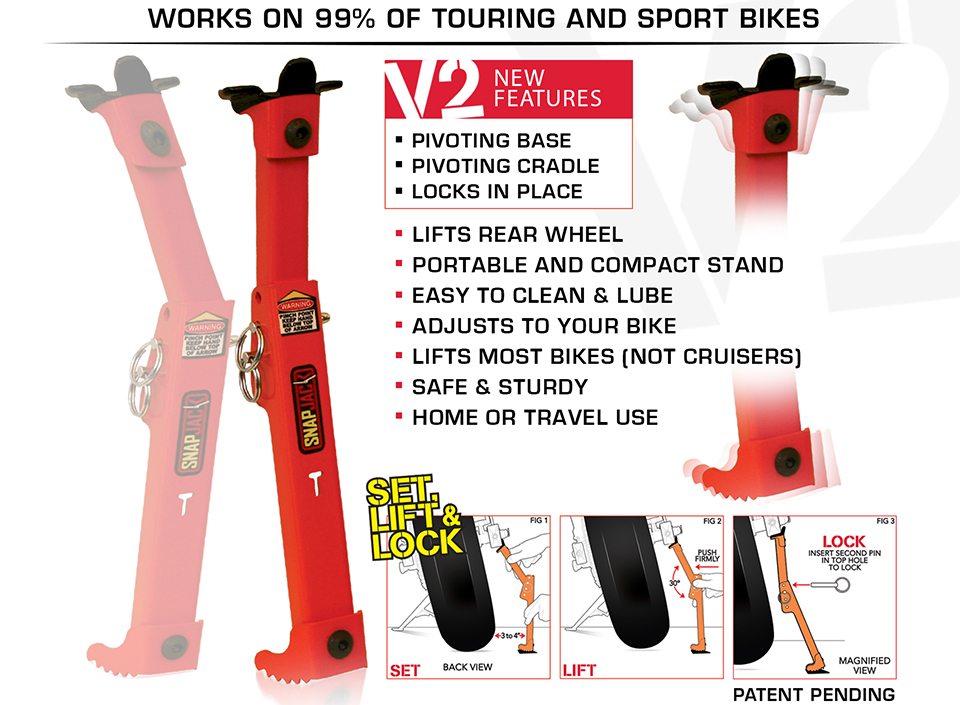 Three years ago we reviewed the original SnapJack made by Tirox and our tester liked the idea but had some concerns about it too. Original review here. The inventor took our reviewer's critique constructively and made improvements to the design, which makes us very happy. So happy that we want to bring it back for another look.
The Fixes Inspired by Web Bike World
Our tester originally pointed out the non pivoting head and base of the first SnapJack being a potential safety concern because the contact patch between the bike and jack would be limited. Ditto for the base and the ground making the whole thing tippy.
The new version of the jack addresses this by making both base and head pivoting.
The other main concern was that the jack didn't have a locking mechanism to keep it from folding back on itself once in place holding the wheel off the ground. The new version has a locking pin.
Made With Sportbikes In Mind
It's intended use is primarily for sportbikes and sport touring machines lacking a center stand. When you consider a decent quality center stand adds a lot of unwanted weight to your crotch rocket the SnapJack seems to make sense. Not to mention how much less expensive the $49.95 US price is comparatively.
The SnapJack V2 has a date with my Kawasaki ZX6 and its dirty chain if I can get my hands on it.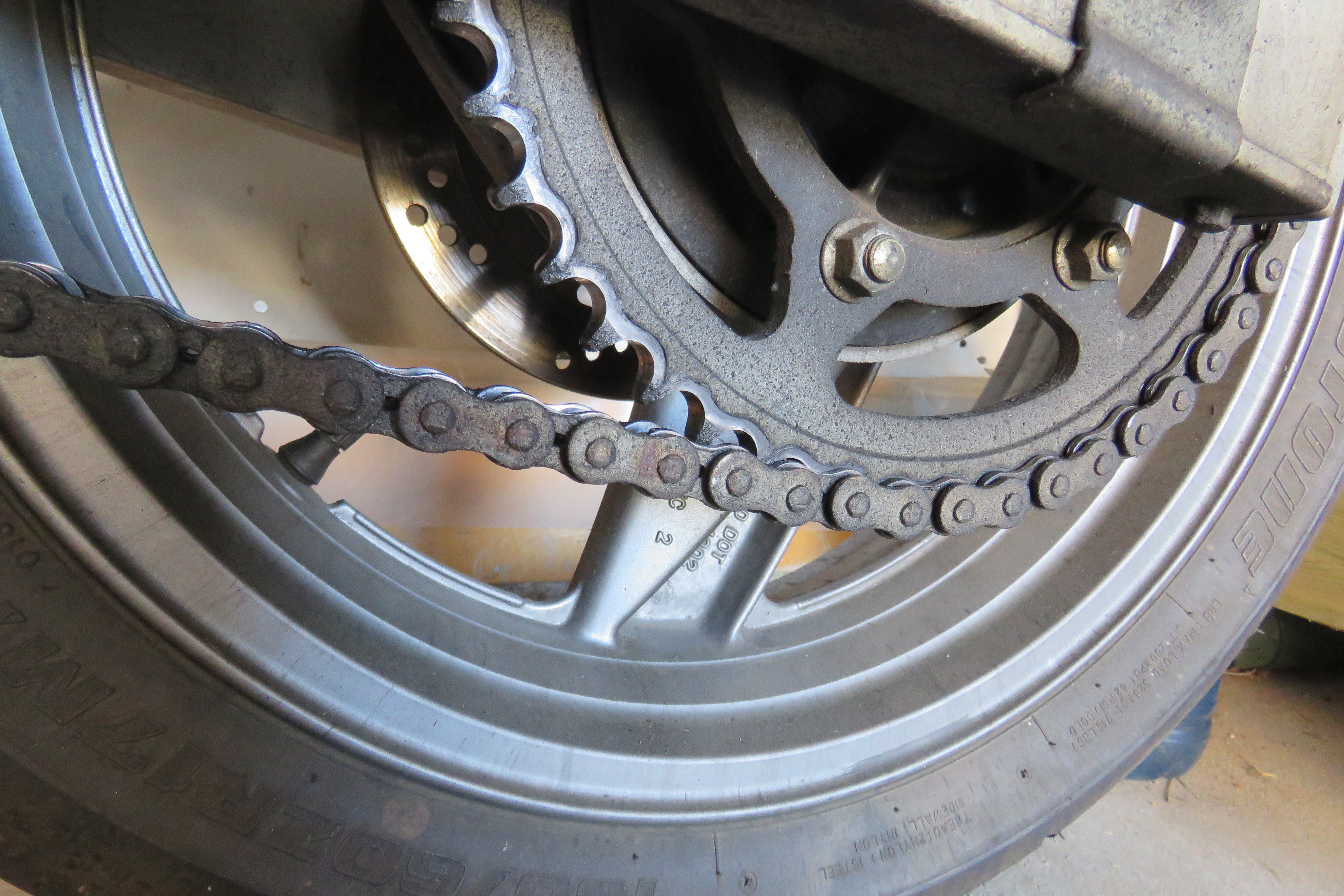 Tourmaster Synergy 7.4v Battery Heated Vest
The Synergy Vest: 11 Years After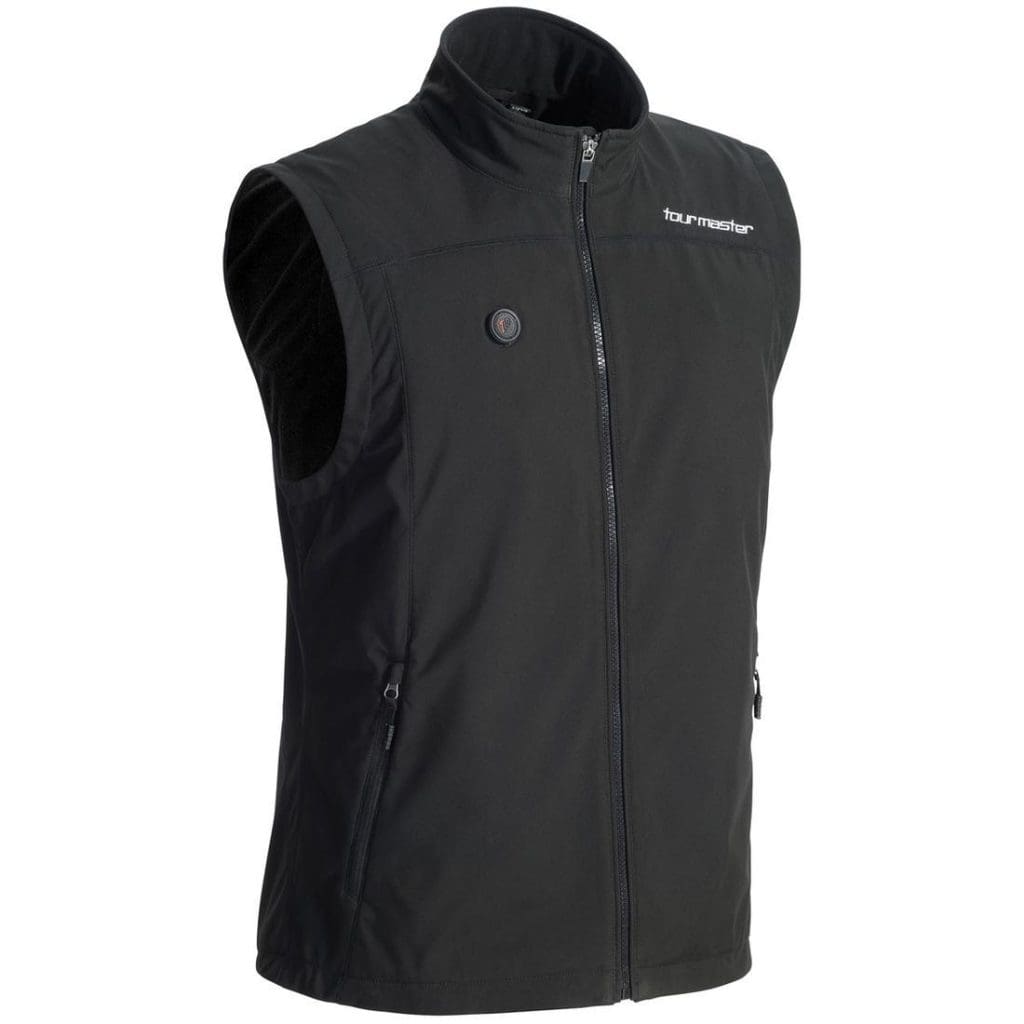 If you search the WBW archives waaaay back to 2007 you'll find a review we did of the Tourmaster Synergy heated vest. Review here.
This was a vest that plugged into the electrical system of the motorcycle and drew power from it to warm the rider.
Our tester really liked the fit, finish, price and the fact he couldn't keep it on the highest setting very long because of the ridiculous amount of heat it generated. He concluded with the statement: "The Tourmaster Synergy has the market cornered."
Thanks Jim, Excellent Suggestion
One of our readers named Jim who hails from Minnesota recently sent a request through the WBW Facebook page asking whether we could review the new battery operated Tourmaster Synergy 7.4v vest because he was interested in it, but couldn't find a good review of it anywhere.
Well played Jim. It's like you waved a red cape in front a bull saying something like that to me… I'm on it like white on rice.
Features and Numbers
The new vest sure looks like a big improvement over the Synergy V2 Vest on paper. I love the idea of "cutting the cord" and having a rechargeable battery pack so long as it's small and lasts a long time while keeping me warm.
How warm will it be compared to the plugin kind of vest? That remains to be seen when I get to test drive one in the near future. I can't picture it being quite as good since the battery will eventually die, but the temperature numbers in the stats below look good. I've highlighted some significant ones to keep top of mind.
Here are the details of the Tourmaster website for the new Synergy 7.4v vest.
All this for $181.99 US:
Available Sizes:
Men's: S – 3XL
Women's: XS – XL / Plus S – L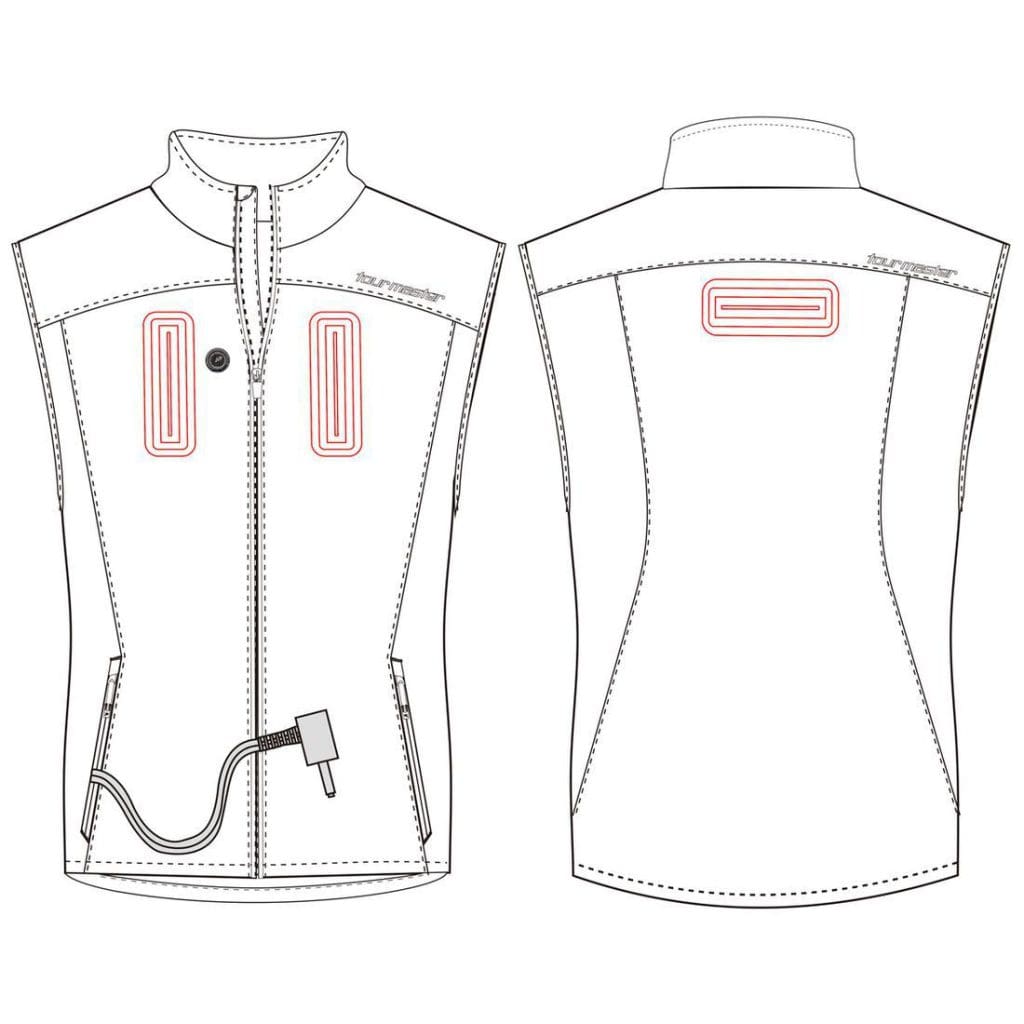 New four-level push button 7.4v design
Wind-Shark soft shell breathable and treated waterproof fabric construction
Microfiber lined collar and interior of the vest
ESO locking front zipper, front hand pockets, inside storage pocket
Shock cord waist adjustment
Lycra cuffs for comfortable and secure fit
Three 6.5″ x 2.5″ heating panels lined with steel alloy fiber elements
Optimum placement of heating panels, with two on the chest, one on the back
Battery life ranges from 2.5 hours on high to 10 hours on low setting
Surface temperature ranges of 135°/100%, 120°/75%, 105°/50%, 90°/25%
Includes one 7.4v 2.0Ah rechargeable lithium-ion battery and dual charger
(packaged separately)
Prediction?
I'm very interested in the notion that a rider could carry an extra battery or two with them for this vest to use after draining one down. I'll definitely have to confirm whether or not it can be swapped out easily once I get to try this vest out.
I am going to remain objective and not pass judgment yet, but it's hard not to get excited and think this new wireless Synergy vest might hit the same mark as its Grandfather did in 2007.
Husqvarna Pilen Helmet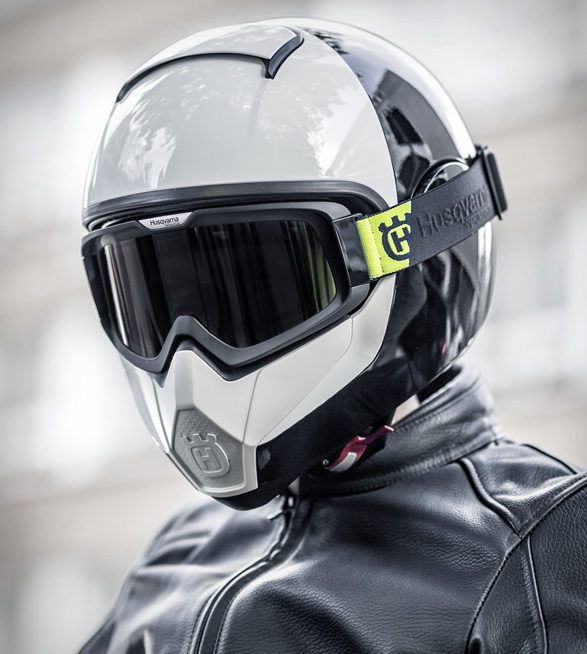 For some reason, I was immediately smitten at first glance with the new helmet Husqvarna and Shark have produced together to compliment the new line of Husky street bikes due out this year. Perhaps it's the striking two-tone color scheme, the motocross styled goggles or just due to my love of Star Wars bounty hunter characters, I'm not sure.
The white front section contrasts the rear black area in a way that gives the illusion the rider is wearing a hockey goalie mask out of a Friday the 13th movie.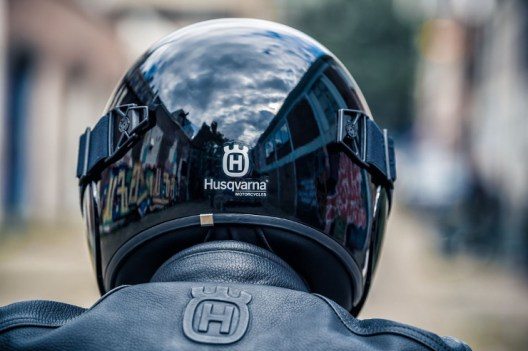 The helmet looks like it will fit very snug to the rider's head and won't feel bulky as some other helmets do… but that too could be an optical illusion.
The pilen (Swedish for arrow) is a handsome looking helmet equipped with a removable set of goggles Husky claims will accommodate glasses wearing riders better than most helmets do.
The visor plastic is thick, scratch resistant and can be quickly changed when necessary. Considering how long they've been building excellent off-road bikes I'm guessing Husky put all that knowledge into producing a terrific visor lens.
Add to this a micro lock chinstrap mechanism and a large vent on the top of the helmet and I'm all in for a hands-on review of this beauty.
How much will it weigh or cost? We're not sure at this point, but it's supposed to land in the North American market in the next couple of months.
Siima Sibirsky Super Adventure Riding Gear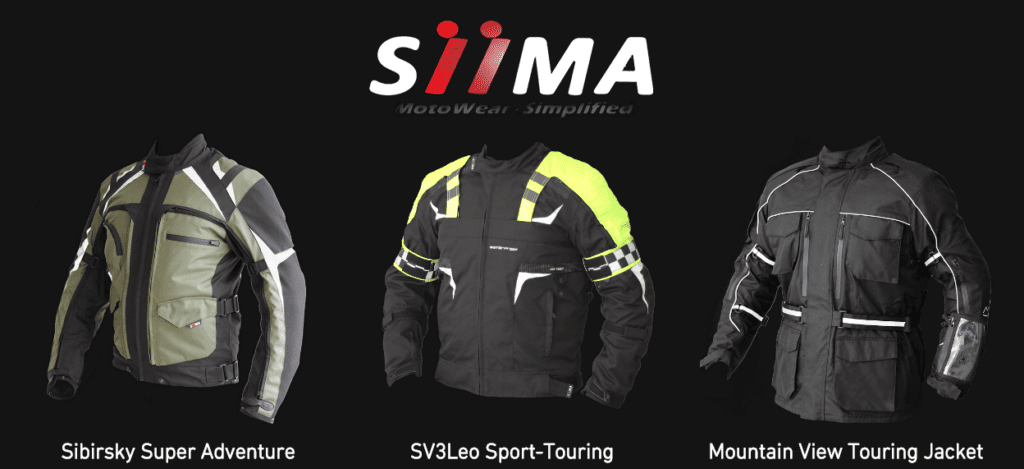 I came across this seemingly small riding gear company based in Nicosia, Cyprus called Siima about a month ago when I read a review of their Sibirsky super adventure gear done by ADVMoto recently.
In a market dominated by Klim, Rev'it, Rukka and other huge names, Siima stands as an interesting and much more affordable option for riders to consider.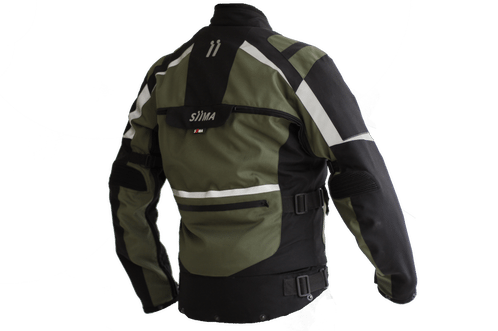 The Sibirsky jacket is the one I was interested in testing for the WBW audience. It's a modular design jacket according to Siima Founder and designer Giorgos Evripidou. The jacket has large, removable sections on the front and back lower portions equating about 80% of the surface area. When removed it exposes a mesh layer that allows for the most airflow in hot weather riding I've ever seen in a jacket. You can see it demonstrated in this video:

It's not just about ventilation though, this jacket is built from 600D Ballistic textile and has removable armor in the elbows, shoulders, and chest rated CE Level 1 along with a Level 2 back protector.
Other noteworthy features;
Outer waterproof layer included that can be stored when not worn in the pocket on the back of the jacket.
Pocket on the back will fit a 3L hydration pack (not included) and has a metal grommet opening to allow the drinking tube to feed from the pack up to the rider's mouth.
Adjustable arms, cuff, chest, and waist to get a good fit
Removable thermal layer included
4 large outer pockets
Reflective Striping
Affordable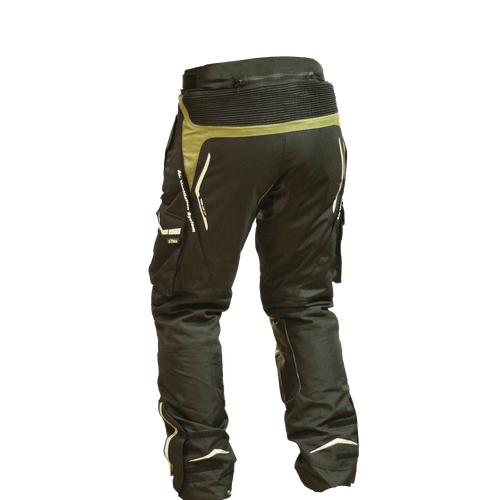 You can get the jacket for 289 Euros or about $300 US and a set of matching pants for just under $200 US more. There aren't too many complete sets of riding gear on the market boasting these features, let alone the modular aspect, so I'm very interested to get out and put this gear to the test to see how it does.
When I spoke to Giorgos about getting my hands on a Sibirsky he said he will even offer a discount to buyers if they'll leave an honest review of his products on his website too! He's very approachable and is easy to contact on Facebook under Siima Motowear or his name.
No problem, Mr. Siima!