Riders love to shoot their motorcycles, but often the results are dismal and disposable – good only for Facebook status updates.
Photographing motorcycles is complex because of the detail and the problems with reflections and light. It's also difficult to shoot yourself with your bike.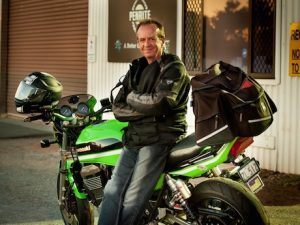 Now Kawasaki fan and professional photographer Michael Dooley of Knee Down Images is offering riders the opportunity to create a work of art that is worth keeping. "I want to photograph older riders with the love of their life and want something they can hang in their man shed," he says.
While today's mobile phones and digital cameras allow anyone to take "happy snaps", it requires a skilled artist like Michael to produce something worth treasuring. "Most people don't have a good appreciation of photography," says the lecturer in the diploma of photography in Brisbane. "I've been a photographer since I was 14 – 35 years ago," he says. Last year he started his Knee Down Images business to "combine my passion for bikes and photography".
Michael has been riding for about eight years. His first motorcycle was a 1986 BMW R 100 RT Classic and his second was an R 1150 RT. "I sold it when I got a bill for $3000 for a replacement alternator. So I went for Jap bikes," says the proud owner of a Kawasaki ZRX12. "I got into riding for the freedom," he says. "Being in business you work 80 hours a week and it's nice at the end of the day to go riding and unwind."
Michael had a motorcycles accident almost 12 months ago that changed his life and business. "It was 9.30pm and I was going home from work when a Hyundai pulled out in front of me on a wet road. It was a low-speed accident but I dislocated my AC joint and have had several operations," he says. "But it caused me to stop and think about my life and work, so I decided to rebirth as a motorcycle photographer. Sort of portraiture like the old painters, but with a contemporary kick."
To prove his talents, Michael photographs me with a Harley SuperLow I've had on long-term review. He scouts the location first and brings about $25,000 worth of camera gear and lighting equipment to the shoot which costs riders $100.
"I chase different locations for different riders because I always want to do something different," he says. We've set up late on a Sunday in the trendy Teneriffe cafe area of Brisbane among the historic brick woolsheds. It's atmospheric and it adds to the cafe culture attraction of the bike. Michael has obviously thought this through.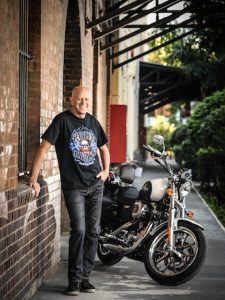 He sets up studio lights out in the street, on the footpath and behind the Harley to give me and the bike an outline that will stand out. He's kind of like an impressionist artist. "Anyone can operate a camera, but photography is all about lights and I look to control the light situation. Photography is drawing with light," he says.
Motorcycles are very difficult to light properly because of their black engines, reflective surfaces and shining chrome. As you can see from the photos, Michael has done a superb job of capturing all the bike's details while also giving it some mood.
But technical talent is not the end of the story. "The trick is to photograph the people as well and make both the bike and the rider look good," he says. The best professional photographers are not just technically skilled, but also good with people, making them do what often comes very unnaturally. Some cajole, some joke, some just have a good rapport. Michael is very encouraging and soon he has me working the camera as though I were a supermodel – a bald and ugly one!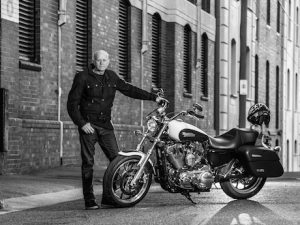 When the session is over, Michael posts the photos on his website under a secure password so you can view them and select what you want to buy. He recommends you buy prints to frame and hang rather than digital images that are rarely viewed and will be useless in years to come. 
Michael is available to photograph riders and their motorcycles in any city depending on bookings. He has even arranged to photograph Charley Boorman in October at the MotoGP and plans to go on one of his safaris to capture images.
Contact Michael Dooley on mobile at 0418 185138 or email.