Shoddy pothole repairs in northern NSW seem to be endemic and have claimed at least one more motorcycle rider.
Gold Coast rider Mike Wright says he crashed his 2018 Kawasaki Z650 on unsigned roadworks with a lot of surplus gravel on the Clarence Way 10km south of Woodenbong last month.
It follows similar crashes in the Kyogle, Byron, Wooing and Tomewin areas.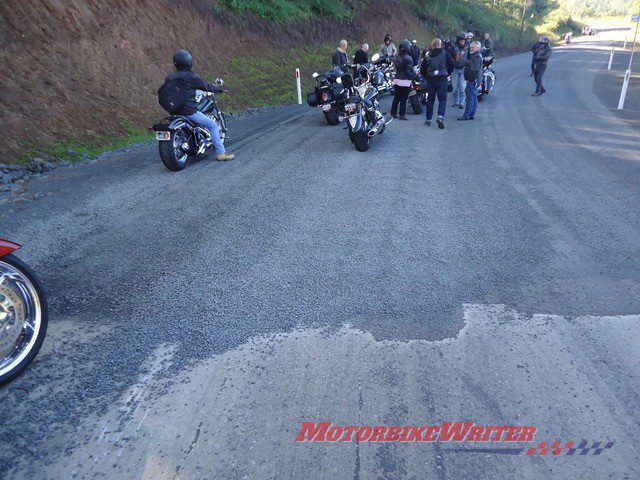 Mike says he was riding with three mates when they came across the roadworks.
"We came the other way the weekend before, so we knew there was patchy roadworks with loose stones so we backed off," he says.
"We were doing about 60/70 kays but it was like skating on ice.
"My mates ahead of me thought they were gone. They just drifted out.
"However, I was right on the edge of the road and it was soft and the front end just dug in, buried its nose and flipped me off."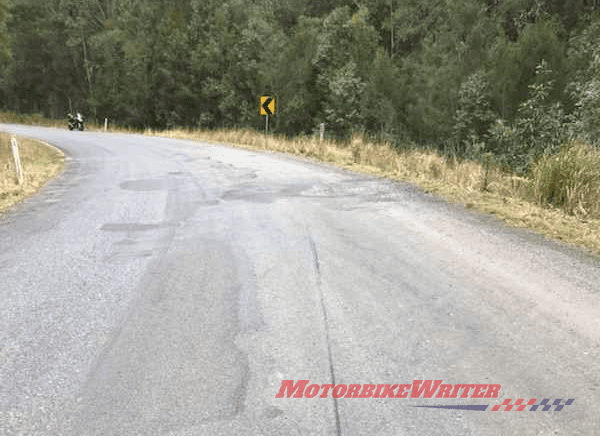 Injury and damage
Mike suffered a broken hip and still walks with a cane a month later.
"I was lucky that's all the injury I suffered," he says.
His Z650 has a bent gear lever and handlebars plus substantial scratching.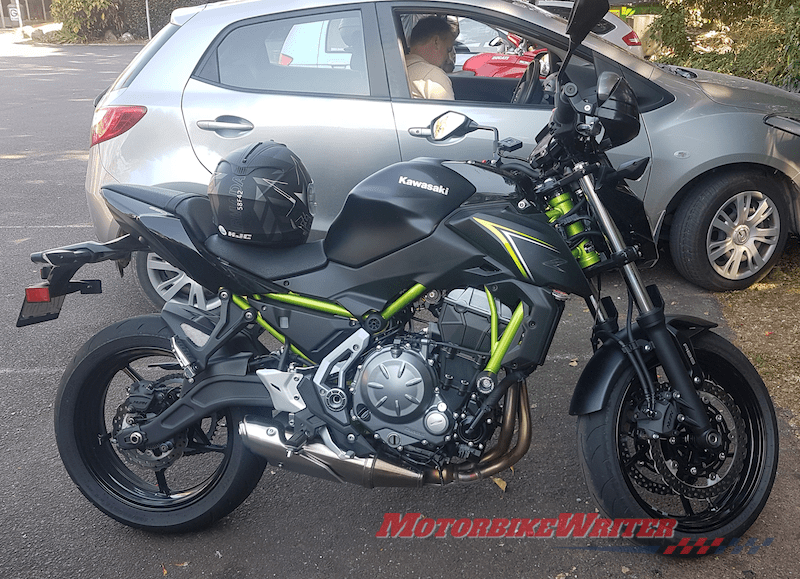 "I'm just getting a mate to fix it," he says. "It's insured, but you pay the first $400 so I won't bother."
Mike is considering legal action against council.
"It pisses me off," he says. "Even if they had signs there it might not have made much difference.
"That amount of shit shouldn't be there. All they have to do is sweep it."
Pothole repairs warning
NSW Motorcycle Council president Steve Pearce has previously warned about the pothole repair program being carried out throughout NSW, and possibly other states.
The pothole repair program involves a new process that leaves ball-bearing-sized gravel on the surface.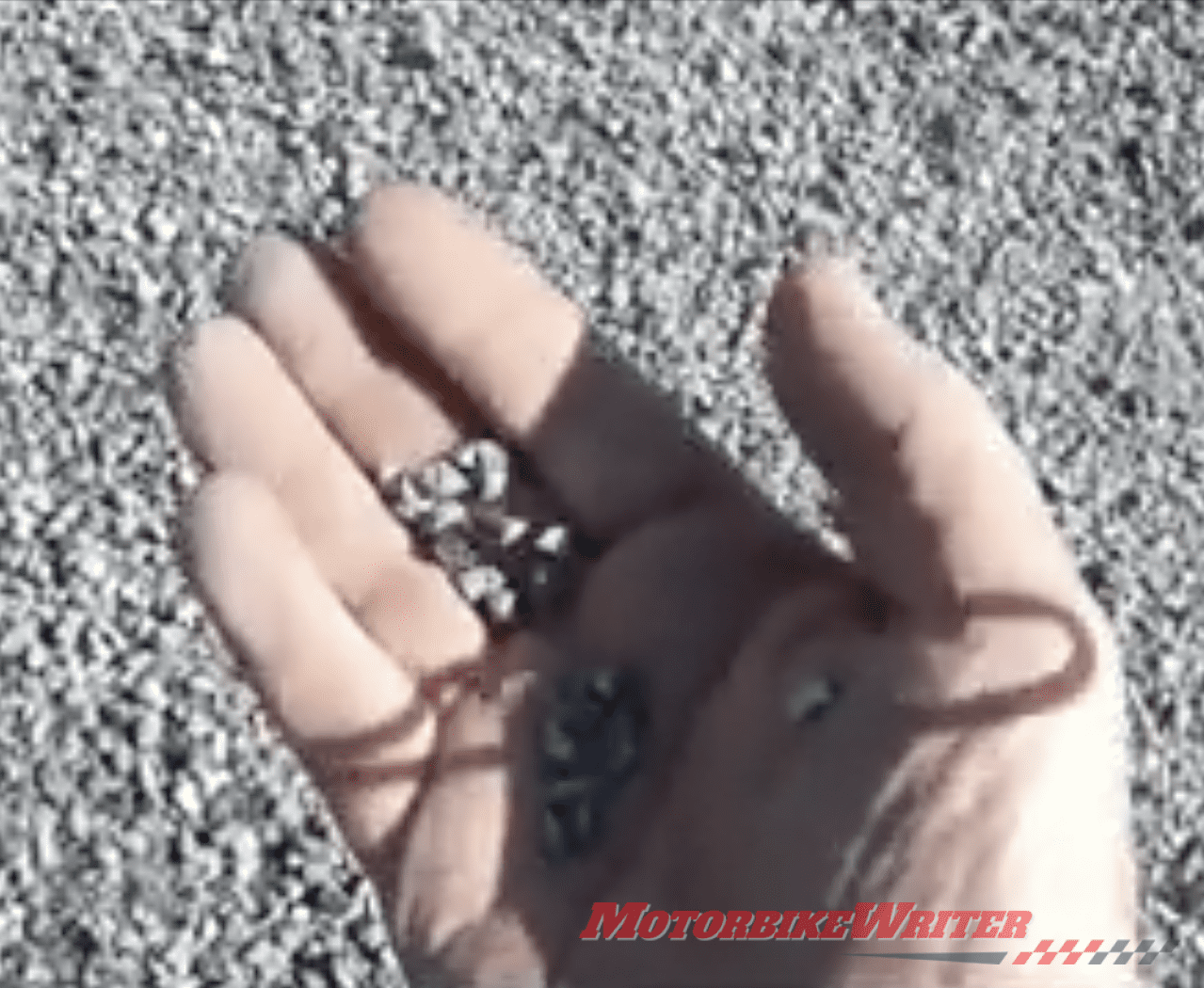 Steve says councils have a duty of care to all road users in their pothole repair.
"Leaving loose material on the road is a hazard to motorcyclists which is totally unacceptable," he says.
"I am calling for all councils to ensure their road repair contractors understand the risk caused by this practice and act quickly before someone is fatally injured.
"Also a call out for riders to watch out for repairs and exercise caution where repairs have been done. And of course let MCC know where these hazards are located so we can act."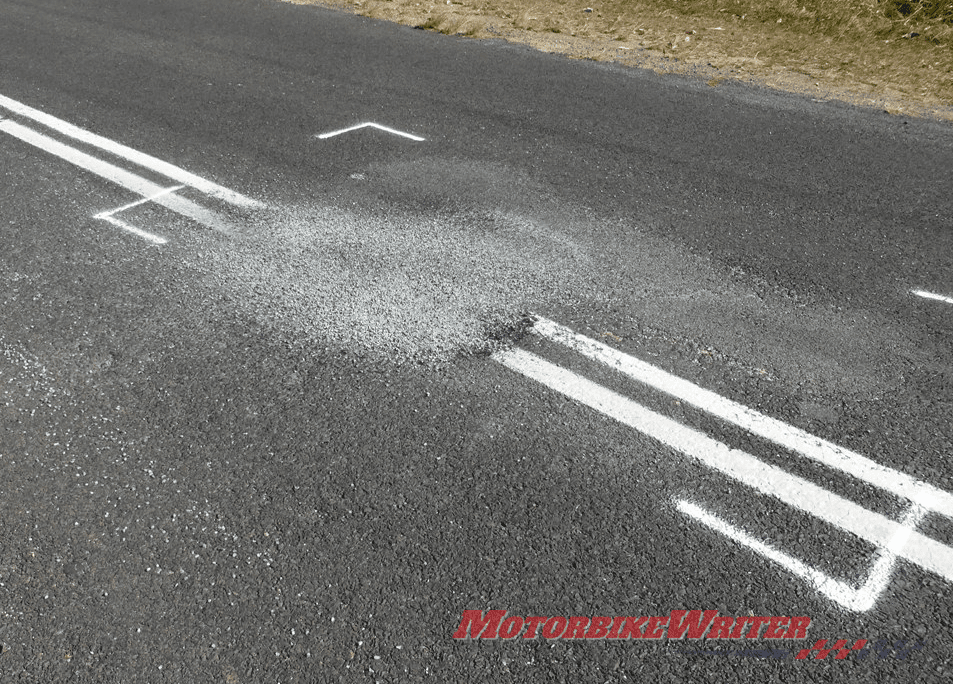 A NSW Roads and Maritime Services spokeswoman confirms the new repair program is being used by rural and regional councils.
"These repairs involve applying heated bitumen to potholes with aggregate laid across the surface to prevent bitumen from adhering to the tyres of vehicles.
"This aggregate may initially appear loose across the road surface but will either form part of the roadway or be swept to the roadside by the movement of traffic within 24 to 48 hours after the repair is completed."