"These things are a treat to use. I'll never solder or crimp again if I can help it. I'm going to add a few of each size to my on-the-road tool kit and stock some in my garage. Feel free to quote me."
From Posi-Lock user "P.M." (More comments below)
Electrons and me just don't get along… I'm not sure why, but I just never got the hang of working with electricity.
I have one of those fancy digital thingies with a complicated display that supposedly allows you to see if there are volts or amps or something flowing through wires.
But I've never quite figured it out nor trusted what it's telling me — probably because I wouldn't know if what it shows makes sense or not.
But motorcycle ownership seems to require both mechanical (I'm OK with that) and electrical maintenance skills.
I seem to always find myself needing to, at the very least, splice wires together for auxiliary lights, horn relays, LED brake lights, and more.
I always figured soldering was the best solution for motorcycle wire splicing; I figured that a decent soldered connection will keep the wires connected even after years of motorcycle vibrations.
There are numerous problems with soldering though — it's a pain to get out the soldering iron, heat it up, make the proper connections, and not fry your circuits, other wires or your fingers.
I also usually end up with a messy looking connection and some melted wire covering.
I recently tried using those wire twist caps like they use for household wiring.
They seem to hold two wires together pretty tight, and if you wrap electrical tape around the cap and wires, I'm guessing they will hold pretty well.
But I figured there has to be some new, modern technology that works better and makes the task of wire splicing easier. And while browsing the aisles of the local auto parts store recently, I found it.
"I tried the Posi-Lock connectors and agree completely with you.
They are pure magic at fastening wires…"
  Posi-Lock user "J.S." (
See Below
)
I bought a handful of these Posi-Products Products, Inc. "Posi-Lock" connectors on a lark to see how they would work, and I have to say that they meet the need!
It's such a simple concept — you unscrew the two threaded ends from the central connector and insert the wires, screw them back on and you're done! (See Photo 1, below).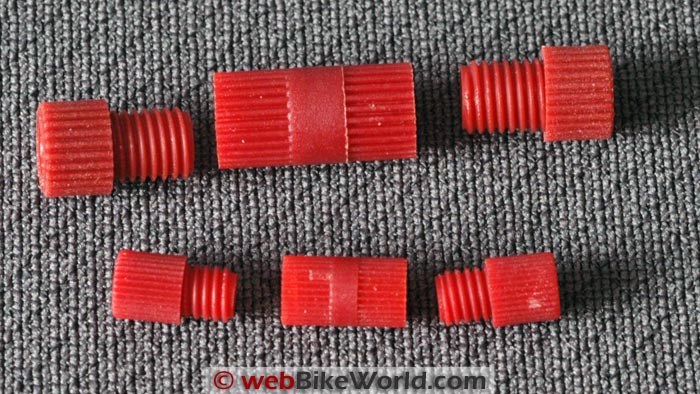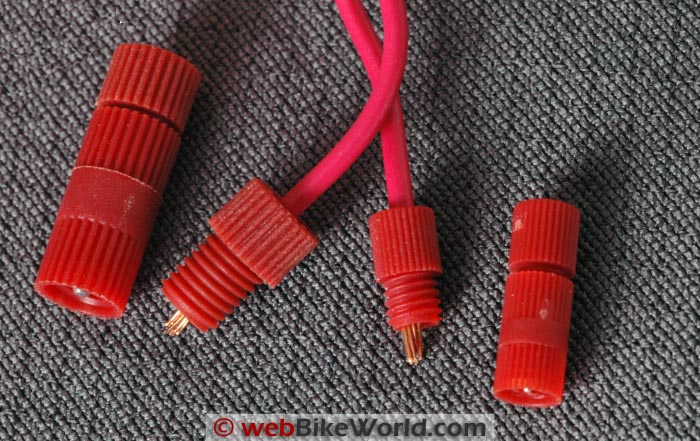 The central barrel-shaped connector has a metal conductor running through it, and when you screw on the ends, the wire is forced against the metal to make the connection.
You do have to strip the ends of the wire first to make this work.
Note that Posi-Products also makes the Posi-Twist Connector (see photo 5 & 6). But I use the normal Posi-Lock for splicing up to 3 wires and it seems to work fine.

w

BW

 Video: How to Use Posi-Lock Connectors
The Posi-Lock Connectors make wire splicing a cinch, and the connection the Posi-Lock makes is really solid.
I connected 3 18-guage (pretty thin stuff) wires together with a Posi-Lock and pulled on them just as hard as I could and they did not budge.
The two cone shapes inside the Posi-Lock Connectors lock the wire end in a vise-type grip giving it high pull strength.
Also, the design locks the threads to make a vibration proof connection, which is crucial for motorcycle use.
I originally thought to put a drop of blue Loctite on the threads to make sure they stay tight, but this is not necessary.
In fact, reader "J.A." advises against using blue Loctite on any plastic parts; he notes that it has been linked to cracking and failure of polycarbonate windshields and other acrylic parts.
The threaded connection on the Posi-Locks is tight enough that no thread locker is needed. I've never found one loose in all the years I've been using them!
I like the Posi-Lock connectors so much, I decided to get a bunch of them in different sizes so that I'd have them when I needed them.
They come in sizes to fit anything from a 6 gauge to 24 gauge wires. For motorcycle use, the 18-24 gauge and 12-18 gauge connectors will probably be all you'll need.
Also, the folks from Posi-Lock mentioned that several manufacturers use these connectors as OEM equipment on some automobiles; Bosch uses the ultra high temp Posi-Lock for their Universal Heated Oxygen Sensor, and VDO supplies the Posi-Lock with their 5″ Tachs.
I'm not sure why, but the Posi-Lock and Posi-Twist Connectors are not easy to find in your local hardware store.
The Posi-Lock "Assortments" are probably the best bet for motorcyclists; they contain the most common types of connectors you'd need for working on your bike (or car).
Posi-Products also makes the Posi-Twist non-inline connector; the Posi-Tite Weather-Tite connector; Posi-Lock fuse holders; Quick Disconnects and more.
SAE Standards for Posi-Lock Connectors

SAEJ1211
Section 3.2.3
Salt Spray Test
SAEJ1211
Section 3.2.4
Immersion & Splash Test
SAEJ1211
Section 3.2.5
Dust, Sand & Gravel Bombardment Test
SAEJ1211
Section 3.2.7
Mechanical Vibration Test
SAEJ1211
Section 3.2.8
Mechanical Shock Test
SAEJ1211
Section 3.2.1
Temperature Test
UPDATE (November 2015): Posi-Locks and Taps now have National Stock Numbers (NSN) for Goverment and Military orders!
Note on Recommended Posi-Lock Selections to Order for Motorcycle Use
Posi-Locks with a 14-16 or 18-24 gauge diameter cover the majority of uses on a motorcycle.
Posi-Taps of various sizes can be used to easily tap into power or ground wires when adding lights or other electrical gear.
These kits will give you a great assortment of Posi-Lock and/or Posi-Twist connectors with a variety of sizes that come in handy for motorcycle use!
UPDATE: More Posi-Products have arrived, including the Posi-Twist; here are some photos and a quick demonstration of using the Posi-Twist connector.
By the way, all of the Posi-Lock products are reusable, vibration proof and can be used at high temperatures; they meet the SAE standards shown in the table above.
w

BW

 Review: Posi-Lock Connectors & Posi-Twist Connectors
Suggested Retail Price: See Posi-Lock Sale Page Made In: U.S.A. and China
Note:
 For informational use only. All material and photographs are Copyright © webWorld International, LLC since 2000. All rights reserved. See the webBikeWorld® 
Site Info page
. Product specifications, features and details may change or differ from our descriptions. Always check before purchasing. Read the
Terms and Conditions
!
Owner Comments and Feedback
---
From "I.H." (3/09):  "At -25 Deg F. (Winnipeg, Manitoba, Canada) Posi-Lock is simple and easy to reconnect lighting wires on my trailer units. They are subject to corrosion so use a coating to keep out the salt/calcium/water."
---
From "C.G.":  "I got tired of having a big knot of wires every time I spliced several together, so I got the Posi-Lock assortment and Posi-Lock terminals.
They allow me to check out things before running all the wires and then having then fall apart prior to soldering and not knowing if the connections are right or not. NO soldering, no twisting and no knots. Good product."
---
From "R.K.":  "I had seen the Posi-Locks at auto stores prior to reading your review months ago. I gave them a try because like you I spend way too much time cussing at electrical connections.
I recently revisited your review and was delighted to see that they have added additional products to their line. Specifically I was looking for a 4-wire disconnect for the in tank fuel pump on my '94 Ducati.
A damaged power lead to the connector cause the pump to fail, so I was in search of the perfect connector to replace the POS OEM one…
These connectors ROCK!!!  What would once take all afternoon to do a simple (for some) wiring job (with questionable crimps/solders), now takes minutes. BTW, they ARE reusable. I add a little dielectric grease to the middle barrel for additional peace of mind." 
---
From "L.F.":  "Simply put-I decided to try these because of the review posted here. I wanted to use them when I installed by rear brake modulator…outcome…a neat and simple install. A great little product-thank you for writing about them." 
---
From "J.S.":  "I tried the Posi-Lock connectors and agree completely with you. They are pure magic at fastening wires.
Like you I dread using those crimp on things. No matter how hard I try they come off, or I cut the wire in half with the crimping tool.
By the way, I found a waterproof version that I used to relocate the rear turn signals on my 2002 Honda spirit 750. They have a two piece rubber cylinder that you slide over the wire before striping the wires and screwing them together.
Then you slide the two rubber pieces in place and they lock together. Having gown up in southern Iowa, I really questioned the invention of these being in Southern Missouri 🙂 but that's another story." 
---
From "P.M.":  "I went into my local Napa shop but they had never heard of Posi-Lock. I showed the kid behind the counter the printout I made from the Posi-Lock website that listed Napa as a distributor and he did one of the most surprising things I've seen lately.
He was interested enough in his job to actually go to the Napa inventory PC site and look them up!!!  He offered to get me the sizes and quantities I needed and I picked them up this afternoon. Nice.
These things are a treat to use. I'll never solder or crimp again if I can help it. I'm going to add a few of each size to my on-the-road tool kit and stock some in my garage. Feel free to quote me. Thanks again for the tip."