A Harley-Davidson owned by the Pope has sold at a Paris auction for the "bargain" price of $67,700.
The Harley Heritage Softail was one of two Harleys gifted to Pope Benedict XVI to celebrate Harley-Davidson's 110th anniversary last year.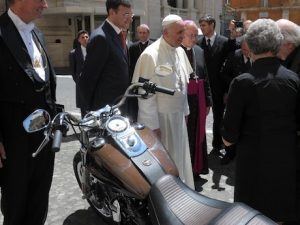 When he resigned in 2013, Pope Benedict was replaced by Pope Francis who decided to sell the bikes for homeless charities in Rome.
The first bike, a Dyna Super Glide, sold for $364,476, while a Harley leather jacket also sold for an astounding $86,829 at the Bonhams auction at Les Grandes Marques du Monde in Paris in 2014.
Ben Walker, head of motorcycles at Bonhams motorcycles, declared the result "a world record for a 21st century Harley-Davidson".
The second Harley, a 2013 Heritage Softail Classic, went to auction at this week's Les Grandes Marques du Monde, valued at €15-25,000 (about $A21-36,000).
While it sold for double the estimate, it was still well short of the record price paid for the first and therefore represents a bargain for the undisclosed buyer.
Both bikes feature signatures on the tank of the Pope and Harley icon Willie G. Davidson, grandson of one of Harley-Davidson's founders and his son, Bill Davidson.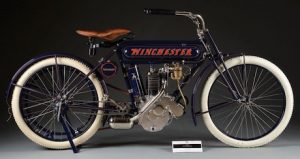 Meanwhile, a pair of motorcycle made by gun company Winchester are about to go to auction and could set records.
A 1910 Winchester 6HP which sold for $US580,000 in 2013 to an avid gun collector making it one of the highest-priced bikes in the world.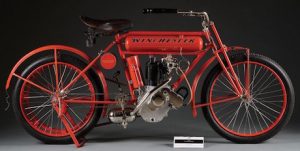 It was one of only two Winchester motorcycles known to exist, the other failed to meet reserve and was passed in with a high bid of $520,000.
Both Winchesters will go to auction on March 15-16 next month at James D. Julia, the world's foremost firearm auctioneers, not at motorcycle auctioneers such as Bonhams, Mecum or  Gooding.