Every once and a while, we find what could be called a "cross-sector" product.
This PolyBrite lighted safety vest is a good example.
That's because it was originally designed for construction or road safety but it has potential for motorcycle use.
It also meets one of our goals of providing our visitors with information on unique and hard-to-find motorcycle products and accessories.
Originally designed for construction or safety workers, this patented design features LED lights underneath the upper sections of the reflective stripes.
The lights burn with a red glow under the yellow reflective material.
The lights are powered by two AA sized batteries that are located in a controller that fits in a built-in pocket under the vest.
The light controller have a three-way switch: off, on and blink mode.
While the blinking mode is probably not recommended for motorcycle riding, due to legal restrictions on using blinking lights on any type of non-emergency motor vehicle, the lights can be left in the steady "on" position if desired.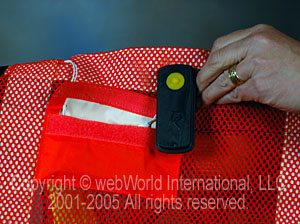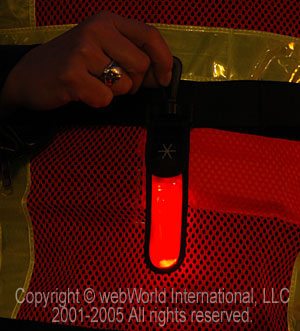 The PolyBrite LED Vest
Since the vest also has multiple reflective stripes with a large amount of surface area, it could serve multiple purposes by also functioning as a safety vest that the owner could use for walking, jogging, walking the dog, riding a bicycle or….you get the idea.
I don't wear a reflective vest on every motorcycle ride, but when we're evaluating certain types of products at dusk or if I'm wearing dark colored motorcycle clothing, I'll usually throw one on over my jacket.
Also, since most motorcycle rain suits are dark colored, for some incomprehensible reason, it's a good idea to wear a reflective safety vest in an attempt to gain maximum visibility in what are usually the worst conditions for motorcycling.
The LED lights on the PolyBrite safety vest make it potentially very useful for wet-weather riding.
PolyBrite claims up to 400 hours battery life when the vest is left in the blinking mode.
A pressure sensitive button switch on the battery pack cycles the lights through the fully on, blink mode and off positions.
The switch on our example is rather balky; sometimes it works perfectly and at other times it will take several tries to get the vest to light.
Many of the inexpensive reflective safety vests are very flimsy and not recommended for use when riding a motorcycle.
Not all reflective safety vests are created equal!  Some are made from the thinnest type of material and they are probably only useful for uses like walking.
While the PolyBrite vest isn't the most heavy-duty sample we've encountered, the material is nice and thick and it has wide "hook-and-loop" fastener on each side to keep it snug.
But it is more affected by certain types of wind and buffeting, depending upon the motorcycle and fairing combination.
The lights have a rather ghostly effect when they're lit underneath the reflective striping. The lights are harder to see in bright sunlight and they aren't always apparent even during darker conditions.
It's more of a subtle glow that is designed to boost the wearer's visibility.
PolyBrite also claims that the vest is "weather, water and tear-resistant". It also carries an Underwriter's Laboratories (UL) classification and a CE mark, which means that it apparently has met European standards for safety equipment.
It comes in a single size that should fit most riders. PolyBrite offers other lighted safety products, such as the interesting LED safety "Tag Lights" shown in the bottom photo.
Our tag light has a better switch than the vest, and it can also be set to turn the LEDs on, off and in blink mode.
It uses a 2032 lithium watch battery (included) and PolyBrite claims that it will last up to 200 hours in the blinking mode.
The Tag Light is less useful for motorcycling, but it's a pretty cool device that has a built-in safety hook that allows it to attach to a tank bag, belt loop or other locations.
It might also be useful to give to a child to fit on their backpack or book bag. The Tag Lights are available in red, orange or white.
Conclusion
The PolyBrite lighted safety vest is an interesting product that may offer more visibility than a "normal" reflective safety vest.
he quality of the reflective stripes and the material seems to be better than other safety vests that we've seen.
w

BW

 Review: PolyBrite Lighted Safety Vest
List Price (2005): $29.95
Made In: China
Colors: Safety orange with yellow reflective stripes.
Sizes: S-XL
Review Date: December 2005
Note:
 For informational use only. All material and photographs are Copyright © webWorld International, LLC since 2000. All rights reserved. See the webBikeWorld® 
Site Info page
. Product specifications, features and details may change or differ from our descriptions. Always check before purchasing. Read the
Terms and Conditions
!
Owner Comments and Feedback