Polo "Bahiro" Jacket Review Summary
Polo "Bahiro" Jacket Image Gallery
The Bahiro jacket from German manufacturer Polo is a real all-rounder.
It's warm and waterproof for winter and vented for summer.
It's suitable for touring or commuting, and not bad-looking either.
A discussion of warm, waterproof winter wear on my bike club's mailing-list indicates the changing season as reliably as the leaves turning brown and the first frost.
Some of our members believe only top-of-the-range, lifetime-guaranteed Rukka textiles at prices approaching four figures will do the business.
Others praise the gear you can pick up at budget supermarkets for under £50.
This time round somebody mentioned Polo, a German brand I hadn't previously come across.
I checked out their website and found that there was a branch not far from the eastern side of Belgium where, by coincidence, I would be spending the next weekend. It seemed rude not to pop over and take a look.
I commute every workday, go for longer trips at weekends and enjoy touring holidays.
So I need something that will be comfortable for a ride to the office or to the Alps.
I was looking for a medium-length, warm and waterproof jacket with CE armour. It had to fit a female rider, without being too girly – I won't wear pink!
The jacket that seemed to cover all my bases was the Drive PT-P Bahiro women's jacket.
It was the right price (it was on sale!), it looked good, and it had most if not all of the features on my checklist.
"Drive" is one of Polo's own-brand labels, with prices ranging from under 100 Euros to over 400.
The Bahiro falls towards the middle of this scale, costing €229. I bought it reduced to €149, though — which was a nice bonus considering the pound's current shaky state against the Euro.
The Bahiro is made from 500 denier Cordura.
This fabric is the undisputed King of Nylons so I'm confident it will be abrasion-resistant if need be.
There's none of the plasticky feel or shiny appearance you get with some cheaper fabrics, and it's tough without being at all stiff.
You can tell straight away from the cut that this is a woman's jacket: it goes in at the waist and flares for the hips.
But it's not all about appearance – a proper fit ensures armour stays in the right place and cold air doesn't sneak in.
When I'm standing upright, the jacket just covers my buttocks — long enough to ensure overlap with my trousers when I'm on the bike, rather than leaving a gap as shorter jackets will.
The only colour option is black, satisfying my London commuter requirement of 'hides the dirt', with silver panels on the body and sleeves which add definition and shape.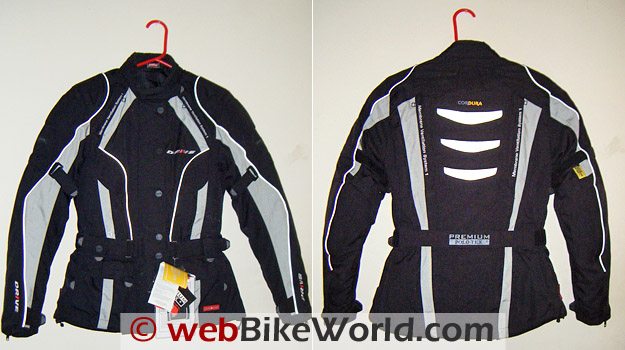 Reflectivity
Reflective piping on the sleeves (front and back) and the chest, plus three large crescent-shaped patches on the spine, are a subtle grey.
That is until they catch the glow of headlamps and light up like a Christmas tree.
The piping on the left elbow has already got slightly scuffed, I notice, with the darker grey rubbed off. I'll live…
These reflective back patches are padded, and there are further thin pads integral to the fabric over the shoulders and elbows.
As all these areas contain CE armour, I'm not sure what the extra pads are for.
To offer some protection if you take the armour out?
Since I'm not planning to do so, as far as I'm concerned this detail adds unnecessary bulk and fuss.
Slogans and Badges?
The other 'fussy' element, in my opinion, is the vast profusion of slogans and badges plastered across the fabric.
I count one printed logo, two sew-in tags, three rubber patches and no fewer than eight embroidered emblems, including the 'Membrane Ventilation System 1' emblazoned along each of the four vents.
This smacks of trying too hard and I'd normally associate it with a cheap and flashy brand, which this isn't.
I suspect they're aping the look of BMW's clothing range, which tends to be branded within an inch of its life.
That said, all the logos are quite small and subtle and the overall look is of a smart, practical jacket with nice lines.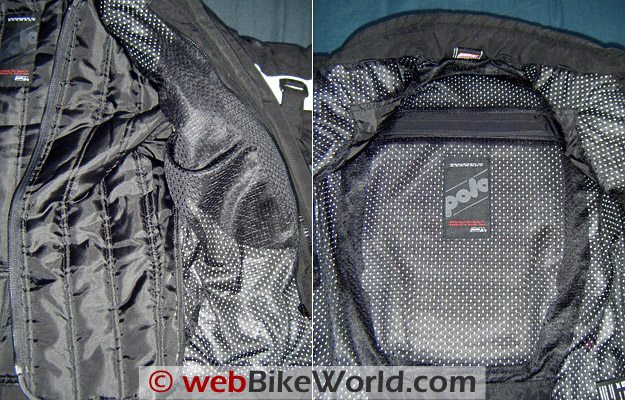 The Inside
The first thing you see inside the Bahiro is a label proudly proclaiming "Designed in Germany". So why is the label in English?
OK, seriously: inside, we have a detachable thermal lining and an integral membrane.
This membrane isn't Gore-Tex but a proprietary mesh, 'Premium Polo-Tex' (PT-P).
That always makes me suspicious, since own-brand versions aren't held to a known standard.
The shell is, however, claimed to be 100% waterproof, windproof and breathable — or, on the German side of the hang tag, the very professional-sounding 'wasserdicht, winddicht und atmungsaktiv'.
The quilted lining feels thin and light but makes an effective layer between you and the cold air.
Both the shell and the filler are marked as 100% polyester.
The lining is held in by four press studs at the top and two at the bottom, which pass through elastic loops, plus a zip up each side. These hold it in place nicely and stop it rucking up at the back.
The liner sleeves attach to the outer jacket by more press and loops, two in each cuff.
That's fairly simple to operate once you've located the black loops in your black jacket, though it would be even easier if they were colour-coded so you always get the sleeve the right way up.
(Own just one jacket with this feature and you're spoiled for life).
I can't yet comment on the jacket's performance with the lining removed, as I don't see myself removing it this side of May…
Protective Features
Back, elbow and shoulder armour is CE marked and removable by means of zippered pockets, though it's a bit of a struggle to reach the elbows.
The shoulder and elbow pieces (which are identical) are soft foam and have Velcro strips so they can be repositioned within the pocket. The back protector is stiffer and made of white foam.
Speaking as a lady I won't go into what it reminds me of; suffice to say I'm glad it has wings for extra security.
When the jacket's on I'm barely aware of the armour, though I can feel the back piece, which is large by comparison with similar jackets, if I stretch my arms forward and roll my shoulders.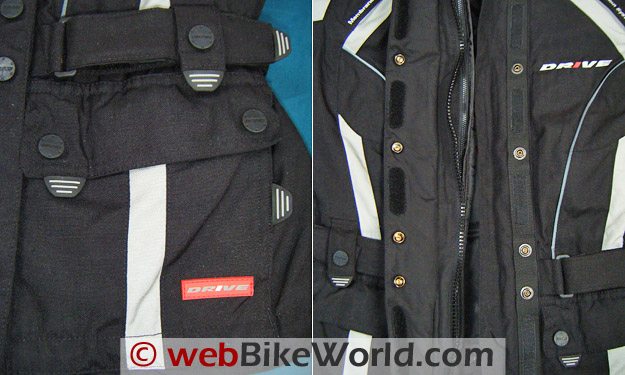 Fastenings and Pockets
My jacket came with a generous bagful of spare fasteners, which I hope I'll never need as they look fiddly to attach.
The main zip is plastic with a metal tag branded YBS (whose website says they're made in Korea and promises 'The paradise to a new millennium').
It moves smoothly and is chunky enough to grab easily.
A flap over the zip is held in place by rubber-covered press studs, with Velcro strips in the gaps between them.
This should provide a good barrier against wind and water; I've found that overlong strips of Velcro tend not to marry up well, leaving bits of jacket flapping around.
The fit of the jacket can be fine-tuned with two waist straps fastened by Velcro, as well as elastic along the bottom hem which is tightened by a toggle on each side.
This allows not only for different body shapes but for different thicknesses of clothing beneath.
The collar is high, padded and soft, though I'd have liked a detachable flap for extreme cold weather.
It does a good job of keeping the wind out, and although it feels a little tight (especially over the Buff I always wear), it allows free and comfortable neck movement.
My one complaint is that it fastens with a very small piece of Velcro set at an angle; you need to get the collar lined up just right to do it up and it still feels slightly insecure, though it has yet to burst open on the move.
One of my requirements was a strap that goes between the rider's legs, connecting the front and back of the jacket to hold it in place.
I'd seen this feature on other jackets and thought it was a good idea.
In practice, the small benefit it gives is offset by the inconvenience of attaching it and it's not something I generally bother with for commuting.
I've also managed to pop it loose by making a hand signal while marking a junction on a rideout.
The strap lives in a pouch inside the back of the jacket, held closed by hook-and-loop.
And you have to unroll it, pass it through your legs and attach it to two press studs on the inside front flaps, an operation I perform in an awkward half-crouch.
As my riding position is upright, I don't notice a lot of difference on the move, but I can imagine this would be a boon to a sportsbike rider.
Certainly when I'm bending down to put a lock through the wheel of my scooter, I appreciate having the bottom of my jacket held in place so no draughts can sidle up my back.
You do, however, have to contend with the faintly peculiar sensation of walking around wearing a thong…over your clothes. One is not Wonder Woman.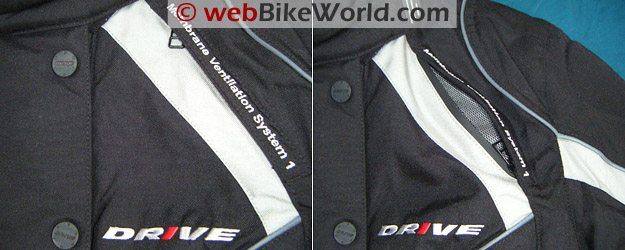 I've briefly mentioned the four vents, two on the chest and two down the back, opened by zips. When closed, the zips are covered by a thin, rubbery membrane that should help keep water from entering.
I haven't tried the jacket with the vents open (see previous comment re liner).
But in my experience if it's hot enough for vents you're better off in a mesh jacket anyway.
However, they might come in handy for those days that turn warm unexpectedly.
There's a Velcro band on each sleeve to keep them close to the rider whether or not the lining is in.
These are positioned right over my biceps, making me slightly aware of them every time I bend my arms. At least I must have impressive bulging muscles.
At the cuff end there's a zip and a Velcro fastener, allowing you to position gloves in or out of the sleeves according to preference.
Getting the gloves inside, however, is such an awkward process that I'm only likely to attempt it in cases of extreme downpour.
I've found that the last inch or so of the cuff zips tends to come undone after a few rounds of putting gloves on and off, so check it's fully zipped before attempting to yank your gloves on.
The cuff, sleeve and waist fasteners have rubber tabs, making them easier to grab, as do the front pockets.
These front pockets close with two press studs each plus a Velcro strip.
A waterproof lining should make them fairly safe for anything you need to keep dry and they're just big enough to take my wallet.
Behind each front pocket is a hand-warmer pocket which comes in handy (ha!) when walking from my bike to the office on chilly mornings.
There's an additional pocket inside the jacket next to the main zip, useful for wallet or phone, and another inside pocket reached through a slit in the lining.
There's more than enough storage space for me; as a rule I only want to carry my keys plus a few bits and bobs like earplugs and lip balm.
There's no large back pocket, but to be honest I've never seen the point of those (to hold snacks for your pillion, perhaps?).
At the tail end of both this list and the jacket, there's an 8″ connecting zip.
The matching pants, sadly, didn't fit me; apparently German women are longer of leg and smaller of bottom than I.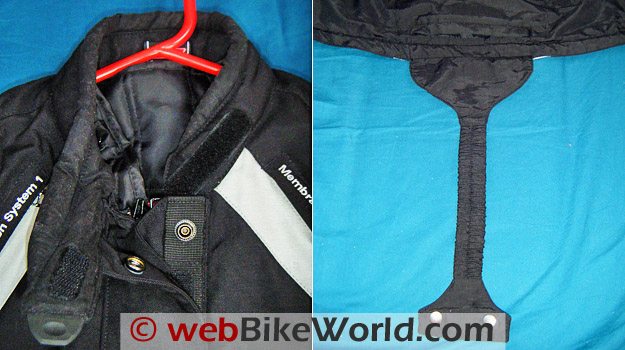 Fit and Performance
I've been wearing the Bahiro for a couple of months now, both for my daily commute and for longer, faster trips at the weekend.
The more I wear it the more comfortable it gets and the easier it is to get on and off; slipping in and out of it is a quick and pleasurable part of my commuting ritual.
I feel safe thanks to the armour and the reflective panels and I feel like a 'proper' biker in practical, businesslike gear…without looking like a sack of potatoes.
I bought a size Small, and the fit is very good — close yet comfortable.
There's plenty of room in the front for riders with chests more ample than mine; on me, the crotch strap stops the jacket riding up.
I was afraid that the sleeves would be too long, as is the case with most of my clothes. They are indeed a fraction long off the bike, but comfortable to ride in.
Similarly, they feel slightly bulky when you put the jacket on but my arms move freely while I'm riding. An initial stiffness loosened up in a couple of weeks.
I was lucky enough to be given the opportunity to test the jacket's waterproof qualities on my second day of wearing it.
Over the next few weeks, I ran the gamut of everything from light drizzle to the kind of brief downpour where the sky goes dark and you can feel the impact of each individual raindrop.
So far, the jacket has held up brilliantly. I'm particularly impressed by how long water droplets stay on the surface before soaking in; that's some good waterproofing going on right there.
I suspect that in sustained heavy rain it will eventually start to leak. In those conditions I'll put waterproofs over the top.
I hope it won't be too long before I'm riding with the lining out and the vents open.
But until then, the Bahiro is so warm and snug (especially with a heated vest underneath — review to come) that I'm even looking forward to riding for pleasure over Christmas and New Year. Bring it on!
Conclusion
Reading back through this review, I'm surprised by the number of negative points I've raised.
This is purely in the interest of giving a thorough review and mentioning all the niggly little details.
Overall, this is a cosy, comfortable all-rounder of a jacket that looks set to serve me well. It's smart, practical and good value for money. I recommend the Bahiro highly.
I also recommend Polo's €5 buffet breakfast (with unlimited coffee) on Saturdays and Sundays, should you happen to be passing.
Because it's an end of line, the Bahiro is currently available only in sizes XS, S and L. Here's hoping it will make a return next season with some of the niggles ironed out.
w

BW

 Review: Polo Bahiro Venus Women's Motorcycle Jacket
Manufacturer: Polo Motorrad
List Price (2009): €149.95 (Approx. $222 USD)
Colors: Black
Made In: Unknown
Sizes: S, M, L
Review Date: December 2009
Notes: The Bahiro is apparently named for a village in Ethiopia.
Note:
 For informational use only. All material and photographs are Copyright © webWorld International, LLC since 2000. All rights reserved. See the webBikeWorld® 
Site Info page
. Product specifications, features and details may change or differ from our descriptions. Always check before purchasing. Read the
Terms and Conditions
!
Owner Comments and Feedback