Riders caught crossing double white lines after being delayed by an allegedly slow-moving unmarked police vehicle may have little chance of fighting the fine as entrapment.
Similar incidences have occurred before, including a 2012 incident on the Old Pacific Highway north of Sydney which the fined riders successfully defended a year later.
The latest incident involved a joint traffic policing operation by Nambour Road Policing Unit, supported by the Road Policing Task Force, other regional Road Policing Units and Sunshine Coast General Duties Officers in the Sunshine Coast hinterland over two weekends in August.
According to our sources, the police parked an unmarked station wagon fitted with video cameras about half way up a hill. As a motorcycle approached the parked vehicle it would pull out in front of the bike and reportedly travel "well under the speed limit", "enticing the rider" to overtake over the double lines. 
Nambour Road Policing Unit Acting Senior Sgt Nathan Richards denies the vehicle pulled out in front of riders or drove well under the limit.
If the claims are true, would it be a "sting" (deceptive operation designed to catch a person committing a crime) or entrapment (inducing a person to commit a criminal offence they otherwise would not have committed)?
In this case, it could be argued had the police not intervened, those riders may not have committed any offence.
While entrapment is a possible defence against criminal liability in some countries, it is not in Australia unless the authorities are found to be doing something illegal or dangerous. That would be up to the courts to decide.
In this case, driving under the speed limit may not be illegal, although there are cases of drivers being fine for driving "significantly" less than the posted speed limit and blocking traffic.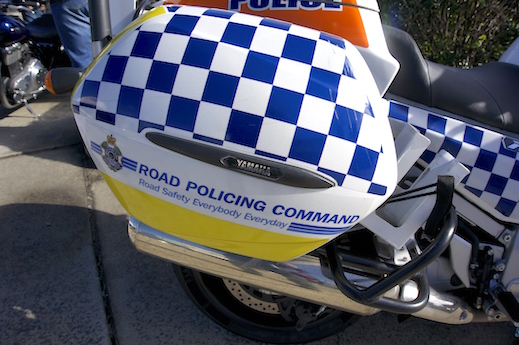 While it may not be illegal, some may consider it immoral or unethical and worth reporting to the police Ethical Standards Command.
In the Old Pac "entrapment" case, the magistrate threw out the charge calling the police action "reckless" because the vehicle was driven erratically and dangerously.
We have seen no evidence the vehicle in the Sunshine Coast incident was driven erratically.
But was it dangerous? It could be argued it resulted in riders crossing double white lines which is a dangerous manoeuvre! Good luck arguing that in court.
Snr Sgt Richards says police "travelled at the appropriate speeds on the roads at the time".
"If any vehicle or motorcycle rider chose to conduct an illegal and dangerous manoeuvre of overtaking another vehicle across double white lines then they were intercepted when appropriate and issued the appropriate fine," he says.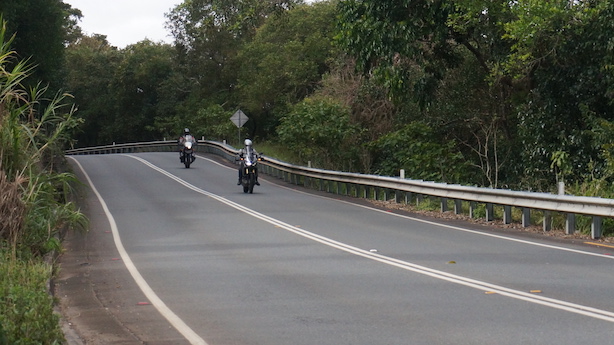 According to our sources, riders were intercepted at the top of the hill. One rider pulled over says he did not overtake because he thought there was something suspicious about the vehicle's behaviour.
He says about a dozen other riders were pulled over and some were given defect notices for noisy exhausts.
Snr Sgt Richards confirms the static intercept site saying police found it "safer for these vehicles to be intercepted in a safe location rather than at the location that these persons committed these dangerous offences".
Fined riders may choose to go to court, but they face the possibility of losing and incurring court and legal costs. They could also make a complaint to the Police Ethical Standards Command. 
It has been suggested that the heavy policing in the area has been in response to the proposed Sunshine Coast international TT.
However, Snr Sgt Richards says police have "no issues with motorcycles being present on the Hinterland roads, and welcome them to what is one of the best locations in the State".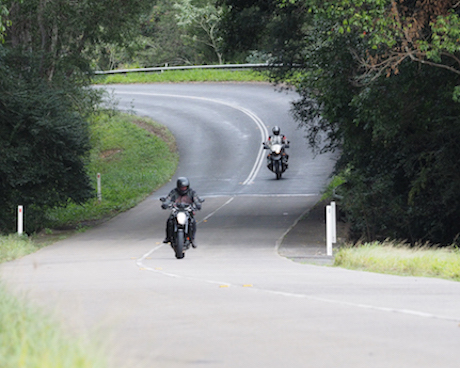 "We hope that they have a safe and enjoyable time on our roads. But Police will not tolerate any illegal or dangerous riding by those who are not only putting lives in danger, but giving a bad name to the majority of motorcycle riders who do the right thing and ride safely.
"We have had far too many motorcycle deaths on our roads of late, all of which could have been avoided. Let's work together to stop this from happening in the future by encouraging these motorcycle riders to ride safely, consider other road users, and to go home safely to their families."
There is no word on whether the joint operation will continue, but these methods have been used before and will no doubt be used again, so riders everywhere should be cautious of suspicious slow-moving vehicles.
And remember, it is illegal to cross an unbroken line unless you are passing a cyclist and even then there is the caveat "when safe to do so".
Over the two weekends of the operation, 355  riders were intercepted and 82 infringement notices were issued for speeding or crossing double white lines, an illegally modified vehicle and one for high speed.
One Notice to Appear was issued for an unregistered and uninsured vehicle and four people were also charged with driving unever the influence of a drug.