The Oxley Highway is facing reduced speed limits early in the New Year, but at least one rider reckons the biggest problem is drivers crossing double white lines, not speed.
The NSW Roads and Maritime Services earlier this year decided to reduce speed limits in several locations along the famed motorcycle road, beginning with a short stretch near Wauchope in September.
However, residents, businesses and riders from throughout the nation reacted to the changes and initiated a petition, protest rally and several meetings with RMS representatives. So far more than 7000 have signed the petition.
CLICK HERE TO SIGN THE PETITION
In response, the RMS has decided to suspend the remaining speed limit changes until a further review expected early in the New Year.
However, Motorbike Writer reader Harry Criticos recently rode the highway and reckons it's not motorcycle speed that is the problem, but errant drivers.
"I went riding along the Oxley last week and captured these drivers on my cam," he says.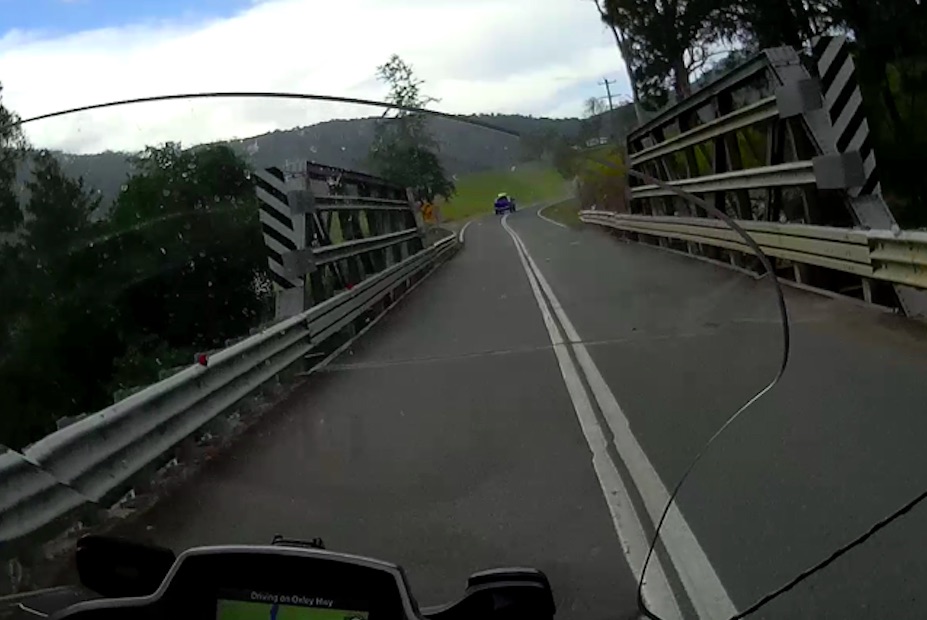 "They may complain about motorbikes, but the police should also be doing something about drivers cutting the corners, especially over double lines.
"In two of the shots, you can see the same car doing it twice."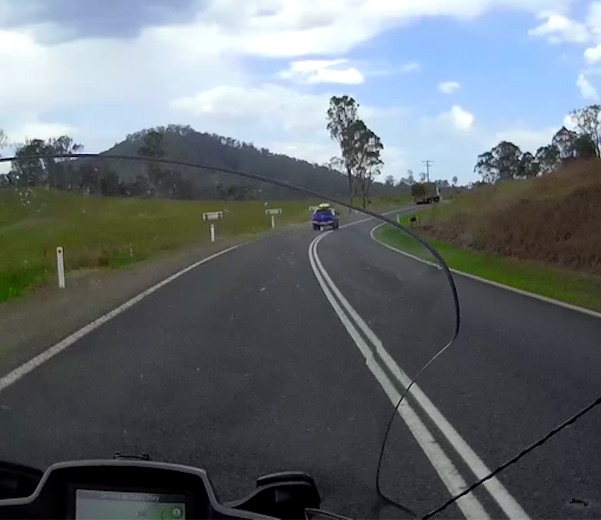 Meanwhile, riders are hoping the RMS responds with a backdown on their comprehensive plan to reduce speed limits on the popular road. Watch the video below.
Such changes could drastically reduce the attraction to motorcycle tourists and comes as Wauchope, the gateway to the Oxley, recently declared itself a motorcycle friendly town.
Reduced speed zones
The reduced speed zones already implemented on September 19 will remain, at least for now:
Reduced speed from 60km/h to 50km/h on a 2.5 kilometre section of the highway, west of Beechwood Road to the Wauchope cemetery

Reduced from 100km/h to 80km/h on a three kilometre section of the highway, west of Bagnoo Road to Long Flat village

Reduced from 60km/h to 50km/h through Long Flat village.
Other proposed speed zone changes over the next year are:
Long Flat to Walcha
Mountain section – reduce from 100km/h to 70km/h for 27km (reprieve, pending review)

Next section – reduce from 100km/h to 80km/h for 4km (status unknown)

Reduce from 100km/h to 80km/h for 8.3km starting 75km east of Walcha township (status unknown)
Walcha
Reduce from 110km/h to 100km/h for 2km starting east of Hartford Road to west of Hartford Road.

 

This is a transition zone leading into Walcha township (status unknown)
Gunnedah
Reduced from 80km/h to 50km/h for about 700 metres west of Alford Street on the Oxley Highway (status unknown)
John Oxley Drive and Wrights Road
Increase from 90km/h to 100km/h between Wrights Road and John Oxley Drive (western occurrence). (This is expected to be implemented following the completion of road upgrade work on this section expected late this year.)
The proposed speed limit changes were only one of 14 recommendations in a July 2105 Oxley Highway Route Safety Review.