NSW Police look set for a major crackdown on riders in the wake of five tragic motorcyclist deaths in the past week and a rider clocked at 193km/h in an 80 zone in north-western Sydney.
Assistant Commissioner Michael Corboy of the state's Traffic & Highway Patrol Command issued a statement saying that the motorcyclist's behaviour is the sort that is costing lives.
"Twenty motorcyclists have died so far this year in crashes, which is seven more than the same time last year," he says. 
"The actions of this rider could easily have added to these sad and tragic numbers on our roads."
Sydney rider
Police allegedly detected a 27-year-old man riding a Kawasaki at 193km/h about 1am on Thursday in the 80km/h zone on Old Windsor Road, Bella Vista.
The rider was taken to Castle Hill Police Station where he was issued a Field Court Attendance Notice for the offences of drive at speed dangerous to the public, and exceeding the speed by more than 45km/h.
His licence was also suspended.
The North Kellyville man is due to appear at Parramatta Local Court on Friday 24 April 2019.
Knee-jerk reaction
Sadly it seems this incident, plus the tragic coincidence of five rider deaths in the past week could lead to a knee-jerk reaction from policer the new NSW government.
Motorcycle Council of NSW chairman Steve Pearce has warned riders that their behaviour could be "a big factor" in motorcycle crashes.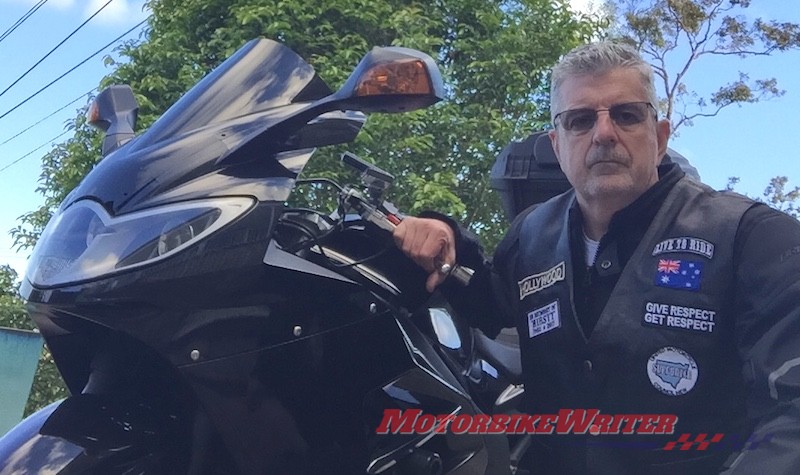 "In the case of motorcycle accidents, it is very hard to generalise when it comes to the cause," he says.
"My view is rider attitude is a big factor. Attitude drives decisions. Decisions to speed, drink or use drugs before riding, wear inappropriate riding gear, this is a consequence of our decisions. 
"Car drivers make poor decisions and get away with it. Poor decisions by riders can be life or death decisions.
"I also think personal temperament is a big factor. Our emotions can quickly change decision making from cautious to aggressive, risk averse to risk taker.
"If we could train riders to monitor their temperament and attitude, I think we would see less motorcycle related trauma on our roads.
"I don't think speed itself can be blamed, However we have to remember that the decision to speed introduces risk. Contact with roadside infrastructure and other vehicles at speed will punish you if it all goes to crap."
Tragic deaths
The five NSW rider tragedies in the past weekare:
Just before 7.30pm on Friday, emergency services were called to the New England Highway near Whittingham, after a motorcycle and two cars collided. Officers from Hunter Valley Police District rendered assistance. The 50-year-old rider died at the scene.
About 8.30am on Saturday, a motorcycle and a utility collided on Putty Road, Howells Valley, about 50km south of Singleton. The motorcycle rider, a 44-year-old man, sustained serious injuries and was flown to John Hunter Hospital, where he later died. The driver of the utility, a 58-year-old man, was uninjured. He was taken to Singleton Hospital for mandatory blood and urine tests.
Just after 4.30pm on Sunday (24 March 2019), emergency services were called to the Great Western Highway at Meadow Flat, following reports a motorcyclist had come off his bike. Officers from Chifley Police District attended and found the 59-year-old man had died at the scene.
A 73-year-old rider died on Tuesday about 12.30pm. The KTM KTM rider was part of an organised ride heading south on the Lakes Way, between Smiths Lake and Bungwahl. Police say the man was negotiating a sweeping left-hand bend when his bike collided with a Toyota Hilux in the north-bound lane. Other motorcycle riders attempted to resuscitate the man, but he died at the scene. The 45-year-old male Toyota driver was tested at a nearby hospital and the motorcycle seized for mechanical testing. A report will be prepared for the information of the Coroner.
About 7.30am on Wednesday a motorcyclist died after losing control and crashing near Moree. The male rider, aged 57, died at the scene. A report will be prepared for the Coroner.
Our condolences to the families and friends of the riders.
Police ask anyone with information about these incidents to contact Crime Stoppers: 1800 333 000 or https://nsw.crimestoppers.com.au. Information is treated in strict confidence. The public is reminded not to report crime via NSW Police social media pages.
(Main image of an unknown rider: NSW Police Facebook page)