An information sign about motorcycle noise testing that has been posted at two Queensland police stations is incorrect.
Queensland police have admitted there are errors in the sign, but say specialist officers have been fully trained in roadside noise testing and have been doing the tests since 2002.
This follows recent blitzes in South East Queensland on riders and the advice of prominent Brisbane barrister and Aprilia Tuono rider Levente Jurth to challenge any noise fines and defect notices. Click here to read more.
Click here to read his paper about the legality of motorcycle exhausts. 
The sign was posted at Mt Tamborine Police Station, but later moved to Boondall Police Station, police tell us.
It has also been liberally displayed on social media by riders, but it should be ignored because the information contains some misleading and incorrect information.
For example, it states that Harley-Davidsons are to be tested at 2500rpm, however the testing standards require some Harleys to be tested at a higher revs.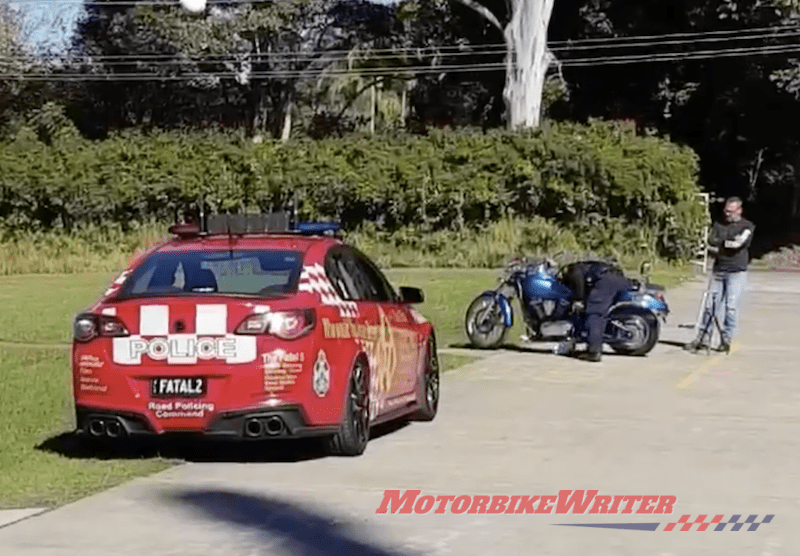 Erroneous sign
A Queensland Police spokesman has confirmed that the sign has errors:
This is an information sign that the Queensland Police Service (QPS) had made to assist the public in understanding the requirements of noise testing. The QPS would not advocate publishing the sign in its current form as it was made in the mid-2000s and in 2010, the Transport Operations (Road Use Management – Vehicle Standards and Safety) Regulation 2010 was amended and the sections were renumbered. As such, the sections referred to in the sign were from the previous regulation. Whilst the content of the sections of legislation did not change, the section numbers were. The blue section should read "For offence provision, legal limits and testing procedures see the Transport Operations (Road Use Management – Vehicle Standards and Safety) Regulation 2010 sections 5(1)(a)(vi), 131 and 134 to 138. The information in the sign is available to anyone who wishes to read the sections of the legislation and the National Testing Procedures for In Service Motor vehicles 2006. The testing procedures are available on the National Transport Commission website and are used in Queensland and other States in Australia."
Noise testing procedures
Roadside noise testing procedures require police to take three consecutive but separate readings where the throttle has been returned to idle.
Police say the noise level is deemed to be the maximum of the three consecutive readings.
If the motorcycle does not have a tachometer, Police have an external tacho that can be "attached to the plug lead of the vehicle or alternatively as an induction pick-up".
Police have advised riders that all standard mufflers should be compliant but aftermarket exhausts may not.
They advise that concerned riders can have their bike tested at "exhaust shops that have the required equipment to test the noise level of vehicles".
Long-time motorcycle campaigner Wayne Carruthers says rural riders are disadvantaged in not being able to access noise testing facilities. Click here for more details.