Police in NSW and Victoria have launched special operations in response to a rapid escalation in rider deaths so far this year.
The NSW action comes after the deaths of three riders in as many days.
Meanwhile, Victorian Police Operation Kinetic will add 300 shifts over the next 10 weeks to increase patrols of the state's roads follows a doubling of motorcycle fatalities this year.
Victorian Motorcycle Council chairman Peter Baulch says the extra patrols were to be expected given the high rider toll.
NSW deaths
The three NSW deaths over the weekend were:
Just after 4.30pm on Sunday (24 March 2019), emergency services were called to the Great Western Highway at Meadow Flat, following reports a motorcyclist had come off his bike. Officers from Chifley Police District attended and found the 59-year-old man had died at the scene.

About 8.30am on Saturday, a motorcycle and a utility collided on Putty Road, Howells Valley, about 50km south of Singleton. The motorcycle rider, a 44-year-old man, sustained serious injuries and was flown to John Hunter Hospital, where he later died. The driver of the utility, a 58-year-old man, was uninjured. He was taken to Singleton Hospital for mandatory blood and urine tests.

Just before 7.30pm on Friday, emergency services were called to the New England Highway near Whittingham, after a motorcycle and two cars collided. Officers from Hunter Valley Police District rendered assistance. The 50-year-old rider died at the scene.
Our condolences to their families and friends.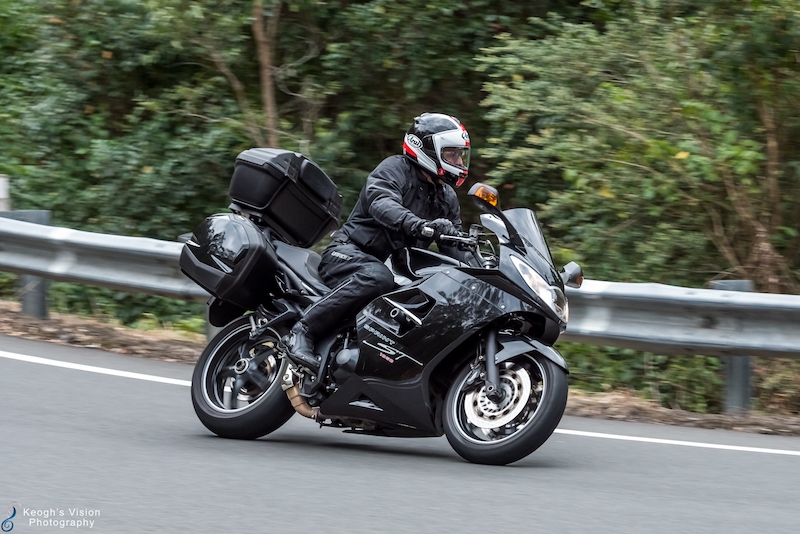 Motorcycle Council of NSW chairman Steve Pearce says he is "always saddened" to hear of rider deaths.
"I think we all consider the effect on families and friends, and also the emergency services who have to attend the accident scene," he says.
"A day out enjoying an activity which gives us so much joy can quickly change for the worse."
Dangerous riding
NSW Police say they prosecuted several riders over the weekend for traffic dangerous offences:
About 12:20pm on Sunday, Highway Patrol motorcycle officers observed a motorcycle travelling towards them on the incorrect side of the road, while overtaking another vehicle across double yellow lines. The rider was issued an infringement notice for 'not keep left of the dividing line', fined $337, and lost three points.

About 3.35pm on Sunday, Hunter Valley Highway Patrol were carrying out "stationary speed enforcement" on the New England Highway at Lower Belford when they detected a motorcycle travelling at 169km/h in a 100km/h zone. Police activated lights and sirens and directed the rider to stop. A 25-year-old Dubbo man has been issued a traffic infringement notice for speeding by more than 45km/h and his licence was suspended.

About 11:20am on Saturday, at Carrathool, officers detected a rider at 160km/h in a 110km/h zone while overtaking another vehicle. The 19-year-old provisional licence-holder was arrested for  a blood/urine analysis and issued an infringement notice for exceeding the speed limit over 45km/h. He was fined $2345, his licence was suspended for six months and his registration for three months.

Rider stopped by NSW Police for speeding
Vulnerable riders
NSW Assistant Commissioner Michael Corboy of the state's Traffic & Highway Patrol Command said there had been 18 rider deaths so far this year. That's six more than at the same time last year.
"Drivers and riders alike need to make sure that they are doing the right thing and sharing our roads safely," he says.
"Highway Patrol officers will continue out in force to prevent further harm to NSW road users; however, we need the help of the public to stem the current rise in fatalities."
Steve provided these statistics that show motorcyclists are vulnerable road users:
17% of motorcycle fatalities involve alcohol levels over the legal limit;

Excessive speed is attributed to 54% of motorcycle fatalities; and

8% of motorcycle fatalities involve fatigue.
He says the highest number of motorcycle fatalities are in the age group under 30 while fatalities in the 50-59 age group tripled over the past 10 years. Males are the majority of fatalities (96%) and 17% of motorcyclists killed do not hold a valid Licence. 
"These statistics don't mean we should stay home," Steve says.
"We just need to understand the risks we face as motorcyclists, and apply some basic risk strategies before we ride out."
NSW Motorcycle Council rider advice 
Ride to conditions: More than any other road user, motorcyclists are vulnerable to road conditions. If it doesn't feel safe to continue, then stop and wait until conditions improve. You are the best judge. Toughing it out generally is an indicator of subjecting yourself to additional risk. 
Risk assessment: The best road riders are risk managers. Take your own risk assessment before you go out for a ride. How much experience have I had with the type of riding I am about to start? Am I totally comfortable on the motorcycle I am riding? How fit am I? is the motorcycle well serviced and ready to go? If you have any doubts about your ability, readiness or fitness, its probably a good idea to stay home and polish the beast! There will be plenty of other opportunities to ride.
Training and experience: There are plenty of rider training schools offering skills development and refresher courses. If you can't get to a course, spend some time on the Rider Risk video series on YouTube for riding and survival tips.
Rest every couple of hours: Plan your ride. On your way there will be some great places to stop and rest, and enjoy the local hospitality and scenery. Taking a regular break will keep you fresh and alert.
Don't drink and ride: This is one of the easiest strategies we can implement to survive.
Speeding: It's not the speed that is the problem, it's what happens when a speeding rider has to cope with either changing road conditions or the random act of another motorist. Trees, guardrails, other moving objects, slippery road markings, gravel and potholes are not your friends when you come off a speeding motorcycle. Leave it for the racetrack.
Wear the best gear available: Research indicates that wearing the best protective gear available leads to a much better chance of survival. Why? Comfort and protection. If in doubt, refer to the testing results on the MotoCAP website and the MCCNSW Helmet videos.
UPDATES:
A motorcycle rider has suffered critical injuries after crashing into a power pole in Sydney's south west about 6.20pm on Monday.
The man, aged 39, was travelling north along Denham Court Road, Denham Court, when he "appears to have lost control of his motorcycle" and hit a power pole, police say.
He suffered numerous fractures and internal injuries and was taken to Liverpool Hospital where he remains in a critical condition.
Inquiries into the collision continue by officers from Liverpool Police Area Command.
On Wednesday, a 57-year-old male motorcyclist has died in a crash in Moree.
Emergency services were called to the Carnarvon Highway at Moree just before 7.30am, after a motorcycle lost control and crashed.
A report will be prepared for the Coroner.
Anyone with information about this incident is urged to contact Crime Stoppers: 1800 333 000 or https://nsw.crimestoppers.com.au. Information is treated in strict confidence. The public is reminded not to report crime via NSW Police social media pages.