Pocket Floodlight Image Gallery
The Maxxeon WorkStar 220 Pocket Floodlight lives up to its name with a broad, even swath of light with no hot spots.
About the size of a classic Bic "Stic" pen, the Pocket Floodlight puts out an amazing amount of light for its size.
The Pocket Floodlight has absolutely become our new favorite LED flashlight!
I must get at least a couple of dozen offers each week to try the new latest and greatest LED flashlight, each one promising the moon.
Most of them are ignored, but something about the name "Pocket Floodlight" triggered a "Hmmmm….sounds interesting" response and I took the bait.
I'm glad I did.
The Maxxeon Pocket Floodlight definitely lives up to its name and it provides a bright, broad, even beam of light with no hot spots.
The amount of light that this baby puts out is actually pretty incredible. I could qualify that by saying "for its size…", but to be honest, it really is that bright.
In fact, it's slightly brighter than the high-dollar Clearwater "Andie" flashlight (review) low setting.
And although the Andie's high power setting naturally beats the Pocket Floodlight, there's not as much difference as you'd think when the light patterns are viewed at realistic distances.
Besides the amazing amount of even light the Pocket Floodlight puts out, the best part about it is its size — it's not much longer or thicker than the old classic Bic "Stic" pen.
And it even has a heavy-duty pocket clip so you can store it safely in your chest pocket.
If there's room for a Bic pen on your motorcycle or toolbox, there's room for a Pocket Floodlight.

The Maxxeon Pocket Floodlight – Details
The Pocket Floodlight is machined from 6061 T6 aluminum, the same stuff used in aerospace applications.
It weighs 44 grams (1.5 oz.) with its three AAAA Batteries and pocket clip installed and here's a bonus: Maxxeon includes three high-quality Energizer batteries with the flashlight instead of those cheap no-name brands.
Maxxeon claims a battery life of up to 4 hours with intermittent use and all I can say is that two of us here have been using our Pocket Floodlights every day since we got them and the batteries are still going strong.
The business end holds a high-quality, 120 lumen Cree X-PE 3 Watt LED.
This is good stuff — Cree is one of the leading designers and manufacturers of modern LED light technology. The Cree X-PE LED is a new leading-edge design that is smaller than most of the LEDs in this range but puts out more light.
Cree offers the X-PE LED in a variety of light "temperatures" and Maxxeon chose the "Cool White" version for its clean, non-tinted color.
Cree rates it at 5,000 to 10,000 K and the light color has a very neutral tint, without the blue tint you usually see in LED lights like the Harbor Freight Gordon LED Flashlight (review) shown in the comparison photo below.
The Cree X-PE LED seems very close to 5,500 K to me, which is about the color of the sun around noon and is also the same color temperature as our daylight-balanced fluorescent studio lights.
This helps to bring out a more natural color to the subjects that are illuminated by the Pocket Floodlight — more so than most of the other LED flashlights I've used.
The Cree LED has a 115-degree light viewing angle, but as webBikeWorlders know, when you're talking LEDs, it's all about the reflector.
This is where the "Pocket Floodlight" name comes into its own. Maxxeon developed a special reflector that has an internal shape, texture and coating designed to eliminate hot spots.
The clever design also has a 1:1 ratio, so as you move the light 1 meter away from the workspace, the beam will be 1 meter wide. This makes the flashlight much more of a "floodlight" than other pencil-beamed LED flashlights.
The machined aluminum housing that holds the LED and the reflector has a series of vertical grip bars machined on the outside. The housing is threaded and it has an O-ring to make it water resistant.
In back of the LED housing is another machined cylinder that is threaded at both ends. This one features a beautiful cross-hatched knurling that provides a good grip for the user.
It screws on to the main body of the flashlight that holds the batteries and more O-rings seal the junctions.

At the back end, the Pocket Floodlight features a thick rubber cover to protect the on/off switch.
The rubber has a nice molded-in crosshatch knurl. Maxxeon said that the rubber has been tested for over 100,000 on/off cycles, so this is pretty tough stuff.
The on/off switch assembly is located inside a machined aluminum section that screws on to the back of the Pocket Floodlight; it also has O-ring water protection. This housing also features the nicely knurled surface with a cross-hatch pattern to match the front.
The on/off switch is a two-way device. Press and hold the switch lightly to temporarily turn the light on or off or press it more firmly and the switch clicks and the light stays on.
The entire outside surface of the Pocket Floodlight has a black Type II anodized surface that provides corrosion resistance and durability.
All told, the features and specs mean that the Pocket Floodlight is a high-quality tool and not just another one of those two-buck el Cheapo LED flashlights. This is the real deal.

Pocket Floodlight Light Output Comparison
It's difficult to illustrate the amount of light the Pocket Floodlight offers in either photos or videos, but here are some example shots, comparing it with some of the other LED flashlights I own and use quite often.
These are unretouched photos that were cropped to 650 pixels to fit the review.
The camera was set on a tripod 5 feet away from the motorcycle.
Each of these photos was taken at ISO 400, at 1/125 second shutter speed at f6.3, so the amount of light you see is comparable for each flashlight.
The lens is 20 mm wide, giving it a 35 mm SLR equivalent width of 35 mm on the APS-C sensor.
The white balance was set using a standardized 18% gray card, so the colors remain constant for each of these photos and you can see the differences.
BUY YOUR Maxxeon Pocket Floodlight and Maxxeon Flashlights Here!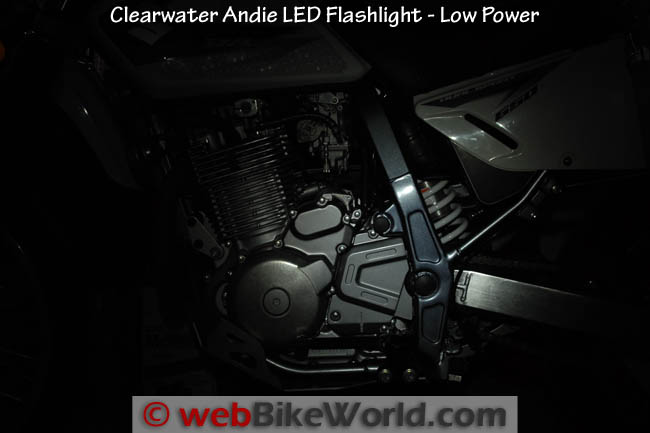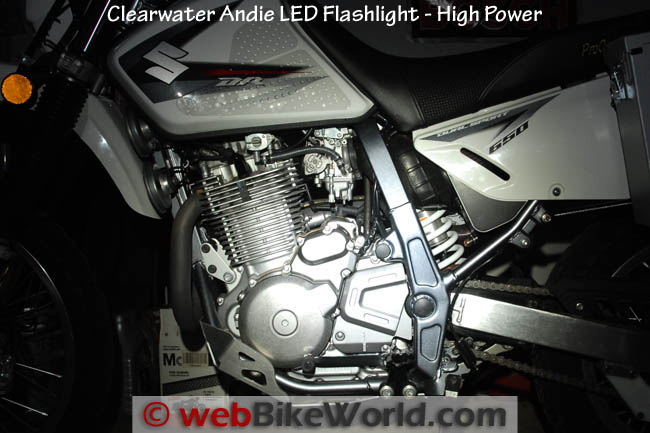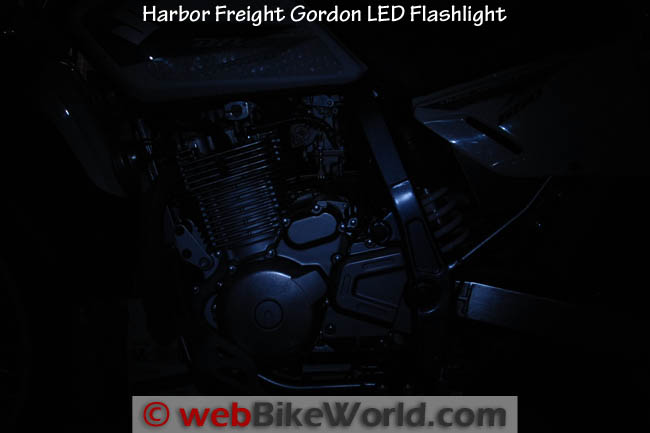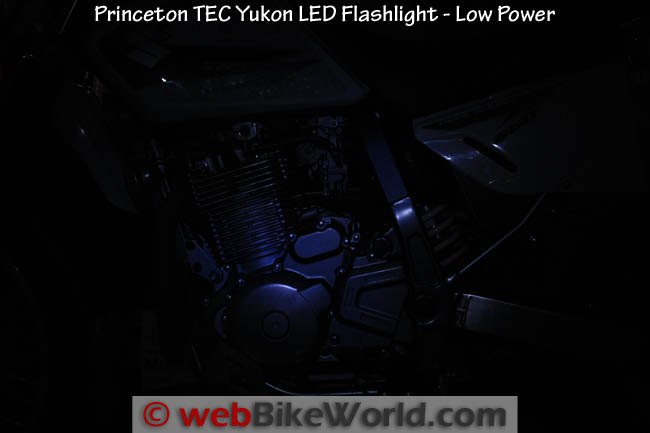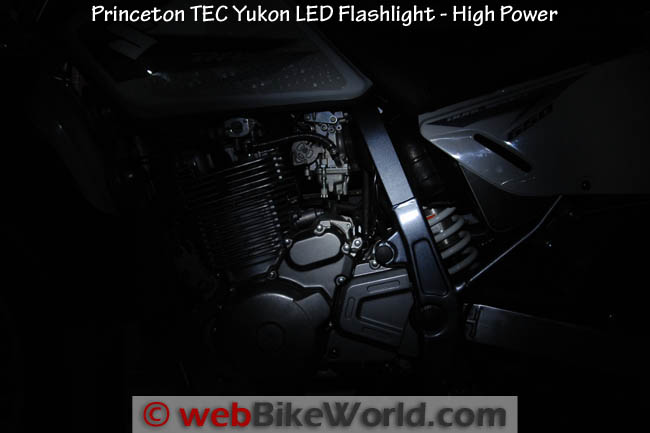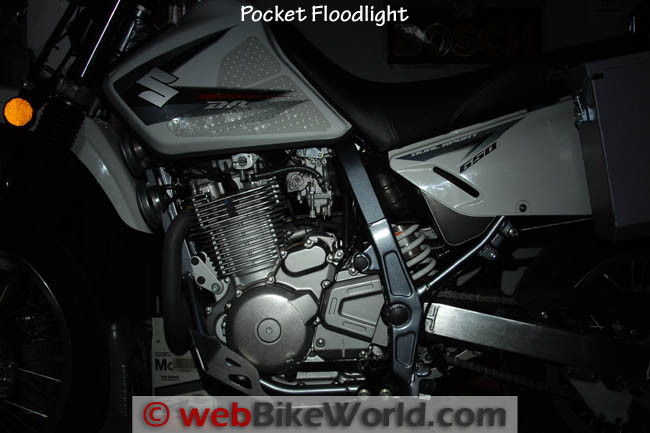 w

BW

 Video: Maxxeon Pocket Floodlight
Conclusion
The Pocket Floodlight is a cool little LED flashlight that is very well made and puts out an amazing amount of light for its size (there, I said it!). Its size makes it really handy because it easily fits in your pocket, toolbox, tank bag or just about anywhere you can fit a Bic pen.
More wBW: Maxxeon WorkStar 320 Pocket Floodlight Review
BUY YOUR Maxxeon Pocket Floodlight and Maxxeon Flashlights Here!
w

BW

 Review: Maxxeon WorkStar 220 Pocket Floodlight
Manufacturer: Maxxeon
List Price (2011): $31.00
Colors: Black
Made In: China
Review Date: June 2011
Note:
 For informational use only. All material and photographs are Copyright © webWorld International, LLC since 2000. All rights reserved. See the webBikeWorld® 
Site Info page
. Product specifications, features and details may change or differ from our descriptions. Always check before purchasing. Read the
Terms and Conditions
!
Owner Comments and Feedback
---
From "H.S." (January 2013): "My riding buddy gave me the Maxxeon Pocket Floodlight as a gift last year, no doubt as a result of his reading your review.
It is indeed a superb flashlight, my favorite one. I was thinking of buying a couple more — to have them for bike, car, and toolbox — and discovered that Maxxeon now makes a 320 version (as opposed to the 220 version, which is the one you reviewed).
The 320 has the same lighting specs as the 220, but uses three AAA batteries instead of three AAAA batteries.
As you would expect, the physical dimensions are slightly larger: the body diameter increases from 7/16″ to 1/2″, and the overall length increases from 6″ to 6.5".
The use of AAA batteries eliminates your only (mild) criticism of the 220.
Besides these batteries being more readily available, Energizer, for instance, makes lithium versions of AAAs, but not of AAAAs; I consider this a big plus — I use their "Ultimate" lithium batteries in all my cameras now."
---
From "N.F." (December 2011):  "I use this at work every day! It is so great to have an incredibly bright light the size of a pen that fits perfectly in the pen pocket of my fire-retardant Nomex clothes (I work in the IT department of a refinery).
My coworkers have flashlight envy! This is one of the best lights EVER!"
---
From "S.Z." (November 2011):  "Got the package today. Pretty incredible little light, thanks for the fast service!!"
---
From "J.B." (November 2011):  "Got the lights. Two are Christmas presents but the one intended for me I opened right away and I can only say "WOW!!!"
I plan to buy two more after the holidays. These lights take up little space, as a result easily carried and do an incredible job. Thanks a bunch."
---
From "G.Z." (November 2011):  "High quality, very bright little light. Only negative is that is too big in diameter to fit the pen pockets on my military uniforms."
---
From "C" (November 2011): "Just a little note, I used to dismantle Duracell 9V batteries and get six 1.5V AAAA, unless Duracell got smart and changed the configuration of their 9V batteries it might be worth checking out this info and if still correct pass the savings on to your customers.
Here's a video of someone disassembling a Panasonic 9V."
---
From "M.M." (October 2011):  "Thanks so much for taking the time to make these flashlights available. I just got mine and it is awesome. Do you have any idea where I can find the unusual AAAA batteries for these?"
Editor's Reply: They can be purchased in six-packs on the webBikeWorld Amazon.com store in theFlashlights section.
Most electronics stores that have a good stock of batteries or Radio Shack in the U.S. sell AAAA batteries. Shop around for the best price.
---
From "K.M." (September 2011):  "What a great little light. I did not believe how powerful it was."
---
From "S.W." (August 2011): "Just (received my) Floodlight today. You weren't kidding when you said not to look into the light :p Thanks again! No wonder they sell out so quick!"
---
From "B.C." (August 2011):  "Just want to let you know that your review of the Maxxeon Pocket Floodlight really didn't do this thing justice. It is simply amazing!
I use the light when I walk the dog at night, and the amount of light this little wonder puts out is nothing short of astonishing.
I plan on ordering more of these soon. One for each car and one for the bike! Thanks for the great review and making the product available at a reasonable price."
---
From "B.E." (06/2011):  "These Maxxeon Pocket Floodlights are easy to store and really lights up an area. I will always carry one while riding. Thanks for the reviews."
---
From "S.H." (06/2011):  "Just wanted to let you know that the light arrived today and it's fantastic.
Can you let me know when your next order comes in? I would like to order a handful as gifts and figured I could save on some shipping."
---
From "T.W." (06/2011):  "WOW! I have a couple tactical Fenix flashlights and this lil' bugger comes close to their light output. Please stop spending my money! 😉 "
Rick's Reply:  Just remember, money is a capitalist tool designed to enslave the working class. Don't possess it and it won't possess you!
---
From "B.M." (06/2011):  "Wow! Very impressive. I have a decent 1 Watt LED flashlight that I was quite pleased with, until I compared it to the Maxxeon. The Pocket Flood is much brighter and throws a somewhat wider beam at the same time.
Did I say it's MUCH brighter? Like the difference between daylight and dusk.
And the small size makes it so easy to carry on the bike. I may order a couple more to keep in the cars."
---
From "T.K." (06/2011):  "Received the package and the Priority packaging was just fine; your prep was right on the mark!
The Maxxeon is just terrific. I am both a cyclist and an employee at the Milwaukee Public Museum.
We "close up" and do walk-throughs of some of the darker nooks and crannies of the facility and the Work Star 220 is astounding in both its ability to light up what needs to be seen AND the way it blows whatever the Security guys pack.
They are all up on me about "what is THAT", and when I fill them in, they are all over it.
The size of the 220 is a real plus as well. I can carry it around in my shirt pocket and I've already been able to shoot its beam along the floor, helping our patrons find coins and even an earring!
There really isn't anything like this one out there, I know, I've rattled around stores and online trying to find its mix of strong light and portability for a year.
It gives me a good chance to plug for webBikeWorld.com as well when I'm asked about the Work Star 😉 "
---
From "S.J." (06/2011):  "Wow! The Maxxeon is Awesome. Haven't been so excited since my first mini Maglite. Thanks again to webBikeWorld for finding us the best equipment."