Pirelli MT60 Tire Image Gallery
In the continuing quest to expand our riding horizons with the VERSYS-tility machine, our focus turned to finding a set of tires that might cope with a wider variety of roads and conditions.
The Pirelli MT90 Scorpion Sync tires that were installed on the Ebony Versys have continued to work extremely well on a wide array of surfaces, as we expected.
But we wanted to try something a bit more aggressive, allowing the on-road and off-road potential to be tilted a bit more in favour of the latter.
In October of 2007, during one of our frequent visits to the Ottawa Goodtime Centre, we were shown a set of Pirelli MT 60 Corsa tires that had been left at the store by a Pirelli rep.
Although there had been plans to possibly use them on a Supermotard demo bike, it was agreed the tires would likely be a good candidate for the Versys.
Accordingly, a deal was struck for the pair: an MT60 Front (120/70R17TL 58V) and a MT60 Rear (160/60R17TL 69VRS).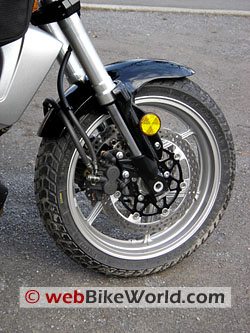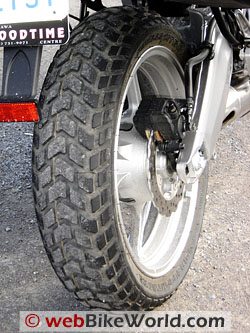 Why Pirelli?
I didn't confer with said Pirelli rep, but our own research discovered that the MT 60 Corsas are described as a 60% on-road and 40% off-road tire.
A V-rated radial, they have an aggressive knobby tread pattern for maximum grip under all conditions and surfaces.
This design is touted to provide light, responsive handling, superb cornering combined with straight line stability, exceptional wet-weather performance and excellent traction, on- and off-road.
So with a description like that, it's no wonder we wanted to try them!
The following weekend both Versys were taken up to OGC and for expediency, a straight wheel swap was carried out.
The Scorpion tires and wheels were removed from the Ebony Versys and moved over to the Orange Versys, while the wheels from the Orange Versys, with the original OEM tires removed, had the MT60 Corsa tires installed.
Both sets were then balanced before being refitted to the respective machines.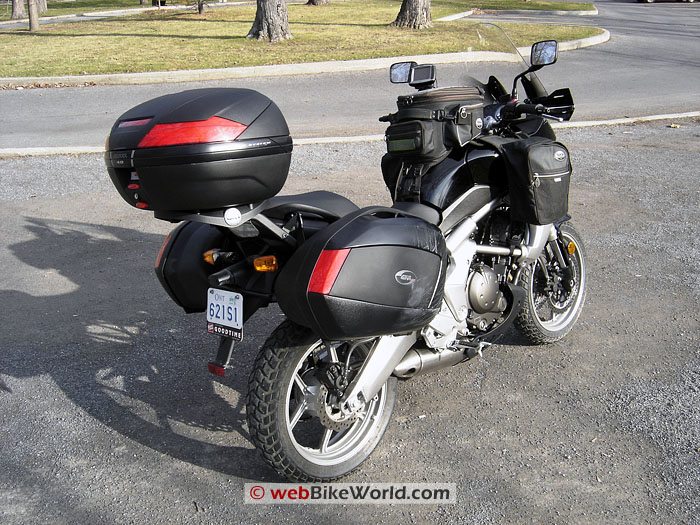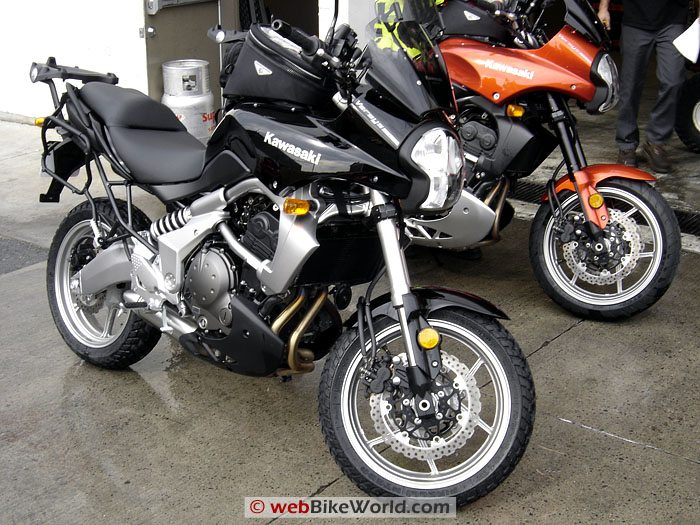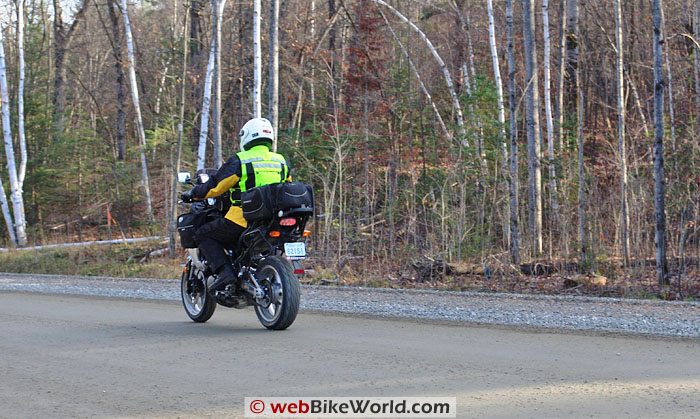 On the Road…and Trail
So, how is this little experiment going? After 1000 kilometers of use, just fine, thank you!
Although our riding has been somewhat limited given the ever-changing weather, the MT60-shod Versys (mine) continues to get in lots of time being run through its paces, both on- and off-road.
A bit more vibration is felt from the tires, but only at lower speeds and on paved surfaces.
Overall, they track and hold very well on all surfaces – pavement, gravel or dirt.
Another bonus, particularly at this time of the year, is their ability to provide good adhesion and feedback even in cold weather and when riding on cold road surfaces.
Somewhat rounder in profile than the Scorpions, the MT60 Corsa tires seem to slow the way the bike transitions in the corners.
But as the Versys is a very light and quick steering machine, this is not necessarily a bad thing overall, and one quickly learns to compensate.
With their somewhat gnarly appearance, the MT60 Corsa tires tend to generate a fair bit of conversation, typically leading to other questions about just what the machine is getting used for — something we are always happy to expound upon, even in the middle of some dense bush with a single-track path.
With the primary objective to find a better mixed use tire more than satisfied, we will acknowledge that tire life of the MT60 Corsa tires is still an unknown.
Although they broke in quickly, there is virtually no visible wear yet after 1000 km (620 miles), despite some high speed road use and prolonged off-road running.
Other research indicates that the MT60 tire can actually be a long-life tire, so only time and distance will tell.
The Corsas are slightly wide where a thinner and higher profile tire is typically preferred for more traction and stability on very loose surfaces, their tread pattern does much to mitigate this issue.
Even when the front tire is pushing through heavy loose gravel at low speed, good control is maintained and feedback provided, whether the rider is standing or sitting.
While on the control issue, we believe that a similar tire or a hybrid, in a 100 or 110 front along with a 140 or 150 rear, would be an even better choice to mount on the Versys, but only if you planned on even more aggressive off-road riding.
The Pirelli MT60 Corsa tires may not be the "perfect" setup for the Versys, but in addressing our desire to take the Versys over a wide range of surfaces, they are far better off-road than their cousins, the Scorpion Sync tires.
The MT60s are the best of breed multi-purpose tires we have found and tried so far. We are glad the dealer had not yet mounted them up on something else, thus giving us the opportunity to try them.
In conclusion, our initial impression of these tires is very positive. It is unfortunate that prolonged (further) use will have to wait until the spring — maybe.
If you want to run hard on a wide variety of surfaces, the Pirelli MT60 Corsa tires are definitely worth a look.
Pirelli MT60 Technical Specifications
60/40 On/Off Road classification.
V-Speed rated and updated version of original MT60.
Radial construction.
On-off road knob design facilitates wide-range of use on variety of surfaces.
Installed on: 2007 Versys, Sizes: Front, 120/70R17TL 58V; Rear, 160/60R17TL 69VRS.
Size range available for other on/off road motorcycles.
Cost: a set typically lists for around $265.00 USD. Check with your local supplier.
Note:
 For informational use only. All material and photographs are Copyright © webWorld International, LLC since 2000. All rights reserved. See the webBikeWorld® 
Site Info page
. Product specifications, features and details may change or differ from our descriptions. Always check before purchasing. Read the
Terms and Conditions
!
Owner Comments and Feedback
---
From "M.W." (11/09): "I have an 08 Versys with Pirelli MT60 Corsa tires – but after about 2000 miles, 90/10 on/off road use the back tire is just about shot.
I want to replace them with a longer life tire that would be good mainly for road use but some off road, mainly on forest trails and gravel roads. I see you had Pirelli Scorpions on a Versys — how are they doing?
The only other tire I can find is the Avon Distanzia. Do you have any experience with these? Any feedback you can offer would be appreciated.
Your web site is very informative and I spend a lot of time browsing through it so keep up the good work."
HBC's Reply: The MT60 tires I had on my black Versys had about 4500 km or 2800 miles on them, and while the back showed additional wear, it was likely good for another thousand miles or so.
This was based on a good 50/50 mix of road/trail, so their wear rate was better than I had expected.
Now, on to the Scorpion tires. I had two sets on my Ducati Multistrada, which saw a fair bit of trailing and gravel road use, without any issues. The Scorpions are a superb tire, for dedicated road use and trails/gravel roads.
Our second Versys had the Scorpions installed before it left the showroom and they were still going strong after 6500 km or 4000 miles. I have heard of instances where almost twice that much was gained from a set.
My experience in using this tire on two motorcycles is that they stick extremely well, wet or dry and take hard flogging without complaint.
The Multistrada can really be thrown around (right Ed?) and the Scorpions never let go or gave me cause to suspect their integrity.
I have not yet had any personal experience with the Avon Distanzia tires, but do know that many adventure touring riders use them or have tried them., as they are classed as a true dual sport tire.
They are slightly more aggressive in some ways than the Scorpions and I suspect they might possibly last a bit longer, depending on use of course. Based on many postings and evaluations, they seem to be a very acceptable dual-sport/adventure-touring option.
On a final note, and for what its worth, the Metzeler Tourance tire is one of my favourites as it will take anything thrown at it, on or off road, but I think its only available in a rear sizing that would fit the Versys rim.
And while I don't advocate mixing tires or brands, many have mounted this on the Versys and seem to be happy with it."
---
From "G.A.": "Purchased my Versys August 2007. Absolutely love it. I am now looking into new tires. How are the MT60's doing? Noticed the Avon Distanzia has sizes for both front and rear, but those are Supermoto tires (softer compound).
Would have to go to 150/70-17 for the rear with all other possible dual sport tires.
The problem is matching a front tire to the rears capabilities. My ideal usage would be 70/30 on/off but will have to settle with 60/40 to 80/20. And I want longevity. Back to the original question, how are the MT60's doing?"
HBC's Reply: The Black Versys has just under 3200 km or 1984 miles and the tires are just starting to show some wear. Typical use to date has been about 60/40 (on/off road), but with spring/summer, the mix will likely be 50/50.
I suspect that they will last until 5,000km or so, maybe a bit less if some continued high speed highway travel is involved.
Off road they have been very good…a slightly narrower tire (150 rear and 110 front) on both ends would likely be better for the really soft stuff.
The current sizes push somewhat on soft stuff and thick gravel, although control remains good, thanks in large part to the good front end and overall light weight, etc.
More and more mixed use tires are becoming available in different patterns and mixes, so there is a growing choice.
If the Versys remains a dual-purpose machine for all intents, the next set will likely be a 150/110 set in another pattern or brand, just to try them.
On a related note, the Scorpion Syncs on the Orange Versys have been on for just over 3000 km and are still quite pristine…most of the use on these tires has been street, sports and high-speed highway and some off-road, so probably a 70/30 on/off use ratio.
I suspect this set will likely hit 8 to 10 km at a minimum, if my experience with them on the Multistrada is any indicator. The Syncs remain our number one choice for all round road use.
Also, I forgot to address what could be premature tire wear. I believe the MT60s are rated as a medium compound, i.e., for SM or competition use, etc., so if they are subjected to consistent hard use, including high road speeds, and depending on tire pressures, suspension, etc., then tire wear could be accelerated.