You don't need to add lights to pimp up your motorcycle now that Australian company LuminAuz has produced paint work that can be electrically charged to light up.
Their first motorcycle using LuminAuz Electric Glow Paint is called the Volcotron Project. It will be unveiled on Saturday (May 14, 2016) in the Belconnen Mall in the ACT.
Unfortunately, the photos on this page don't do it justice, but go to their Facebook site for video that shows the paint coming to life with light.
LuminAuz director Nick Hart says the paintwork on this Kawasaki Vulcan 900 cost $10,000, half for the light-up and half for the artwork, but they have varying options for topcoats including airbrush, hydrodip and image transfers that will affect pricing.
But the options don't stop at paintwork that glows. Nick says they can also do a chameleon filter that changes colour with the viewed angle, synchronised sequential patterns and even animations.
"The bike looks amazing glowing from black to a design popped out in the aqua green/blue when it lights up," he says.
"To be able to paint with light requires a certain set of skills. Multiple layers must be absolutely perfect or there is a noticeable difference in the light.
"Tanks need a bit more attention as we put a liner in and double insulate it. So the tank process takes two weeks to get lit. The artwork lead time depends on the complexity."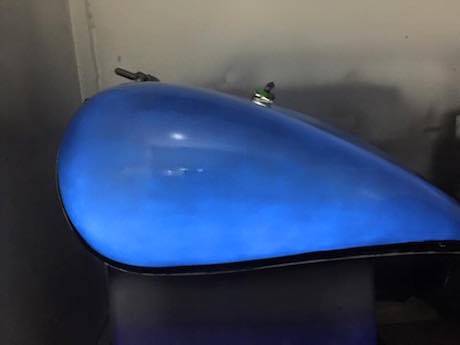 LuminAuz Electric Glow Paint is like a superpowered glow-in-the-dark paint. It runs directly from a low-powered electrical charge, turned on and off with a switch. It uses 40% less power consumption than LEDs.
LuminAuz is less than 1mm thick, so does not interfere with design safety.
The water-based formula is eco-friendly as it has no solvents. LuminAuz can be applied to any paintable surface, including emergency signage as it has the new AS/NZS standard for illuminated and reflective safety products.
That should make it highly visible at night, making it safer for riders.