Slate Air Jacket Review Summary
Slate Air Jacket Image Gallery
Like the Pilot Visto Air high-visibility jacket I reviewedrecently, the even simpler Pilot Slate Air jacket works as advertised.
It is a comfortable and well-made mesh-based high-air-flow garment and costs just $99.99.
Large sections of "Pilotex" micro-mesh fabric provide the ventilation.
Strong and durable sections of 600 denier textile with CE-rated shoulder and elbow inserts and a large basic foam back pad add protection.
These are all skillfully stitched together for strength and comfort and reflect Pilot's industry experience in designing and manufacturing garments for motorcycle racers.
The new Pilot Vanguard Air high-visibility vest is available separately ($65.00) and it's a good match for the all-black Slate Air jacket or any other motorcycle jacket that needs the high-viz treatment.
The Vanguard Air vest is also cut from much the same fabric as the Pilot mesh jackets, but with even more focus on air flow
That is a logical objective because the vest is designed as an outer layer over any jacket.
The simple Vanguard Air high-visibility vest in yellow or orange is a cost-effective way to enhance rider or passenger visibility to other road users, day or night.
Both the Pilot Slate Air Jacket and Vanguard Air Vest are reasonably priced, nicely made and very functional, especially when worn as a combination.
Both are worth a look.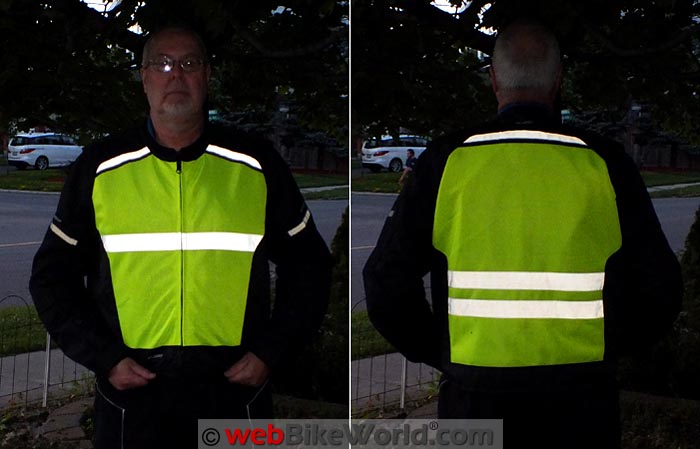 Construction Notes
This is a tale of two garments: the Pilot Slate Air Jacket and the Vanguard Air high-visibility vest, brand new from Pilot USA.
Like the Pilot Direct Air jacket (review) and the Pilot Visto high-visibility jacket (review), the outer shell of the Slate Air jacket and Vanguard Air vest is made from the "Pilotex" 210 denier "Micro Mesh", with inserts of 600 denier NPF textile for strength and abrasion resistance, just in case.
The textile panels in the Slate Air jacket are located at the shoulders and upper back and portions of the sleeves.
The Vanguard Air vest is pretty much all mesh, with textile panels at the sides and the shoulders and upper back area.
The Slate Air jacket features CE-rated protectors in the shoulders and elbows. The standard unmarked foam pack pad can be upgraded to the Pilot Core CE Level 2 back protector.
And like the other Pilot jackets we have reviewed, the Slate Air jacket can host the Pilot Core chest protector optional accessory, which attaches to the inner Velcro strip on the right side. It can be left on the jacket when the garment is removed.
Jacket Sizing and Fit
As discussed in the Pilot Visto Air high-visibility jacket review, sizing of the Pilot jackets seems to be pretty close to accepted standards overall, again appreciating that these sizing standards have a tendency to change or be changed.
Thankfully, Pilot's one free exchange policy is in place.
Like the Pilot Visto Air jacket, my Slate Air jacket in size 2XL fits about a half-size large in the body and probably a full size larger in the neck area.
And where many would say the sleeves are too long, for me they are just right, sitting at or near the natural break between hand and wrist, no matter what type of motorcycle I am riding — racer to luxo-tourer.
The sleeve cuffs are 34 cm (13.3 in) in diameter, although a bit of that is taken up in getting the hook-and-loop flap to engage.
But in general, gloves of any type can be accommodated. All motorcycle glove types work equally well — short or long gauntlet; mesh gloves, lightweight gloves and/or gauntlets worn inside or outside the cuff.
The minimalist low-profile (for hot weather) collar of the Slate Air jacket is a padded roll that sits well off the neck for unrestricted air flow, depending on the motorcycle's cockpit environment.
However, this type of collar offers little protection from flying objects, which is why a neck scarf or bandana is still a valuable accessory of sorts.
These simple additions provide protection when needed and if they are kept moist, provide some excellent cooling to the front and back of the neck.
As the collar is a bit large (similar to the Visto Air jacket) for my build, the padding irritates me a bit, as it is sitting on sensitive portions of my previously broken collarbones.
But with a high-cut or collared shirt worn underneath, the pressure is far less noticeable.
The Slate Air Jacket is available in sizes from S to 2XL. Pilot provides a two year warranty in case of premature failure or manufacturing defects.
And another bonus is their one free exchange service (excluding custom suits or custom jackets). A return label is even provided in the box.
Vanguard Air High-Visibility Vest Sizing
The size range for the Vanguard Air high-visibility vest is S to 3XL.
My size 2XL fits fine over any of the 2XL Pilot jackets I have worn and also over most of my other jackets, winter or summer style, which is exactly what I want.
Note that sizing and fit of a vest isn't always seen as critical, but it actually is in the greater scheme of things.
Any vest that is worn over a motorcycle jacket — whether the vest is the high-visibility type or not — can be a positive or negative addition, especially when it comes to comfort, air flow and cooling management.
Many high-visibility vests on the market are limited to two or three general sizes, although as awareness and demand has risen, this has changed.
Whether it's the Pilot jackets or any other brand, the Vanguard Air vest adds virtually nothing in the way of weight while adding everything in terms of being visible to other road users, all without sacrificing that all-important air flow.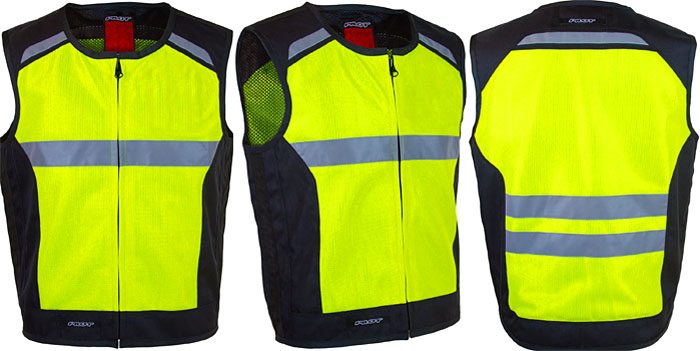 Jacket and Vest Adjustments
The Slate Air jacket sports left- and right-side waist adjusters with long hook-and-loop straps with poly pulls, while the sleeves sport the Pilot standard two position snap-fastener straps at the forearm and biceps level.
Having forgotten to mention this in the Pilot Visto Air jacket review, the Slate Air jacket also has an eight inch double-sided attachment zipper on an elastic extension on the lower back panel.
This makes both jackets ready for use with Pilot trouser products, such as the Pilot Omni Air Over Pants we reviewed or other compatible trousers.
Another small item found on Pilot gear is the RedTab coloured (audio) cable assist loop near the collar on the left side, which I mistakenly identified as an engagement loop for the Chest Protector component in the Visto Air jacket review…I stand corrected.
The collar is basically a padded ring and as designed, won't provide much protection in keeping with a low profile approach so as to maximize air flow around the neck area.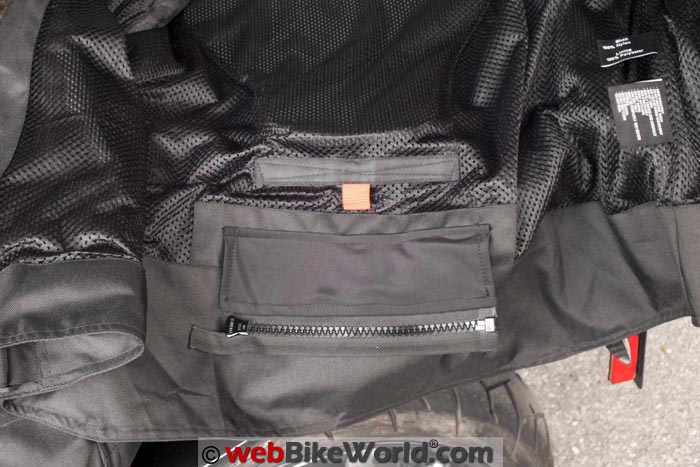 Pockets
Whereas the Vanguard Air vest is without pockets, the Slate Air jacket finds some of the storage complement present on the Visto Air jacket.
The pockets include an inner zippered left upper chest pocket and the lower left front drop-in mesh sleeve pocket, along with the two vertical hand pockets in front, of course.
Missing in action on the Slate Air jacket are the lower left cell phone pocket, usually layered on top of the drop-in mesh sleeve and the lower left sleeve "wrist pocket".
Both of these are listed under the Tech Specs Pockets/Storage listing on the Pilot USA web page, but they aren't on the garment.
What has remained constant is the much appreciated Pilot RedTab marking system, which includes pocket and zipper locations, tab points, the hanger loop and more. All of these become easier to see and thus use.
Visibility
The Slate Air jacket is only offered in black colour. So depending on personal preferences regarding style, function and conspicuity, the jacket might be right up your alley…or it might not.
But this is where the Vanguard Air high-visibility vest comes in to play as a complementary and possible very useful companion to the Slate Air jacket or any other motorcycle jacket.
The Slate Air jacket does sport numerous well-placed 3M Scotchlite "Dark" stripe inserts that do a very good job as retro-reflective pieces in low light and nighttime conditions, although 360-degree conspicuity is still limited, depending on what else is being worn.
Wearing — or at least carrying — the easily stowed Vanguard Air vest provides a much better 360-degree visibility profile for the wearer during the day and in low-visibility situations.
And in low-light or nighttime conditions, the additional reflective properties of the Hi-Viz material and 3M Scotchlite stripes significantly ups the conspicuity ante.
For motorcyclists, you can never be visible enough!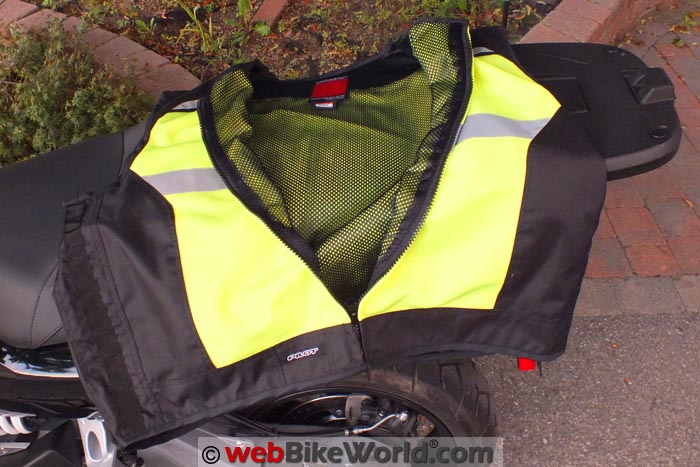 On the Road
As a simple lightweight mesh jacket, the Slate Air delivers and achieves its objective in providing lots of air flow to the upper body, including the arms.
The 600 denier textile inserts running from the shoulder to the wrist on the back half of the sleeves don't seriously diminish the overall air flowing through, while adding strength, protection and peace of mind.
Protectors
Identical to the other Pilot jackets, removable CE-approved protectors are included at the shoulders and elbows, with an unmarked foam back plate installed in the back pad housing.
All of the protectors on the Pilot jackets are upgradeable to Pilot Core protectors or similarly-sized products from other manufacturers.
A chest protector is also available as an option, with the required mounting pieces already in place on the jackets.
Available in Full, Half or Micro sizes and shapes, the piece fits across the front inside of the jacket, attached to a large section of hook-and-loop on the right placket and secured on the left side to a small RedTab loop located on the upper left placket.
The jacket can be opened and removed even with the protector installed.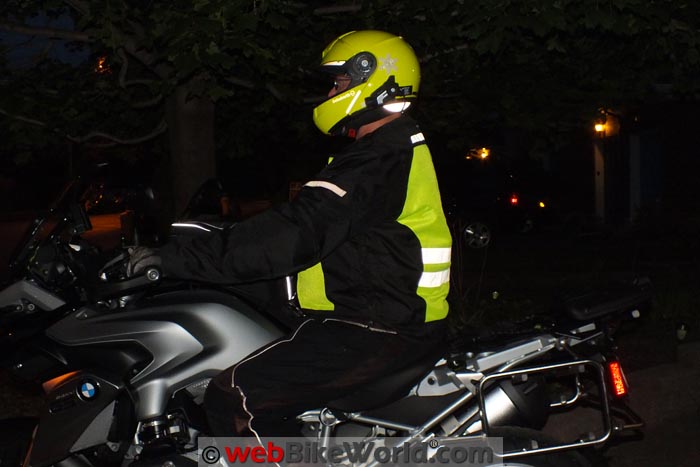 Conclusion
To be honest, my personal and extensive collection of motorcycle riding gear hasn't included a dark-coloured or black jacket for at least a decade or more.
And thankfully we all now have far more choice in colours and colour combinations than ever before, although there are some manufacturers who still haven't gotten the message (and we as consumers need to speak up).
But, we are still free, for the most part, to make our own personal decisions regarding what gear we do or don't wear and when to wear it.
The Slate Air jacket is comfortable and very functional and it is also an excellent bargain in a mesh jacket.
It's about as "minimalist" as most of us would want regarding the wearing of an upper garment that provides very good air flow and the essential elements for protection.
But as a dedicated believer in the 360-degree safety environment, I am a "Hi-Viz oriented" rider and I never swing a leg over or through a moto machine without the essential pieces (ATGATT) on.
One of my personal mantras is "to see and be seen".
Thus, the black-coloured Slate Air Jacket isn't complete without the Vanguard Air vest worn over top.
So if you're considering the value-added Slate Air jacket as a warm-weather air-flowing solution, I suggest that you also consider adding the Vanguard Air high-visibility vest as well.
Also: Pilot Omni Pants Review  |  Pilot Direct Air Jacket Review
w

BW

 Review: Pilot Slate

 Air

 Jacket and Vanguard High-Visibility Vest
List Price (2015): Slate Air Jacket $99.99. Vanguard Air Vest $65.00
Made In: Pakistan
Colors: Jacket: Black. Vest: High-Viz Yellow or Orange
Sizes: Jacket: S-2XL Vest: S-3XL
Review Date: September 2015
Note:
 For informational use only. All material and photographs are Copyright © webWorld International, LLC since 2000. All rights reserved. See the webBikeWorld® 
Site Info page
. Product specifications, features and details may change or differ from our descriptions. Always check before purchasing. Read the
Terms and Conditions
!
Owner Comments and Feedback