Elipsol Air Jacket Review Summary
Review Summary
The Elipsol Air jacket is taking Pilot's formula of innovation and value and uses it to create a "hybrid" of mesh jacket with "adventure" styling. Sure there are other mesh adventure jackets out there but mix in Pilot's unique features and details and the Elipsol Air ends up being something special.
Pros
Quality construction
Multiple liners included
Protective features
Lots of storage
Good value
Cons
Multiple liners
Snug forearms with liners installed
No CE backpad included
Elipsol Air Jacket Image Gallery
I've had the good fortune of getting to review several pieces of Pilot gear over the past couple of years including the Trans.Urban V2 and Direct Air V3 jackets. So when I saw Pilot had released a new jacket late last year (2017) I quickly asked if I could get one for review.
I was excited to see this new jacket since PIlot has demonstrated before that they put considerable thought into their riding gear. The Trans.Urban V2 (and the original version) showed that Pilot could put out an adventure-style textile jacket that is well put together including some small, but practical touches that make everyday use that much more enjoyable.
"Practical" may not be the sexiest term around to describe a product but for many motorcyclists practical is the best way to get to our hearts. Of course, if practicality and function can also look good at the same time, then one likely has a winner on their hands.
When I saw the new Elipsol Air jacket on the Pilot website I was instantly intrigued by the look of this new offering. Would function be present in equal amounts to the sharp new look? Let's find out.
The Elipsol Air Jacket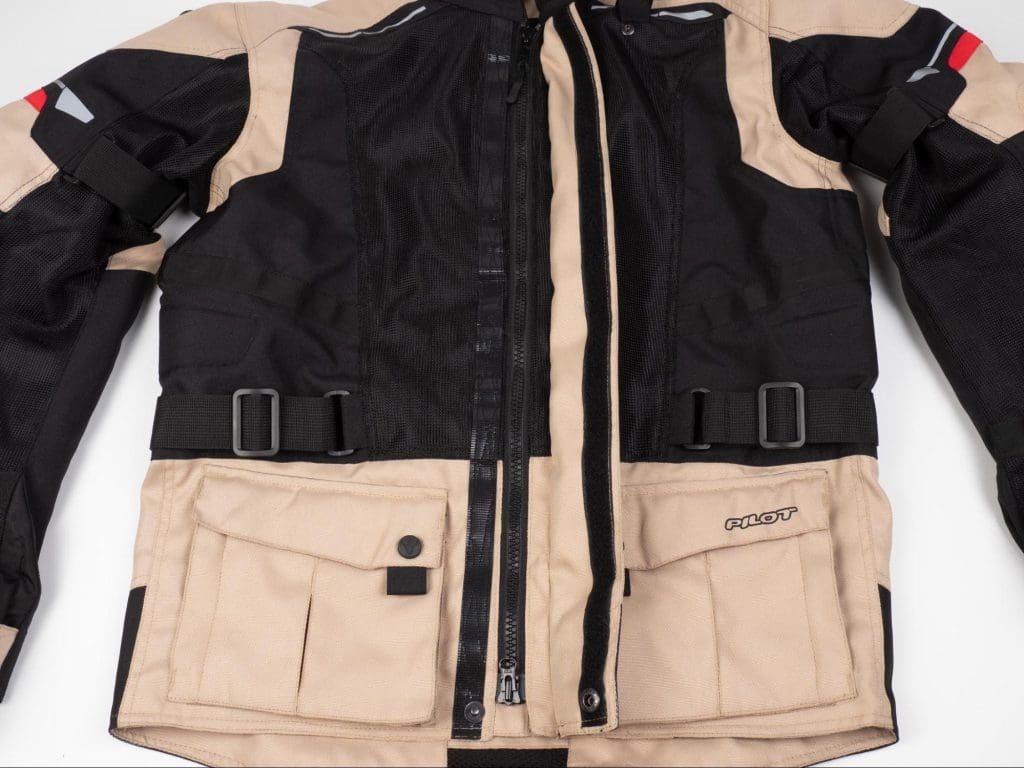 The Elipsol Air is an interesting jacket to categorize as it firmly straddles the line between adventure and sport jacket. It has a more "sporty" cut as it is a little shorter than the typical ¾ length adventure jacket style jacket. At the same time, it has nice roomy lower front pockets and a rabbit pouch in the back for good storage capacity. Perhaps "Adventure-Sport" is the best way to think of it.
No matter what you call it, the Elipsol is a nice looking piece of kit and it has enough style to make it stand out a bit without being flashy. There are four colorways available with a Dark Grey/Grey, Silver, Hi-Viz, and Sand. The Silver and Hi-Viz options look as one would expect and are very functional.
The Dark Grey/Grey option is a very smart looking and a bit more stealthy than the same named option for the Trans.Urban V2. What really got my attention was the Sand color which is the color of the jacket I received for review.
"Sand" might be a bit difficult to picture without pictures so I have provided plenty. The color is a little darker than what I would think of as beach sand. Between tan and brown sounds about right. No matter how one describes it, I really like the look of this color scheme.
The front, center section over the main zip is covered in the sand color material and then spreads left and right as it meets the front pockets. The same color wraps all the way around the back as well making it to the rear pocket.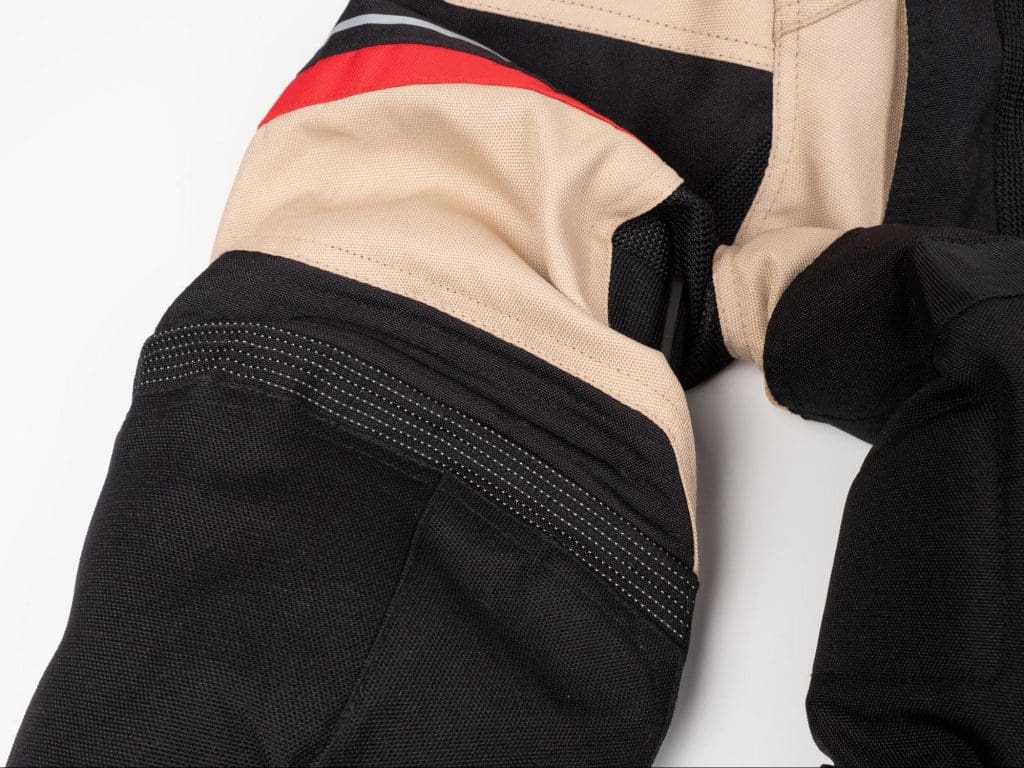 The sand color is also in place over the shoulders, around a portion of the biceps (just half way round), and is also present at the sleeve cuffs. At mid-bicep, there is also a patch of grey and red rounding out the color scheme.
The main closure consists of a large YKK dual zipper that is then covered by a flap with Velcro® brand hook and loop fastener running in one long strip from top to bottom. There is also a snap located at the bottom edge for added strength.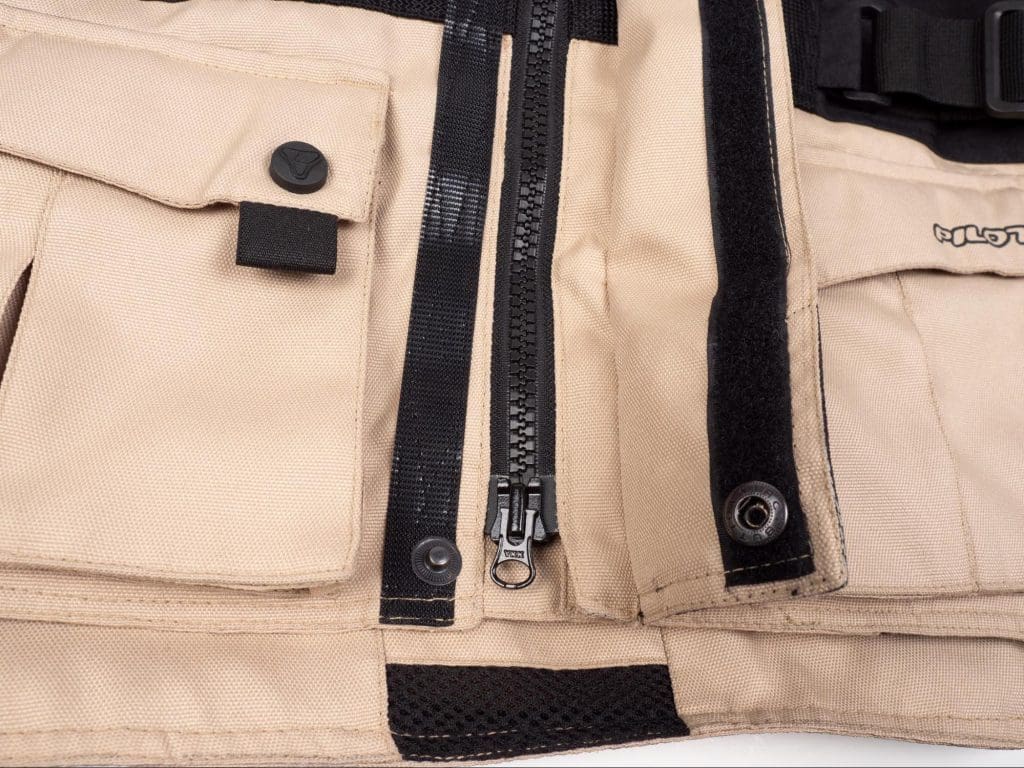 On the front to the left and right of the main closure are black mesh panels that run from shoulder lever down to the tops of the front pockets. As the panels run towards the pockets they taper in a bit towards the center providing an unscientifically estimated 50% coverage of mesh material.
The coverage in the back is similar in size and shape but of course, does not have a panel running down the center. Ventilation might be restricted in the rear depending on the type and design of a back protector inserted (if any).
Like previous Pilot gear I've reviewed, branding is subtle with the three-sided Pilot graphic on the back and shoulders and a few small "Pilot" logos scattered on the shell of the jacket.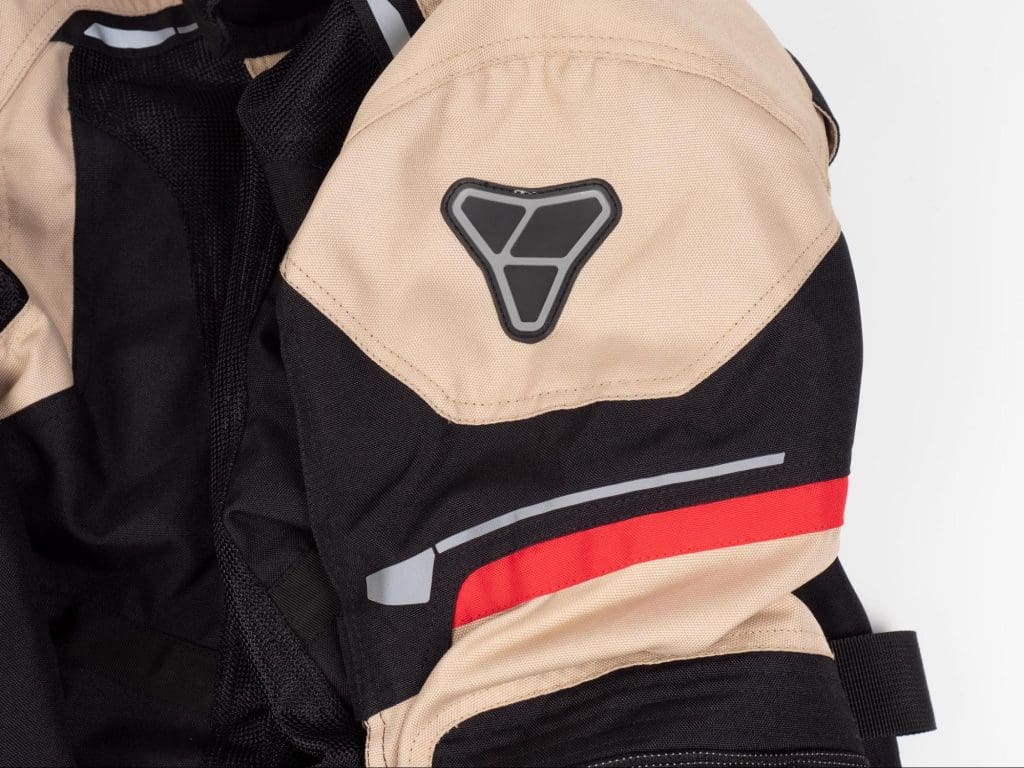 Included with the Elipsol Air jacket are two liners. One, a waterproof REISSA membrane and the other, a Thermo-Lite insulated liner for warmth. They can be used together or individually but typically the warmth layers are much more effective with the wind-blocking from the waterproof layer also in place over them.
With the basics out of the way, let's dig in and get a close look at what's going on here.
Construction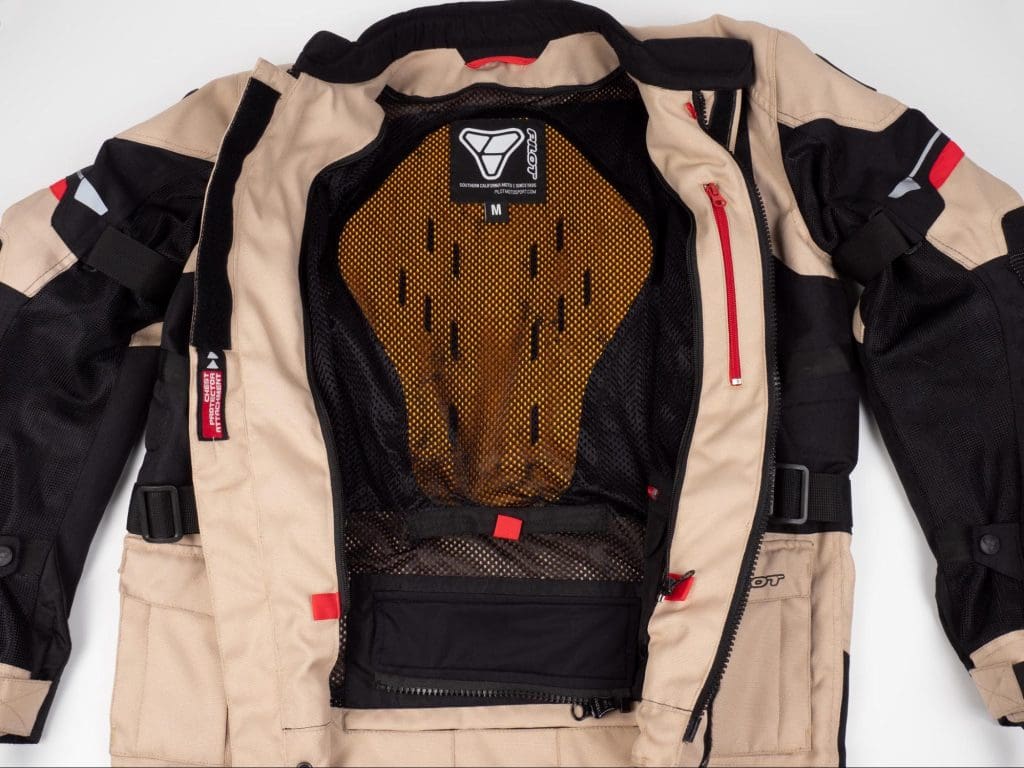 The shell of the Elipsol Air is made from 600D polyester material in the "solid" spaces while 210D "pilotex" mesh is used for the breathable spaces. I'm not sure why the 600D isn't referred to as "Pilotex" like it is on the similar material in the Trans.Urban V2 jacket. Perhaps this is just an oversight?
The material may actually be different from the 600D used in the Trans.Urban V2 as it is noticeably softer and more flexible. It has the same look and texture but somehow it does feel different. Maybe it has been chemically softened in some fashion. However, it has been done it really makes the Elipsol comfortable to wear and easy to pack into a small space.
The mesh panels use a tight weave rather than large holes which may not flow quite as much air as, for example, a Joe Rocket Phoenix jacket. Airflow is still very good and the smooth mesh material on the Elipsol Air might be less prone to catch on a street surface in the event of a slide versus larger weaves that might catch and tear. Of course, I have no evidence to back that up, it just seems logical to me.
The main closure for the jacket uses a large pitch YKK zipper with two pulls. This is typically found on longer ¾ length jackets to allow the bottom to open a bit for more comfort depending on the way one sits on their bike. Since the Elipsol jacket is not quite a ¾ length this might be a little redundant but it's still nice to have it there.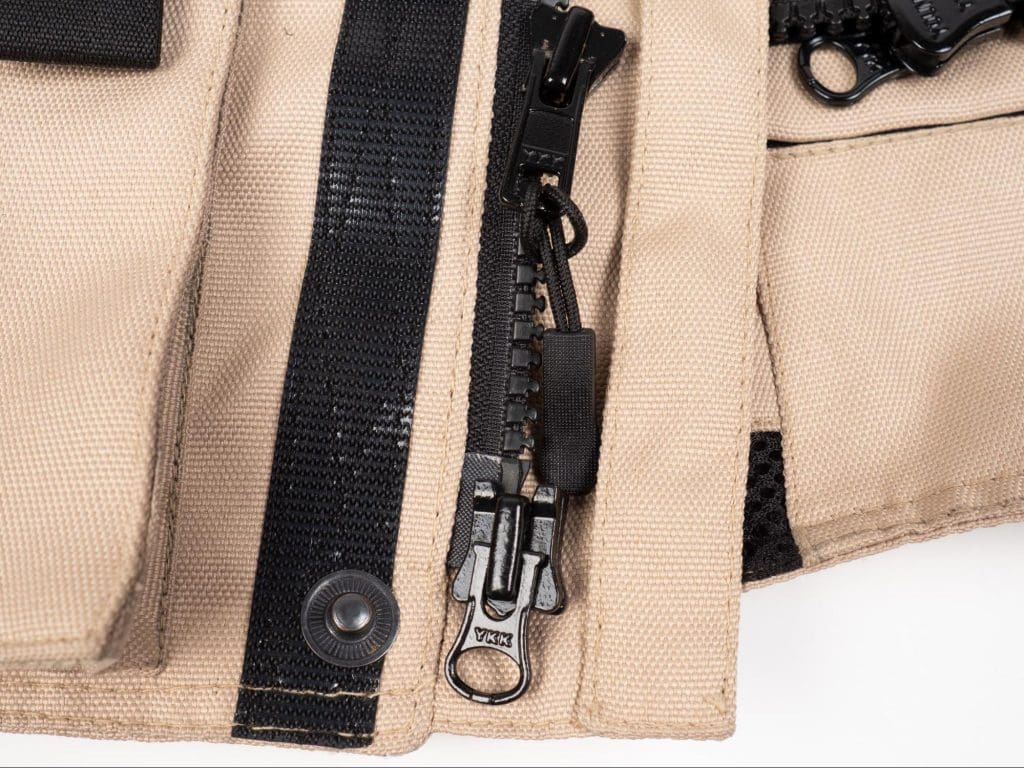 In addition to the main zipper, there is a full-length run of Velcro ® brand hook and loop fastener that secures a flap of material over the zipper. There is also a snap at the lower end of the opening that "punctuates" closure of the jacket. Zippers, hook and loop, and a snap! That's a secure closure system.
While looking at the interior one will see several red tags, loops, and zippers. This is what Pilot refers to as their "RedTab" system. Essentially, a bright red color is applied to interior features such as zippers, loops, and attachment points for liners and pocket openings.
This bright color makes it easy to find all of the aforementioned features since often jacket interiors are black and it can be hard to find these items even in good light. It's a small touch but a welcome one that I've mentioned in my previous reviews of other Pilot gear.
In the lower portion of the back is an 8 inch (20.3cm) zipper attachment for connecting to Pilot (and some other) pants. The zipper mate is included so one can have the zipper attachment added to other pants that do not have the correct pitch/size zipper if one at all. I can verify that Olympia pants will connect to this zip but it is not perfect. It is secure, but it's a little "wavy" due to a very small difference in pitch.
Near the neck on the interior is a small red loop which can be used to route an audio cable for wired headsets/headphones. Another "nice to have" feature is at the lower front corner of the left front pocket is a double-gated neoprene opening where one can run cables through for heated gear.
One thing that is a bit of a puzzle is a zipper located near the lower edge of the rear interior. This zipper is 9.5 inches (24.15cm) wide and provides access to the space between the outer shell and mesh liner. It allows one to reach pretty much anywhere inside the jacket but I'm just not sure as to why.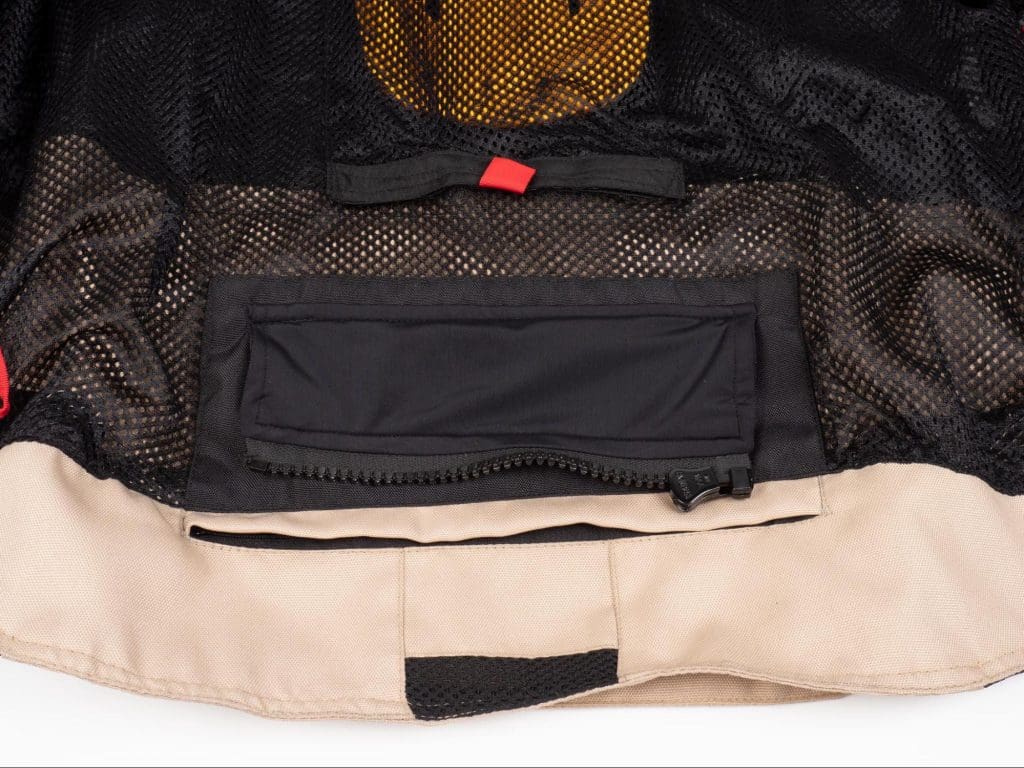 While I was checking out exactly how much access this opening provides I found an interesting feature. Between the liner and the shell are two elastic straps connecting the shoulders. These straps appear to keep the rear shoulder gussets "taut".
A good idea as far as I'm concerned as a problem I've had with other jackets is shoulder areas "flapping" in the wind on the highway if they are a bit loose. After seeing this I grabbed my Pilot Trans.Urban V2. and sure enough, I missed this zipper and internal straps that are also used in that jacket.
It's small, but useful details like gusset tensioning straps (I just made that up) that make me appreciate Pilot's products. That, combined with the solid build, make for an overall excellent rating for construction.
Protective Features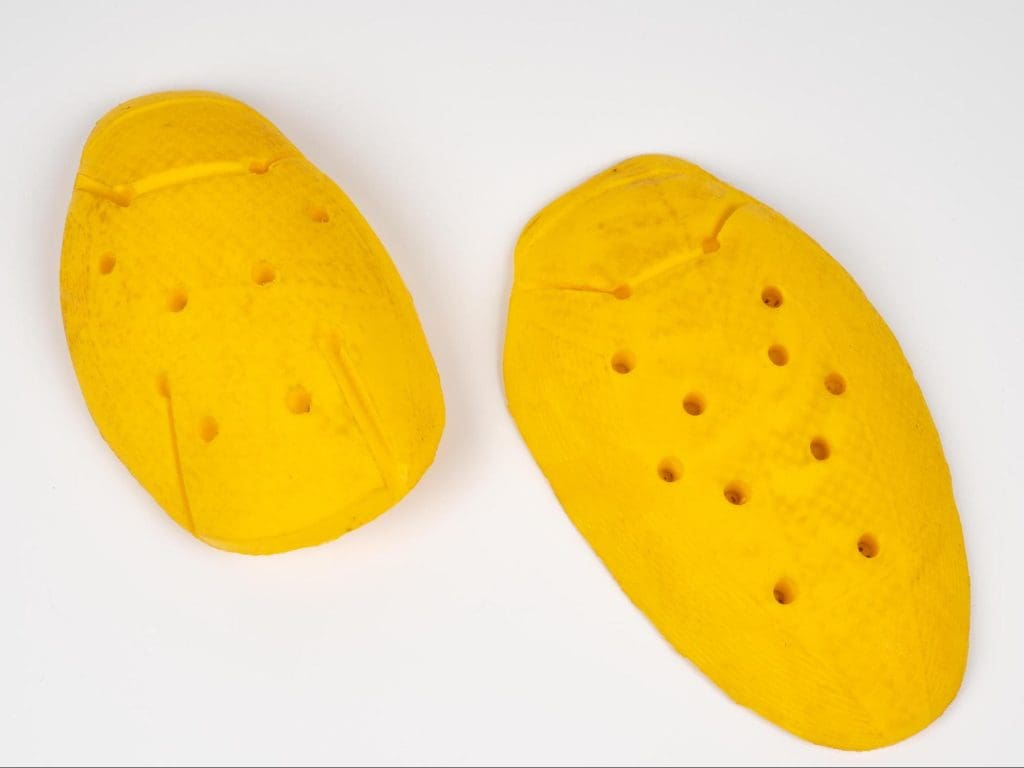 The Elipsol Air includes polyurethane based, CE approved armor in the shoulders and elbows under Pilot's own "Core Force Active" name. The armor is very soft to the touch and like other viscoelastic materials, it hardens upon impact.
The included backpad is just a thin piece of foam that really does little more than fill the space in the pocket. It is certainly better than nothing but I would highly recommend installing a full CE rated protector or use a self-contained back protector.
Pilot offers a good deal with their own Core Back Pad T2 which is a CE Certified Level 2 protector for $40.00 (direct from Pilot). The photos in this review show a different backpad I recently purchased to review from Knox so the photos are not indicative of the Pilot backpad.
In place around the sides, about 6 inches (15.25cm) below the armpit area is some foam padding to protect ribs on the side. It is thin and not very large, but it is nice that it is there. Over on the outside of the elbows on the arms, there is similar padding that sits over the space of the elbow armor adding some extra shock absorption in this impact zone.
As part of the overall protective "scheme" I like to point out the reflective spots (if any) on jackets I review. In the case of the Elipsol Air, there are reflective strips of 3M™ Scotchlite™ on the biceps, across the upper back, and on the sides at the waist of the jacket.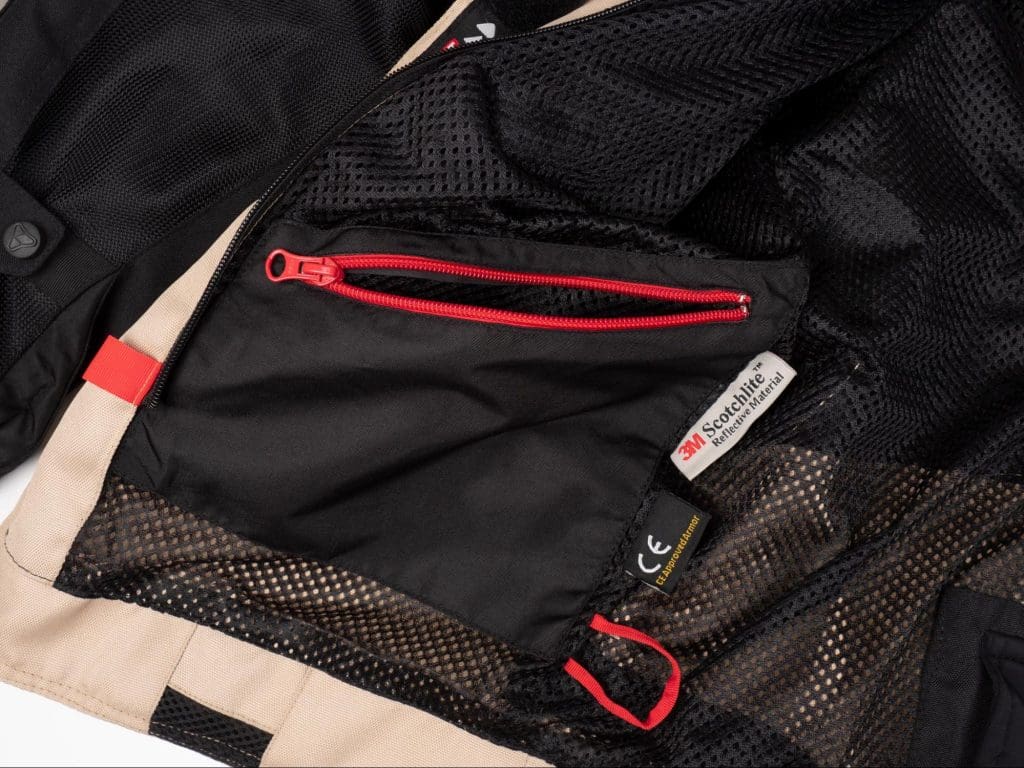 Just above the elbows, there is also a strip of "micro" reflector dots adding a little extra reflectivity. I've had these in other gear and while they are reflective, they are typically less noticeable than other types of reflectors such as the solid strips on this jacket.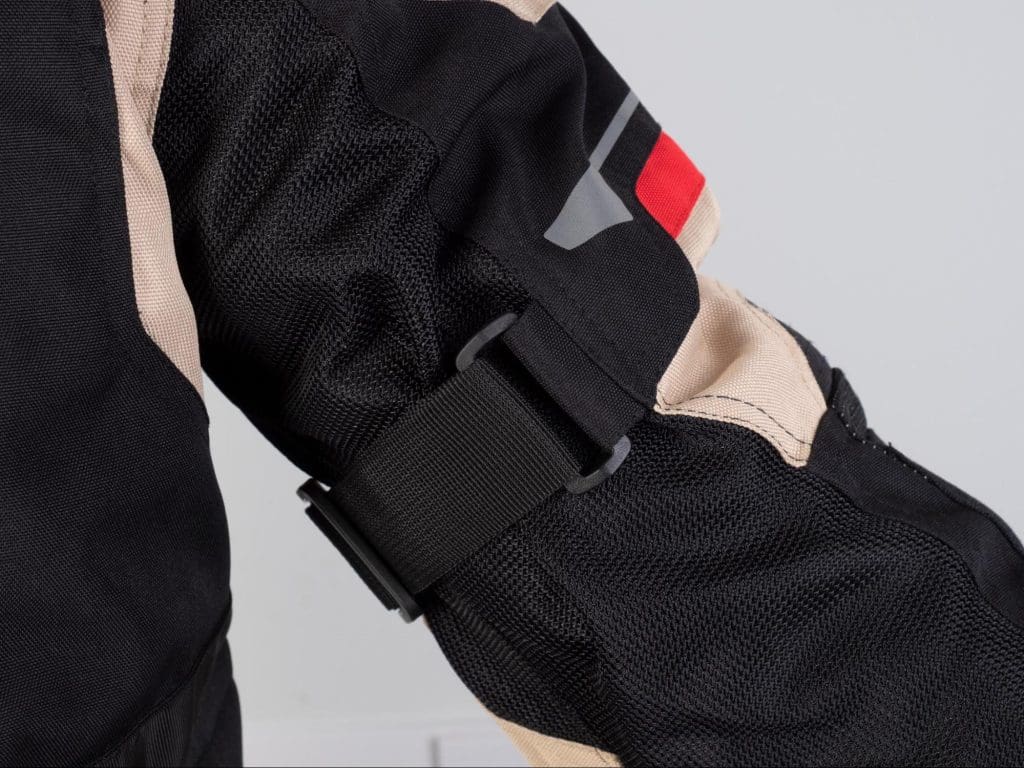 For even more protection Pilot includes a long strip of hook and loop fastener on the inside flap of the main closure. This 1.5 by 8.5 inch (3.8 X 22cm) strip, clearly marked "CHEST PROTECTOR ATTACHMENT" is, well, for attaching one of two chest protector options available from Pilot.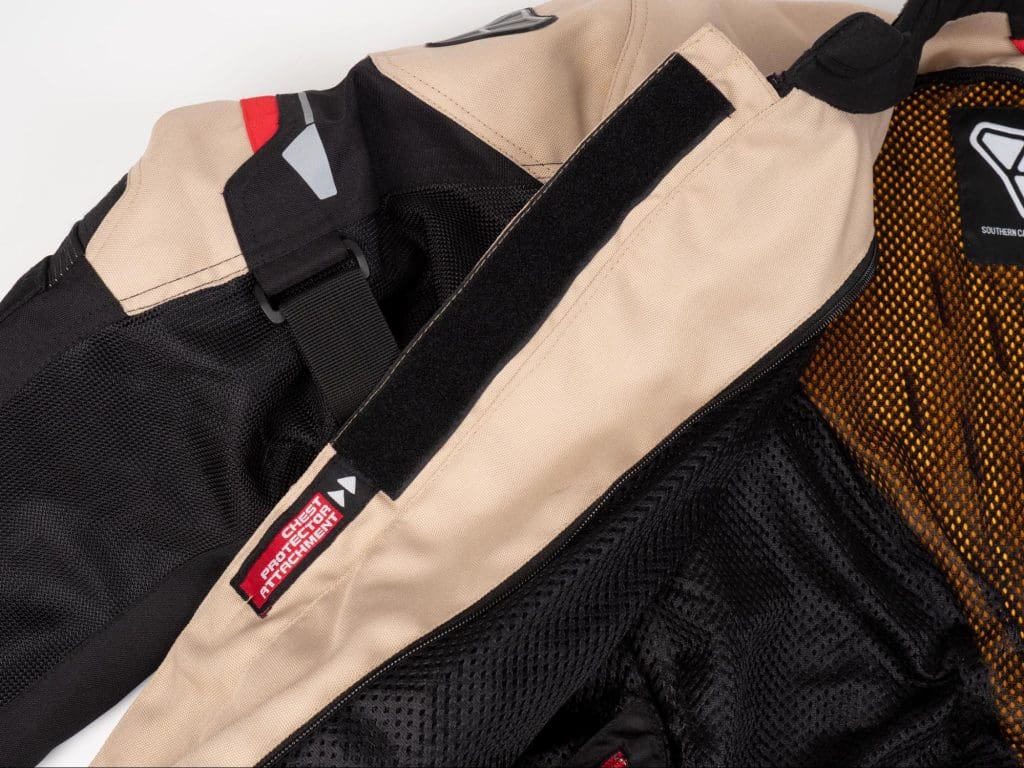 While the lack of a CE rated/approved/certified backpad is disappointing, the low price of a CE level 2 protector from Pilot and the provision for installing chest protector is very good. Fully kitted out I would say the Elipsol would do very well on the protection front, especially for a Summer weight mex/tex mix jacket.
Pockets/Storage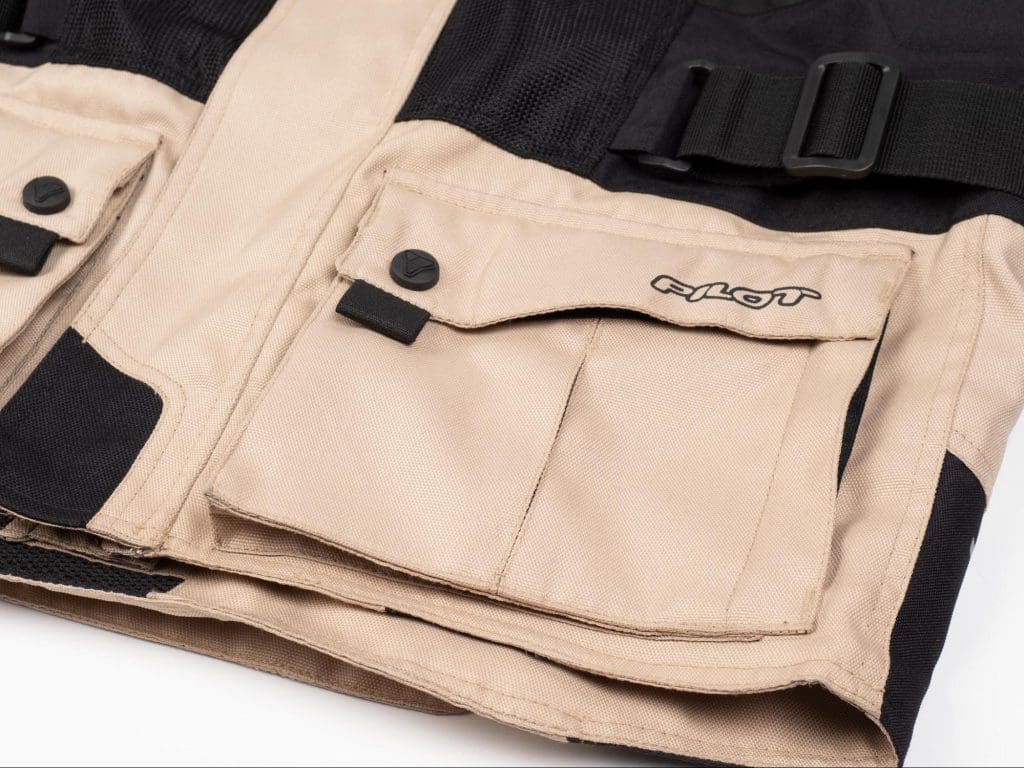 As expected for a "semi" ¾ length jacket, there is more storage than the typical sport riding type of gear. For starters, there are two front cargo pockets that fasten with a combination of snaps and hook and loop fastener. The pocket opening also folds over when closed to make the pockets water resistant, but not waterproof.
At the rear vertical panel of those cargo pockets are zippered openings for hand-warmer-style pockets. While not offering a lot of extra storage they are useful if one needs to separate various items into different space.
As mentioned earlier, the hand-warmer pocket on the left side has a pair of neoprene gates for routing heated gear cabling. The pocket itself is a perfect place to store a controller. It is another example of some "real world" thinking when it comes to the utility of Pilot's apparel.
At the lower rear of the jacket is an 8 by 12 inch (20 x 30.5cm) cargo pocket. This pocket can easily hold either one of the two included liners although getting both in there might be tricky. This pocket is fastened with hook and loop fastener and snaps much like the front cargo pockets and is the one place I spotted something that I think is out of place.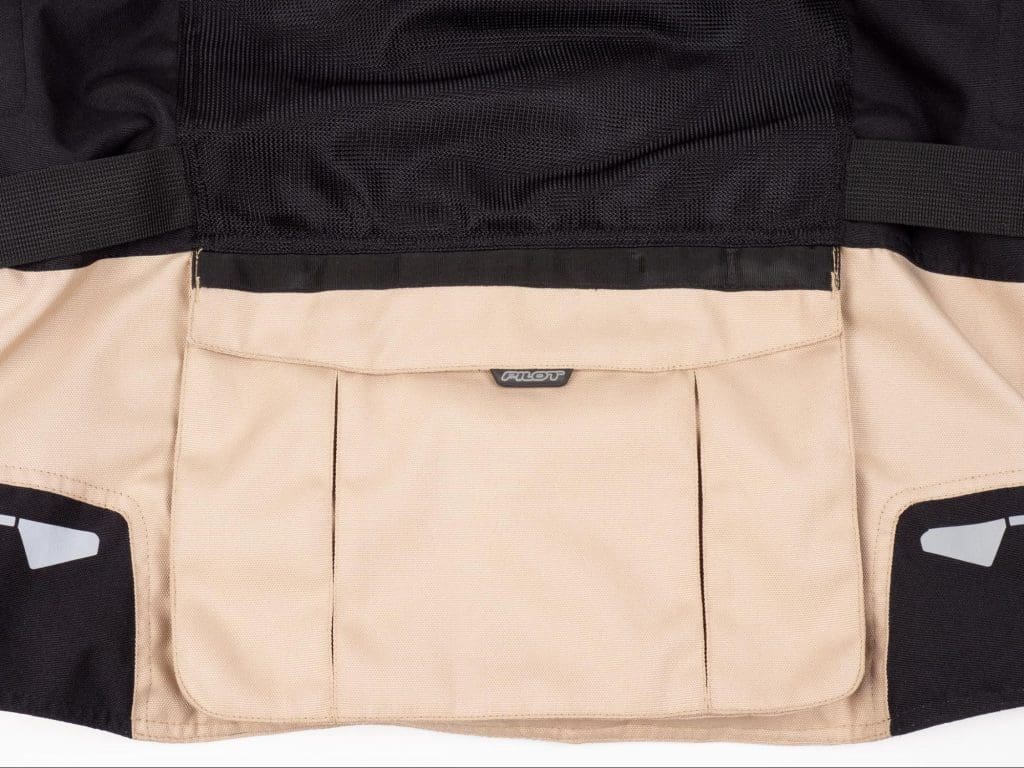 Looking at the photos of the open pocket the hook and loop material is shown a little misaligned in relation to the snaps. It is a pretty small detail but I'm so used to finding very little to pick on with Pilot gear that this stood out to me enough to mention. I doubt that this slight issue would have any real world effect on the closure.
The interior includes even more pockets with a zippered interior pocket on either side set a little above the position of the outside cargo pockets. Both pockets use a bright red zipper to make them easy to find against the black mesh interior.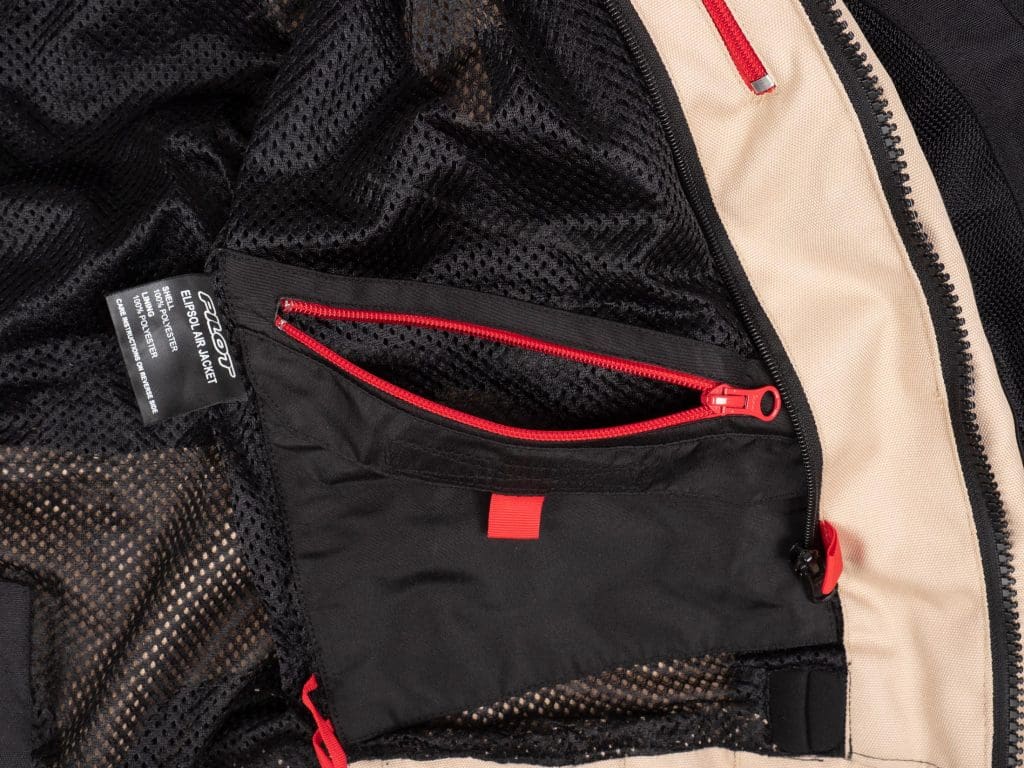 On the left pocket is an additional front pocket space fastened with hook and loop. This pocket might offer some water resistance compared to the zippered parent pocket it is connected with. The zippered opening pockets are open to the mesh interior where this "child" pocket is solid material all the way around.
But wait, there's more! On the left side just behind the main closure zipper is a Napoleon style pocket with another red zipper. This pocket is deceptively large and would make a good space for a map (remember those). The opening is 7 inches (17.75cm) and it varies in depth from 5.5 inches (14cm) to 8.5 inches (22cm).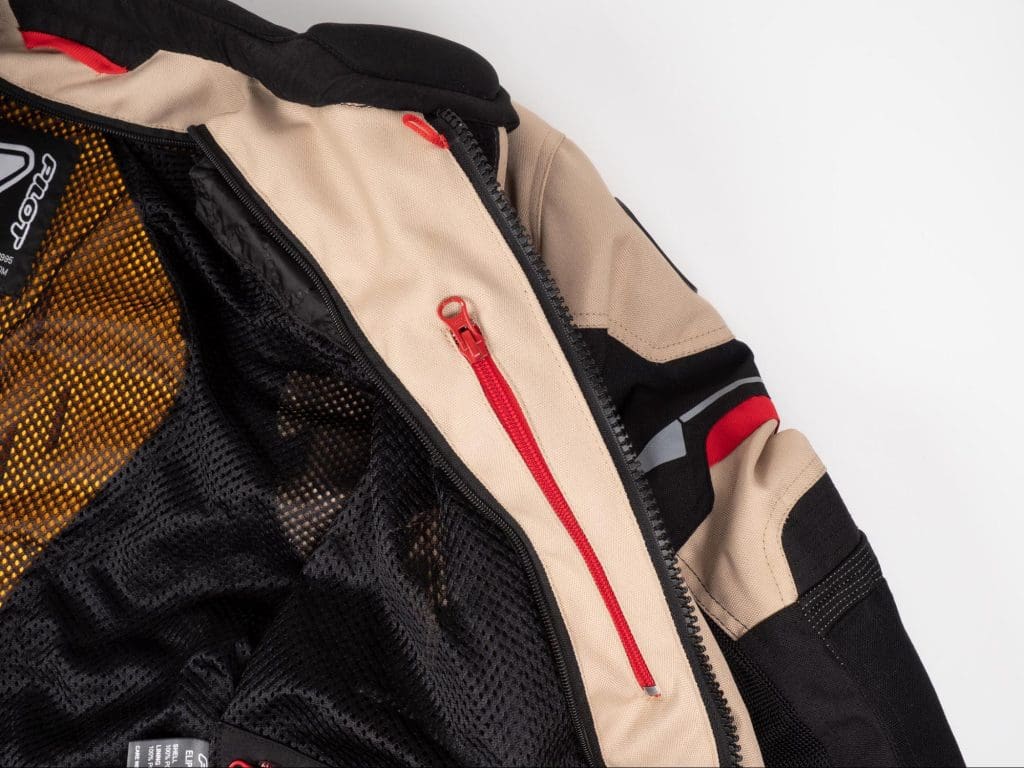 The Elipsol Air also includes what Pilot calls the "At-Hand" pocket over the left wrist. This zippered pocket with its 5 inches (12.7cm) opening is a great place to store keys, a wallet, a tin of Altoids, or whatever "floats your valves". One could even manage an iPhone 5 or smaller device in there but my own MotoX4 with a 5.2 inch screen would not quite make it in.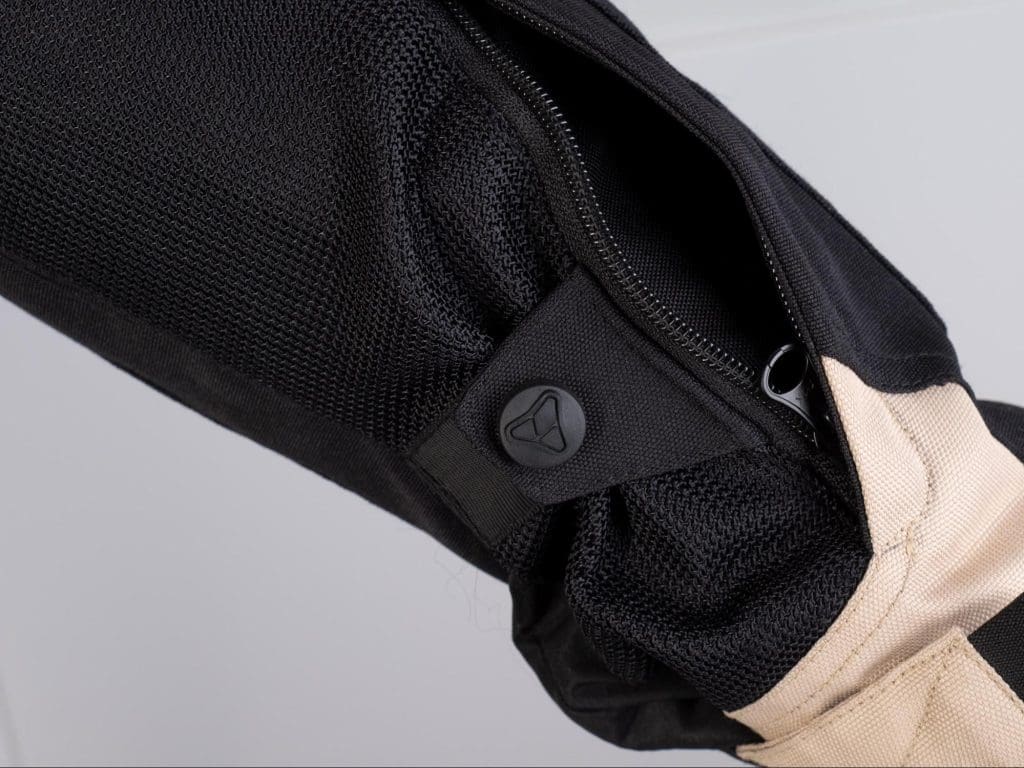 So with a whopping nine pockets, there certainly enough places for stuff. That's a great amount of storage and it is well designed since it's not readily obvious there are so many places to stash items.
Liners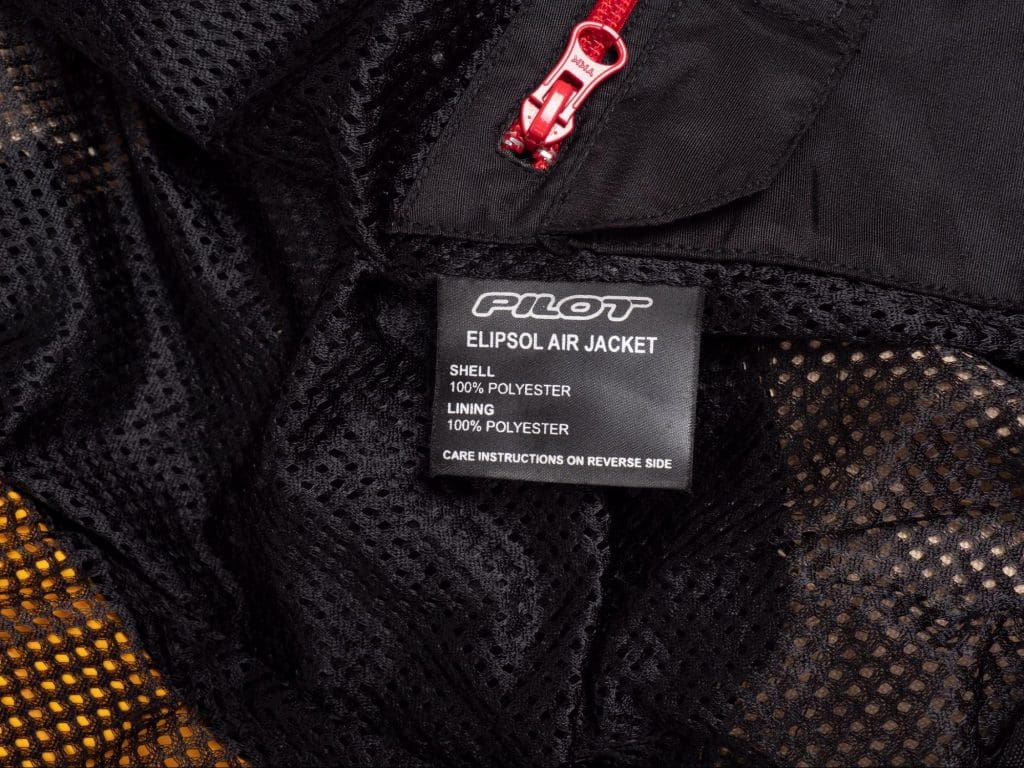 Two separate liners are included with the Elipsol Air including a quilted insulated one for warmth and a thin water/windproof liner. Both liners use a combination of zippers and snap loops to install in the jacket interior.
The RedTab system is employed here to make the loops easy to spot as well as their connection points in the jacket. There is also a red tab next to the main liner zipper pull to make it easy to spot as well.
The thermal liner uses Thermo-Lite insulation that is contained in a polyester shell. The liner is relatively thin but provides good warmth for those cool Fall and Spring mornings. As the temperatures drop down into the 40's F (4 to 10C) switching to a warmer jacket might be a good idea (or add an electric vest). This, of course, depends on one's personal tolerance for temperatures.
It is important to point out that while the thermal liner does a good job for its weight, I would recommend using it within the water/windproof liner as air flows pretty easily through thermal liner. This becomes evident quickly once underway and is not unusual for this style of a liner.
For waterproofing and wind resistance a thin Reissa ® membrane liner is included. If you're not familiar with Reissa ®, it is a three-layer microporous membrane with a polyurethane coating and different sized pores. It is supposed to provide excellent waterproofing as well as windproofing which is why I recommend using it over the thermal liner for best warmth when riding.
One might think that all those interior pockets become inaccessible when the liners are installed, and that is true. However, all the pockets that are covered by the liner are duplicated on the inside of each liner including the placement and red zippers. Another small, but nice touch on the part of Pilot.
Fit and Comfort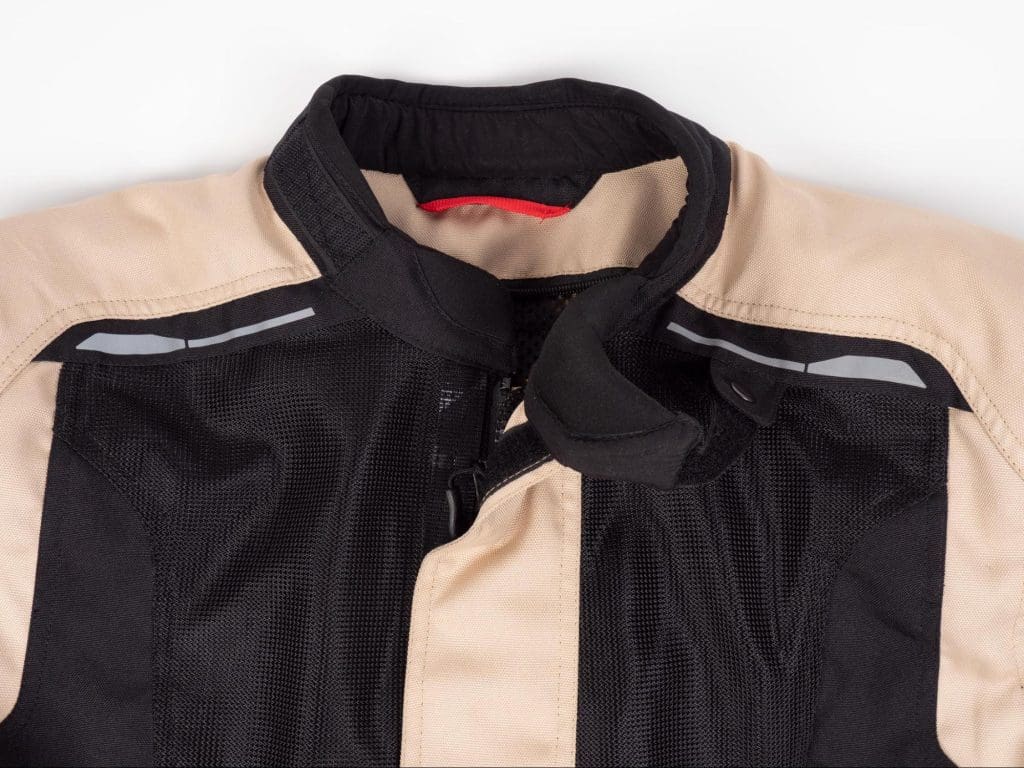 The Elipsol Air shown here for review is a size medium and runs true to size compared to most other manufacturers' size medium offerings. This is different from the Trans.Urban V2 which ran nearly half a size larger than I expected.
To give an idea of the size, I have a 41.5" chest and a weigh in at 193 lbs. Standing at 5'10". The size medium on their charts runs 38 to 40" chest and then large picks up at 42" to 44". I prefer a snugger than loose fit so I went with the medium.
The fit is just what I was looking for and was a little more snug than I expected compared to my size medium Trans.Urban V2 jacket. To back up for a moment, I reviewed the Trans.Urban V2 in size larger before and it was a little too large for me. I was able to use it by running all the adjusters down but I eventually sold it and ordered a size medium which fit much better.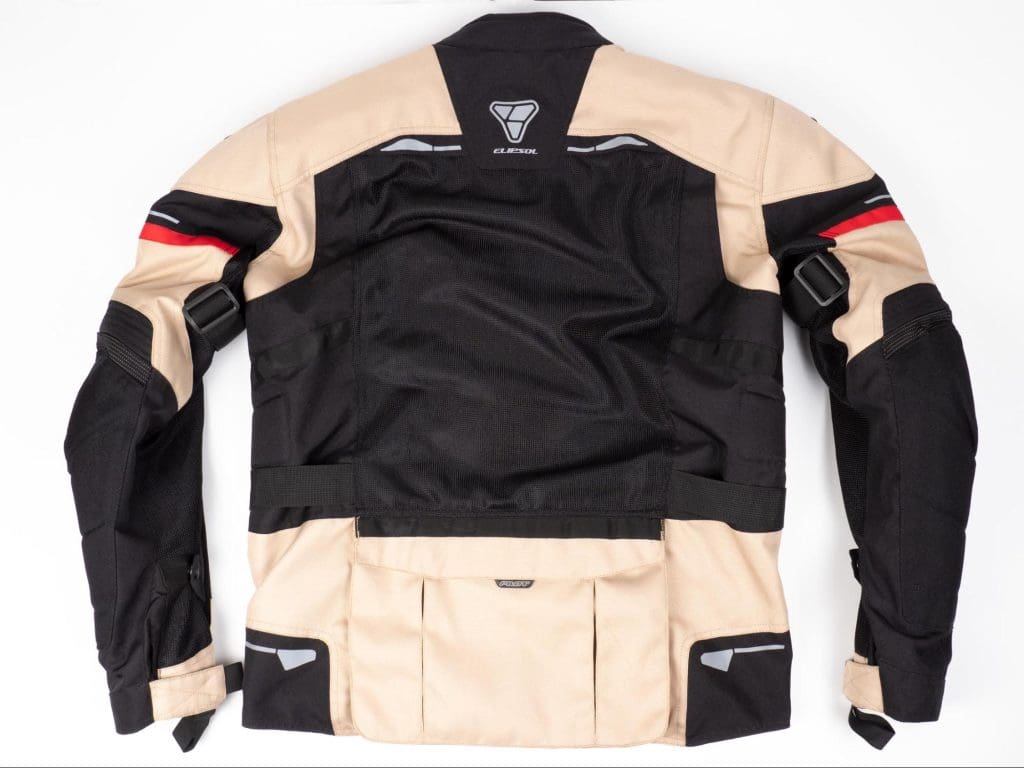 So when the Elipsol Air arrived I was a bit surprised at the difference in "fit" but was thinking it might just be the cut of the jacket. A quick email and Pilot confirmed the cut is different in a way that makes the Elipsol feel "closer" than the Trans.Urban V2.
Despite the close fit, I am still able to get both liners installed and still get everything zipped and buttoned up. I'm near the limit at this point in the chest area but what was more snug is the forearm space. I don't have large forearms and if I did it might start getting uncomfortable with both liners in.
Just to be clear, the "model" in the photos shown in this review is of my friend and fellow reviewer, Kevin Anderson, not of me in the jacket. Kevin had brought over some other review gear for me to photograph so I made him wear the jacket in the photos. While we are similar in height Kevin is a bit leaner than I am so he has a little more room in the chest and belly then I do.
A feature that I don't care for, some may find useful, are thumb loops in the ends of the sleeves. These small fabric loops slip around your thumb and help keep the sleeve in place as one pulls glove gauntlets over the sleeve cuffs. I didn't find the material very comfortable and it is a bit scratchy over time. They are easy enough to tuck inside the sleeve or simply cut out if you don't plan on using them.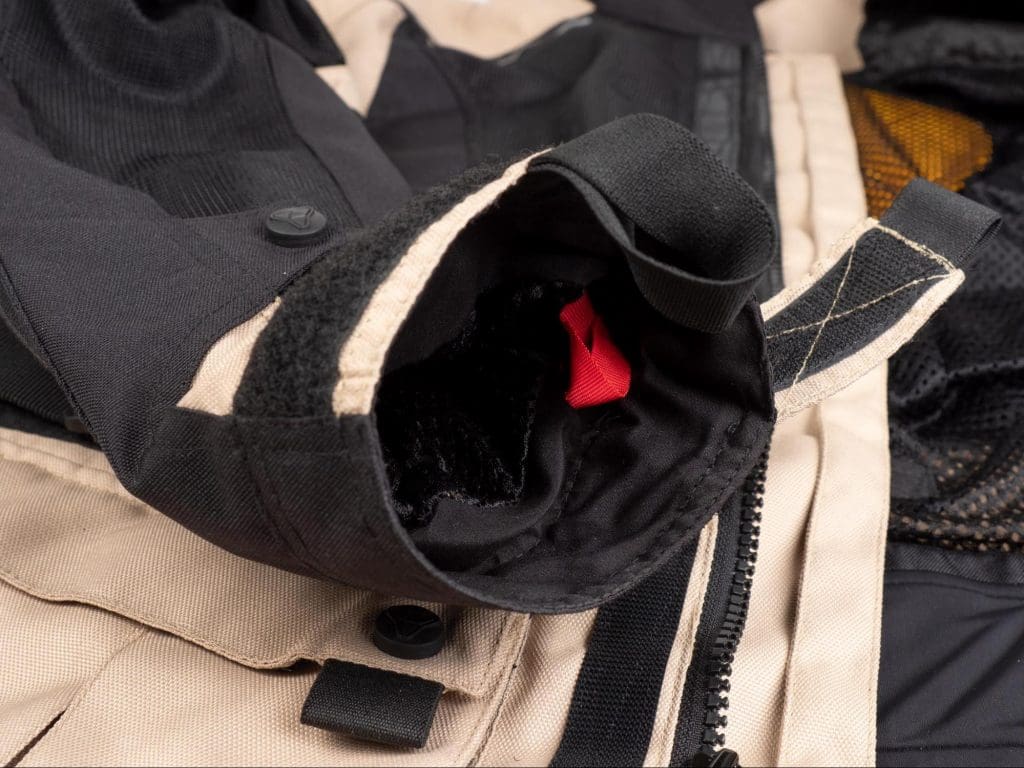 Adjustments can be made to the waist and around the biceps using straps while the forearms have a two-position snap tab adjustment for size. At the sleeve cuffs, there is a generous adjustment strap using a healthy dose of hook and loop fastener to secure it. The collar opening also has a bit of play around 1.5 inches (3.8cm) via the hook and loop present there.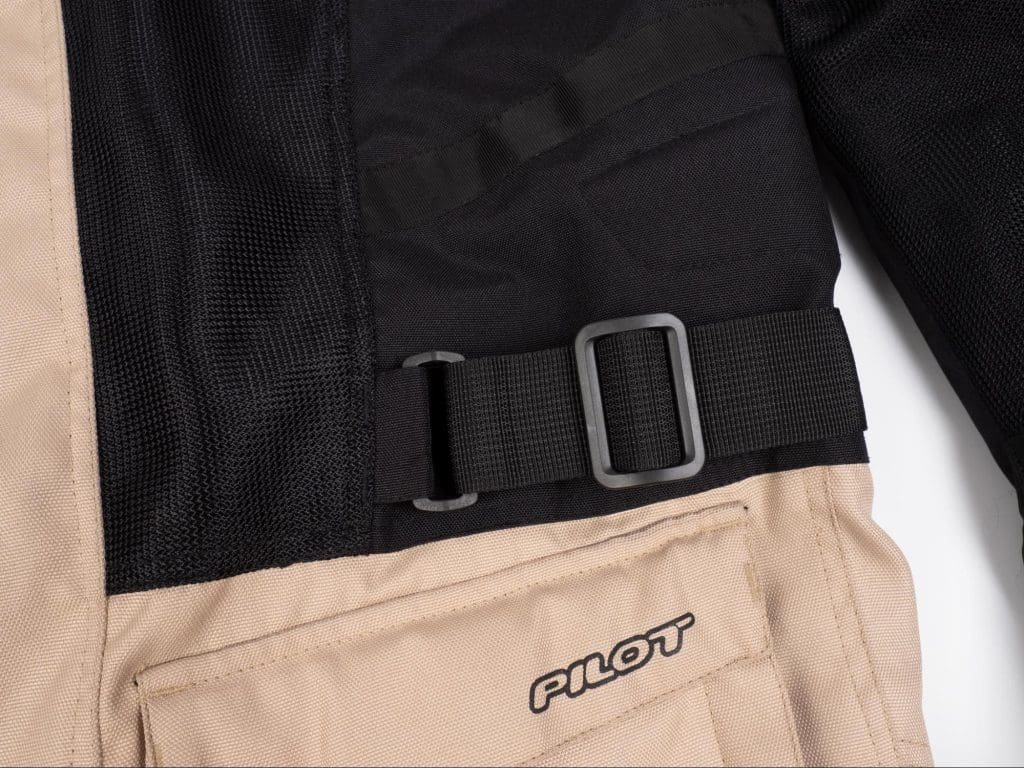 For comfort, the main jacket shell has a thin mesh lining that is only interrupted by the pockets for the included armor which uses a soft quilted material. The Reissa ® liner also has its own mesh lining and the thermal liner has a soft quilted polyester surface so no matter the configuration, the jacket is never scratchy or rough on the inside.
The collar has a soft rolled edge around the sides and back of the neck while the front has a large padded and stretchy panel for comfort against the throat. The collar closure can also be snapped on the left side and held open for more exposure on hotter days.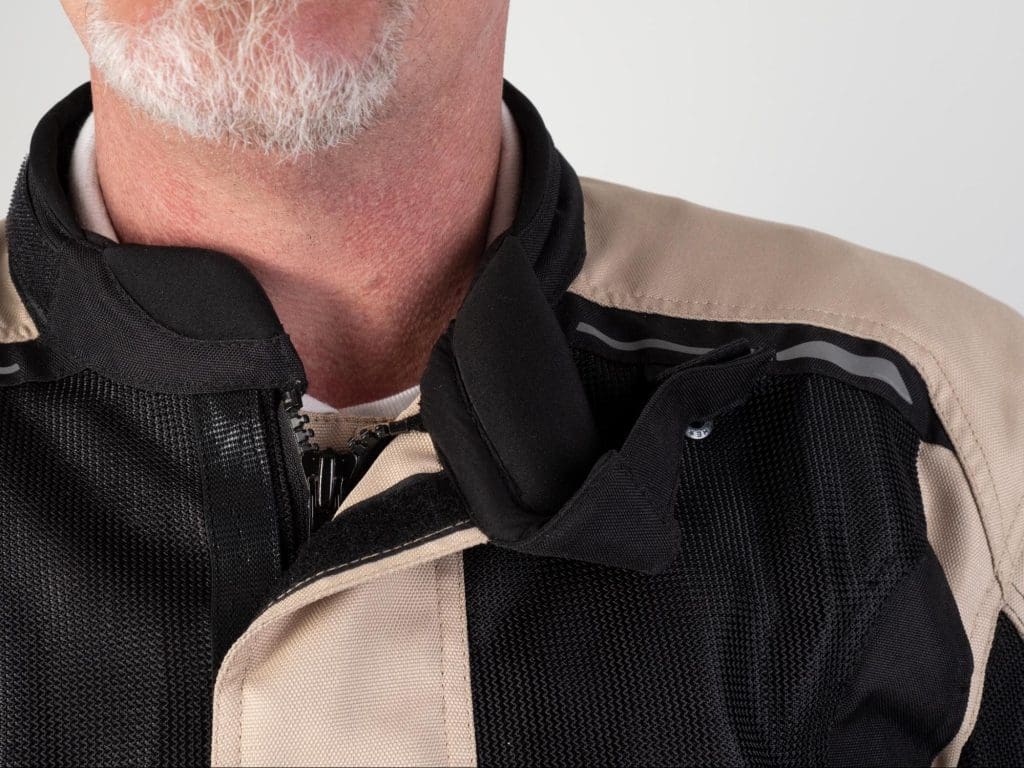 Overall the fit and comfort are very good with sizing hitting the mark while having a different, more "lean" cut than previous Pilot jackets I've reviewed.
Ventilation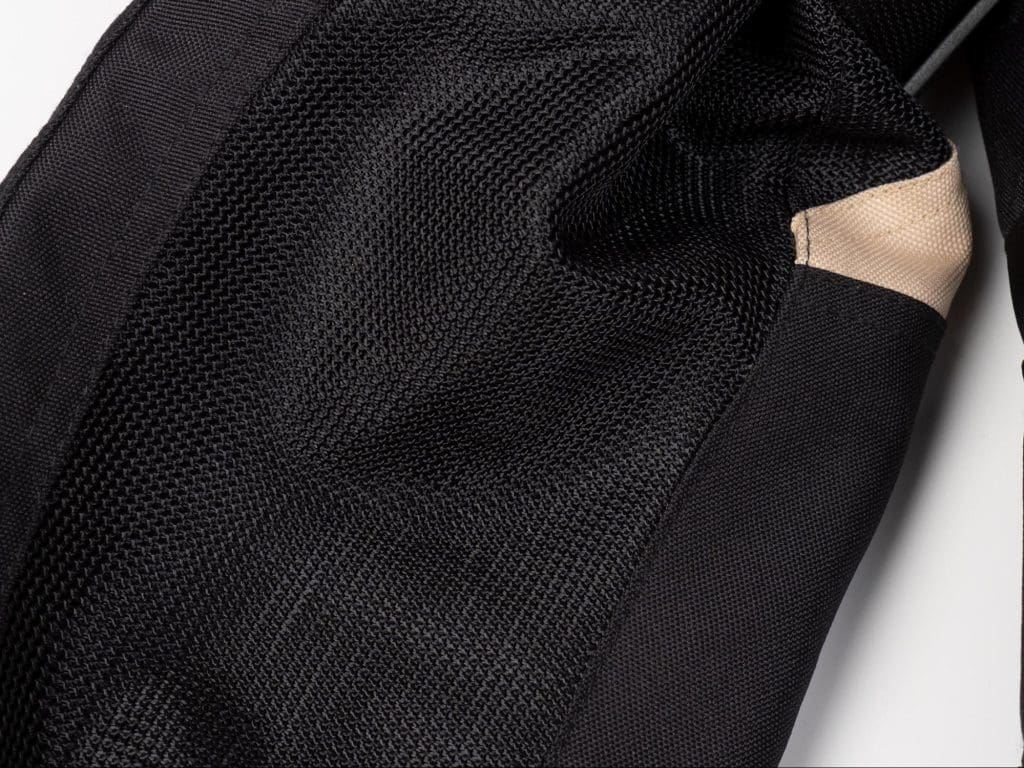 The airflow through the Elipsol Air is as good as could be expected considering the amount of mesh material used in the construction. This is not meant to be taken as good or bad, just a fact.
With roughly 35% of the front of the jacket being mesh, the airflow will be less than a full mesh jacket like the Joe Rocket Phoenix series or Pilot's own Direct Air V3 jacket. With that said, the mesh panels in the front, arms, and rear still provide very good airflow and should be suitable for most Summer riding situations. Of course, this will depend on your region of the world and your own tolerance of hot weather.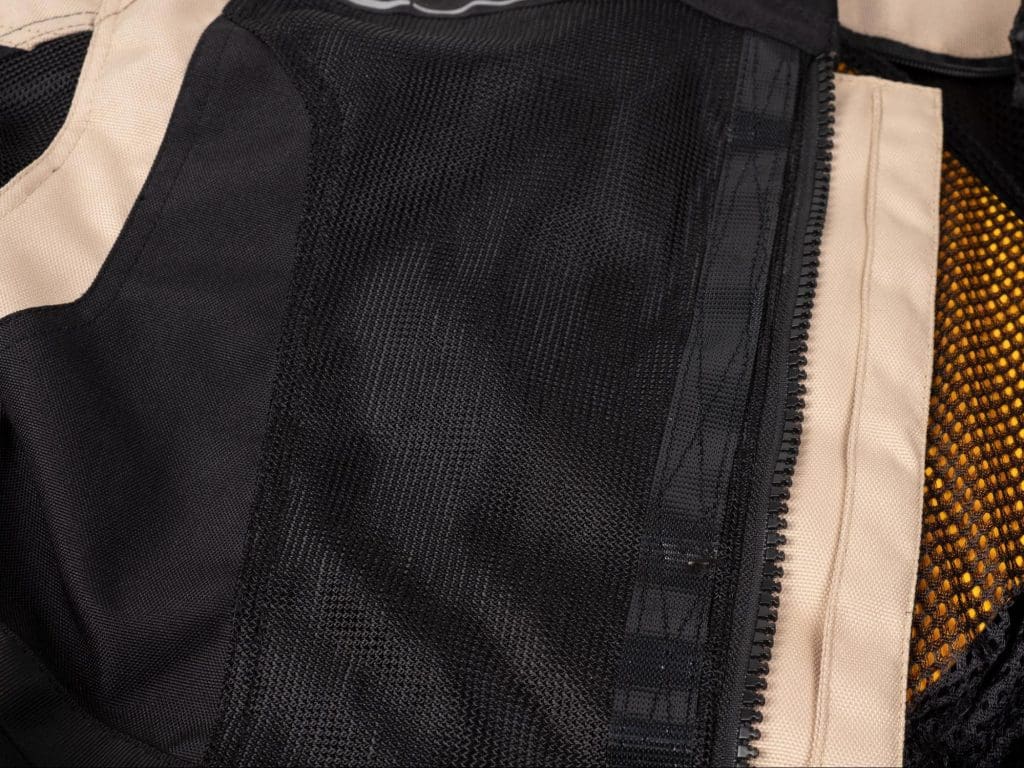 For my own part, I prefer the greater areas of solid textile for the added protection over more mesh. Also once a back protector is installed in this or any mesh jacket, airflow out the back will be restricted. One of the reasons for the Knox protector I installed is that it has multiple cuts in the material to allow some airflow.
Overall ventilation should be considered "Good" and appropriate for the style and construction of the Elipsol Air.
Conclusion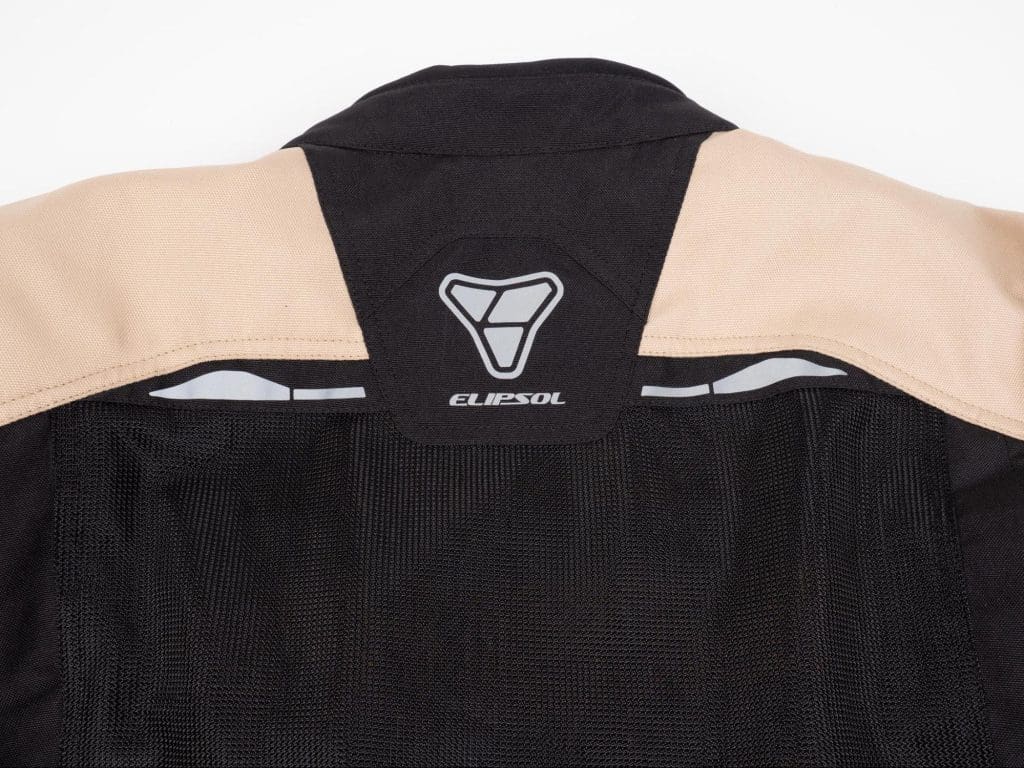 Pilot has another excellent jacket on their hands with the Elipsol Air. Taking the best aspects and features included in the Trans.Urban V2 (a webBikeWorld favorite) and the Direct Air V3 jacket has resulted in a very versatile multiseason piece of kit.
Good ventilation, protective features, and surprising available storage are all found in this jacket. The two liners add a lot of versatility, albeit with the extras step of having to install/remove them as needed. Some riders appreciate removable liners while others prefer removable panels and/or built-in liners with vents. You can't make everyone happy but if you are in the "I prefer removable liners" camp, the Elipsol delivers.
Purchases from Pilot's website include free 2-day shipping in the United States and the jacket comes with a 2-year warranty against failure or defects of the garment. Customer service has also been very responsive to my questions about the jacket (and they didn't know I was reviewing the jacket).
At $260.00 (USD), the Elipsol Air is currently Pilot Motosports' most expensive jacket offering. Still, it seems a good value considering the feature set and quality construction that we've come to expect from Pilot. Also, it should be factored in that Pilot uses materials from name brands like Velcro ®, 3M™ Scotchlite™, and YKK so they are not that concerned with cutting corners to save a little money.
One definitely gets what they pay for with the Elipsol Air jacket, and then some.
Pros
Quality construction
Multiple liners included
Protective features
Lots of storage
Good value
Cons
Multiple liners
Snug forearms with liners installed
No CE backpad included
Specifications
Manufacturer: Pilot Motosports
Price (When Tested): $240.00 (USD)
Made In: Pakistan
Colors: Grey | Silver | Sand | Hi-Viz
Sizes: S through 3XL
Review Date: April 2018