Urban sprawl is threatening motorsport tracks around the world. If they continue to close, where will future Valentinos, Chads and Caseys learn their craft?
In Queensland, a Parliament E-petition, sponsored by former Aspley MLA John Goss, is trying to stop the rot.
There are many motorsport tracks that have closed in recent years and you can probably name some yourself. That track where you first learned how to kickstart and jump your bike. In South East Queensland closed tracks include:
    Wheelstanders at Oxley – a junior MX club that had to fold because it had no alternative venue.
    Ready Creek – Gold Coast Motorcycle Club.  The club, another junior club, has not folded but currently has nowhere to go.
    Laidley MX track – gone.
    Redcliffe MX track – gone, club folded.
SEQ motorsport clubs or venues under threat include:
    Lakeside – even under its restricted conditions.
    Carnell Park – the road racing and super moto venue at Stanthorpe,
    Coolum MX – must vacate its site by the end of 2015.  Coolum, another junior club, is premium championship venue including hosting many rounds of the  Australian MX championships.
    Kilcoy MX.
    Tivoli – Moreton Districts MX.
    Stanmore MX – subject to severe and costly restrictions.
    Mike Hatcher Motorcycle Club at Asmore – subject to severe and costly restrictions.
Motorcycling Queensland is interested in issues threatening other venues and has pledged assistance to negotiate with councils and state government ministers and departments.
Typically, but not always, club race tracks are located on local government land under short-term community leases of no more than five years.  So every five years, the possibility of eviction arises.
Because motorsport is generally perceived by local governments as less worthy than other sports, councils often take little account of the infrastructure invested by not-for-profit and wholly amateur volunteer motorcycle clubs, which often the club loses on eviction. That does not happen, for example with football, cricket, hockey clubs etc.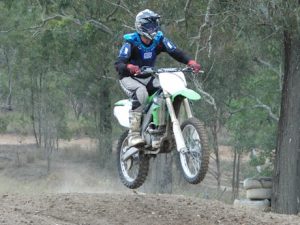 Some councils are more friendly than others.  For example, Brisbane City Council is relatively supportive of the one MQ affiliated amateur motorcycle club site in Brisbane, at Northgate. There is another rogue unaffiliated club at Port Lyton.  By comparison, the Gold Coast City Council is aggressively anti any motor sport that is not conducted around the streets. Ipswich City Council is generally supportive of MQ and motorsport in general. Yet it wants to close Tivoli track because of complaints from a church community that moved in next door within the last decade.
The view that motorcycle sport is less worthy is misconceived. When clubs host national and state championship events, thousands of competitors, their families, support crews, meeting officials and spectators come into the local community for up to 3 days and require accommodation, meals and other services, from which the local community benefits economically. These benefits often flow to the community several times a year for clubs that host championship rounds.
The community also benefits from juniors, particularly, participating in motorcycle. It takes discipline and dedication to just compete at club level. And necessarily, at junior level, the sport involves the whole family and gives kids little time to get into trouble. The kids and their families also form life-long friendships with other kids and their families from all over Queensland, NSW and Victoria and beyond.  That is more socially connective than anything achieved by junior team sports which tend to be dominantly local.
The inequity suffered by motorcycle clubs with hundreds of participating members is that a handful of persistent complainants can close a venue and deny those hundreds of members access to their pastime.
Motorcycling Australia and MQ are aware of the need to mitigate sound emissions and have, for several years now, imposed increasingly lower noise emission limits on competition machines.  However, the message has been slow to penetrate to their members. But noise has been reduced and will continue to be reduced as it is a key strategic issue for the whole sport.
Therefore, two things need to happen:
    Clubs need to become more vigilant in respect of noise emission.
    All participants and supports of motorcycle sport and motorsport more generally, need to get behind initiatives like this petition.